LATEST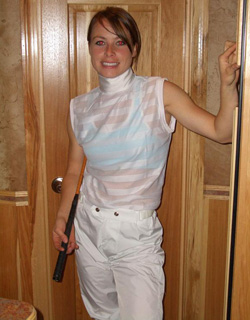 Bio
Results
Schedule
Related Issue: Women Racers Directory, Women in Racing, Women Racers, More Women in Racing, Race Schedules, Notable Women
Contact: web site or E-Mail www.femalejockeys.com/Brittany.html

www.femalejockeys.com/Brittany.html
Brittany Arterburn
Brittany Arterburn is a young apprentice jockey currently riding down in Maryland and I recently got her on the phone for an interview and here is what was said:
FOTH: Where were you born and where did you grow up?
BA: I was born in California and I lived there until this past summer as my parents, actually my father he always fly to the OBS sale and when he came he said he had brought a place and the next summer we were shipping everything to the East Coast.
FOTH: Now were you a tom boy growing up at all in California?
BA: I played a lot of sports and I played soccer all the way until my senior year and I actually had some scholarship offers to go to collage, but I tore my ACL real bad my senior year and just ended up doing collage rodeo. I have also done rodeo my whole life and I just settled for collage rodeo and I am glad cause everything worked out OK.
FOTH: Was your parents pretty support of you becoming a jockey?
BA: Well my dad, he has been around this sport a long time and about the time I wanted to become a jockey we had one of our good friends jockey Chance Rollins go down in a spill, so my dad never really wanted me to be a jockey, I shouldn't say wanted cause he supported me in everything I have done, but he was real hesitant about me becoming a jockey, he just wanted me to be a little gallop girl/assistant trainer, you know just help out with the family business.
FOTH: Do your parents get to see you ride live much?
BA: When I started at Colonial Downs this past summer he did, but when Laurel started my dad had to go back down to Tampa, but my grandpa, he was a jockey for a long time, Jack Arterburn, him and my dad watch every race and I get a call and they tell me what I need to work on and things like that. What I did right and what I did wrong, that sort of thing.
FOTH: Now what event or events actually led to you becoming a jockey? Did you say exercise horses for a number of years and then decided to become a rider?
BA: I have always been around horses and I was doing rodeo since I was 8 and I have always wanted to become a jockey since I was younger, but I just never thought it would happen and I actually went to collage to be a vet, but before I went to vet school this was something I wanted to do and I never wanted to go to vet school and then say "oh I wish I went and became a jockey before I started my practice and stuff." started galloping when I was 16, so I did that for a good 6 years before I started riding.
FOTH: Tell me a bit about your 1st race. Was that at Colonial Downs?
BA: Yeah it was there and it was on a horse that I had been galloping for 3 years and I knew the horse really well and it was one of my dad's horses and for me I thought it was a really good place to start and I and really glad I started on a horse I knew and the horse took really care of me because you get so nervous and everything just freezes you know and the horse just took care of me, it was a good horse to start my 1st race on.
FOTH: Where you nervous at all going out into the paddock and stuff?
BA: I was real nervous. My palms were sweating and I was really hot and when I jumped off my horse I was panting pretty good. (laughs)
FOTH: Tell me a little about your 1st win.
BA: It was actually the same day as my 1st race. My 1st race was the 6th race and I won the very next race on a horse called "We Have A Problem".
FOTH: What was it like jogging the horse back to the winner's circle? Were you like in complete shock that you had just won a race?
BA: Yeah it was a felling I won't ever forget. It was real excitement and it is funny because this horse, I never liked galloping this horse and this horse did everything right, but he is this big, strong, tough horse and I wasn't expecting him to be my 1st winner. My whole family was there and my dad was actually the one who pressured me to ride this horse right after my 1st race. I just remember my dad and sister smiling so much because this horse he is a good and special horse and they were really happy for me. I have wanted to be a jockey for the longest time and just galloping one of our horses back to the winner's circle was just an unbelievable feeling.
FOTH: Did you get the inanition from the other jockeys and did you know it was coming?
BA: I knew it was coming and they got my pretty good. Somebody got me with "vicks" and later I found it was my own valet and it took me like 3 or 4 days to get that stuff out of my hair, to wash it out as it just stuck to my hair.
FOTH: Describe to me what the experience was like for you riding at the Colonial meet in 2006.
BA: I like it a lot and I had a lot of fun. Everyone was really nice to me and I may go back there again this summer and it just a nice relaxing place to ride. They have really nice crowds and it is located in a nice laid back area.
FOTH: I know your currently riding in Maryland now, do you notice any difference in the tracks besides the 2 turf courses that Colonial Downs has?
BA: Colonial I pretty much rode for my dad. I didn't go out and try to hustle and didn't try to meet any of the trainers and it wasn't until I got to Laurel that I picked up and agent and started walking around.
FOTH: Take us what you go through in a typical day?
BA: I usually get to the Laurel or Bowie Race Track about 6: 30 am and I walk around with my agent and ask any of the trainers if they need any help. I try to hustle up some business and hopefully get lucky and help a few trainers out and then since the post time is so early (12:35 pm) and you have to be in the jock's room at 11:00 am, you don't really have much time from after you work in the morning so you pretty much go straight to the jock's room and get ready to ride in your races.
FOTH: Do you have any hobbies or things you like to do when your away from the racetrack?
BA: I still rodeo down in Tampa and stuff and they have jackpots and stuff and I go and compete in the jackpots.
FOTH: Is weight a problem for you at all?
BA: I do as I have a more muscular build and I have to watch what I eat and I work out actually every morning between training hours in the morning and before I check in the jock's room and I actually run about 3 miles a day. It's hard for me to go in the box as that kinda drains me. I enjoy running and have since high school. I usually I hear about jockeys complaining about back problems and stuff and I think because I run so much that has actually helped me with my muscles and stuff.
FOTH: Do you have any idea how long you would like to ride for or are you just kinda taking things day by day now?
BA: I would like to make this a permanent job as I love this. This is my passion riding horses and I can't ever imagine giving it up.
FOTH: Do you have any short term goals you would like to achieve at all right now?
BA: My only goal right now is for somebody to look at me and mistake me for a guy.
FOTH: If some young girl came up to you and said she wanted to become a jockey, what advice would you give her?
BA: I would say as soon as you turn 16 go and get your ex-rider license and see if you can get in with a barn and gallop for a couple years and if that is something you still want to be, to go for it.
FOTH: Looking back, was becoming a jockey easier or harder than you thought it would be?
BA: That is a tough question. That part that was harder than I thought was walking around and hustling in the morning. You really have to get out there every morning and show your face because it is not good enough just to shine in the afternoon's, you got to walk really all day. That was one part that was really a shocker. I had been an ex-rider for 6 years so I kinda had an idea about what I would be getting myself into.
FOTH: Do you think another female rider will win one of the 3 Triple Crown Races?
BA: I absolutely do. Even Rosie (Anna Napravnik) look at what she has accomplished in a little over a year and I think Rosie is a great rider and I don't think this is a man's sport anymore and there is a chance for more woman riders to accomplish their goals.
FOTH: Do you ever have any problems with any trainer not wanting to put you up on a horse because your a female?
BA: No.
FOTH: Have you had a special horse or day so far that sticks out in your mind?
BA: That horse "We Have A Problem" he was also my 5th winner and he is just a real special horse and we have had him for a while and he will be forever in our hearts.
FOTH: I am all out of questions. Anything you want to say to wrap this up and thanks for letting me interview for the site.
BA: No, but just thanks for the interview.
http://images.google.com/imgres?imgurl=http://www.femalejockeys.com/brittnaypic.jpg&imgrefurl=http://www.femalejockeys.com/Brittany.html&h=320&w=250&sz=37&hl=en&start=35&um=1&tbnid=9_FCP2Z_Kpb4JM:&tbnh=118&tbnw=92&prev=/images%3Fq%3D%2522Anna%2BNapravnik%2522%26start%3D20%26ndsp%3D20%26um%3D1%26hl%3Den%26sa%3DN
* * *

---
WomenInRacing.org
©1996-2017 by of Gordon Clay