A&E Takes Drag Racing Mainstream with "Driving Force Reality Series
Press Release
Driving Force (Airs 7/17/06 on A&E)
Show Focusing on Sport's First Family to Debut This Summer
Photo Gallery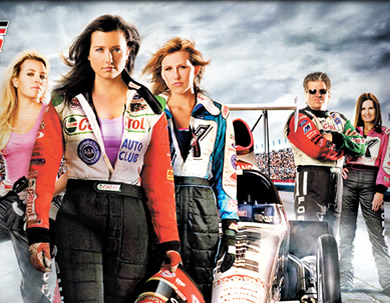 ---
New Real-Life Series Starring Drag Racing legend John Force and his High-Speed Daughters Premieres on A&E Network July 17

Start your engines! Driving Force, the new high-speed real-life series from A&E Network®, starring racing legend John Force and his three drag racing daughters, premieres on Monday, July 17, 2006 at 9PM EST and PST / 8PM CST.

Like golf's Tiger Woods and basketball's Michael Jordan, John Force is easily the most accomplished and dominant figure in his sport - NHRA drag racing. With 120 career victories, an unprecedented 14 team championships in 16 years, membership on ten straight Auto Racing All-American teams, and the world record for consecutive Funny Car championships, Force has shattered every major record on the drag strip and then some. In addition to his legendary racing feats, Force has exhibited extraordinary skill as a team owner and businessman, raising himself up from poverty to become the head of his own multi-million dollar company that currently employs over 60 race team members and office staff. Force is also one of the most outrageous personalities in the history of American sports, combining the dangerous charisma and charm of Gary Busey and Elvis with the down-home likeability of Andy Griffith.

But here's the real hook of the show: John is also the father of four beautiful daughters: 36-year-old Adria (from a previous marriage); 23-year-old Ashley; 19-year-old Brittany; and 17-year-old Courtney. While Adria (Force) Hight has managed the finances for John Force Racing corporate headquarters since she was 20 years old, the other three Force girls are now following in their father's tracks, competing in the male-dominated field of high-speed drag racing. Ashley has already proven herself to be an accomplished driver, having been named Rookie of the Year in her car class. She's also one of the only professional athletes to have her own Barbie Doll and Hot Wheels die cast car.

Despite being a championship drag racing team on the track, the Forces have plenty of issues on the home front. John's career kept him on the road for most of the girls' childhoods, leaving parental responsibilities mainly in the hands of his wife Laurie. Although at the outset she was directly involved in her husband's career, writing contracts, mixing fuel and even packing the parachutes that slowed the car from its breakneck speeds, Laurie believed it was important to provide the couple's children with a more traditional upbringing. So, once they started a family, she and the girls stayed home, went to cheerleading tryouts, took dancing lessons, interacted with pet dogs and cats, went to the gym and shopped. When John was home, it was difficult for him to make the transition to doing the usual things that families do. When he finally looked up, the kids were almost grown. He had missed all the recitals, the picnics, the tryouts, the ball games and the proms. But now, John hopes that by bringing the girls into his profession, he can bring the family closer together and become the kind of father that he always wanted to be. Racing is the backdrop for this true-life comedy as each half-hour episode takes a look at dad trying to bring the family together, while also preparing for the next championship run. It's 8 Simple Rules for Dating My Teenage Daughter meets the bone-rattling thrills of the drag strip. Gentleman and ladies...start your engines.

Nancy Dubuc, Robert Sharenow and Elaine Frontain Bryant serve as executive producers for A&E Network. Driving Force will be produced for A&E by Schmaguuli, LLC. Stephen Hopkins, David Schermerhorn, Brent Travers and Dan Partland serve as executive producers.


Show Focusing on Sport's First Family to Debut This Summer

---
A&E Network on Thursday revealed its plans for Driving Force, a 2006 reality series focusing on NHRA champion John Force and his attempt to re-connect with a family estranged by his all-consuming 30-year-long obsession with professional drag racing.

A 13-time NHRA Funny Car Champion and the only drag racer to have won as many as 100 POWERade tour events (119), Force was introduced Thursday, along with wife Laurie and daughters Ashley, 23, Brittany, 19, and Courtney, 17, to members of the Television Critics Association at their annual convention at the Ritz Carlton Hotel. Driving Force will make it's A&E debut this summer.

The show will be produced for A&E by Schmaguuli, LLC, with Oscar winner Stephen Hopkins (The Life and Times of Peter Sellers), David Schermerhorn and Brent Travers serving as executive producers. Jennifer Anderson is co-executive producer and Kate Garwood co-producer for Schmaguuli.

Driving Force, primarily will deal with Force's three youngest daughters (oldest daughter Adria Hight, 36, is CFO of John Force Racing, Inc.) and their interaction with a father who, because of the demands of the tour, spent little time at the family's Yorba Linda, Calif., home during their childhood.

The upshot is that he missed all the ballet lessons, piano recitals, cheerleader tryouts, school plays, proms and almost everything else as his daughters grew from toddlers to the young women they are today. However, through drag racing, a sport which for 20 years kept the family apart, the gregarious champion hopes to put it all back together.

All three girls have begun their own driving careers and now are just beginning to understand the differences in their dad's world and the more traditional one in which they grew up with their mother, who assumed almost total responsibility for their upbringing.

According to A&E's official press release, which likens the former truck driver to Tiger Woods and Michael Jordan, "Force is....one of the most outrageous personalities in the history of American sports, combining the dangerous charisma and charm of Gary Busey and Elvis with the down home likeability of Andy Griffith."

With the NHRA POWERade tour as a backdrop, Driving Force, is expected to provide an inside look at the man who has won 13 championships in the last 16 years as he tries to re-connect not only with his daughters, but with his wife of 24 years.

A&E portrays the series as "8 Simple Rules for Dating My Teenage Daughters meets the bone-rattling thrills of the drag strip."

NHRA President Tom Compton said "The Driving Force, show on the A&E network reflects NHRA's ongoing effort to expand our fan base and expose NHRA drag racing to a much broader audience. John Force is one of NHRA's greatest ambassadors and I am confident that this program will serve to introduce new fans to the sport which will in turn benefit the entire NHRA community."

A&E Network reaches more than 88 million cable and satellite households, bringing viewers a diverse mix of entertainment ranging from critically-acclaimed original movies to dramatic series, to reality shows like Driving Force,, to the Emmy Award-winning Biography series.

John Force Racing, Inc., is a drag racing dynasty employing more than 60 men and women which, over the last 16 seasons, has accounted for more than 150 NHRA tour victories and 14 series championships.

The team will begin its latest championship quest with three front-line Funny Cars in addition to Super Comp dragsters for Brittany and Courtney. For the third consecutive season, Ashley will drive the Castrol A/Fuel dragster for car owners Jerry Darien and Ken Meadows while continuing to test a Funny Car in anticipation of moving up in classification in 2007.

John Force, who finished third in POWERade points a year ago despite the fact that he earned a category-best five victories, will debut a new 2006 Castrol GTX Ford Mustang at the season-opening CARQUEST Winternationals at Pomona, Calif., Feb. 9-12. He will be joined by Next Generation teammates Eric Medlen, 32, and Robert Hight, 36, both former crew members.

Medlen drove the Castrol SYNTEC Ford to three victories last season, as many as series champion Gary Scelzi, en route to fourth place in the driver standings. Hight earned the prestigious Automobile Club of Southern California Road to the Future Award last year as the NHRA Rookie-of-the-year. He'll return for a second season at the wheel of the Auto Club Mustang.


A&E Takes Drag Racing Mainstream with "Driving Force Reality Series

---
January 12, 2006 - Principals in Driving Force,, a new drag racing-based reality show, answered questions posed by members of the Television Critics Association at their annual convention in Pasadena, Calif. From left, John Force, wife Laurie, daughters Ashley, Brittany and Courtney, along with Rob Sharenow of A&E and Brent Travers of Schmaguuli, LLC, which will produce the series. set to debut this summer on A&E Network.

---
January 12, 2006 – A&E Network has begun production on Driving Force, a new, fast-paced real-life series starring racing legend John Force and his three drag-racing daughters. Driving Force is scheduled to premiere on A&E this summer.

Like golf's Tiger Woods and basketball's Michael Jordan, John Force is by far the most accomplished and dominant figure in his sport – Drag Racing. With 119 career victories, an unprecedented 14 team championships in 15 years, membership on ten straight Auto Racing All-American teams, and the World Record for consecutive Funny Car championships, Force has shattered every major record on the drag strip and then some. In addition to his legendary racing feats, Force has exhibited extraordinary skill as a team owner and businessman, raising himself up from poverty to become the head of his own multi-million dollar company that currently employs over 60 race team members and office staff. John Force is also one of the most outrageous personalities in the history of American sports, combining the dangerous charisma and charm of Gary Busey and Elvis with the down home likeability of Andy Griffith.

But here's the real hook of the show: John is also the father of four beautiful daughters: 36-year old Adria (from a previous marriage) , 23-year old Ashley; 19-year old Brittany; and 17-year old Courtney. While Adria (Force) Hight has managed the finances for John Force Racing corporate headquarters since she was 20 years old, the other three Force girls are now following in their father's tracks, competing in the male-dominated field of high-speed drag racing. Ashley has already proven herself to be an accomplished driver, having been named Rookie of the Year in her car class. She's also one of the only professional athletes to have her own Barbie Doll and Hot Wheels die cast car.

Despite being a championship drag racing team on the track, the Forces have plenty of issues on the home front. John's career kept him on the road for most of the girls' childhoods, leaving parental responsibilities mainly in the hands of his wife Laurie. Although at the outset she was directly involved in her husband's career, writing contracts, mixing fuel and even packing the parachutes that slowed the car from its breakneck speeds, Laurie believed it was important to provide the couple's children with a more traditional upbringing. So, once they started a family, she and the girls stayed home, went to cheerleading tryouts, took dancing lessons, interacted with pet dogs and cats, went to the gym and shopped. When John did come home, it often was difficult for him to make the transition to doing the usual things that families do. When he finally looked up, the kids were almost grown. He had missed all the recitals, the picnics, the tryouts, the ball games and the proms. But now, John hopes that by bringing the girls into his profession, he can bring the family closer together and become the kind of father that he always wanted to be. Racing is the backdrop for this true-life comedy as each half hour episode takes a look at dad trying to bring the family together, while also preparing for the next championship run. Its 8 Simple Rules for Dating My Teenage Daughter meets the bone-rattling thrills of the drag strip. Gentleman and ladies ... start your engines.

Nancy Dubuc, Robert Sharenow and Elaine Frontain Bryant serve as executive producers for A&E Network. Driving Force will be produced for A&E by Schmaguuli, LLC. Stephen Hopkins, David Schermerhorn and Brent Travers serve as executive producers, Jennifer Anderson is co-executive producer and Kate Garwood is co-producer for Schmaguuli.

Now reaching more than 88 million homes, A&E Network brings viewers a diverse mix of high quality entertainment; ranging from critically acclaimed original movies to the very best dramatic series, the most successful justice shows on cable to the Emmy Award-winning Biography ® series. Driving Force follows champion drag racer John Force and his three drag-racing daughters as they compete not only in the high-speed field of drag racing but also face the day-to-day challenges of family life.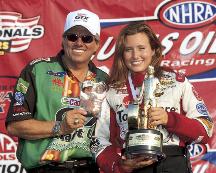 John and Ashley

* * *

---
| | | |
| --- | --- | --- |
| | | |
Contact Us | Disclaimer | Privacy Statement
Menstuff® Directory
Menstuff® is a registered trademark of The National Men's Resource Center™
©1996-2019, The National Men's Resource Center