Motocross Girls
LATEST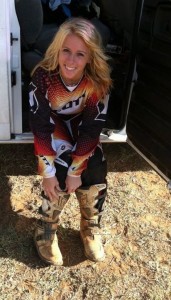 Stephanie Gilkey
My name is Stephanie Gilkey and I'm 18 years old! I'm from San Antonio, Texas and my home track is Cycle Ranch MX.
I started to ride when I was around 6 years old. My dad got bikes for my whole family, my mom, my older sister, and me, so we all started to ride together. I was never that competitive when I was younger and after my dad suffered a serious injury from racing we stopped riding and racing when I was around 11 or 12. I was completely away from motocross until December of 2010 when my dad bought some bikes to fix and sell which of course, whether intentionally or not, brought us back into the sport. I used to think I would be so much faster if I had continued riding for those years, but in reality that break is what gave me the drive to be where I am today. I had the natural talent and previous skill but now knew how bad I really wanted it and am very proud of the progress I've made in these past months. My dad has raced his entire life so naturally with two daughters and no son he tried to pass it on to us! I've always been really close with my dad and he has pretty much been my only trainer through the years and so far it's worked pretty well!
Racing has shaped me into who I am by teaching me things like dedication and perseverance. It has also introduced me to some of the most amazing people and I wouldn't trade the friendships I've gained for anything. I've had to sacrifice a lot to be competitive in racing but the perks of good health (through exercise and diet to be in good shape for racing), amazing friends, confidence in everything I do, and that amazing rush and satisfaction of riding make everything worth while.
My biggest accomplishment personally has been my improvement over the past year. After a year and a half back on the bike I've become competitive in many classes, including women's prosport (Women's A). I plan to continue to race the prosport class and apply for my pro license by next year. Then hopefully I can really put my hard work to the test by racing with the fastest women in the world on the outdoor circuit.
One of my favorite male riders is Blake Baggett because it's just so impressive to watch him charge so hard to take the lead position. It's not the easiest way to win but it is definitely impressive. My favorite women riders would be of course Ashley Fiolek and Tarah Gieger because they both have incredible style and seem like really awesome, down to earth people. My favorite quote comes from one of my other favorite male riders, "Champions may fall but they never quit" – Ryan Dungey
Advice to other women riders out there: To be really competitive you have to race with guys. Racing with guys typically gives you more people to ride with and it makes you way more aggressive. I love racing with other women but you can't be afraid to jump in with the guys!
Sponsors: Barger's Allsports, PinkRacing.US, Gaerne, DeCal Works, TDPCustoms, Extreme Powersports, GFR, my mechanic Sam, and all my friends and family!
For updates follow me on instagram! @mxsteph187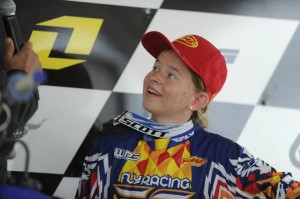 Taylor Higgins
TAYLOR HIGGINS FROM TEXAS, U.S.A.My name is Taylor Higgins and I'm 17 years old. I'm also deaf! Born and raised in Mesquite, TX!
I started to ride when I was 6 years old. My uncle used to race motocross. They would let me get on there gas tank and take me for a ride around. After that I told my grandpa I wanted a bike. The next morning he got me a PW50. He would take me to empty fields and I fell in love with riding ever since.
I continue to ride because I love it! You always have fun! It's so addicting because it challenges you and you get to meet friends from all over the world! I have been racing for 11 years and still going. The past few years I've gotten serious about my motocross career and started training with Shannon Niday. Next year, I'm taking it to the next level by turning pro and hopefully I'll put in good results.
Who has inspired you: Definitely my family, they have done so much for me over the years to come this far and tells me to never give up! And of course my friend Ashley Fiolek. We're so much alike and I'm glad there's another deaf girl that does the same thing I do!
Any sponsors you have: I would like to thank my sponsors, Rock River Powersports, Fly Racing, FMF Racing, Shannon Niday Mx Schools, Merge Racing, Shock Sox, Speed Graffix, Scott Goggles, EVS, Cycle Nano, JM Racing, Motorex Oils, Berm & Most importantly my Family and friends!
Accomplishments: I have won 5 National Championship over the years. The biggest Accomplishment was winning Loretta Lynn's Last year in the Girls class. Hard work truly does pay off.
Advice to other women riders out there: Just make sure you're having fun and don't listen to any of the boys that says we cant ride.. we can do anything that the boys can do!
Favorite quote: These are some of my favorite quotes ever: "A deaf person can do anything a hearing person can do, except hear." & " I hated every minute of training, but I said, "Don't quit. Suffer now and live the rest of your life as a champion" -Muhammad Ali
Follow me on Twitter and Instagram to keep up with me!
___________________________________________________________________________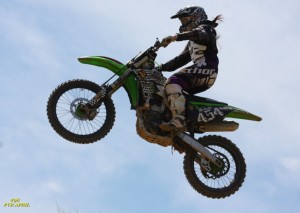 Mary Michaels
MARY MICHAELS FROM PENNSYLVANIA, U.S.A.My name is Mary Michaels and I am 16 years old. I'm from Pittsburgh Pennsylvania and started riding a quad when I was about 7 years old. 2 years later, I told my dad I wanted to ride a bike like my big brother and my best friend. So soon enough I got my first dirtbike, a crf100. I never used a clutch before so I was so nervous! But I had no trouble at all with it.
I started to ride because of my older brother. He always rode and started racing superminis when he was about 11. I never raced till just about 2 years ago. I just loved being at the races so much, loved the people that were involved and thought that women's motocross was the coolest thing! I would watch the girls and think to myself, "wow I cant wait to be out there with them girls!" Once my brother out grew his supermini I decided I wanted to ride a race bike and started to ride on local tracks. I never raced, just practiced. Every time there was a practice my brother and I would go. 2 years ago I finally got enough courage to race my first race at Steel City Raceway! I couldn't sleep at all the night before, and that day I was sick to my stomach with nerves! My whole family and all my friends were there to support me. Then I finally lined up on the gate, and before I knew it the card was sideways, and I was off! It was such a rush. I didn't do so well my first race. I wrecked a whole lot, mostly cause it was muddy, but also because I was just so nervous. I didn't race again till I got a bigger bike, which a couple weeks later I got a kx125! I finished off the season and got 3rd place in the series!
I continue to ride because I love it. There's not a better feeling in the world than being on a bike! I love the feeling of lining up on the gate and the adrenaline rush it gives you!
I would have to say that my brother has inspired me the most. When he was on superminis he won the series. Then he bumped up to C class, and won that series also. He then got bumped to B class, and also won that year too. Now he's in his first year of A class and I couldn't be any more of a proud little sister! Also one of my good friends, Taylor Levic, has inspired me. She's been racing with my brother since they were in C class together. She was right up there in the top with those boys! She went pro last year, and I am most defiantly her number one fan!!
My goal is to be as fast as Taylor one day. We ride together and I look up to her so much. I also want to make it to Lorettas! The girls out here are fast, so my biggest accomplishment was getting 3rd place in the series last year, for my first year. My sponsor is Export Boxing and Crating.
My advice to other women riders is just stick to it. I know we get alot of crap from boys because were girls, but hey, theres alot of girls out there showing them boys whats up! If you love it just ride, ride, rid,e and dont give it a second thought!
My favorite quote: "Go big or go home," because we race motocross, give it all you got and go big or go home! My favorite rider is Taylor Levic. She is one of the coolest people I know and helps me out a lot! Look for her girls, she's number 45 this year in WMX!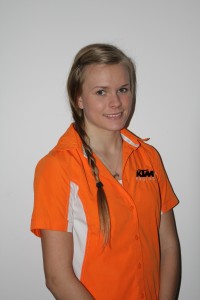 Sara Pettersson
PROFESSIONAL RIDER, SARA PETTERSSON, SWEDENMy name is Sara Pettersson! I'm from a pretty small city in Sweden called Kumla. During my stay in the USA I live in Mission Viejo, CA. I started to ride when I was 7 years old on a Yamaha PW 80. My older brother is also a rider so that's how I got into the sport. I really love this sport, it's been a big part of my life since I was a little kid and I can't imagine my life without it. I love the feeling of success or when I reach my goals and that helps me to keep fighting in tough times.
My sponsors are: Munn Racing KTM, Ankle Savers, Renegade Fuels, Motorex, AXO, AGV Helmets, ODI, ASV, SPY, Kennevik Racing, Mom & Dad
My goal for the future is to become world champion, and I see this year in USA as a great chance for me to develop as a rider and get closer to my goal, cause there is a lot of fast girls riding over here.
I have been 2 times 2nd in the Swedish championship and in 2011 I was 5th in the world championship.
My advice to other women riders is: Don't care about those who say that girls can't ride. Just go out there and do your thing, have fun and show them they're wrong!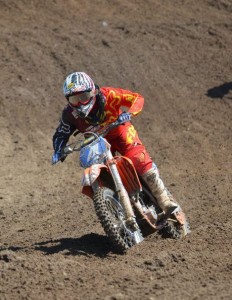 Jacqueline Strong
PROFESSIONAL RIDER, JACQUELINE STRONG, U.S.A.My name is Jacqueline Strong and I am 19 years old. I'm from Sedona, AZ. My parents and my older brother got me on a Yamaha PW 50 with training wheels when I was 18 months old. By the time I was 3, and could ride without my training wheels, I started racing locally. Riding was always a family hobby. We rode any chance we got and it just became a natural part of my life. After I won my first national championship in '05 at the age of 12, things took off. Sponsorships and training got more serious. Then I went pro at the age of 15 in '08.
Ever since then, my family and I have been giving everything we have so that I could have the chance to live my dream. Most people don't understand why we continue to sacrifice and risk so much to race motocross. Honestly I do it because I love it and there's nothing like it. I really don't think there's another sport that is as risky and demands as much physical, mental and family commitment to succeed. The continuous challenge is addicting and I believe I was given a rare talent that shouldn't be wasted.
I'm going to give it all I've got while I can! Hopefully along the way I can become a solid podium contender and be an inspiration to others. The best advice I can give to girls aspiring to become pro is to realize the magnitude of dedication it takes before committing. When you go pro, being fast isn't enough. You've got to have the whole package and remember it becomes a business. Best of luck to you all!
Current Sponsors: Fox, Thonetta & BARTLETT FARMS, Warhawk, WSMX, Rekluse, Strong Cryogenics, Mana Strength & Conditioning, Buckelew Motocross Training, Team Gus, FMF, Utopia, 5th Gear Sprockets, Applied Racing, D&K Service, Maxima, Dunlop, Adam's Chiropractic, Leatt, DT1, Acerbis, Matrix, Evo, Rockwell, RK Excel, Hammerhead and Pro Taper
Check out my website www.jacquelinestrongmx.com and follow me on Twitter to learn more. :]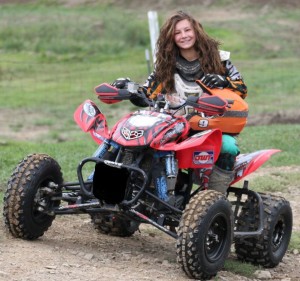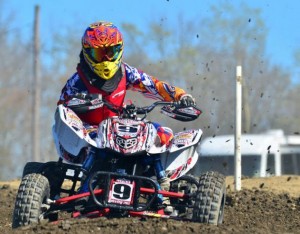 Maci Devenport
QUAD RIDER, MACI DEVENPORT from OHIO, U.S.A.My name is Maci Devenport. I am from Barberton, Ohio and I am a 2011 AMA ATVA National Champion.
I first started to ride when I was 8 years old. After being the first girl in AMA history to earn an ATV National Podium finish for the overall Championship in a male dominated class in 2010, I set my race goal and made the bold statement that I would bring home a 1st place Championship on 2011 and succeeded!
Why you continue to ride: I continue to ride because it is something that I enjoy doing very much. Motocross is not a ordinary sport and that's what I like about it. It's a great way to meet new people from all over the Country. I also enjoy it because I can have family time with my parents.
With fierce determination and working through numerous mechanical issues, I stayed focused and got the job done. When I ran into problems with my quad, I would help my parents find parts or find assistance to always keep me running. I appreciate my parents and all of our Moto friends and families who came through and supported me to make my goal a reality.
Off the track I stay very dedicated to my academics and hometown extra-curricular activities. I continue to earn straight A's in all of my honors classes at Barberton Middle School, I am co-captain of my volleyball team, I cheerlead, kickbox, ride horses, snowboard, wakeboard and volunteer for many local non-profit organizations.
2012 brings me back for another season of national racing. So far through round 3, I made AMA ATVA History by being the 1st girl to win a moto and then again winning the overall by winning both moto's in the Production 90 (male dominated) class. I plan to stay focused and determined to bring home another championship!
Why you continue to ride: I continue to ride because it is something that I enjoy doing very much. Motocross is not a ordinary sport and that's what I like about it. It's a great way to meet new people from all over the Country. I also enjoy it because I can have family time with my parents.
Who has inspired you: My parents have been the most inspiring people to me. They help me succeed in every way possible and always guide me to do my best.
Any sponsors you have:
National Sponsors: Makson Construction, ITP Tires, Fly Racing, Wiley Mods, JB Racing, Janssen Motorsports, Ripitup Flims, 488 Webdesign, Hinson Clutch, Maximum RPM, Rath Racing and The Ohio Crew
Local Sponsors:
ProCar Associates, The Barberton Herald, Helmet Skinz, Kames, Ramjam Sportsplex, Barberton Tree Service, S.A. Comunale, PL Landscape, Dennis Liddle of Raymond James, Single Handed Cycles, Haywood Electric, First Choice Home Improvements, and Weekend Motorsports
Very important people that support me unconditionally:
Bernie Minnick, Scott Wintrow, Farmer, Steve Miller, Eric Fogle, Tim Dettling, Debi Bartosek of 88 Live to Ride, My parents, My Grandpa and Grandma Heitic, My Aunt Elaine, and all of my family and my friends from home.
Goals for the future: To persuade the AMA ATVA National board to bring back the Women's Pro class, and then earn my Pro card. Academically, I plan to work hard to become an Anesthesiologists or Nurse Anesthetist.
Top Rider Accomplishments:
Was the 1st Girl in AMA ATVA History to:
Earn an overall podium season finish in a male dominated class (2010)
To win the Girls Production 90 National Championship (2011)
To win a 1st place Moto and also win an overall finish in the male dominated 90 production class (2012)
Advice to other women riders out there: Bethany Hamilton said "I don't need easy, I just need possible" – So, remember to just keep focused and with will, and determination anything is possible if you're willing to work hard for it.
My favorite quote about racing is: "Ride like you're in first, but train like you're in second."
Favorite rider: Josh Upperman a Pro Rider from Ohio – He is a very consistent, fast rider, his holeshots are amazing, and most importantly he is very humble. Nothing comes easy for him, he works very hard for everything he achieves.
Sponsorships mean a lot to my family and me. I am thankful that my parents both continue to work very hard to support my dream and I appreciate how all my sponsors assist me. If you would like to join the list please contact us at devenportracing@gmail.com, visit my website at www.macidevenport.com or Like my fan page on www.facebook.com/MaciDevenportRacingMotoX9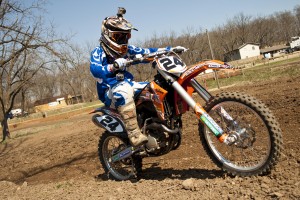 Amy Mellinger
AMY MELLINGER FROM ILLINOIS, U.S.A.My name is Amy Mellinger. I am 21 years old and I have lived just outside of Chicago my entire life. It is not quite the motocross mecca of the United States, but it helps when your family has a motorcycle dealership (Motor Cycle Center, Villa Park, IL) that has been around since 1980. I have raced KTM's from the age of 4, although I did have an affair with Husky's when I was on 50's (my dad even put a 65 motor in one, because I didn't want to learn how to shift yet). As you can probably guess, we only sell European bikes so I guess you could say the Mellinger family bleeds orange.
Growing up, it was always a family affair at the track. My dad and my two older brothers all raced while my Mom would always come out for support. As you can imagine, there was bound to be some competition between the kids. There was even competition between our dad and us as we grew older and became faster. My oldest brother Nick was always the faster and smoother one, while Chris was always fairly cautious on the bike, and I… Well I got the nickname "Crashes" from my brothers growing up. 2003- Broken collarbone. 2007- Broken scaphoid. 2008- Torn ligament in my thumb. Then in the summer of 2010 I got landed on and ran over during practice before a race at Motoland in Indiana and receiving my 3rd concussion, torn ACL, high ankle sprain, broken molar, and a cut up elbow. Two weeks later, I had surgery to repair my ACL and three days after that I was walking around without crutches and able to do some easy peddling on the stationary bike. I ended up being released from physical therapy two months early, because I had more than full flexibility, more strength than the non-injured leg, and I have not had any pain in it for a good month or two by that point. My mile run time was even lower than it was before the injury. That being the first time I have needed surgery from an injury, I would say it went fairly well. I came back as a smarter, stronger, faster, and smoother racer. Part of that being because I switched over to my brother Chris' 250f from the 144, since he is stationed in England with the Air Force and can't really ride at the moment. (Thanks Chris, I am proud of you!) Being on the four stroke forced me to mellow out my riding style, but I was comfortable on the bike from the very first day.
This year my goal is to get top 10 at Loretta's in Women's, so I can race against Ashley Fiolek and Sarah Whitmore again next year at Red Bud and Millville. I honestly feel like I have the speed, but it is hard to judge because the local races have a weak turn out. In the meantime, I would like to thank my family for all of their support, along with Motor Cycle Center and the whole crew DeCal Works, you guys and gals are awesome.
png file
MIKAYLA DOWDY FROM KENTUCKY, U.S.A.My name is Mikayla Dowdy and I am from Murray, Kentucky. I am 13 years old and have been racing for about a year now. I have spent my whole life growing up within the motocross community since my dad himself has raced his entire life. There was a point in my life when, out of nowhere, I realized that I wanted to race as well. After talking to my dad, the day following our discussion he purchased me a YX85 and I immediately got into racing. We soon sold that bike and replaced it with a CRF150. My first year of racing I rode the TMXA series and finished with a 3rd place in girls 9-13 class. After a lot of hard work I was able to get sponsored for the 2012 racing season by Oneal Mx,Steel Mx Optics, Matrix Concepts, and Full Tilt Trackside. I'm a very competitive person and love everything about this sport. I work hard to get where I need to be and will do anything to get there. My biggest dream within the next year is to qualify for Loretta Lynns. This year I am racing the TMXA series again and training really hard for next year. Motocross is always on my mind 24/7 and getting involved in the sport has changed my life in many ways. Most boys out there say us girls cant ride, but that doesn't hold me back. I'm determined and I will do anything to reach my dream and prove them wrong!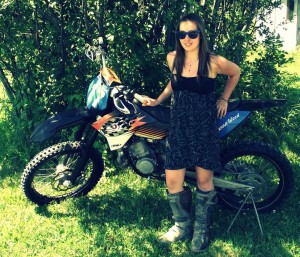 Jenna Wood
JENNA WOOD FROM ONTARIO, CANADA
My name is Jenna Wood and I am from Manitoulin Island, Ontario. I started riding when I was about 10 years old. My very first bike was a little Honda xr70, however I quickly wanted something bigger and faster after watching my older brother and his friends ride. After riding for about a year on a Suzuki rm85 my friends and family started saying that I should try racing because they felt as though I would be successful. I had been to many races to watch my brother and his friends ride, which really motivated me to take up racing. I would also watch the girl's races to see what it was like, experience and competition wise. The following year I joined CMRC racing and after my first race I instantly fell in love. My friends all told me to just take it easy and that your first race is never going to be your personal best, but after that first moto they quickly took it all back. I went out there and killed it! I got a holeshot here and there and even placed 2nd overall that day for my first race against 16 girls. That year I ended up 3rd overall and have raced ever since.
The past few years I have really started to enjoy motocross more and more. I sometimes even feel as though I find myself enjoying the competition against the guys more than girls, mainly due to the women's turnout at the gate. I am one of the only girls that ride and race where I live, which gets frustrating. Any girl out there that has been in this position understands that it is very difficult to be the only girl out there sometimes.
Within the last 3 years, I have consistently placed first overall and really want to make my way down South to even bigger and faster races. I have luckily been able to pick up a few sponsors over these past few years to help me out with my racing! A big thank you goes out to Thunderbird Racing, Borderline, Matrix Concepts, Braand Apparel, Robinson's Auto Supply and last but not least my Mom & Dad! I also would have never gotten this far without all moto friends particularly the guys that treat me no different being a girl out there and help me out in any way they can from riding advice to helping me fix my bike.
As Ryan Sipes says it, "Motocross is dirty, it's hot, sweaty, hard on your body…but man its fun, that's what I do, its what I am, its what I live for."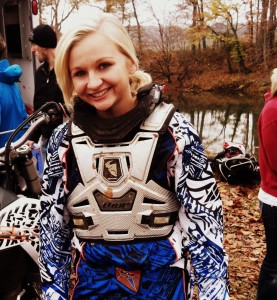 Susan Voss
SUSAN VOSS FROM MINNESOTA, U.S.A.
My name is Susan Voss. I'm 17 years old and from a small farming community in central Minnesota. Growing up I was just an average little girl. I went to public school, played many sports including softball, golf and ballet.
The summer between fifth and sixth grade, my life changed. My dad's business partner from Nebraska came up to my house one weekend from a Loretta Lynn's regional qualifier. At the time, I had never seen a motocross race, except for watching the Disney movie "Motocrossed." I knew my dad raced C class back in the 1980's, but he never really talked about it. When my family and I got to the track I was amazed. The adrenaline, noise and atmosphere blew me away. After that weekend I knew I wanted motocross in my life.
I only rode my 65 for a short time because it was clearly way too small for me. My next bike was a KTM 85 that I raced a couple motocross races on but realized that it wasn't really my style. I transitioned over to Hare-Scrambles and Enduros. My first year of racing them I don't even remember how I ended up, but the year after I won most of my races and finished with a championship in the girls class. In 2009, I decided to push myself even harder. That year I won every girls race I entered, including the Hare Scramble and Enduro championship and 2 national races. That year I was also fortunate enough to run the OMA series, which is a grueling cross country series all over the country.
Due to a knee injury my 2010 year was not what I wanted it to be. Last year I raced cross country in Minnesota for my fourth year. My races were all top 5's so I had nothing to complain about. At the end of the season I went to a few motocross races just to hang out with friends but ended up realizing how much I missed it. I raced one race and led both moto's, but ended up stalling my bike in one and crashing in the other. The day after that my parents told me they had received and email from Shannon Niday, one of the most renowned motocross coaches in the the country. They had a four month training program going on and I immediately said I wanted to do it. Three days later I enrolled into online school, packed up my bags and bikes and moved to Texas. For the next four months I worked out every morning with my physical trainer Sheila, who kicked my butt. In the afternoons I rode with Shannon. My hands were always blistered but I knew I was improving. When I left Texas in December I tripled my speed!
This year I'm mainly racing Minnesota motocross, but I will be doing some cross country. I want to thank my parents for letting me follow my dreams. It sounds cheesy but I am so grateful for them. The Niday family for taking me in and making me work my hardest. And last, my sponsors. Brothers Motorsports, Dittman Signs, EVS, and SCORR racing. Without them I would not be where I am today!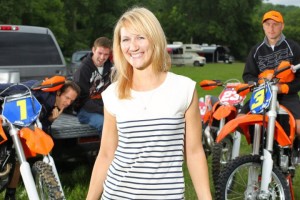 Sarah Whitmore
PROFESSIONAL RIDER, SARAH WHITMORE, U.S.A.
My name is Sarah Whitmore and I am from Cheyboygan, MI. I starting racing because my father used to race. My older brother had a bike and it's all I can remember from my childhood: riding my bicycle and wanting to ride my brother's dirtbike.
I am extremely competitive and just love everything about racing. I still have the love, drive and motivation that I had years ago and will continue to race until that goes away, if it ever does. My biggest struggle I have faced as a woman in a male dominated sport is equality. It's like it's always a fight to prove that I'm good enough or strong enough or tough enough. And no matter what, we never get the same recognition, respect or sponsorship opportunities that the men have.
Some advice I would give to other women out there is to just have fun with it!!! And don't listen when guys tell you that girls can't ride. They will, and they are wrong!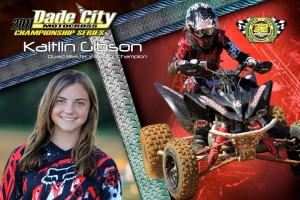 Kaitlin Gibson
KAITLIN GIBSON FROM FROM FLORIDA, U.S.A.
My name is Kaitlin Gibson and I am turning 14 years old this year. I started racing quads when I was 6 years old. I now race a Yamaha raptor 250 at Dade City Motocross! I recently won a championship in a predominately male competition other than me and one other girl. I rode my 250 in the schoolboy Jr. Class at Lorretta Lynn's and I was completely outmotored since all the other quads were 300's. I got 3rd fastest lap time in practice and 2nd off the holeshot. After coming off the track, a lot of parents were coming up to my dad saying how good of a rider I am. I ended up getting 17th though due to an error where my quad clipped a tree coming out of a turn. I did get right but up though and finished the race. The only time I didn't is when I collapsed 10% of my lung and punctured a hole in the other lung. I was knocked out so I kinda couldn't get back on. Other than that, you can guarantee that I would keep going no matter what.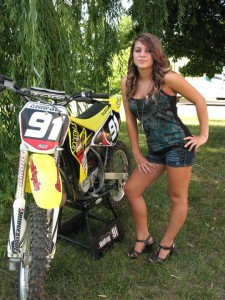 Andrea Godfrey
Andrea Godfrey is the name, motocross is the game. I am from the small town of Princeton, Minnesota. I started riding when I was 2 years old on a four wheeler, and transferred to dirtbikes when I was 3. I continue to ride because of the lifestyle. Not only is the adrenaline from moto half the reason why I race, but it's a culture. One of the best feelings is when your muscles ache and your heart pounds when you're in the middle of a moto. And it sure is nice to have stories for the scars you have instead of the "I fell down the stairs" story you hear. The motocross environment beats everything. Just hearing the word 'racing' gets me going and you don't have to be fast to enjoy what this sport brings. Someone who has always inspired me is Ryan Dungey. He was just another kid who went to every local race in Minnesota, and showed us all we could be one of the fastest Pro moto racers in the world. A goal I have for my future is that someday when I have kids my little girl will race with her hair coming out of her helmet and kicking butt. In high school, I always had to manage two lives, my school captain cheerleader life, and my at the track motocross racer life. Advice to women racers out there- If you get the holeshot, you don't have anybody to pass. Make a statement. A quote that keeps me going is "You can't start a new chapter in your life if you keep re-reading the last one." Special thanks to Larsons Cycle, Berm Benders Raceway, Swenson Heating, Scott, Evs, and Geared Up!
* * *

Motocross girls... some of the sassiest girls around.

All the moto guys saying they want a moto girl... when it's clear that's not what they really want.

That cupcake may not go to my hips... but it will go to my laptimes.

---
WomenInRacing.org
©1996-2019 by of Gordon Clay