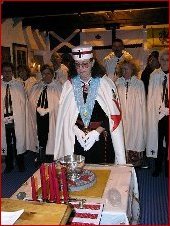 Chevalier Andrea Mikana-Pinkham, KGCTpl Worthy Fisher Queen
Andrea Mikana-Pinkham is the National Director of Body Mind Spirit Journeys, Women's Sacred Travel, and Wellness Tours, divisions of RMC Travel. She is also a Reiki Master Teacher & Spiritual Counselor. She manages a nine-day tour called "On the Trail of The Da Vinci Code." She is a Lady Templar Knight of the Order of Scottish Knights Templar and co-director of the International Order of Gnostic Templars. E-Mail or call 866.464.8879.
Body Mind Spirit Journeys is owned and operated by RMC Travel, a company with over 40 years experience in the travel industry Andrea has over 10 years of experience in the sacred and wellness travel field. Her journeys began in 1993 when she and her husband, author Mark Amaru Pinkham, founded the company after a trip to Peru, and began leading Sacred Journeys.
Andrea is familiar with the operations of a sacred and/or wellness travel program on all levels. She has directed all of the day to day and tour-related operations. Also, she conducts advance trips to countries where Body Mind Spirit Journeys offers tours, to meet with land operators, guides, hotel and restaurant owners, as well as local artisans, musicians and spiritual leaders. She creates, prices, advertises and promotes these travel programs. Andrea is the Tour Conductor and Speaker on tours to some of the world's most important sacred sites. Destinations: Costa Rica, Egypt, England and Scotland, Finland, France, Honduras, Iceland, Ireland, India, Mexico, Peru, New York (Long Island), Sedona AZ
Andrea serves on the Advisory Council of SOFTLY International, a non-profit organization serving children living in poverty in Costa Rica, Honduras, and Peru. Through RMC Travel's Vacations with a Reward division, tour participants have the valuable opportunity to volunteer in the SOFTLY program for 2 mornings during the tour. For more information about "Vacations with a Reward" Tours, Click Here
Source: http://images.google.com/imgres?imgurl=http://www.gnostictemplars.org/images/andrea_ceremony2_sm.jpg&imgrefurl=http://www.gnostictemplars.org/whower.html&h=226&w=170&sz=17&tbnid=lt3_JDUshaPadM:&tbnh=103&tbnw=77&hl=en&start=8&prev=/images%3Fq%3D%2522Andrea%2BMikana-Pinkham%2522%26svnum%3D10%26hl%3Den%26lr%3D%26sa%3DN

Related Issue: Notable Women
* * *

---
WomenInRacing.org
©1996-2019 by Gordon Clay