Manga

---
Men stuff® has compiled the following information on Mange books for young women. Manga is the Japanese word for comics and/or cartoons (not necessarily animated, this includes print cartoons); outside of Japan, it usually refers specifically to Japanese comics. It often, but not always, reads from the back cover to the front cover, and from right to left.* Manga developed from a mixture of ukiyo-e and Western styles of drawing, and took its current form shortly after World War II. It comes mainly in black and white, except for the covers and maybe the first few pages. Shojo n. 1. Manga appealing to both female and male readers. Anime A small amount of the total Manga output of Japan is adapted into anime, which is usually created afterwards, once a market interest has been established. Stories are often modified to appeal to a more mainstream market. en.wikipedia.org/wiki/Manga

Alice 19th Volume 1 of 7 by Yu Watase. Alice Seno is a seemingly shy and meek girl who always seems to be outshined by her older sister Mayura. One day, Alice has an encounter with a mysterious and magical rabbit girl, and her life is turned upside down. Alice discovers that certain words have power, and that she has the potential to be master of a set of sublimely powerful words called the Lotis Words. But power always comes with a price, and the price may turn out to be Alice's sister Mayura... Rated T+ for Older Teens. Viz LLC, www.viz.com, 2001, ISBN 1-59116-215-7
Battle Angel Alita: Reclamation, Vol. 1 by Yukito Kishiro. The author blurs the lines between human and machine in this sci-fi/action adventure. Daisuke Ido, a talented cybernetic doctor, finds the head of a cyborg in a junk heap. When he rebuilds her body, Alita's only clue to her past surfaces - her deadly fighting instincts! And now she is determined to find out the truth about who she once was. Viz LLC, www.viz.com, 2003, ISBN 1-56931-945-6
Battle Angel Alita: Angel of the Innocents, Vol. 2 by Yukito Kishiro. A sophisticated science fiction tale chock-full of action, black humor, and bizarre philosophical, historical and cultural references! The Utopian city of Tiphares' diabolical secret is out, pitting parent against child, metal against flesh! As the reluctant protector of a surviving band of innocents, recently resurrected cyborg Alita must stop a rampaging three-story-high robot with the mind of a three-year-old child! But all she really wants to do is find her long-lost friends from one of her many other lives. Viz LLC, www.viz.com, 2005, ISBN 1-56931-946-6
Boys over Flowers, Vol. 1 of 15 plus 12 DVDs by Yoko Kamio. Tsukushi Makino is accepted into the prestigious Eitoku Academy. Life changes dramatically for Tsukushi when her friend falls on Tsukasa Domyoji. Tsukasa is the explosive leader of the "F4", a group of the most powerful, rich and handsome boys. Domyoji refuses to accept Makiko's apology and Tsukushi steps in to protect her friend. A red tag appears in the Tsukushi's locker the next morning which is a sign from the F4 that she is to be bullied by the school. Tskushi continues to stand up to her oppressors. Rated T for Teen Viz LLC, www.viz.com, 2005, ISBN 1-56931-996-0.
Fruits Basket by Natsuke Takaya. A family with an ancient curse...and the girl who will change their lives forever. Tohru Honda was an orphan with no place to go until the mysterious Sohma family offered her a place to call home. Now her ordinary high school life is turned upside down as she's introduced to the Sohma's world of magical curses and family secrets. Discover for yourself the Secret of the Zodiac, and find out why this manga book has won the hearts of readers the world over. Rated T: Teen Age 13+ First Tokyopop Printing, 2004, ISBN 1591826039

Nancy Drew Girl Detective: The Demon of River Heights Vol 1 of 4. Based on the series by Carolyn Keene. Stefan Petrucha and Sho Murase. #1. Join Nancy Drew, along with Bess and George, as they search for missing student filmmakers and discover the deadly secret behind the local urban myth known as "The Demon of River Heights." This new Nancy Drew is more attuned to emotional issues than the old Nancy, as one can only expect in our therapeutic age. Papercutz, 2005, Simon & Schuster, 2005, ISBN 1-59707-000-9

Nausicaa of the Valley of Wind Vol 1 of 7 story and art by Hayao Miyazaki. In the tradition of J.R.R. Tolkien comes an epic environmental cautionary tale created by world-renowned animator Hayao Miyazaki! Humanity, in its hubris, has precipitated a devastating ecological disaster. Flourishing industrial civilizations have been swallowed up and Earth is covered with the Sea of Corruption, an enormous forest of fungi that releases a miasma of poisonous spores into the air. Nausicaa, a gentle young princess, has an empathic bond with the giant mutated insects that evolved in the wake of the destruction of the ecosystem. Traveling by cumbersome flying ship, on the backs of giant flightless birds, and perched atop her beloved glider, Nausicaa and her allies must negotiate peace between kingdoms battling over the last of the world's precious natural resources. Creator Miyazaki is best know in the United States as the writer, director and character designer of Fox Video's animated film My Neighbor Totoro, as well as Laputa: The Castle in the Sky and Kiki's Delivery Service. Volume 1 of 4, Viz Communications, 2002, ISBN 1-56931-096-3

Passage 1: Poverty - A ray of light by Annette Roman. Fifteen-year-old orphan Rei survives by his wits and guts on the mean streets of the world. His fortunes take a strange turn when he meets a trainer wielding some powerful transformational magic who offers to coach him to achieve his dream of becoming the greatest martial artist in the world! But it seems Rei's trainer is more interested in developing his mind, spirit and - ugh! - heart than his thrashing, raging, fighting moves! The stakes get higher when Rei meets a young woman fighting just to survive! Can Rei vanquish the specter of poverty...? At the end of the story there are several pages that talk about world poverty, gender and poverty, conflict and poverty and giving ideas of what the reader can do along with a listing of web sites. Viz Media LLC and The World Bank, www.viz.com, 2006, ISBN 1-4215-0364-6

Passage 2: HIV/AIDS - First love by Annette Roman. Rei's master turns out to be a real animal! In fact, Rei never knows what animal he's going to turn into next! Now Rei's training journey takes him to the neon lights of the big city, where he meets some cool guys with smooth moves, and falls head-over-heels for a feisty young cocktail waitress! But the women he loves is hiding a terrible family secret... At the end of the story are several pages providing facts on HIV/AIDS, HIV/AIDS in developing countries, Drugs and HIV/AIDS, the impact of AIDS on orphans and women and what the read can do with several web sites listed. Viz Media and The World Bank, www.viz.com, 2006, ISBN 1-4215-0365-3 (Not listed at Amazon.com as of 2/19/06)

Passage 3 - is coming. Rei's next training mission takes him to a tropical paradise complete with coral reefs, florescent fish, and teeny-weeny string bikinis! Too bad global warming is setting off storms that are ruining the glorious beaches, destabilizing the delicate balance of the ecosystem, and destroying the islanders' traditional way of life! What can a street orphan/future greatest martial artist in the world, do to protect the island from climate change...? Plus, Shark Attack! Watch this space.

* * *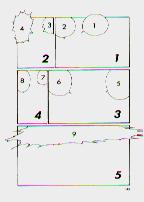 Follow the action this way.
Ukiyo-e, "pictures of the floating world", is a genre of Japanese woodblock prints produced between the 17th and the 20th century, featuring motifs of landscapes, the theater and pleasure quarters.
Shojo 1. Manga appealing to both female and male readers. 2. Exciting stories with true-to-life characters and the thrill of exotic locales. 3. Connecting the heart and mind through real human relationships.
Anime is a style of cartoon animation originating in Japan. Anime is characterized by character and background styles which may be created by hand or may be assisted by computers.

---
Contact Us | Disclaimer | Privacy Statement
Menstuff® Directory
Menstuff® is a registered trademark of Gordon Clay
©1996-2017, Gordon Clay