May
Robert Rodale - Pioneer Advocate of Organic Farming and Family Health
---
Robert Rodale, an exponent of organic farming and the head of a publishing empire whose magazines offered the world the very best information in gardening, health and fitness, died in 1990 at the age of 60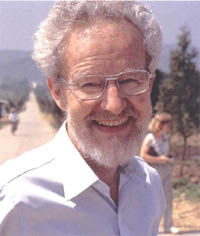 "What can be more valuable now than a small garden, free of synthetic fertilizers and pesticide poisons, yielding food that tastes as good as the vegetables and fruits we were able to buy in markets years ago? Valuable not only to the body but to the spirit" –Bob Rodale
At the time of his death, Rodale was in the Soviet Union –working to establish a Russian-language edition of The New Farmer, one of several publications of Rodale Press devoted to an approach in farming that reduces reliance on chemicals.
A prolific thinker and writer, and activist, Robert Rodale wrote more than ten books including his classic work, Composting,,The Best Gardening Ideas I Know, Good Bug Bad Bug, Rodale Press Guide to Organic Living, Rodale's Organic Gardening, The Prevention Guide to Better Health and Organic Way to Mulching.
The Rodale Press was founded in 1942 by J. I. Rodale, Mr. Rodale's father. The son joined the business in 1949 and built it into an internationally known publishing concern.
Their magazines included Prevention, Organic Gardening, Runner's World, Backpacker, Bicycling, Men's Health and American Woodworker.
Robert "Bob" Rodale was chairman and chief executive of Rodale Press. He devoted much of his time in recent years to the Rodale Institute, a nonprofit organization seeking to use existing resources to make agriculture more profitable and biologically sound. Few people know that Bob competed in the Olympics in rifle shooting and was inducted into the U.S, Bicycling Hall of Fame in 1991.
He formed a nonprofit – The Institute for Regenerative Agriculture -- I was privileged to work with Bob on the Institute's membership development, direct marketing and fundraising.
A warm, light-hearted man, Bob's enthusiasm was contagious. In private conversations with me, he would talk openly about the spirituality of gardening and the wonderment of seeing transformation from seed to plant to the fulfillment and Joy of Harvest Time!.
Decades before his time, Bob, the great visionary anticipated the the need for urban farming and considered spiritual communities and local congregations the ideal platforms for organic food production in large cities.
Rodale Press grew out of the ideas of J. I. Rodale, who grew up in New York City but became passionately devoted to the science of agriculture.
He was working as an auditor for the Internal Revenue Service in Pittsburgh in the late 1930's when he read about organic-farming research in Britain.
He bought an abandoned farm in Emmaus, Pa. to experiment with organic practices and soon he developed his doctrine of regenerative agriculture, which seeks to save and rebuild soil worn out by conventional farming.
The following year the elder Rodale began Organic Gardening & Farming, his first major publishing venture. Prevention magazine was started in 1950 and New Farm followed a few years later.
Sophisticated Marketing: Rodale Press became known for its sophisticated direct-marketing techniques that promote not only subscriptions to the magazines but the sale of books published by the company.
While most publishers seek out the young and affluent, Rodale had great success pursuing middle-aged and older readers. Although the company has sought in recent years to broaden its base among younger readers, the majority of Prevention's copies go to subscribers over 50 years of age.
Mr. Rodale traveled around the globe seeking ideas for his publications. In 1973, in China, he chanced upon a book on ear acupuncture. Against the advice of colleagues he had it translated and published in the United States. It went through several printings.
In recent years he returned to China seeking to persuade agriculture officials to reverse their quest for chemically aided farming and to return to ancient organic methods.
Bob also conceived the Prevention Index, an annual survey conducted by the Louis Harris polling organization that tracks changes in the preventive health behavior of Americans.
Although the Rodale family became wealthy from its publishing ventures, Bob who attended Lehigh University before joining his father in publishing, continued to live in a modest brick house surrounded by his beloved gardens.
At the Rodale Institute, a 305-acre experimental farm in Maxatawny, Pa., a staff of agronomists developed farming techniques that have attained worldwide use.
Robert Rodale, the son of J.I. Rodale-- founder of the organic movement in the United States -- grew up in a very exciting time. The organic pioneers worldwide were developing an idea they never knew would have such an impact on the world today.
In the United States especially, J.I. and Bob Rodale were key leaders in this pioneering group, helping to design the blueprint for today's burgeoning organic food acceptance and market expansion.
They were able to persevere and succeed during these challenging years because they found strength in each other -- strength came from an understanding, love, and respect for the soil and for nature it.
"I will always remember J.I. Rodale not only as my father, but as a man who taught me to think of myself as an organic person, trying to live in nature, striving always to improve the environment while working to improve myself, too. That was the message to me, and it will live on for a long time."
This philosophy was developed from the practical experience of working with the soil.
"My father lived on the original Organic Gardening Experimental Farm in Emmaus, Pennsylvania. He designed this diversified farm with the primary goal of growing enough organic food to feed his family."
"A secondary goal was to conduct experiments that would help evolve and define organic gardening and farming techniques. And finally, J.I. wanted the farm to be a place where people of all ages could come and learn firsthand about the principles of gardening and farming organically."
"But perhaps even more importantly, the original Organic Gardening Experimental Farm was the perfect training ground for what my father was to become: the world's greatest organic journalist. That farm experience -- living, working, and personally experiencing the connection between soil, human, and environmental health helped him develop his insight into the world around him."
"Through all of his practical experience -- whether making and applying compost on the farm or writing about the people he actually visited and learned from – this would remain the foundation of his work and vision. And I was privileged to continue his work and expand his vision throughout my life."
©2010, Forrest Craver
* * *

Man becomes great exactly in the degree to which he works for the welfare
of his fellow man. - Mahatma Gandhi

Forrest Craver has been doing men's work for more than 20 years. He was senior interviewer for Wingspan: Journal of the Male Spirit for many years. He has led or co-led more than 40 retreats or workshops for men including The Mankind Project, Men in Recovery, and regional clergy retreats for United Methodist and ELCA denominations. He is a lawyer and a nationally recognized fundraising consultant for nonprofit groups. He is the author of a short book of Spiritual Poetry entitled "This Well Has No Bottom" and is finishing a book about intergenerational breakthrough approaches for boys and men in American culture. His websites are cravercreativeservices.com/and transitioncolorado.ning.com/profile/forrestcraver or eMail.He lives and works in the Denver metro area.

---
| | | |
| --- | --- | --- |
| | | |
Contact Us | Disclaimer | Privacy Statement
Menstuff® Directory
Menstuff® is a registered trademark of Gordon Clay
©1996-2019, Gordon Clay