Menstuff® has compiled information and books on the issue of the Prostate. This section is an archive of Kim Garretson's monthly poster featured daily on our homepage. His book, Niches of Clarity at Gunflint, is a sardonic view of the infuriatingly awful healthcare practices and lazy cavalier behavior by men that together give us today's prostate cancer epidemic.
"Instead of adding to the Web's voluminous text resources, I chose to modernize pulp fiction magazine covers from the 30's to the 60's. (See www.MansGland.com) Why? Because I believe smiling at the absurdity of the disease is one of many coping and healing paths to follow," she says.
"My Requests: Women viewers: Please lead healthy men by the ear to this page and make them look. Healthy Men: Glance, grimace, get a PSA. Men with Prostate Cancer: Hey, try laughing in the face of dread. It helps." Kim can be reached at kimg@livinghome.com.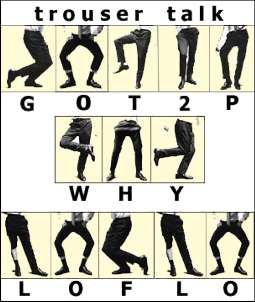 So you're in a noisy restaurant and you see a couple of guys start to do strange gyrations with their trouser legs back and forth as if they're communicating. They may actually be spelling out words in a new language -- Trouser Talk. And when they are talking about having to go too often, they may have BPH and not know it. (Of course, the gyrations could also mean they just 'gotta go right now'.)
Other Resources: Issues

, Books, Resources

---
Disclaimer - Information is designed for educational purposes only and is not engaged in rendering medical advice or professional services. Any medical decisions should be made in conjunction with your physician. We will not be liable for any complications, injuries or other medical accidents arising from or in connection with, the use of or reliance upon any information on the web.
---
As a nonprofit organization, a purchase of books through Menstuff helps continue our work to end men's isolation. So, wherever you find a book you would like to purchase, click on the words "Buy this book". Or when you want to see other books on the issue that we might not be aware of, click on the "amazon.com" box at the end of that issue.
---


Menstuff® Directory
Menstuff® is a registered trademark of The National Men's Resource Center™
©1996-2019, The National Men's Resource Center