March
Male Bonding

---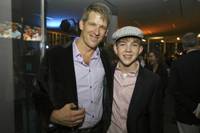 There's a gash under my left eye. My right thumb throbs like a sonofabitch. I keep seeing stars. My whole body hurts. "I'm 46; I'm too old for this shit," I think on the flight back to Boston from Florida, where I had been sucked into an all-out basketball war by Seamus, the one person who can do that to me.
My strategy during the games was to pick my spots—look for a momentary lull in his defense and go Kamikaze through that opening before returning to my slumped-over, hands-on-knees defensive posture. The court was slick after a tropical shower, making the ball heavy and footing tricky. Halfway through the contest I felt sure I was going to have a heart attack.
As we do whenever we play, Seamus and I agreed to complex rules of engagement: best two out of three games to 15, and you have to win each by two; loser's outs; use of profanity is a one-point deduction (I lost more points than I care to admit); shots made from beyond the arc are worth three if you are down by six, otherwise they are worth two; one timeout per game for me (I spent each lying on my back with a shirt over my eyes.)
I have four inches and 50 pounds on my opponent. I'm right-handed, but I've developed a behind-the-back move to my left. I can't shoot lefty, but if I get good enough position going left I can get the ball to the rack. And I've been working on a pull-up jumper as well as a reverse layup to the left. Seamus is worried enough about my ability to go left that once in a while I can glance that way and burst right for an easy bucket.
But I don't have the legs to win in a three-game match. I have to win in two or its lights out for me. So I always work hard to win the first game and then settle in for a slugfest in game two. Our game-two scores usually go into the 20s. If the score is tied late, I launch balls from behind the arc. More often than not pure desperation provides the motivation for me to try delivering the dagger shot.
On this day, I won the first game, 15-13, on a couple of hard drives right. I was ahead in the second game, moving to the hoop with relative ease until one time, as I tried to make a layup, Seamus pushed me in the back. And then on another layup, he did it again.
"Don't do that again," I warned him. .
The next time I got the ball, I set up sideways with my left shoulder forward, dribbling the ball low to the ground in a posture faintly reminiscent of Magic at his peak. I glanced left found a clear path to the right, and then…another push in the back.
I waited until Seamus had the ball before retaliating. He has a better shot than I do and 10 times the energy. But he still seemed afraid. He doesn't quite know what it means to play hard, really hard, when it counts.
I let him go past, and as he approached the basket and jumped for his layup, I pushed him—hard, maybe a little too hard. As he landed on his back, I heard the ugly sound of shorts and sneakers and flesh scraping against pavement.
He bounced up with rage in his eyes. If I were anyone else he would have punched me in the nose. Instead, he looked down and muttered to himself. He called the foul and took the ball.
From there, the game was like skiing downhill; it was over quickly. I couldn't score another basket. Game three was closer. I got a little run going, but he put me away with a bomb that I didn't have the legs to get out and contest.
His defense was smothering. He had found a different gear, and I couldn't keep up.
We didn't talk on the walk home, until finally he noted that I should expect to get older and fatter every day for the rest of my life, while he, at 13 years old, was expecting to grow taller and stronger. That night, I heard my son tell people that he not only beat his dad, but that he beat him up.
He was right. My body, wedged into the airplane seat, is aching. But I smile anyway. Getting beaten up hurts, but getting beaten by my son felt good.
©2011, Tom Matlack
* * *

While all complain of our ignorance and error,
everyone exempts himself. - John Glanville

Tom Matlack, "I am a sucker for real-life heroes, particularly the ones that get overlooked. My profile work grew from my first published piece, THE RACE, which describes my own life altering experience in an athletic event barely worthy of the local paper. Coaches and athletes in the sport of rowing were my initial focus before expanding to mainstream sports like professional basketball. Music, film, and television have proven fertile ground for heroic journeys of a different, but related, kind. Finally, I have continued to write bits and pieces of my own story in an attempt to inspire and enlighten."
Thomas Matlack was Chief Financial Officer of The Providence Journal until 1997. He was the lead investor in Art Technology Group, which reached $5 billion in market capitalization in 2001. He founded and ran his own venture firm, started companies like American Profile (sold to Disney for $260 million) and Telephia (sold to Neilson for $560 million), before turning to writing. His work has appeared in Rowing News, Boston Common, Boston Magazine, Boston Globe Magazine and Newspaper, Wesleyan, Yale, Tango, and Pop Matters.
In 2008, Matlack founded www.TheGoodManProject.org, with his venture capital partner James Houghton. He has appeared on national and local television and radio as well as print across the country. The fall of 2009, Matlack led a non-conventional book tour for The Good Men Project that started inside Sing Sing and ended in Hollywood with a screening of THE GOOD MEN PROJECT documentary film followed by a panel discussion including Matt Weiner and Shepard Fairey.

---
Contact Us | Disclaimer | Privacy Statement
Menstuff® Directory
Menstuff® is a registered trademark of Gordon Clay
©1996-2019, Gordon Clay