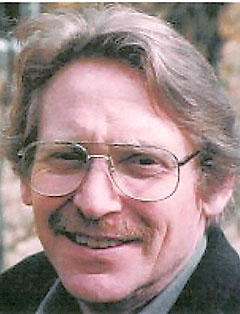 An interview with Cliff Barry
---
Cliff Barry Knows Shadow
There's a difference between men and women. And our bodies are not the same either, according to Cliff Barry.
Barry - the modern guru of "shadow work" in the men's movement - said he believes men and women are different emotionally. And we're wounded in different ways, too.
"Every man has a little voice on his shoulder that tells him he's bad," Barry said, referencing an idea from Robert Bly. "Every woman has a little voice that says she's not as good as the boys."
There are two basic models that help create a "safe container" for people to do their emotional work, he said.
"In one, a leader energetically steps into the center and provides positive direction and everyone decides if they're going to follow. This is the 'Warrior' and 'Sovereign' energy."
The other approach is more the product of the "Lover" and "Magician."
"This is the 'if you build it they will come' philosophy," Barry said. "The facilitator works indirectly to make the container safe in such a way that something [shadow] can appear that ordinarily wouldn't." (The term "shadow" was coined by the great C.G. Jung.)
Formerly a minister, Barry studied the science of symbols and sacred mythology for twelve years. With over fifteen years facilitation experience, he has led workshops across the United States and Canada as well as influence many protocols within The ManKind Project.
Cliff Barry has the unique heritage of having been born and reared in a Swedenborg community in Glenview, Illinois.
"I had the same nine classmates for nine years straight," he recalled. "It was an incredibly stable environment that had a profound effect on me."
Emannuel Swedenborg (1688-1772) was a noted Swedish scientist, philosopher and theologian.
"While they [Swedenborg followers] are Christian, they read the Bible exactly the way Robert Bly reads the Iron John myth," Barry continued. "They taught me to read scripture, and life, and people as speaking myth in which there was a deeper meaning."
Barry said most of Christianity and western culture define life in terms of the dualism of "good people" and "evil people." A child must then deal with the possibility that he is one of the "evil" ones, he noted. The natural result is that many "believers" are encouraged to shun a substantial portion of who they are and project the painful shaming onto others.
"Your scar is your star," Barry intoned, hopefully, quoting one of his clients. "There's gold to be had in our shadows."
Barry and his partners Mary Ellen Blandford and Susan DeGenring focus their Jungian based workshops on the four basic archetypes: Lover, Warrior, Magician, King (Sovereign).
The archetypes essentially are a spiritual representation of the true nature of God (or Gods), Barry said.
"When I first saw this work I realized in an instant that men were being reborn spiritually, not completely, but substantially."
John Miller, a leader in the ManKind Project, has participated in two of Barry's workshops.
"I learned techniques to help facilitate emotional work into very deep places," Miller acknowledged. "I appreciate Cliff Barry's ability to distill this information in a simple and effective way."
Something must be working right as 29 facilitators schooled in this process are continuing the good work around the world.
With a nod to Robert Moore, Doug Gillette and Ron Hering, Barry gratefully acknowledges those who have helped create his method of dealing with men's shadows.
"This four-quarter approach is known for the safety and freedom it provides to those who choose to grow by facing and processing their shadows," he concluded.
Contact Cliff Barry, Shadow Work® Coaching, 7215 W County Rd. 24, Loveland, CO 80538, 888.406.0703 or 970.203.0400 or shadowwk@frii.com or www.coachingpartners.net

© 2005 Reid Baer
* * *

The fame you earn has a different taste from the fame that is forced upon you. - Gloria Vanderbilt

Reid Baer, an award-winning playwright for "A Lyon's Tale" is also a newspaper journalist, a poet with more than 100 poems in magazines world wide, and a novelist with his first book released this month entitled Kill The Story. Baer has been a member of The ManKind Project since 1995 and currently edits The New Warrior Journal for The ManKind Project www.mkp.org

. He resides in Reidsville, N.C. with his wife Patricia. He can be reached at E-Mail.

---
| | | |
| --- | --- | --- |
| | | |
Contact Us | Disclaimer | Privacy Statement
Menstuff® Directory
Menstuff® is a registered trademark of Gordon Clay
©1996-2019, Gordon Clay