Ear Muffs

---
Menstuff® has compiled the following information on Ear Muffs (ear protectors) and why you should consider starting to wear them when around loud noises, especially at car and motorcycle races and rock concerts and dances. And why it's even more important for your children to wear Ear Muffs too.
Google "Peltor Kid" for possible business's selling the Kid Ear Muffs. As I remember, Peltor is an American company but only sells the Kid Ear Muffs in black. Their English company sells it in the two neon colors. They couldn't give us a reason. We don't recommend outlets but it does appear that the Neon and Pink ear muffs are available at www.envirosafetyproducts.com/product/Peltor_Kid_Earmuffs They are out of Visalia, CA

Ear Muffs
Hearing Loss
Do You Have 'Boomer Ear'?
What WomenInRacing.org Does
Thanks to Firestone Tires

---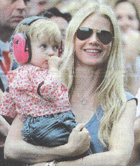 Gwyneth Paltrow and her daughter Apple at Live 8 concert.
Sensitivity to noise varies from one individual to another. Children make up a special risk group. Sometimes we expose small children to a noisy environment without even thinking about the potential danger. They ride along in the motorboat, accompany Dad to the shooting range, "drive" the tractor with Granddad, listen to big sister's stereo and so on. Noise-induced damage can cause trouble sleeping and give rise to stress. Attention and learning capacity can be decreased. The risk of hearing damage increases with volume and with the length of time spent in the noisy environment. The character of the noise also influences the risk of damage.
* Children's hearing is extremely sensitive and they have very little protection against harmful noise.
* Hearing protectors effectively attenuate harmful noises without shutting out other ambient sounds.
* Hearing protectors are relatively easy to wear. Look for a low profile and no protruding parts that can catch on things.
* The wide, comfortable sealing rings are often filled with fluid and/or foam, which gives optimum sealing and low contact pressure, ensuring the best possible comfort even during long periods of use.
* Many kid ear muffs fit children up to age 7. Adult ear muffs are better than ear plugs, but ear plugs are better than nothing.
See "Audiogram of Familiar Sounds" and the "Noise Thermometer"

---
Blame it on the Stones. Or Zep. Or one of those other 100+-decibel bands you rocked out to in your younger days. Thanks to them, you were ringing in the New Year with ringing in your old ear. But what to do about the maddening buzz of tinnitus? A recent study looked at magnet therapy -- and the findings are both positive and negative.
Source: my.webmd.com/content/article/57/66059.htm

---
Whenever one of us is at a race, we take a bunch of The Yellow Plug, which are classic yellow earplugs with cord. When used correctly, they have a noise reduction rating of 29 decibels. When we see a young child without ear protection, we give them a set with a card and asked them to give the card to their parent and ask them to help put them on. The card reads:

Wear ear Protection

Children make up a special risk group at the races. Their hearing is extremely sensitive. Noise-induced damage can cause trouble sleeping and attention and learning capacity can be decreased. We encourage you to buy and wear "Ear muffs". And ear plugs are better than nothing.
Provided FREE to children at the races by fathers supporting our racing daughters. Visit us on the web at WomenInRacing.org

.

Feel free to use our idea. A box of 200 pairs of earplugs with cords costs less than $60 including shipping. And, it's one of the best things you can do to raise parental awareness around children and loud noises. Know that earplugs should be worn at all times in noisy surroundings for proper protection and that Ear Muffs are better than earplugs but earplugs are bettrer than nothing.

---
We saw a TV commercial during the Indy Car race at Iowa. They showed two children in the stands with ear muffs on. That shows us that Firestone is more aware than most of the importance of protecting children's ears when taking them to the races. THANKS!

* * *

---
WomenInRacing.org
©2005-2017 by Gordon Clay