Girl Dies

---
Menstuff® has information on the cruelty of our prison system. The prison wardan has given very little information on why the father is only granted 20 minutes with his dieing daughter. What gives? Is he that dangerous? The prison officials won't say.

Girl Dies of Cancer After Dad's Visit

---
A ten-year-old girl lost her battle with brain cancer early Friday, shortly after what turned out to be a last visit from her father, who's in prison on a drugs-related conviction.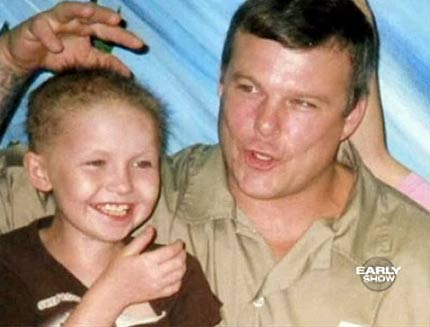 It was, Jayci Yaeger's family says, her last wish -- to have her father by her side.
Jason Yaeger was escorted Wednesday from Yankton Federal Prison Camp in South Dakota to the hospice in Lincoln, Neb. where Jayci spent her last days. Jason was allowed to stay for 20 minutes.
It was Jason's fourth brief, supervised visit with Jayci since her condition worsened. Officials at Yankton had been refusing Jason's repeated requests for an early release to a halfway-house so he could spend more time with her.
Jayci's mother, Vonda Yaeger, told The Early Show earlier this month Jayci was "very scared. I think she's holding on for her father. ... She's very close with her father. She always has been."
On The Early Show Friday, Jayci's uncle, Ed Yaeger, told co-anchor Maggie Rodriguez that, on Wednesday, Jason "just got to tell her that he loved her and sit there and hold her hand and try to comfort her as much as he could."
Though Jayci was unconscious, Ed says the family feels she was aware of Jason's presence because, "Her breathing became labored. That was always our indication -- that, and tearing up and crying when Jason would be on the phone with her. Those were our two indications that she was aware of Jason."
Does Ed think Jayci was indeed hanging on for that one last visit from Jason?
"I believe that's what happened," Ed responded. "She was hanging on for daddy, and she got her daddy, and then she let go."
YouTube

Ed says the Yaegers are very upset with prison officials, who repeatedly rebuffed Jason's requests to be with Jayci.
"We are not satisfied with their actions," Ed told Rodriguez. "Jason should have been here with Jayci when Jayci passed, and he wasn't, because they decided to just make decisions that I believe were unethical.
"Jason's debt to society is almost paid (he's in the last year of a five-and-a-half-year sentence). And all he wanted was just to be here by her side. He would have taken up the rest of his sentence afterwards. He just wanted to be with his daughter, that's all."
The Federal Bureau of Prisons has issued a statement saying, "The institution has taken unusual steps to be accommodating during this difficult time." The statement cites the four escorted trips and "additional phone calls to his family at no charge to him." But, it says, "After careful review of the security needs of the community and the offender, the warden determined that a furlough (unescorted stay in the community) is not a viable option."
But reporter David Jespersen of CBS affiliate KOLN-TV in Lincoln says, "This was a request more for Jayci than it ever was for Jason. He wasn't asking to be set free entirely. He was just asking to be here with Jayci, and now is asking to be here with his other daughter, Shelby. As you can imagine, she's going through a very tough time right now."
The community has been very supportive of the Yaegers, Jespersen says, noting that, "We have had some e-mails saying ... the law is the law, he should stay there, but the overwhelming majority has been very supportive of the family. In fact, they're not only e-mailing our station, they're e-mailing the prison on a daily basis.
"They're also e-mailing any politician they could have to try to get something worked out. I talked with Sen. Ben Nelson's office, Sen. Chuck Hagel's office, the governor both here in Nebraska and South Dakota, and they all expressed that they received plenty of e-mails and many phone calls."
Source: news.aol.com/health/story/ar/_a/girl-dies-of-cancer-after-dads-visit/20080331111709990001

* * *

---
| | | |
| --- | --- | --- |
| | | |
Contact Us | Disclaimer | Privacy Statement
Menstuff® Directory
Menstuff® is a registered trademark of Gordon Clay
©1996-2019, Gordon Clay