Intersex

---
Menstuff® has compiled the following information on Intersex. A medical definition of intersexuality which is applied to human beings is "conditions in which chromosomal sex is inconsistent with phenotypic sex, or in which the phenotype is not classifiable as either male or female". Applying this precise definition, the true prevalence of intersex is seen to be about 0.018%

3:21


Girl Is Born With No Private Parts
Rare Condition - One in 5,000
What is intersex?
The prevalence of intersex depends on which definition is used
Malta Becomes First Country to Ban Intersex Genital Cutting
Tennis Controversy: Female Player (with Male Past)
Alice, from Holland, has Androgen Insensitivity Syndrome (AIS)
Going beyond X and Y (Scientific American)
Statistics of intersex frequency
Notable intersex people
Parents sue South Carolina for surgically making child female
Assigned to be a girl, but identifying as a boy
Resources

---
Technically, intersex is defined as "congenital anomaly of the reproductive and sexual system." Intersex people are born with external genitalia, internal reproductive organs, and/or endocrine system that are different from most other people. About 1 in 1,500 to one in 2,000 babies are born visibly intersexed. But a lot more people than that are born with subtler forms of sex anatomy variations, some of which won't show up until later in life.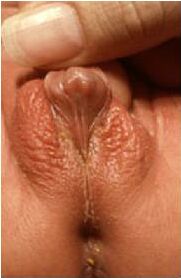 Just one of hundreds of varients.
The current medical protocol calls for the surgical "reconstruction" of these different but healthy bodies to make them "normal," but this practice has become increasingly controversial as adults who went through the treatment report being physically, emotionally, and sexually harmed by such procedures. There is no single "intersex body"; it encompasses a wide variety of conditions that do not have anything in common except that they are deemed "abnormal" by the society. What makes intersex people similar is their experiences of medicalization, not biology. Intersex is not an identity. While some intersex people do reclaim it as part of their identity, it is not a freely chosen category of gender--it can only be reclaimed. Most intersex people identify as men or women, just like everybody
Are intersex people "third gender"?
Many people with intersex conditions identify solidly as a man or as a woman, like many non-intersex people. There are some who identify as a member of an alternative gender, like some non-intersex people. While we support everyone's right to define her or his own identities, we do not believe that people with intersex conditions should be expected to be gender-transgressive just because of their condition.
What is the difference between "hermaphrodite" and "intersex"?
In biology, "hermaphrodite" means an organism that has both "male" and "female" sets of reproductive organs (like snails and earthworms). In humans, there are no actual "hermaphrodites" in this sense, although doctors have called people with intersex conditions "hermaphrodites" because intersex bodies do not neatly comform to what doctors define as the "normal" male or female bodies. We find the word "hermaphrodite" misleading, mythologizing, and stigmatizing. Although some intersex activists do reclaim and use this term to describe themselves, it is not an appropriate term to refer to intersex people in general. In short, snails are the hermaphrodites; humans are not. Also, please avoid using the word "intersexual" as a noun; we prefer "intersex people" or "people with intersex conditions/experiences."
Are intersex conditions harmful?
In general, intersex conditions do not cause the person to feel sick or in pain. However, some intersex conditions are associated with serious health issues, which need to be treated medically. Surgically "correcting" the appearance of intersex genitals will not change these underlying medical needs.
Can't they just do a test to find out babies' true sex?
Medicine cannot determine the baby's "true sex." For example, chromosomes do not necessarily dictate one's gender identity, as it is obvious from the fact that most people born with androgen insensitivity syndrome live as women despite their XY chromosomes. In other words: science can measure how large a clitoris is, but cannot conclude how large or small it needs to be. That is a social determination.
Beside stopping cosmetic genital surgeries, what are intersex activists working toward?
Surgery is just part of a larger pattern of how intersex children are treated; it is also important to stop shame, secrecy and isolation that are socially and medically imposed on children born with intersex conditions under the theory that the child is better off it they didn't hear anything about it. Therefore, it's not enough to simply stop the surgery; we need to replace it with social and psychological support as well as open and honest communication.
What is the correct pronoun for intersex people?
Pronouns should not be based on the shape of one's genitalia, but on what the person prefers to be called. For children too young to communicate what her/his preference is, go with the gender assignment parents and doctor agreed on based on their best prediction. Do not call intersex children "it," because it is dehumanizing.
Is intersex part of the trans community?
While some people with intersex conditions also identify as trans, intersex people as a group have a unique set of needs and priorities beyond those shared with trans people. Too often, these unique needs are made invisible or secondary when "intersex" becomes a subcategory of "transgender". For example, people who discuss about intersex in the context of transgender often stress the risk of assigning a "wrong" gender as an argument against intersex genital mutilation, which overlooks the fact that intersex medical treatment is painful and traumatic whether or not one's gender identity happens to match her or his assigned gender. It is for this reason that intersex people prefer to have "intersex" spelled out explicitly rather than have it included in the "transgender" umbrella.
The prevalence of intersex depends on which definition is used.
According to the ISNA definition above, 1 percent of live births exhibit some degree of sexual ambiguity, approximately one in every hundred births. Between 0.1% and 0.2% of live births are ambiguous enough to become the subject of specialist medical attention, including surgery to disguise their sexual ambiguity.
What's so significant about October 26?
On October 26, 1996, intersex activists from Intersex Society of North America (carrying the sign "Hermaphrodites With Attitude") and our allies from Transexual Menace held the first public intersex demonstration in Boston, where American Academy of Pediatrics was holding its annual conference. The action generated a lot of press coverage, and made it difficult for the medical community to continue to neglect our growing movement. That said, events related to Intersex Awareness Day

can take place throughout October and does not necessarily have to be on the 26th.
It's great! How can I help?
First, join our email discussion list

(we suggest the digest format if you want to keep the number of emails you receive under control). Then, look at our Get Involved

section to see if there is already any IAD events scheduled for your area. If so, go and help them; if not, find a local organization that will sponsor the event--for example, try LGBT group in your city or college campus--and help them bring IAD to your city! We have "suggestions" for what activities to do, but what you will do is entirely up to you and your neighbors (and please tell us if you think of any great idea!) E-Mail


Malta Becomes First Country to Ban Intersex Genital Cutting
---
This is a landmark case for intersex rights within European law reform
On the 1st of April 2015 a historic reform is taking place within the Maltese law code. With the Gender Identity, Gender Expression And Sex Characteristics Act, historic steps are being taken to bring forth an end to non-medically necessary, cosmetic genital surgeries on intersex infants driven by social expectations enforced by the binary sex model. A key factor of the new law pertaining to protection for intersex individuals can be found in article 15.1-15.2.
"15. (1) It shall be not be lawful for medical practitioners or other professionals to conduct any sex assignment treatment and, or surgical intervention on the sex characteristics of a minor which treatment and, or intervention can be deferred until the person to be treated can provide informed consent.
(2) In exceptional circumstances treatment may be effected once there is an agreement between the Interdisciplinary Team and the persons exercising parental authority or tutor of the minor who is still unable to provide consent: Provided that medical intervention which is driven by social factors without the consent of the individual concerned will be in violation of this Act."
By making these procedures unlawful until the individual can provide informed consent Malta is taking vital steps to ensure that the individual's primary rights to self- determination, bodily integrity and personal dignity are respected. For the first time in history intersex individuals will no longer be forced to endure arbitrary surgical sex assignment based on sociological factor´s. The past has seen national, theoretical and personal attitudes towards gender, surgical limitations and best guesses guide the process of gender assignment, of intersex infants worldwide, with dire sociological consequences and a lifetime of physical health complications for many following socially driven surgical intervention. With research showing that parental decision making is influenced greatly by information provided, no adverse effects of non-surgical intervention being found, poor surgical outcomes and satisfaction rates and almost no real research substantiating surgical intervention this timely law reform is finally acknowledging that purely social factors are being used as the basis for surgical interventions.
Malta´s express acknowledgement of the social factors driving the surgical intervention of intersex infant´s sex characteristic´s is to be applauded as a first, worldwide, in affording intersex infant´s protection from so called reparative therapies. However while leading the way in this form of reform Malta must careful to take great care to ensure that social attitudes towards atypical sex characteristics do not lead interventions aimed at "fixing" or "repairing" a child, thus flouting this law and discriminating against individuals on the basis of their sex characteristics not being found socially acceptable.
Simultaneously the new bill addressed gender identity and expression extensively and we are pleased that our Trans friends and allies are afforded greater protection, dignity and guaranteed a life of self-determination by the adoption of the reform found within the bill.
OII-Europe emphatically urges the governments of other nations, along with the European Parliament and other law making entities to look towards the Malta law reform and adopt similar reform within their own countries and areas, ending decades of abusive reparative and gender confirming surgical intervention, taking place worldwide.
About OII-EUROPE
OII Europe (Organisation Intersex International Europe) is the umbrella organisation of European human rights based intersex organisations. OII Europe was founded on Human Rights Day, 10 December, during the Second Intersex Forum at Stockholm in 2012.
OII Europe is an autonomous affiliate of OII (Organisation Internationale des Intersexués), a decentralised global network of intersex organisations, which was founded in 2003 and has operated since then through its national groups in every region of the world.
Source: Press Release

Tennis Controversy: Female Player (with Male Past)

---
Who does a person born with both male and female sex organs, but who identifies as one gender, compete against in sex-segregated sporting events?

Sarah Gronert, a 22-year-old tennis pro from Germany who was born with both male and female genitalia, has chosen to compete against women, and that has some in the tennis community up in arms. "There is no girl who can hit serves like that, not even Venus Williams," says the coach of an opponent Gronert recently beat. The coach, Schlomo Tzoref, also claims, "This is not a woman, it's a man." Is Tzoref just a disgruntled coach, trying to stir up controversy, or is there any validity to his claim? What makes a man a man, and what makes a woman a woman -- and how does being either affect one's ability to win?

The Olympics has one answer; the WTA has another; across the board at national and international levels there seems to be a free-for-all in deciding how to allow players who do not fit into the binary division of traditionally defined female and male to compete. Meanwhile, science has its own explanations and advice for the sports community.
Source: www.aolhealth.com/condition-center/womens-sexual-health/gender-controversy-intersex-conditions/

Going beyond X and Y (Scientific American)

---
The June 2007 issue of Scientific American features a profile of Eric Vilain MD (a world renowned genetic researcher, pediatric endocrinologist, and member of ISNA's Medical Advisory Board). The article, "Going beyond X and Y", discusses the recent international medical consensus which agreed to drop the term "hermaphrodite" in favor of the more neutral "disorders of sex development" (DSD).
Source: www.runet.edu/~mpbaker/Wmst101links.htm

Alice, from Holland, has Androgen Insensitivity Syndrome (AIS)

| | |
| --- | --- |
| | Alice has XY chromosomes, which is the norm for males, as opposed to XX for females. When she was 17, Alice went to the doctor to find out why she still hadn't got her first period. He sent her on to a hospital for a test. As the test was being administered, she saw the technician frown; he said that the machine didn't seem to be working, and they had better move to another room and try another machine. Again, there seemed to be something wrong. The technician left the room to call a doctor. The doctor looked at the machine, frowned too, and then did an internal check up. What he found was nothing. In Alice's body, he found no womb, no uterus, no ovaries. Nothing. It was only then that Alice discovered she had AIS. Although she has XY chromosomes, being insensitive to testosterone, she developed in a female direction. Complete AIS means that the person will look absolutely female from the outside. However AIS is only one of about 75 different intersex conditions. |
Parents sue South Carolina for surgically making child female

---
The adoptive parents of a child born with male and female organs say South Carolina mutilated their son by choosing a gender and having his male genitalia surgically removed.

The surgery took place when the child was 16 months old and a ward of the state, according to a lawsuit filed by the parents against three doctors and several members of the South Carolina Department of Social Services.

The child's biological mother was deemed unfit, and the biological father had apparently abandoned him, according to the suit. So others made the decision.

The child, now 8 years old, feels more like a boy and "wants to be a normal boy," said Pamela Crawford, the boy's adoptive mother.

"It's become more and more difficult, just as his identity has become more clearly male, the idea that mutilation was done to him had become more and more real," she said in a video released by the Southern Poverty Law Center, which is assisting in the case.

"There was no medical reason that this decision had to be made at this time."

Marilyn Matheus, a spokeswoman for the South Carolina Department of Social Services, said the agency does not have any comment on the pending litigation.

The defendants named in the suit also include doctors from Medical University of South Carolina and Greenville Memorial Hospital.

Sandy Dees, a spokeswoman for the Greenville Health System, said she could not comment because of the litigation.
Source: Source: Email from Attorneys for the Rights of the Child


Assigned to be a girl, but identifying as a boy

---
The child, identified in the lawsuit as "M.C.," refuses to be called a girl and lives as a boy. His family, friends, school, religious leaders and pediatrician support his identity.

"We just let him follow his instincts as much as we can," his adoptive father, John Mark Crawford, said in the video.

Pamela Crawford said performing gender assignment surgery on a baby robbed her child of the ability to make the decision for himself.

"I would have never made the decision to choose the gender either way," she said. "What I would have been working with is how do we preserve as much functioning in either direction because we can't know what this child's gender identity is going to be."

The lawsuit claims doctors at a state hospital and Department of Social Services workers "decided to remove M.C.'s healthy genital tissue and radically restructure his reproductive organs in order to make his body appear to be female."

The suit says the surgery violated the 14th Amendment, which says that no state shall "deprive any person of life, liberty, or property without due process of law."

The suit also asks for "compensatory damages in an amount to be determined at trial."

But the adoptive father said the real intent of the lawsuit "is just to uphold these constitutional principles -- integrity of a person's body, and some kind of due process for infants where people around them in power are considering doing surgeries like this."

Pamela Crawford agreed. "I would give anything for this to not have been done to our child," she said. "I don't want it to happen to any more kids."
Source: Email from Attorneys for the Rights of the Child


Statistics of intersex frequency

---
Note that the frequency of some of these conditions, such as congenital adrenal hyperplasia, differs for different populations. These statistics are approximations.
| | |
| --- | --- |
| Not XX and not XY | one in 1,666 births |
| Klinefelter (XXY) | one in 1,000 births |
| Androgen insensitivity syndrome | one in 13,000 births |
| Partial androgen insensitivity syndrome | one in 130,000 births |
| Classical congenital adrenal hyperplasia | one in 13,000 births |
| Late onset adrenal hyperplasia | one in 66 individuals |
| Vaginal agenesis | one in 6,000 births |
| Ovotestes | one in 83,000 births |
| Idiopathic (no discernable medical cause) | one in 110,000 births |
| Iatrogenic (caused by medical treatment, for instance progestin administered to pregnant mother) | no estimate |
| 5 alpha reductase deficiency | no estimate |
| Mixed gonadal dysgenesis | no estimate |
| Complete gonadal dysgenesis | one in 150,000 births |
| Hypospadias (urethral opening in perineum or along penile shaft) | one in 2,000 births |
| Hypospadias (urethral opening between corona and tip of glans penis) | one in 770 births |
| Total number of people whose bodies differ from standard male or female | one in 100 births |
| Total number of people receiving surgery to "normalize" genital appearance | one or two in 1,000 births |
Source: www.isna.org/faq/frequency

Books
"Intersex in the Age of Ethics" ed. by Alice Dreger
"Hermaphrodites and the Medical Invention of Sex" by Alice Dreger
"Sexing the Body" by Anne Fausto-Sterling
"Lessons from the Intersexed" by Suzanne Kessler
"As Nature Made Him" by John Colapinto
Films (Available through available from ISNA)
"Total Patient Care"
"Hermaphrodites Speak!"
Is it a Boy or a Girl? (Discovery Channel)
San Francisco Human Rights Commission Hearings
Talking Back to Science: Art, Science, and the Personal
The Child with an Intersex Condition: Total Patient Care
XXXY - A short documentary about intersex (view online )
Yellow for Hermaphrodites: Mani's Story
Web Sites
* * *

---
Contact Us | Disclaimer | Privacy Statement
Menstuff® Directory
Menstuff® is a registered trademark of Gordon Clay
©1996-2015, Gordon Clay