Looksism

---
Menstuff® has compiled information on Looksism. noun, 1978, prejudice or discrimination based on physical appearance and especially physical appearance believed to fall short of societal notions of beauty Merriam-Webster

.


A heartwarming story about carrying on regarless.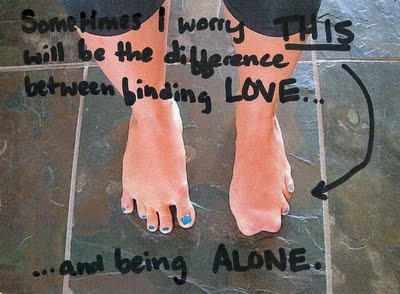 Source: Postsecret.com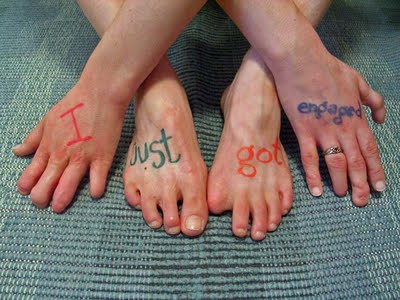 Source: Postsecret.com
50 years ago, today's size 00 was an 8. This viral post shows why vanity sizing must end.
Body Image: Straight Talk for Teens
FIFA article draws criticism for referring to Morgan's looks
France May Ban Promoting Thinness
The Power of Personal Appearance
Canadian dept. store pulls catalog filled with super-skinny models
Make-up is Ugly
Blogs about Looksism

What the Minions have to say about friendship
50 years ago, today's size 00 was an 8. This viral post shows why vanity sizing must end.

---
"Stop believing the social normatives about who and what you should be."

Deena Shoemaker was going through her closet when she realized something odd: She had several pairs of pants in drastically different sizes.

It wasn't that she had gained or lost a lot of weight recently. Despite the varying sizes on the labels, each pair of pants fit her exactly the same. Shoemaker is simply a victim of something that plagues millions of people around the world: arbitrary clothing sizes. Some brands are "true to size" while others "run small" or "run large." Still others use "vanity sizing" like double- or triple-zero to make sizes seem smaller than they are.

Finding six pairs of pants that fit her the same in a range of sizes from 5 to 12 opened her eyes to just how ridiculous our clothing size system truly is. And as a mentor coach at Youth Horizons, a nonprofit organization that supports at-risk kids, Shoemaker knew that teen and tween girls felt her frustration magnified tenfold.

She decided to share photos of herself wearing the pants to show just how absurdly unstandardized clothing sizes are.

She wrote the post as a letter of support to the girls she's worked with over the years, many of whom struggled with body image issues:
"I've have girls sob in my arms and ask me, 'if I were skinnier, would he have stayed?' I've counseled girls who were skipping meals. I've caught some throwing up everything they've just eaten."
She goes on to explain why she's not happy with the sizing discrepancy that exists across clothing brands:
"When you resize a girl's pants from a 9 to a 16 and label it 'plus size', how am I supposed to fight that? ... How do you expect me to convince her that she doesn't need to skip dinner for the next month because her pant size didn't *actually* go up by seven digits?"
Finally, she implored any girls reading the post to recognize that clothing size does not determine their worth as a person:
"My dear beautiful girls, my size 2 girls or my size 18 girls, your size doesn't determine your beauty; your life does."
There's truth to what Shoemaker found in her own closet: Clothing sizes have been jumping all over the place for the better part of a century.
According to a report from Time, over 50 years ago, model Twiggy wore a size 8. Today, writer/comedian Mindy Kaling wears that same size. These two women have two very different body types. What used to be a size 8 is now considered a size 00.
So where did these crazy size fluctuations originate? Simply put, clothing manufacturers thought women would find their actual measurements on clothing unnerving, so they began a practice known as "vanity sizing" to make women's sizes appear smaller. The horrible irony is the same system that was designed to make women feel better about their size is now making them feel frustrated and confused every time they go shopping.
Thankfully, there are people in the fashion world fighting to make clothes shopping a more inclusive, less stressful experience for people with a range of body types.
Companies like ModCloth are doing away with separate plus-size sections in favor of including extended sizes with their main clothing lines because separating larger sizes is a form of fat-shaming. Newer designers like Mallorie Dunn are featuring women of all sizes to model their clothes and show the world they're actually made for anyone to wear. More and more, we're seeing curvy and fat models, actresses, and designers featured in the fashion world.
But we still have a long way to go. No one should feel they have to change their body to fit into clothes — clothes should be designed to fit the beautiful spectrum of body types that exist in the world. Not only that, but clothing should be marked appropriately and practically. Creating new sizes to make customers feel better only makes it seem as though some body types should be hidden or ashamed to be seen.
As long as vanity sizing exists, young girls who are just growing into themselves and learning to be comfortable with their bodies will face frustration when they go shopping. That's why it's vital for them to have people like Shoemaker on their side telling them it's all just bullshit anyway.
As Shoemaker wrote on Facebook: "Stop believing the social normatives about who and what you should be. You are lovely and you are loved. Just exactly the way you are."
Source: www.upworthy.com/50-years-ago-todays-size-00-was-an-8-this-viral-post-shows-why-vanity-sizing-must-end?c=upw1&u=07fa0e7f2d23f338b4a3b29d16b2a71a4c4e496b

Body Image: Straight Talk for Teens

---
Puberty can be a challenging time for teens, as their bodies and minds are changing at a rapid pace. With such changes comes the risk of young teens feeling unhappy with the way they look.

In this program, students will learn what it means to have a positive versus negative body image. The messages young teens receive from their peers, culture and the media about the "perfect body" will be closely examined. The course will also outline the choices teens have in light of these messages – the choice to accept and be proud of their body or the choice to change their body, by using chemicals, disordered eating, dieting, and cosmetic surgery, in order to achieve "perfection". The positive and negative consequences of each choice will be carefully outlined so students can begin to weigh the pros and cons for themselves. Students will end the course by learning five key ingredients to maintaining a healthy body and a positive body image.


FIFA article draws criticism for referring to Morgan's looks

---
Critics took aim at FIFA on social media Tuesday after FIFA.com referenced American forward Alex Morgan's looks in an article posted in advance of the United States' match against Germany in the semifinals of the Women's World Cup.

The second sentence of the piece referred to Morgan as "a talented goal scorer with a style that is very easy on the eye and good looks to match, she is nothing short of a media phenomenon."

One Twitter user asked if FIFA would be commenting on Ronaldo's looks on the day of a World Cup semifinal.

FIFA was also previously criticized after the match tracker on FIFA.com referred to the players by male pronouns during the tournament-opening match between Canada and China in Edmonton.

In the run-up to the Women's World Cup in Canada, FIFA and the Canadian organizers were criticized for putting the tournament on artificial turf.

A group of women, led by American star Abby Wambach, filed a claim in a Canadian court that said holding matches on artificial turf amounts to gender discrimination because the men's World Cup would never be played on fake grass.

And German coach Silvia Neid on Monday said she was dismayed that the German and American players were put up at the same hotel. Teams at the men's World Cup traditionally stay in different hotels.

"I believe this doesn't meet the level of professionalism you should expect at a World Cup," Neid said.
Source: www.aol.com/article/2015/06/30/fifa-article-draws-criticism-for-referring-to-morgans-looks/21203446/?cps=gravity_1593_-1020538325941771977

France May Ban Promoting Thinness

---
Critics say the fashion industry presents a warped image of body size for many women.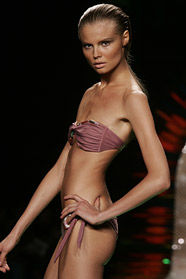 The French parliament's lower house adopted a groundbreaking bill Tuesday that would make it illegal for anyone - including fashion magazines, advertisers and Web sites - to publicly incite extreme thinness.
The National Assembly approved the bill in a series of votes Tuesday, after the legislation won unanimous support from the ruling conservative UMP party. It goes to the Senate in the coming weeks.
Fashion industry experts said that, if passed, the law would be the strongest of its kind anywhere. Leaders in French couture are opposed to the idea of legal boundaries on beauty standards.
Poll Question: What do you think of the proposed French law to ban anything that publicly encourages extreme thinness?

Total votes 29,667.
Good idea - 79%
Bad idea - 9%
Mixed feelings 12%
The bill was the latest and strongest of measures proposed after the 2006 anorexia-linked death of a Brazilian model prompted efforts throughout the international fashion industry to address the repercussions of using ultra-thin models.
Conservative lawmaker Valery Boyer, author of the law, argued that encouraging anorexia or severe weight loss should be punishable in court.
Doctors and psychologists treating patients with anorexia nervosa - a disorder characterized by an abnormal fear of becoming overweight - welcomed the government's efforts to fight self-inflicted starvation, but warned that its link with media images remains hazy.
French lawmakers and fashion industry members signed a nonbinding charter last week on promoting healthier body images. Spain in 2007 banned ultra-thin models from catwalks.
But Boyer said such measures did not go far enough.
Her bill has mainly brought focus to pro-anorexic Web sites that give advice on how to eat an apple a day - and nothing else.
But Boyer insisted in her speech to lawmakers Tuesday that the legislation was much broader and could, in theory, be used against many facets of the fashion industry.
It would give judges the power to imprison and fine offenders up to $47,000 if found guilty of "inciting others to deprive themselves of food" to an "excessive" degree, Boyer said in a telephone interview before the parliamentary session.
Judges could also sanction those responsible for a magazine photo of a model whose "excessive thinness ... altered her health," she said.
Boyer said she was focusing on women's health, though the bill applies to models of both sexes. The French Health Ministry says most of the 30,000 to 40,000 people with anorexia in France are women.
Didier Grumbach, president of the influential French Federation of Couture, said he was not aware how broad the proposed legislation was, and made no secret of his strong disapproval of such a sweeping measure.
"Never will we accept in our profession that a judge decides if a young girl is skinny or not skinny," he said. "That doesn't exist in the world, and it will certainly not exist in France."
Marleen S. Williams, a psychology professor at Brigham Young University in Utah who researches the media's effect on anorexic women, said it was nearly impossible to prove that the media causes eating disorders.
Williams said studies show fewer eating disorders in "cultures that value full-bodied women." Yet with the new French legal initiative, she fears, "you're putting your finger in one hole in the dike, but there are other holes, and it's much more complex than that."
Source: Devorah Lauter, news.aol.com/health/story/ar/_a/france-may-ban-promoting-thinness/20080415102209990002

The Power of Personal Appearance
---
A new Gallup poll gazes into the world's mirror -- and finds that, by and large, Americans like what they see.

The vast majority of Americans, 90%, are confident in their looks. In fact, 75% say they like their wrinkles, that wrinkles are part of their identity. Many say that appearance is important enough to consider making changes. But only a slim minority are actually considering invasive facial procedures like Botox injections.

The worldwide Gallup survey of more than 5,000 adults in five countries examined both the motivating forces and barriers to improving facial appearance through various treatments and procedures. The poll was commissioned by Allergan, makers of Botox.

"People feel quite positive, good about themselves," says Nancy Etcoff, PhD, social psychologist at Harvard Medical School and author of Survival of the Prettiest. "When they consider facial treatments, it's only small positive changes they want to make."

Body image and a sense of one's own attractiveness are part of one's self esteem, Etcoff adds. "People higher in self esteem are more likely to use appearance-enhancing procedures. There's not the negative motivation that one always assumes."

In fact, people with low self-esteem should really see a psychotherapist to understand why, says Etcoff. "They shouldn't go immediately to appearance-enhancing procedures." Among the Gallup findings:

Around the world, most people like their looks. Australia tops the list with 95% of Australians approving of their image, followed by 88% of the French, 87% of Canadians, and 85% of Americans.

How important is physical attractiveness? In the U.S., 49% said that it was "somewhat" important, while 32% said it was "very" important."

Brazilians topped the vanity charts; 61% said that looks are "very important." Brazilians were also most confident in their looks and also more willing to have treatments to improve appearance. Their reasons? To get a promotion, help save a relationship, find a job, find a partner, please their partner, be more attractive, look younger, feel more confident, and -- most of all -- to please themselves.

Americans expressed a bit less confidence, with 48% saying they were "somewhat" confident while 41% were "very confident."

What kept anyone from having facial surgeries? Fear of side effects and safety concerns were the primary reasons in all countries -- except Brazil.

People have concerns about Botox as well. They are worried that with Botox, they will not have good facial expressions, says Debra Jaliman, MD, dermatologist with Mt. Sinai School of Medicine in New York.

Jaliman counts actresses and newscasters among her patients. "We do what I call "Botox light" -- a version so they can frown subtly, yet it diminishes deep lines; it allows some brow movement," she says.

To find a good facial surgeon, ask other people in your community which doctors they've been to. Make sure the doctor has the proper credentials and that they've performed the procedure multiple times.
Source: Jeanie Davis, http://my.webmd.com/content/article/1689.54414

Canadian dept. store pulls catalog filled with super-skinny models

---
Although exceedingly skinny -- and probably unhealthy -- models have proven to be an effective strategy for the advertisers, they're not so great for avoiding bad PR and controversy. As Canadian department store La Maison Simons found out last week, there's a growing movement of socially-conscious fashionistas out there ready to send in complaints whenever they see models that look like poster children for a campaign to fight hunger.

Simons released their 36-page fall catalog in stores as well as inserted into newspapers last week. Almost immediately, the Quebec-based retailer got over 200 customer complaints about the emaciated look of the models wearing their Simons TWIK brand. Not exactly the kind of response you want from a fall catalog. Before the public outrage could really boil over, company president Peter Simons made the decision to pull the catalogs, saying that the images are "destructive to a more vulnerable portion of the population which is exposed to anorexia."
Source: www.stylelist.com/blog/2008/09/02/canadian-dept-store-pulls-catalog-filled-with-super-skinny-mode/?icid=200100397x1208775647x1200484742

* * *

A smile is an inexpensive way to improve your looks. -- Charles Gordy

It's time to break the Laws of Attraction. -- Gordon Clay


---
Contact Us | Disclaimer | Privacy Statement
Menstuff® Directory
Menstuff® is a registered trademark of Gordon Clay
©1996-2019, Gordon Clay