The Mall's Response

---
Menstuff® has compiled the following information on the Mall's Response to their security guard's having a man arrested for wearing a T-shirt advocating peace that he had just purchased at the mall followed by a copy of the actual complaint and the three page deposition. Also, see Locals Respond to Arresting Officers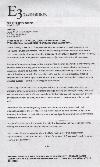 Click on for actual size.
STATEMENT BY TIM KELLEY, DIRECTOR OF OPERATIONS,PYRAMID MALL MANAGEMENT REGARDING CROSSGATES MALL
On the evening of March 3, Crossgates Mall security received a complaint regarding two individuals disrupting customers. The individuals were approached by security because of their actions and interference with other shoppers. Their behavior, coupled with their clothing, to express to others their personal views on world affairs were disruptive of customers.
Crossgates' management is committed to maintaining the mall as a family-friendly facility that provides a secure and enjoyable experience for all its visitors while allowing merchants a prosperous place to do business. While Crossgates Mall is perceived by some to be a public place, it is privately owned. The courts have affirmed that private properties, including shopping malls, have the right to restrict actions and behaviors deemed inconsistent with its intended purpose -- in this case a shopping environment.
The existing rules of conduct at Crossgates Mall strictly prohibit loitering, disorderly or disruptive conduct, harassment, offensive language, fighting or any illegal activity. The Mall will not tolerate violations of these regulations. In this instance, mall management given the information provided to them, determined the customers in question were violating mall policy.
Information has surfaced regarding future demonstrations at Crossgates Mall. Mall management cannot and will not allow this type of activity to occur and will be vigilant in enforcing the rules of conduct which provide a safe and comfortable environment for visitors, merchants and employees.
In light of recent events, it is important to note that Crossgates Mall has long been a safe, friendly atmosphere for shopping, dining and entertainment.
Local media officials are urged to follow the Mall's media policy that directs media organizations to contact the marketing office at Crossgates (518.xxx.xxxx) to ask for on-site approval and admittance.
PYRAMID OFFICIALS WILL BE AVAILABLE FOR COMMENT. CONTACT KAREN LIBERATORE AT E-3 COMMUNICATIONS FOR ADDITIONAL INFORMATION AT 716.854.8182
Source: Crossgates Mall, Guilderland, NY, 518.869.9565 or their PR firm , E-3 Communications in Buffalo, NY at info@e3communications.com or 716.854.8182





1. Complaint, 2. Deposition Page One, 3. Page Two, 4. Page Three.
(Click on image for actual size.)
Source: http://www.thesmokinggun.com/archive/crossgates1.html

Locals Respond to Arresting Officers

---
Following the arrest of a 61-year-old man who wore a "Give Peace A Chance" t-shirt in an upstate New York mall, the local cops who busted the guy were deluged with nasty e-mails. You'll find some of that choice correspondence here: www.thesmokinggun.com/archive/shirtmail1.html

---

Disclaimer - Information is designed for educational purposes only and is not engaged in rendering medical advice or professional services. Any medical decisions should be made in conjunction with your physician. We will not be liable for any complications, injuries or other medical accidents arising from or in connection with, the use of or reliance upon any information on the web.
---
* * *

---
Contact Us | Disclaimer | Privacy Statement
Menstuff® Directory
Menstuff® is a registered trademark of Gordon Clay
©1996-2017, Gordon Clay