Marriage - Same Sex

---
Menstuff® has compiled the following information on same sex marriages and law.




2:56


Wanda Sykes on Gay Marriage/Jimmy Kimmel

Same-Sex Couples
40 years ago, a gay couple applied for a marriage license. She approved it.
Jimmy Kimmel Asks Kids to Explain Same-Sex Marriage


N.J. High Court Rules for Same-Sex Couples
Oregon Leads the Fight Against Gays
Ireland has left 'tolerance' far behind
Doesn't Happen Over-night
Gay, Straight, Black, White, Marriage is an Equal Right
Gay Marriage and Judaism
State Court Says Same-Sex Couples Entitled to Marry
Why I Got Married
Politics of the Altar
Voting Tallies: State Anti-gay Marriage Ballot Initiatives

Ireland has left 'tolerance' far behind

---
LGBT community has given all of Irish democracy one of its greatest days

The overwhelming victory for the Yes side in the marriage equality referendum is not as good as it looks.

It's much better.

It looks extraordinary – little Ireland becoming the first country in the world to support same sex marriage by direct popular vote. But actually it's about the ordinary. Ireland has redefined what it means go be an ordinary human being.

A supporter holds a sign reading 'Thank You - You're All Invited to the Wedding' as he celebrates outside Dublin Castle following the result of the same-sex marriage referendum in Dublin on May 23rd, 2015. Photograph: Paul Faith/AFP/Getty ImagesAll churches in Ireland in need of 'reality check'

'It made me cry': Generation Emigration expresses pride at same-sex marriage result

'A day when hope and history rhyme': writers and artists react to same-sex marriage vote

Scenes Dublin Castle on Saturday for the referendum count. Photograph: Stephen Collins/Collins PhotosSame-sex marriage: Northern Ireland 'last bastion of discrimination' says Amnesty

Singer Miley Cyrus tweeted in response to the same-sex marriage referendum result: 'Fuck yeah Ireland!' Photograph: George Pimentel/Getty ImagesCelebrities react to Ireland legalising gay marriage

Micheal Baron (left) founder of Belong with his husband Jamie Nanci at North Strand polling station. Photograph: Cyril Byrne / THE IRISH TIMES Same-sex marriage: gay couples await people's decision

Friday's vote, and Saturday's result, generated huge interest in Germany – topping the main evening news and shattering many dearly-held if dusty cliches about the "grüne Insel" or green isle.Angela Merkel urged to follow Ireland's lead on same-sex marriage

Panti raises her arms with supporters for same-sex marriage at Dublin Castle on Saturday. Photograph: Paul Faith/AFP/Getty Images.US politicians pay tribute to Ireland's vote on same-sex marriage

We've made it clear to the world that there is a new normal — that "ordinary" is a big, capacious word that embraces and rejoices in the natural diversity of humanity. LGBT people are now a fully acknowledged part of the wonderful ordinariness of Irish life.

It looks like a victory for tolerance. But it's actually an end to mere toleration.

Tolerance is what "we" extend, in our gracious goodness, to "them". It's about saying "You do your own thing over there and we won't bother you so long as you don't bother us".

The resounding Yes is a statement that Ireland has left tolerance far behind. It's saying that there's no "them" anymore. LGBT people are us — our sons and daughters, mothers and fathers, brothers and sisters, neighbours and friends. We were given the chance to say that. We were asked to replace tolerance with the equality of citizenship. And we took it in both arms and hugged it close.

It looks like a victory for articulacy. This was indeed a superb civic campaign. And it was marked by the riveting eloquence of so many people, of Una Mullally and Colm O'Gorman, of Mary McAleese and Noel Whelan, of Ursula Halligan and Colm Toibin, of Averil Power and Aodhan O Riordan and of so many others who spoke their hearts and their minds on the airwaves and the doorsteps. The Yes side did not rise to provocations and insults, it rose above them. Many people sacrificed their privacy and exposed their most intimate selves to the possibility of public rejection. Their courage and dignity made the difference.

Even so, this is not a victory for articulate statement. Deep down, it's a victory for halting, fretful speech. How? Because what actually changed Ireland over the last two decades is hundreds of thousands of painful, stammered conversations that began with the dreaded words "I have something to tell you…" It's all those moments of coming out around kitchen tables, tentative words punctuated by sobs and sighs, by cold silences and fearful hesitations. Those awkward, unhappy, often unfinished conversations are where the truths articulated so eloquently in the campaign were first uttered. And it was through them that gay men and lesbians became Us, our children, our families.

It looks like a victory for Liberal Ireland over Conservative Ireland. But it's much more significant than that.

It's the end of that whole, sterile, useless, unproductive division. There is no longer a Liberal Ireland and a Conservative Ireland. The cleavage between rural and urban, tradition and modernity that has shaped so many of the debates of the last four decades has been repaired. This is a truly national moment — as joyful in Bundoran as it is Ballymun, in Castlerea as it is in Cobh.

Instead of Liberal Ireland and Conservative Ireland we have a decent, democratic Ireland.

It looks like LGBT people finally coming out of the closet. But actually it's more than that: it's Ireland coming out to itself. We had a furtive, anxious hidden self of optimism and decency, a self long clouded by hypocrisy and abstraction and held in check by fear. On Friday, this Ireland stopped being afraid of itself. The No campaign was all about fear — the fear that change could have only one vehicle (the handcart) and one destination (hell). And this time, it didn't work. Paranoia and pessimism lost out big time to the confident, hopeful, self-belief that Irish people have hidden from themselves for too long.

It looks like a victory for global cosmopolitanism. But actually it's a victory for intimacy.

It was intimacy that made Ireland such a horrible place for gay and lesbian people, for all those whose difference would be marked and spied on and gossiped about. But intimacy is a tide that is just as powerful when it turns the other way. Once LGBT people did begin to come out, they became known. Irish people like what they know. They like the idea of "home".

On Friday, the wonderful spectacle of people coming back to vote, embodied for all of us that sense of home as place where the heart is — the strong, beating heart of human connection.

Finally, it looks like a defeat for religious conservatives. But nobody has been defeated. Nobody has been diminished. Irish people comprehensively rejected the notion that our republic is a zero sum game, that what is given to one must be taken from another. Everybody gains from equality — even those who didn't think they wanted it. Over time, those who are in a minority on this issue will come to appreciate the value of living in a pluralist democracy in which minorities are respected.

By pushing forward on what only recently seemed a marginal issue, the LGBT community has given all of Irish democracy one of its greatest days. It has given our battered republic a new sense of engagement, a new confidence, an expanded sense of possibility.

It has shown all of us that the unthinkable is perfectly attainable.

We now have to figure out how to rise to that daunting and exhilarating challenge.

Source: www.irishtimes.com/news/politics/fintan-o-toole-ireland-has-left-tolerance-far-behind-1.2223838

State Court Says Same-Sex Couples Entitled to Marry

---
The Massachusetts high court declared Wednesday that gays are entitled to nothing less than marriage and that Vermont-style civil unions will not suffice, setting the stage for the nation's first legally sanctioned same-sex weddings by the spring.

The court issued the advisory opinion at the request of legislators who wanted to know whether civil unions would be enough to satisfy the court after its November ruling that said gay couples are entitled to all the rights of marriage. That decision had been written in such a way that it left open the possibility that civil unions might be allowed.

But Wednesday's opinion by the Supreme Judicial Court left no doubt: Only marriage would pass constitutional muster.

''The history of our nation has demonstrated that separate is seldom, if ever, equal,'' four justices wrote. ''For no rational reason the marriage laws of the commonwealth discriminate against a defined class; no amount of tinkering with language will eradicate that stain. The (civil unions) bill would have the effect of maintaining and fostering a stigma of exclusion that the Constitution prohibits.''

Paul Martinek, editor of Lawyers Weekly USA, said that the blunt opinion erases any confusion.

''The fat lady has sung and she's singing the wedding march,'' Martinek said. ''It's clear from reading the majority opinion that there's no basis on which the (court) will OK anything other than marriage.''

The much-anticipated opinion came a week before next Wednesday's Constitutional Convention, where the Legislature will consider an amendment backed by Republican Gov. Mitt Romney that would define marriage as a union between a man and a woman.

But the soonest a constitutional amendment could end up on the ballot would be 2006, meaning that until then, the high court's decision will be Massachusetts law. Gay couples could get married in Massachusetts as soon as May, the deadline set by the court last fall.

''We're going to have to start looking for a band,'' said Ed Balmelli, who put down a deposit for a wedding after the opinion.

The case represents a significant milestone in a year that has seen broad new recognitions of gay rights in America, Canada and abroad, including a June U.S. Supreme Court decision striking down a Texas ban on gay sex.

The White House called the Massachusetts ruling ''deeply troubling.''

''Activist judges continue to seek to redefine marriage by court order without regard for the will of the people,'' said presidential spokesman Scott McClellan.

Senate President Robert Travaglini, who will preside over the constitutional convention, said he would consult with fellow lawmakers about the next step.

''I want to have everyone stay in an objective and calm state as we plan and define what's the appropriate way to proceed,'' he said. ''There is a lot of anxiety out there obviously surrounding the issue but I don't want to have it cloud or distort the discussion.''

The federal government and 38 other states have enacted laws barring the recognition of any gay marriages in other jurisdictions. Vermont recognizes marriage-like civil unions that grant gay couples nearly all the rights and benefits of full marriage, such as health insurance, hospital visitation and inheritance rights.

The Massachusetts decision will probably lead to multiple lawsuits about whether gay marriage benefits can extend beyond the state's borders. The right to same-sex marriage would be for state residents only, but the rules are unclear on how it would be enforced.

The legal battle in Massachusetts began in 2001, when seven gay couples went to their city and town halls to obtain marriage licenses. All were denied, leading them to sue the state.

The Supreme Judicial Court ruled in November that gay couples have a constitutional right to marry, and gave the Legislature six months to change state laws to make it happen.

The state Senate then asked for more guidance from the court.

''The dissimilitude between the terms 'civil marriage' and 'civil union' is not innocuous; it is a considered choice of language that reflects a demonstrable assigning of same-sex, largely homosexual, couples to second-class status,'' the justices wrote.

Conservative leaders said they would redouble their efforts to pass the constitutional ban on same-sex marriages.

''This now puts the pressure back on the Legislature to do their job to protect and defend marriage for the citizens of the state to allow them to vote,'' said Ron Crews, president of the Massachusetts Family Institute.

Residents and leaders of Massachusetts towns with sizable gay populations saw the ruling as a good business opportunity. ''The town can now offer something gays and lesbians have waited their whole lives for,'' said Provincetown tourism director Patricia Fitzpatrick.

Mark Carmien has a sign in his gay-themed bookstore counting down the days to May 17 - 103 as of Wednesday. His store is located in Northampton, a college town in western Massachusetts that has a large gay population.

''It's now crystal clear, if it wasn't before, that the court meant marriage. The word itself has power and benefits that are intangible,'' said Carmien, who plans to marry his partner in June. ''It's a very brave and historic decision.''
Source: Jennifer Peter

Stae-by-State Laws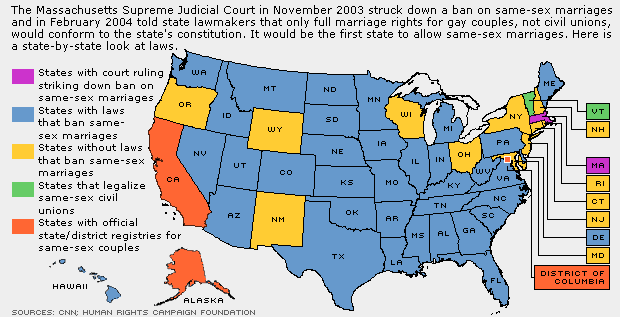 Source: CNN Human Rights Campaign Foundation

40 years ago, a gay couple applied for a marriage license. She approved it.

---
5:15
This video appears at the end of the sxource article. Do check it out.
In June, the U.S. Supreme Court made history when it ruled that gay and lesbian couples should be allowed to marry.
Ever since, getting married has been as simple as heading on down to the local county clerk's office, filling out a bit of paperwork, and picking up your license — or rather, that's how it's supposed to be.
However, as recently as this week, more than two months after the ruling, a Kentucky county clerk has been denying couples marriage licenses on the grounds that it goes against her personal religious beliefs. Even after being rebuked once again by the Supreme Court, she kept fighting on.
It seems like folks like her might be giving clerks a bad name. So instead, let's focus on one of LGBTQ history's unsung heroes: former Boulder County Clerk Clela Rorex.
In 1975, Rorex was serving as the Boulder County clerk when two men asked about applying for a marriage license.
Rorex was just three months into her term as clerk, but she was about to make a judgment call that would ring throughout history.
In 2014, Rorex stopped by StoryCorps to explain her response to the then unusual request.
"The couple came in; they asked for a marriage license. It's the first time I met openly gay people. I said, 'I don't know if I can do this.' At that point, I went to the district attorney, and he said the Colorado marriage code did not specify that marriage had to be between a man and a woman. And therefore I did it."
After issuing that license (and licenses for five other same-sex couples), Rorex faced intense backlash.
As it turns out, the idea of gay folks having the same rights as their straight counterparts didn't fare too well 40 years ago. Shocking, I know.
Her decision to issue a marriage license to the couple got national attention and was featured in the The New York Times. One line reads, "Miss Rorex, like members of homosexual rights groups, thinks that could be resolved by eliminating the gender words. For same-sex couples, she has crossed off 'male' and 'female' on the Boulder applications, substituting 'person.'"
Rorex received angry letters, newspapers printed harsh articles about her, and people even harassed her family.
"I honestly did not anticipate the degree of hate," says Rorex. "It was threats — people needed to kill me for doing this and that kind of stuff. And I had entire church congregations writing me that it would be Sodom and Gomorrah in the area."
"Thank goodness I made that decision because it would be so hard for me to look myself in the mirror today if I had not made the decision then." — Clela Rorex
Keep in mind that this was the type of treatment a straight woman was receiving simply for following the law to its letter. It's scary — though not entirely surprising — that newspapers seemed content to print things like "the penalty for homosexual acts is death" in its letters to the editor.
Ultimately, and unfortunately, Colorado's attorney general voided the six same-sex marriages.
Even so, there's something to be said about being on the right side of history. Rorex didn't finish her term as clerk, and the marriages ultimately weren't valid in the eyes of the law, but generations to come would prove her right.
"I just was this young woman in this place at this point in time," she says. "And thank goodness I made that decision because it would be so hard for me to look myself in the mirror today if I had not made the decision then."
For more information about Rorex's moment in the gay rights spotlight, check out this feature by Independent Lens.
Source: www.upworthy.com/40-years-ago-a-gay-couple-applied-for-a-marriage-license-she-approved-it?c=upw1&u=07fa0e7f2d23f338b4a3b29d16b2a71a4c4e496b

Gay, Straight, Black, White, Marriage is an Equal Right

---
Don't politicians know by now that separate but equal does not and cannot ever work? You'd think that society has made some sort of progress since the laws of racially segregated marriage pre-1967 but one look at the possibility of marriage for same couples today to see that this is not true.

It would be unspeakable for a state government to try and pass a constitutional amendment banning marriage between people of different races yet when marriage is suggested between two men or two women, the Bush administration seems to have no problems trying to enforce such a ban.

On March 11th the Massachusetts State Legislature voted in favor of a constitutional amendment banning gay marriage and on the same day, the California supreme court ordered officials in San Francisco who had been issuing marriage licenses to same sex couples, to stop immediately. This denial of marriage to gay and lesbian couples is akin to the same sort Jim Crow policies that could be seen before the civil rights movement of the late 60's. For lots of working class couples, marriage is an institution necessary to survival because of the concomitant economic benefits and so denial of this to gay and lesbian couples turns this into an issue much bigger than just freedom to marry whomsoever one chooses.

Heterosexual married couples are guaranteed 1047 federal rights by being married, homosexual couples in Civil Unions, which are only allowed in and recognized in two states, are guaranteed only 500 of these rights. This is not just an issue of gay and lesbian rights, this is an issue of civil rights.

And we are seeing the emergence of a new civil rights movement around this issue. People around the country from San Francisco, CA to New Paltz, NY, gay and lesbian couples are demanding marriage licenses and winning. People, gay, straight and everything in between, are taking to the streets to demand rights for themselves. The so called radical moves of San Francisco mayor Gavin Newsom and New Paltz mayor Jason West in issuing marriage licenses to same sex couples, could not have happened if there had not been a spontaneous movement of people in the streets. To win equal rights for homosexual couples, we need to stand up and fight for them. We know that Bush won't do it and we can hope no more from John "leave it to the states to decide" Kerry.

Let's begin the discussion about gay marriage here in Burlington and join the national movement. Come to a panel discussion, The Fight for Gay Marriage: Separate is not Equal, sponsored by the Progressive Party, the Peace and Justice Center, the Green Party, the International Socialist Organization, and the American Friends Service Committee on March 31st at 7.30 PM in Williams 301. The panel will feature speakers Christopher Kaufman, from R.U.1.2, a speaker from the VT Freedom to Marry Task Force, Sherry Wolf from the International Socialist Organization and Peggy Luhrs from the Women's International League for Peace and Freedom. We need to let the Bush Administration know that we won't settle for the back of the bus and that marriage must be a right for all.
Source: By: Charlotte Miller, www.vermontcynic.com/media/storage/paper308/news/2004/04/06/Opinion/Gay-Straight.Black.White.Marriage.Is.An.Equal.Right-651834.shtml?norewrite200604271423&sourcedomain=www.vermontcynic.com

---
For most of us, realizing that we're gay or bisexual isn't something that happens overnight. We don't go to sleep straight one day and wake up gay the next (or the opposite). Perhaps we have had crushes on people of the same sex, or perhaps we have felt very distinctly that our gender or sexual roles just aren't comfortable for us. While things that like certainly don't mean we are gay or bisexual, they are clues that we might be. As we get to know the whole of ourselves better as we grow and mature, we also get a better understanding and fuller knowledge of our sexuality and orientation, and getting to understand who we are isn't something we can do in a day: it's a lifelong process.

Many teens have a lot of questions when it comes to homosexuality and bisexuality. In a culture that is often so damning of orientation and sexual identity outside heterosexuality, many teens become nervous when they feel attracted to those of the same sex, worried that they might be gay. Others suspect (or are even very sure) that they are homosexual or bisexual, but are afraid to say so either because they aren't completely sure and feel they will be branded in some way, or simply because they fear being rejected, outcast or scolded by their friends, family or community. While at least 8 million people in the United States are homosexual, about 70 million people still think it is an "illness" or "perversion." Being nervous or afraid to come out is -- unfortunately -- very valid and reasonable.

The first step -- no matter our orientation -- to making decisions about our sexual identity, and how we view that of others, is to know the answers to some basic questions. It's very hard to make up our minds when we aren't all on the same page, or we aren't really sure what something means. Bear in mind that even people with adequate information sometimes don't agree with it, and define things differently because that information conflicts with their own beliefs. All the same, there are some important facts that all of us -- gay, straight, and everything in between -- should know.
Source: www.scarleteen.com/gaydar/basics.html

---
Back in 2004, suburban Seattle pastor Alec Rowlands watched with dismay as gay couples in Massachusetts flocked to courthouses and churches, exchanged vows and walked away legally wed. Now he worries a similar scenario could unfold in his own backyard. Last year, the Washington State Supreme Court heard arguments in two gay-marriage cases of its own; a decision is expected soon. In Massachusetts, an obscure law allows only state residents to wed. But Washington has no residency requirements. So if the justices approve gay marriage—as many on both sides of the issue predict—courthouse doors would swing open to gay couples across the nation. "We will become the Las Vegas for same-sex marriage," frets Rowlands.

Just two years ago, gay-marriage opponents like Rowlands were everywhere. Thirteen states passed constitutional amendments barring same-sex unions and, in Ohio, the marriage ban was widely credited with boosting turnout and propelling George W. Bush to a second term. But after Election Day, the issue faded. Now it's back, complete with all the activists, dire predictions and dueling poll numbers. But the landscape has changed since 2004. Democrats argue that gay marriage is just a diversion from rising gas prices, the ongoing struggle in Iraq and immigration reform. With so much else to worry about, will voters care?

This week Senate Majority Leader Bill Frist will again bring the Federal Marriage Amendment (FMA) up for a vote; the House could weigh in next month. Though it isn't expected to pass either House, supporters want to get pols on the record before November. "It's a way to build momentum," says FMA author Matt Daniels, president of the Alliance for Marriage. Bush himself had been mostly mum on gay marriage since his re-election. But now, with his poll numbers in a nose dive and even his most enthusiastic supporters grousing, Bush took up the cause in his radio address Saturday; an amendment is needed because "activist courts have left our nation with no other choice," he explained. The president also plans to address amendment supporters in the Old Executive Office Building on Monday.

While the GOP leadership clearly hopes this tack can revive their sputtering election prospects this fall, some GOP strategists aren't so sure. Pew polls show a 10-point jump in support for gay marriage since 2004. And Bush pollster Matthew Dowd doubts it was decisive last time around. "It didn't drive turnout in 2004," he says. "That is urban legend." Turnout was the same in states with bans on the ballot and those without, Dowd says. GOP consultant Grover Norquist also questions how gay marriage plays as an electoral issue. Though social conservatives vote for marriage bans, it's not clear whether that will translate into votes for GOP candidates. "We don't have much to go on," he says. For their part, gay-rights leaders would be happy to leave the issue off the ballot. "We have to make sure [the initiatives] never see the light of day," says Human Rights Campaign president Joe Solmonese, who would prefer to press his case in court.

Evangelical leaders insist they know how gay marriage affects their voters—they'll stay home if politicians don't push for the FMA. "It's the one issue I have seen that eclipses even the abortion issue among Southern Baptists," says Richard Land, president of the Ethics and Religious Liberty Commission of the Southern Baptist Convention. Last month James Dobson, the influential founder of Focus on the Family, met privately with key Republicans, including Frist, House Speaker Dennis Hastert and Majority Leader John Boehner, to warn them about the political consequences of failing to promote issues like marriage. "If you forget us, we'll forget you," he said, according to a GOP House leadership aide who was briefed on the gatherings, but declined to be identified discussing private meetings.

Though Bush himself has publicly embraced the amendment, he never seemed to care enough to press the matter. One of his old friends told NEWSWEEK that same-sex marriage barely registers on the president's moral radar. "I think it was purely political. I don't think he gives a s--t about it. He never talks about this stuff," said the friend, who requested anonymity to discuss his private conversations with Bush. White House aides, who also declined to be identified, insist that the president does care about banning gay marriage. They say Monday's events with amendment supporters—Bush will also meet privately with a small group—have been in the works "for weeks" and aren't just a sop to conservatives.

Whatever Bush's motivation, his actions aren't likely to quiet his critics. Land says he's happy Bush is speaking out, but he'd like to see signs of real commitment to the issue. "We know what a full-court press looks like when we see one," Land says. A White House official, who declined to be identified discussing strategy, says Bush has not made calls on the amendment because "nobody has asked us."

Whatever the political maneuvering, it's the courts that could make the next move. Last week New York's highest court heard arguments that the state must allow gay couples to wed. A similar case in New Jersey was argued in February. Decisions could come later this summer. At the same time, judges recently struck down 2004 bans from Georgia, Ohio and Nebraska. "It's just a matter of time before the other shoe falls," says Family Research Council president Tony Perkins. "This is not an issue you can take a pass on." For politicians and activists, that may be true. But average voters might do exactly that.
Source: Debra Rosenberg with Richard Wolffe, Holly Bailey and Karen Breslau, www.msnbc.msn.com/id/13121953/site/newsweek

* * *

Chains do not hold a marraige together. It is threads, hundreds of tiny threads, which sew people together through the years. - Simone Signoret

---
Contact Us | Disclaimer | Privacy Statement
Menstuff® Directory
Menstuff® is a registered trademark of Gordon Clay
©1996-2023, Gordon Clay