Men in Skirts
---
What's Sarong
Why Men Should Wear Skirts
It takes a real man to wear a kilt (skirt)
More Men in Skirts
Some Reasons to Like a Kilt
Kilt Parties & the London Scene (or Burning Man)
Men in Skirts - Homophobia in the Military
Sarong Song
Surfer Skirts
AOL Poles 8/14/01
Paradise Sarong
Resources
Related issue: Haka


Click on the picture. The people are The New Yorker must really be frightened by the thought of American men becoming "Man Enough" to wear a skirt to put this cartoon on the cover, November 22, 2004

What's Sarong with wearing a skirt?

---
Kilts, sarongs, caftans, togas: there are plenty of non-pants clothes for men. Is now the time to bring them back? 23-year-old British designer Howie Nicholsby has made it his personal crusade to update the centuries-old Scottish staple. A member of one of the top family-owned kilt-making concerns - Geoffrey (Tailor) Highland Crafts, Ltd., whose clients include Sean Connery and Mel Gibson, Nicholsby has launched his ultramodern 21st Century Kilts line ($300-$1,700, 800.566.1467). He dabbles in denim and pleather, and favors snakeskin and camouflage prints. Cellphone pockets are de riguerur. So who's buckling up his kilts? Robbie Williams (black leather), Samuel L. Jackson (traditional, above). Says Nicholsby, "I can't tell you how much attention a kilt will get you." Not to mention the question of what you're wearing underneath (Above from Left to Right: Sean Connery, Alan Cumming, Mel Gibson, Samuel L. Jackson, and Ewan McGregor.) Not to mention Madonna's latest concert getup on her Drowned World tour.

---
"You are the sexiest thing I have seen today," said somebody else's woman, staring a hole through the front of my gray and black sarong. "How would you know?" I responded. "It's still early."

When I was in high school and becoming image-conscious, I asked my father if it was true that clothes make the man. "You're a man on two feet," he said, disgusted, rolling his eyes a bit. "Man makes the man." Back then I wore WilliWear, by black designer Willie Smith — I had an eye for classic style, even back then. I got laughed at because of my allegiance to his brand, but I wore his fine suits and separates by the season - well ahead of the curve, well ahead of my time. Twenty-odd years later, fashion sheep will be loyal to any tag with a name on it, but I am still the urban style iconoclast. This summer, I'm rocking a sarong almost exclusively.

It was the fall-winter of 2000 when I first thought seriously about sporting a wrap. I was going to see D'Angelo and I wanted to sport a different look. See, just like in your town, dudes be wearing any type of Sunday suit hook-ups or technicolor ensemble to the spot, and I had to separate myself from the suckas. Besides, I'm ashamed to say that I don't own a suit that fits, and those wack fake Versace shirts aren't my flow – my style is a little more subtle than that. So, naturally, a sarong seemed like a logical alternative to consider.

I wore it to the concert and caught snickers from the derby and doo-rag crowd. None of them had heart enough to say anything stupid - after all, I'm kind of a big guy. I saw one of my dudes at the spot and he ran up to me, mouth agape. "That is just the phatest s--t," he said. "I wish I was man enough to play a wrap – are the sisters checkin' for it?" Were they ever. My girl really dug the look on me, and so did everybody else's girl — all eyes and wet thighs whenever I passed by. Afterwards I retired the wrap, just breaking it out occasionally. But I vowed I would find a way to play that style every day, if I could.

This summer, I decided I was gonna wear wraps in place of shorts —shorts make my boys sweaty and give me heat rash — and with the heat in the 90s on the regular, this seemed like the time to set it off. So most days nowadays, you'll find me on the streets of Cleveland, downtown no less, in a skirt. To be honest, there is little to no reaction in my hometown - nobody even blinks. I don't know if it's because I'm a somewhat well known writer here, and people assume anybody who writes for a living must be crazy anyway. Or maybe between the two feet of hair and the floor-length sarong, their circuits are just completely overloaded: Too Black, Too Strong. Whatever the reason, I walk the streets unmolested, save for the women who stop midstride and fall out of car windows trying to check my steez. "You are the sexiest thing I have seen today," said somebody else's woman, staring a hole through the front of my gray and black wrap. "How would you know?" I responded. "It's still early." What can I say? Chicks dig the skirt. I even wear it to work. Dats right — and I work for the white man, just like you.

I'm employed by a major not-for-profit company, and there is nothing in the dress code that says I can't wear a sarong to work. The first time, there were second looks and a strange inquiry ("What do you have up under your skirt?" asked one of my female coworkers. My response? "How badly do you want to know?"). But my bosses are mellow — they accept my wrap as an extension of my Afrocentricity, and that bodes well for their progressive thinking and commitment to diversity.

The wrap has come to symbolize my refusal to be reconstructed by whatever people's assumptions are. It's also the ultimate assertion of manhood for me: it speaks to my roots, my warrior status, my fearless nature in a way that fake dashikis don't. I mean, it's like there's an "S" on my chest or something – I have never felt more masculine, not ever, than when I don the wrap. Why? Well, maybe because it is so not a question of sexual preference or identity. I don't have any gay friends with balls enough to wear a sarong. Besides, it's unisex, stupid — if all it takes to make you question your sexual identity is a garment, you've got more questions than I can answer, RuPaul.

See, the thing about wearing a sarong is that, as a man, you have to have a certain confidence, a certain arrogance. You must be absolutely secure in your manhood — flat out — or it won't come off well. You'll look like a man in a skirt: clumsy, misplaced and utterly ridiculous. In a wrap, whatever where-with-all you have as a man is up for scrutiny: you've created an artificial vulnerability that requires strength to secure. Plainly speaking, a man in a sarong projects an audacity and demands a respect that khakis don't. Fact is, you might not be man enough to pull it off. If you think you're ready, I got a few tips for you. Finding a wrap is more than a notion — it's not like Laura Ashley makes a men's skirt line. The trick for me was to find something masculine — a tough skirt, if you will. I couldn't find what I was looking for at first, and the cultural shops in my town wanted too much bread for some of the stuff they had. So I improvised: I went to my local head shop and got a few of those groovy, thin cotton throw-rug joints for 20 clams each.

Choose earth tones when picking out a wrap. Browns, blacks, greens, burnt oranges and yellows are preferable — bright colors denote femininity. Only traditional or tribal patterns — no tie-dyes or flowers, Nancy. Wear fitted T-shirts or short-sleeved shirts on top: let them guns blaze. Footwear is player's choice — blunted toes for winter and sandals for the summertime look best. If you hot like that, take a bold leap and play a three-button jacket with an open flare-collar shirt. Mudcloth is an okay material for winter, but roll with a light to heavy cotton in the hotter months. Wear linen pants up under in the wintertime; in the summer, anything goes.

So here I am, on the street of Cleveland, Ohio, in a sarong. Rollin' hard, Jack. I go out of town and sport it, and cats ask if I'm from overseas or something. But I know there are a few cats on either coast wrappin' on the regular. Fashion comes and goes, but style is timeless. And here I am: well ahead of the curve, well ahead of my time. I'm pretty sure this style won't catch on, but maybe it should. Dad was right: clothes don't make the man. A man can stand on two feet — sarong and all.

Source: www.africana.com/Utilities/Content.html?&../cgi-bin/banner.pl?banner=Lifestyle&../Column/bl_voices_63.htm

What lies beneath?

---
The vast majority of Scotsmen still choose to wear nothing beneath their kilts, according to a survey out today.

The survey of men north of the border revealed that 69 per cent of kilt-wearers prefer to "go commando".

Of the remainder, 14 per cent said they wore boxers and 10 per cent chose briefs - with 7 per cent admitting to falling into the rather ambiguous "other" category. One man admitted wearing a thong with a Batman motif.

Researchers found that a large number of Scotsmen often made up their minds on the basis of how formal the occasion was. Many preferred to wear underwear for occasions such as weddings, while on less formal outings such as rugby matches they went without.

The survey was carried out by The Famous Grouse for St Andrew's Day.

---
The April, 2000 issue of Stance magazine takes a stance with the heading "Scottish Surfers are Cool." talking about LungiMan's Surfkilt. No homophobia here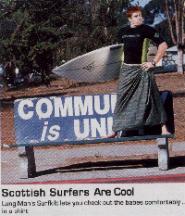 ---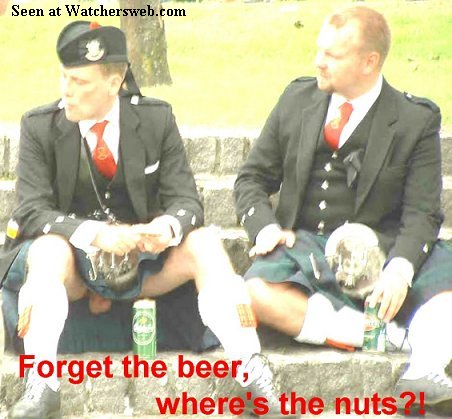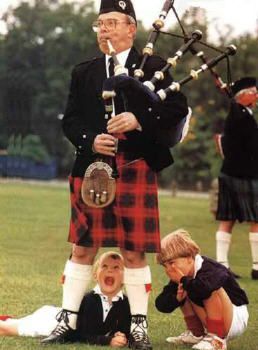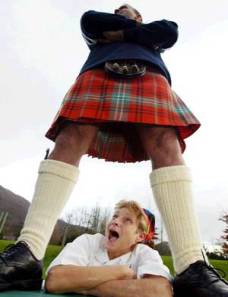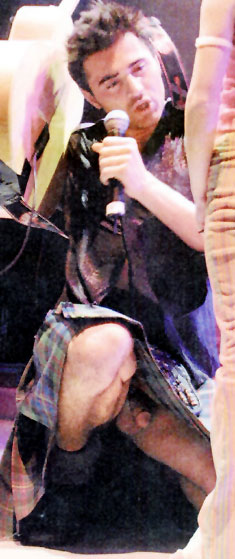 ---
Photograph shows Queen Elizabeth sitting next to a colonel whose kilt was a little too revealing.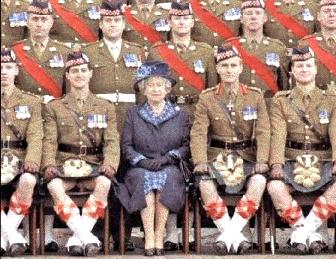 Scots Guard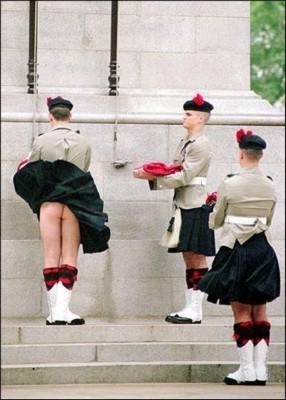 More Scots Guard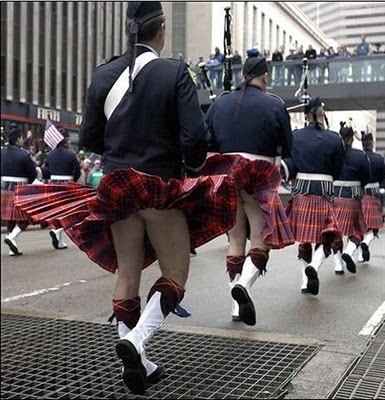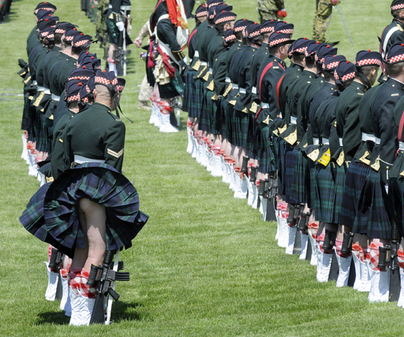 (8:42 - Hang in there. This pre-dates Indiana Jones and Braveheart.)

---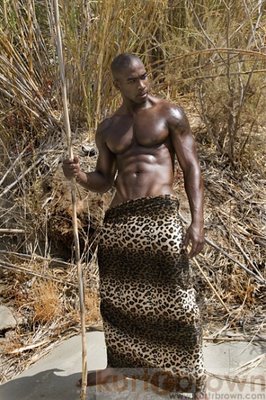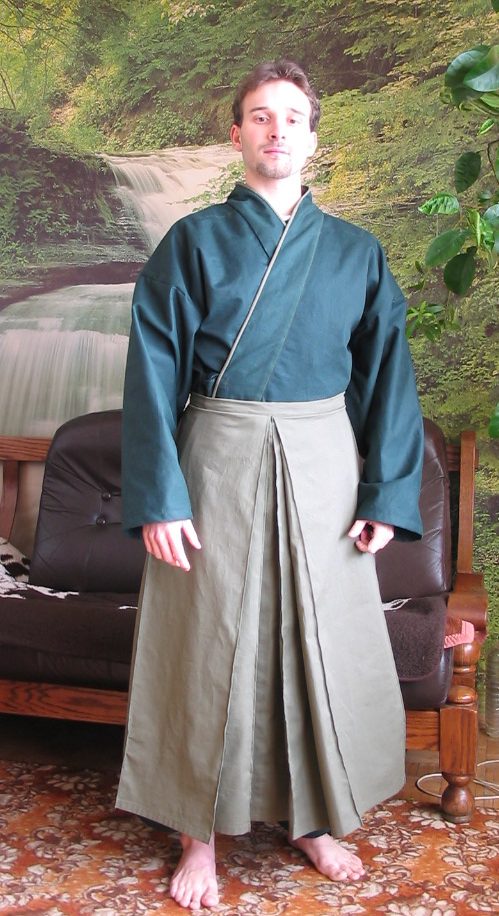 A Hakama. The unbifurcated (skirted) garment worn by samurai. There is a more modern garment that goes by the same name and superficially looks similar although the modern one used by martial artists is bifurcated (has pantlegs). The samurai hakama had no legs.
Unbifurcated garments are a proud tradition of warriors in many societies. It's usually considered a major faux pas to refer to them as "skirts". "Kilt" is specific to the Scottish highlander garment, and to call it anything else (including and especially "skirt") is usually considered a grave insult that could very likely lead to fisticuffs if it is taken as an insult.
The Germans in WW1 called the Black Watch regiment the "Ladies From Hell". They would see the kilts, hear the bagpipes, and suffer demoralization as the brave kilted soldiers pushed forward.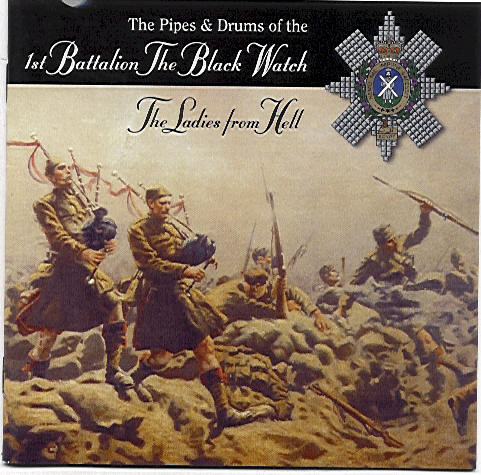 ---
Take this AOL poll BEFORE you check to see what the results were.

Pole 1:

Should men include skirts in their wardrobe?

No, men should wear pants or shorts.
Yes, everyone should wear whatever they want.
Only if they were very masculine-looking skirts.

MEN: Would you ever wear a skirt?

No chance.
Sure. Women wear pants all the time.
I already do.
Maybe I'd don a kilt in Scotland.

WOMEN: What do you think of men in skirts?

Kilts are great, but forget about the rest.
They're all very cool and very sexy.
It's just not attractive.
Makes no difference. A good man is a good man.

Pole 1 Results:

Should men include skirts in their wardrobe?

Yes, everyone should wear whatever they want. 2193 55%
No, men should wear pants or shorts. 1111 28%
Only if they were very masculine-looking skirts. 646 16%

Total votes: 3950

MEN: Would you ever wear a skirt?

Sure. Women wear pants all the time. 886 31%
Maybe I'd don a kilt in Scotland. 780 28%
No chance. 693 25%
I already do. 412 14%

Total votes: 2771

WOMEN: What do you think of men in skirts?

Makes no difference. A good man is a good man. 903 33%
Kilts are great, but forget about the rest. 723 27%
They're all very cool and very sexy. 511 19%
It's just not attractive. 533 19%

Total votes: 2670

NOTE: Poll results are not scientific and reflect the opinions of only those users who chose to participate.


Pole 2:

When is it the right time to wear a Speedo?

When swimming for your country in the Olympics
When you're buff, bronzed and strolling the beach
At gunpoint
It is never the right time to wear a Speedo

FOR MEN: Have you ever worn a Speedo?

Yes, and I still do
No, and I never will
Yes, but those days are long gone
No, but I'm getting one this summer

FOR WOMEN: What do you think of men in Speedos?

I like it! I don't care if they're fat
Ick! Leave something to the imagination
They look Euro-trashy
It looks OK, but only on an extremely good body

What is the best slang description for a Speedo?

Banana hammock
Jewel bag
Euro-holster
Marble sack
Sling shock


Pole 2 Results:

When is it the right time to wear a Speedo?

When swimming for your country in the Olympics 70472 36%
When you're buff, bronzed and strolling the beach 55228 28%
It is never the right time to wear a Speedo 47122 24%
At gunpoint 18655 9%

Total votes: 191,477

FOR MEN: Have you ever worn a Speedo?

No, and I never will 74387 55%
Yes, but those days are long gone 29174 21%
Yes, and I still do 23511 17%
No, but I'm getting one this summer 7650 5%

Total votes: 134,722

FOR WOMEN: What do you think of men in Speedos?

Ick! Leave something to the imagination 48548 39%
It looks OK, but only on an extremely good body 46828 38%
They look Euro-trashy 20019 16%
I like it! I don't care if they're fat 7094 5%

Total votes: 122,489

What is the best slang description for a Speedo?

Banana hammock 71357 40%
Jewel bag 38673 21%
Marble sack 27981 15%
Sling shock 27606 15%
Euro-holster 11645 6%

Total votes: 177,262

NOTE: Poll results are not scientific and reflect the opinions of only those users who chose to participate.

---
A fabulous, one-of-a-kind sarong that is aptly named. The colors are deep and ocean-inspired while the fabric's expanse allows you to style this item any way you fancy. Looks terrific paired with our solid-colored swimwear or worn solo. Machine wash. Regular Fit. Rayon. Made in USA of imported fabric. Turquoise. One size. $29 An International Male® exclusive.

Source: www.internationalmale.com/product.asp?pf%5Fid=PA41zz&dept%5Fid=10900&subdept%5Fid=

---
recount the responses made when a guy is asked why he likes his kilt.

Here are a few replies:
It is so cost efficient - buy a kilt and it lasts a lifetime
It is warm in winter and cool in summer
It breaks down boundaries in communication - great conversation starter
It saves on underwear
I look hot in a kilt
Displays creativity
Offers so much freedom than trousers
Wearing my own clan tartan gives me pride in my family
Makes me feel proud to wear it
It personifies me as to who I am and my heritage
It raises my self confidence
It shows I am not afraid to be different
It's smart
It;s a great ice-breaker
It can be dressed up or down for any occasion
It never goes out of fashion
The most comfortable garment imaginable
It's me
It expresses my individuality
It makes people curious
It projects my ethnicity
It shows I am unique
It offers style, comfort and versatility
I see things in a different light
It is sexy
It brings like minder people together
Dressing in the morning is not a chore - it is a pleasure.
The thrill of the windy day
Enhances my self confidence
It shows that I am traditional and modern at the same time
Designer labels are for those who lack imagination
Always looks smart
It's Special - the tartan, the tradition and modern at the same time
A Kilt makes one comfortable, a comfortable worker is a happy worker, a happy worker is therefore more productive
It brings out some of my best qualities
Its Air Conditioned !
It makes sexy promises to stangers.
It sparks the imagination.
It's comfortable
It looks sharp.
It's different
It makes people smile (for whatever reason)
It feels right
It's a small acknowledgement of my family's history
It seems to encourage conversation - from all sorts
People get drawn to you like a magnet
People want their photograph taken with you
People want your photograph
People secretly photograph you
In a bar people want to buy you a drink (important if you're a Scotsman who hates buying a round! )
It is a beautiful, manly garment.
Tradition
I have more self-confidence and pride when wearing the kilt
I feel they express my individuality better
I can reach under and "hug" my boys, whenever I want to
The kilt is cooler, fresher and dryer than trousers
The kilt provides more flexibility in fashion ensembles
It's a garment that fits a man's anatomy
You meet the nicest guys who wear kilt
Its practical!
It provides a sense of freedom
I feel taller
It gives men a chance to wear colour
Its a national statement
It enhances pride of oneself and one's country
Further surveys disclosed :
Its an international passport
Even straight guys check me out.
Conversational opener
I look smart
I love to wear my kilt and I wear it proudly. The main one that I wear is the Pride of Scotland Tartan.
Because it makes me feel good to feel sexy.
The freedom to scratch when and where it itches.
I got my first kilt when I was three and a half for my god-mothers wedding in the spring of 1970. I have worn the kilt ever since, I am now on my seventh kilt. Wearing the kilt is therefore something with which I was brought up (my father always has worn the kilt too), it is part of who I was, who I still am, and who I will always be.
It itches a lot less in a kilt, it's the breeze you know.
It makes people wonder.
I look good in it.
Almost as good as being naked.
Women love men in kilts and men feel cool in them
Because zippers scare sheep.
There is nothing so comfortable (especially commando on a windy day!).
When operating a zipper is too far beyond your capabilities.
Because the boys (wink wink!), they like to swing.
To give the ladies a cheap thrill when you get out of a car.
Because equality should extend to comfort, dammit!
Floor mounted AC vents on a hot day.
Because history has shown that men in kilts routinely kick the sh!t out of the trousered.
Ergonomically, men belong in kilts. That seam in pants can be deadly.
Because I wear them!
Number one reason to wear a kilt: "You can dance in one - plenty of ball room!"
Prevents the marshy feeling from wearing pants when living in the desert.
When worn regularly, no one ever forgets who you are.
On a mooning raid, you have quick access!
Chicks love confident guys... and ya gotta be confident to wear one.
If you're out of things to talk about with a new friend, a kilt will be a convo topic for at least four straight days.
Scots rule. Scots wear kilts. Kilts are the #1 reason Scots rule. Ergo, so will you when donning one.
It makes a great trademark if all your band members wear kilts.
If you like carrying big swords, a kilt is a necessary accessory.
I can get it on with very little clothes adjustment/removal on my part.
Fashion colours for my every mood.
I have nice calves and I like to show them off.
It's a good reason to invest in nice wool socks.
People look at me funny.
Women like men who don't wear underclothes ( I should know, I am one of those women!) Not to mention, Kilts are sexy!
In the words of Mel Gibson in Braveheart ..."Freedom!"
Because real women LOVE men in kilts (especially Utilikilts!)
All the cool guys at ren-faire wear them to the after hours events. you're even cooler if you have a selection.
I love the reactions!
With the workmans (Utilikilt), I don't need a backpack.
Wearing a kilt promotes creative and witty thinking. there's only so many ways you can respond to the "what are you wearing under that?" question. the trick is to wear it out to a busy location (disneyland) and try to come up with a different response each tme. ('I'd have to show you' is my favorite-the reaction is
quite fun to watch...)
It's easier to run away with your kilt up than it is to be caught with your pants down....
Have you seen how dorky some of the "traditional" dress kilts are? Those men don't need the freedom a kilt affords, they need their balls back.
You don't have to be Sean Connery (or Steven) to look good in a UK. It looks good on everyone.
Economical
Chicks dig me in a kilt. Gay men dig me in a kilt (not my preference, but flattering none the less). Straight men admire the Ballsy attitude it requires to wear a UK in Corporate America (and wish they were you.)
Circulation. Freedom. Comfort. Style. Quality.
Women ask about underwear.
Heat vents on cold days.
AC vents on hot days.
The only person at a party that doesnt have to go to the fridge for another beer.
Questions and answer sessions w/ oppesite sex.
You never feel more alive then when you fall snowboarding and slide a few feet on your ass while in a utilikilt of course.
Because Thompson (author of:"So You're Going To Wear The Kilt!")
said to "wear it early and often".
After wearing UK's EVERY SINGLE DAY for a year-and-a-half gives
my company visual and professional recognition all over a large city
like Denver.
So I can answer to the usual question 'nothing worn everything in working order'
Because after a rugby match, nothing says, "I'm a warrior", like putting on
your utilikilt.
I'm a 'contra dancer' ie; traditional dance. A lot of men don semi-masculine skirts.. so when they are spinning and twirling.. they have something to flow.. The utilikilt allows a man to look great dancing...
and not be mistaken for a cross-dresser.
I AM A MAN AND I DON'T HAFTA WAX ANYTHING!
Wearing a UK reflects my attitude of freedom to be who I am; a sexy, self assured, man who enjoys self expression, comfort and freedom to the hilt.
You get higher points from the Karoake judges recreating the Men without Hats
video "Safety Dance".
The zipper scene in "Something About Mary".
Because driving cross-country in pants is just plain cruel!
Motorcyclist can REALLY feel the freedom of the open road (I do however suggest a modesty strap so as not to get pulled over every 500 yards)
So you can just say "lipstick" when someone asks what you wear under your UK.
For the enjoyment of being properly powdered by your girlfriend (or boyfriend) before you go out.
Want to meet people? Wear a kilt!
You introduce yourself to a woman, and she immediately starts thinking about your undergarments.
Consider what disintegrates just as your jeans reach their maximum comfort: knees and crotch, if you're like me. Enough said.
Because you can be the 'Belle of the Ball' at Gay Pride.
For women, it's not all about what's under the kilt. It's about that strong self confidence and absolute masculinity you exude when wearing one, too....no, I lied. It's all about what's under the kilt.
When your balls are free, you will find inner peace.
Because the extra groin room compensates for the cojones required to wear
one.
Yes, I like a UK on my boyfriend because it lets me play with his "kilt-saber" whenever I want.
When else would you ever hear the phrase, "Dude, fix your pleats."
Chicks Dig Guys in Kilts... Plus the Added Bonus of KILT CHECKS!
The best reason to wear a UK is that it makes my wife laugh. I have to make sure that I have my wedding ring on when I wear my UK.
The Utilikilt in plain colors has no connection to any Scottish tartan or clan. I am a Friesian.
Less weight than a real Scottisch kilt.
Choice of underwear: a. Cotton, b. Nothing, c. Steel.
Roomy pockets, not moving with my legs.
I can carry my hiking-backpack with my UK, riding on my hips. No buckles there.
No need to unzip in the toilet.
I can't wear shorts to work… can't stop a man in a kilt.
Because I like being fondled by beautiful women I don't know when I wear a kilt on stage.
Because women have no control when faced with a kilt.
If going trouserless is good enough for Sean Connery, Mel Gibson, Russell Crowe, Adrian Paul and every single member of the FDNY pipers (just as an example), it's good enough for me.
Fornication.
Diarrhea.
Dogs love it
Uncrossing my legs (Sharon Stone, Basic Instinct) for the sexy woman opposite on the subway.
Automatic Asshole Detection System: Anyone who snickers and says "nice skirt" is obviously a homophobe or just plain stodgy...
My wife loves it when I wear my Utilikilt. Plus I carry a lot of stuff on my days out and the Workmans kilt does it all!
Feeling the breeze...as the women lift your kilt to have a look.
Because it takes a man to wear a kilt.
Bald (we don't have folically challenged men in Scotland, or political correctness) bikers - feel the wind in your hair again.
Scotsmen gave the world the television, telephone, radar, penicilin and wedding parties that last all night. Wearing kilts leaves our testicles free, relieves stress and lets us invent all these things.
Kilts show the men who act like they are a man, who really is the Man.
Easier to kick the H*ell outta someone in a bar fight.
More leg room to gain speed when running from cops.
Reply to question of WHY you're wearing a UK, " Just so I can show you
the REAL Loch Ness Monster!!"
Because Lazarus Long was right about everything else...
Pants were forced upon my people by the Roman oppressor. They're just a plot from the Man, trying to keep Celty down! To paraphrase Morpheus, "Free your thighs!"
A MAN IN A KILT IS A MAN AND A HALF!!!
It's a chick-magnet - beware random acts of groping.
So the best things in life can remain free!
(Some of above responses were received as part of a survey conducted by the US kilt maker Utilikilts)
Source::images.google.com/imgres?imgurl=http://richardfindlay.zenfolio.com/img/v5/p747669246-4.jpg&imgrefurl=http://www.fotoflingscotland.com/2008/12/hogmanay_31.html&usg=__-xjNF_RxKUSKfCN2yoHYcP8DXKs=&h=630&w=537&sz=142&hl=en&start=164&itbs=1&tbnid=lkfFyIZVQuiWMM:&tbnh=137&tbnw=117&prev=/images%3Fq%3D%2522Under%2Bthe%2Bkilt%2522%26gbv%3D2%26ndsp%3D20%26hl%3Den%26sa%3DN%26start%3D160

Kilt Parties & the London Scene (or Burning Man)
London, Scotland and Poland - and just about anywhere now - have become venues for kilt parties, the 'cool' way for men to enjoy wearing skirts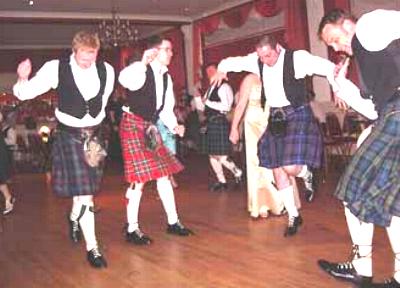 "Until now, men have considered the idea of wearing something other than trousers or long shorts in public to be nothing less than a sacrilege against humanity. Although, throughout history, the concept of men wearing skirted garments was all too common. After all, trousers were not widely used by any society more than three hundred years ago. - trousers were originally an invention to make it easier to ride a horse. The idea stuck, and the two-legged garment became standard clothing for working men to stave off cold and abrasion. Picture courtesy of Hostage, Edinburgh, Scottish Kilt Rave 2007.
At the onset of the industrial age, Levi's were probably the most popular mass-produced garment made for men. Sewn of heavy canvas, Levi's jeans were designed to stave of the scrapes of workman's toil. The political rise of the working class in the 1800's transformed the workman's attire into a symbol of raw power against the pompous and flagrantly dressed gentile statesman at the polar ends of the political and fashion spectrum. The power struggle of the working class has since greyed into the history books. So many men today live comfortable lives transporting themselves from their cozy homes, to their climaxed controlled cars, and into their environmentally shielded workspaces. Their female counterparts, transgressed long ago into the once male-dominated career lifestyle, are comfortably donning non-bifurcated garments as they go off to work and play.
The idea of men wearing skirts in today's sex polarized society is a hot subject in certain corners of the Internet. Is it cross-dressing or is it the reemergence of an old-world fashion trend? - The topic is frequently debated in various Internet discussion groups and forums. For the most part, there is relatively widespread interest and at least moderate acceptance of the 'men wearing skirts' idea in one form or another.
It seems that many men are rediscovering the comfort and practicality of the skirt. (Men's skirts are often referred to as kilts, sarongs or pareos for those who are fearful to associate the word "skirt" with men. - Get over it, it's just a word). When you step back and take an objective look at things, the idea of restricting such a broad class of garment design to women seems a bit absurd. - Especially when you consider the anatomical configuration of the male species - "The three-legged trouser just didn't take off like it should have". Skirt style garments are unarguably the least encumbering configuration of lower-body clothing that men could wear. It's more than a style statement according to some doctors, loose non-restrictive clothing can help men live healthier and reproduce easier. Picture courtesy of melomane.
The indisputable fact about skirts is that they are extremely comfortable to wear for both men and women. If one follows the cardinal rule of design; "form follows function", then it is obvious that the idea of restricting men from wearing skirts today is largely a fashion argument. Just as the idea of women wearing trousers can equally be argued as fashion in most casual living situations.
In other parts of the world such as the South Pacific, Indonesia , Africa , Middle East , India , and the Philippians it is common to see men wearing skirts and other non-bifurcated garments. Certain cultures like Scotland and Greece maintain kilts and men's style skirts as formal military attire. After many brief showings on the runways of Paris and Milan over the last couple of decades, it seams that the men's skirt trend is starting to stick. The main reason for hesitance over the years is the overwhelming fear by most men for being identified as homosexual. However, subculture stigma seams to be having a diminishing influence on the emerging men's skirt market for heterosexual males. The trend is not about feminine skirts for men but rather masculine skirt designs that are made for the male body shape.
Skirts made for men are appearing in a wide range of social circles from hikers and runners to carpenters and artists. Currently, the most common skirt configuration worn by men is a modern adaptation of the Scottish kilt. Previously relegated to traditional dress, the kilt has seen a recent rise in popularity beyond the borders of its Scottish heritage. (A kilt is a special type of pleated skirt that wraps around the waist and has an overlapping front.) A number of manufacturers are now offering modern kilts for men. Companies like Utilikilt, Amerikilt and Union Kilt have taken an old idea and revitalized it with heavy-duty construction complete with cargo pockets and tool holders. Other companies such as JDEZ offer lightweight cargo sarongs, and hiking skirts that convert to shorts for warm weather recreation. And Macabi Skirt, who offers a cleaver unisex skirt for backpackers and travelers. While other companies, like Men-in-Time and AMOK, make high-fashion masculine long skirts for men.
The idea of skirts made for men is both a new and old concept. While probably a long way from going mainstream, mens skirts, kilts, sarongs and the like are probably going to continue to increase in popularity."
How to Wear a Kilt
"First you should close the kilt by taking the right side apron through the hole of the left buckle and adhering it to the left buckle. Fasten the left apron to the right and the fringed edge and kilt pin should be to the right. You should make sure that your Kilt falls to the center of the knee. It should sit on your natural waist also.
Make sure that the pleats are at the back of the Kilt and strap the sporran at least three fingers
below the belt. The strap will fasten in the back of the Kilt. You should also wear the kilt hose folded with two to three fingers below the knee. The kilt flashes on the outside of the leg will cover the strap with the fold of the sock.
Scots are Lifting Their Kilts
There are a few tips that can also be associated with the Kilt as well. A plain white shirt will make the best fashion look with the Kilt. They are also used all over the world for weddings, funerals, and special events. It is also a good idea to always wear something under the Kilt. Never go completely bare under there. The wind can pick up at any moment and will leave all of you free for the world to see.
You may even want to use a pin or special tie to ensure that the kilt will stay closed even in the highest winds. Kilts are worn by all kinds of people for all different reasons. A lot of them are worn because of a special group or event. It is a good idea to understand this way of dress so that you do not offend anyone by wearing it wrong. Picture Courtesy of Style.com
Many Kilts are worn in parades around the world. There are a lot of bands that include a kilt in their dress code. This is especially nice when the group performs and plays the bagpipes. This is a great addition to any group or event. Many marching bands will incorporate this popular look into their routine and will make their band well known for this reason."
So that's how to wear your kilt - New Scotsman.
Source: images.google.com/imgres?imgurl=http://www.frasersformen.co.uk/kilt_dancing%2520copy.jpg&imgrefurl=http://www.frasersformen.co.uk/kilt_hire_london.htm&usg=__E9xSai74wOxr_zwaCwtPqGfNlnk=&h=372&w=250&sz=50&hl=en&start=343&itbs=1&tbnid=6l7BkaoCEGOQrM:&tbnh=122&tbnw=82&prev=/images%3Fq%3D%2522Under%2Bthe%2Bkilt%2522%26gbv%3D2%26ndsp%3D20%26hl%3Den%26sa%3DN%26start%3D340

A stool especially made for kilt wearers.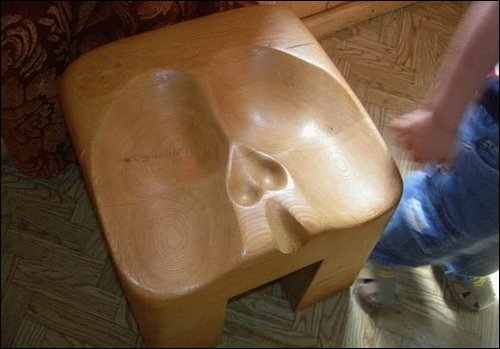 * * *
At least I knew who I was when I got up this morning, but I think I must have changed several times since then. - Lewis Carroll
By the end of the weekend I am deeply struck by the many forms of male beauty: Big roaring bears of men, fierce flying falcons of men, deep diving trout of men. Gentle men, angry men, laughing men...men hugging, men howling, crying, dancing, singing... - Terrance O'Connor
Only male turkeys gobble. Snapple Real Fact #111

---
Contact Us | Disclaimer | Privacy Statement
Menstuff® Directory
Menstuff® is a registered trademark of Gordon Clay
©1996-2019, Gordon Clay