LATEST REPORTS
We made it to 2013 girls and women who have raced or currently race against boys or men before 1/1/2013. Hoorah.
List of 2,066 Women Who Race Against Men - are you on it?
Fathers & Daughters & Bikes -
ARCA: Jennifer Jo Cobb, Amber Cope, Angela Cope, Erin Crocker, Kim Crosby, Gabi DiCarlo, Milka Duno, Maryeve Dufault, Jill George, Amanda Gogel, Tina Gordon, Sunny Hobbs, Karla Lampe, Johanna Long, Leilani Munter, Alli Owens, Ashley Parlett, Danica Patrick, Deborah Renshaw, Shawna Robinson, Michelle Theriault
Federation Internationale de l'Automobile (FIA) - Women & Motor Sport Commission
Iditarod: 11 of 70 mushers in 2014 were women.
Jr Iditarod: 4 of 10 mushers in 2014 were girls.
Indy Cars: Ana Beatriz, Milka Duno, Sarah Fisher, Kathrine Legge, Pippa Mann, Danica Patrick, Simona de Silvestro (And Anna Chatten over the wall.)
NHRA: Erica Enders, Brittany Force, Courtney Force, Ashley Force Hood, Peggy Llewellyn, Angela Sampey, Karen Stoffer, Melanie Troxel, Hillary Will,
Rider Planet - List, by state, of over1000 great places to ride your dirt bike, ATV or UTV. Also, twitter.com/RiderPlanet
Soap Box Derby: Jamie Berndt, Megan Hydutsky, Maija Liimatainen, Megan Thornton, Sarah Whitaker
24-Hous of LeMans 55 women drivers since 1930-2017, 4 from the US: Margie Smith-Haas (1984), Lyn Saint James (1989, 1991), Liz Halliday (2005-2017), and Andrea Robertson (2011).



10 Best Women Drivers - 2:50
AIM - Committed to identify, train and manage emerging motorsport talent.
Australian Women's Motorsport Network (AWMN) supports women in motorsport and the auto industry and our current focus is on drag racing training for women... as the most popular choice of motorsport in Australia for women. we call these days 'Girl's Torque'.
Bathurst 12 Hour - All woman team.
Black Dragracers - a forum to discuss issues pertinent to black drag racers that often aren't adequately represented in drag racing.
British Women Racing Drivers Club encourage and promote women in all forms of motorsport.
Candy Heart Productions offers a prize-winning video, "Fast Women," featuring Janet Guthrie and other women racers.
Celebrity Riders - Famous women motorcycle riders of today, include Samaire Armstrong, Brigitte Bardot, Victoria Beckham, Cher, Catherine Bell, Courtney Cox, Molly Culver, Joan Jett, Angelina Jolie, Wynona Judd, Queen Latifa, KD Lang, Alanis Morrisette, Pink, Niki Taylor, Tanya Tucker, Charlize Theron; Chae An, a well-known sportswoman and Lauren Hutton, who is the first vice-president of the Guggenheim Museum Motorcycle Club. Since the 1900s, women motorcyclists have continued to break down gender, stereotypical and cultural barriers by being inspirational role models and enabling women worldwide to become courageous in their own aspirations to ride. Women motorcycle riders continue to encourage the growth of the motorcycle industry by teaching them the skills they need to ride safely, as well as contributing to the demand for motorcycles and riding accessories designed for female consumers. While none of these women race against men, it is an example of how the image is changing which, hopefully, will encourage more girls and women who have the desire to ride on the front, not just the back of a motorcycle make that switch.
Draw Racing Association for Women E-Mail - The Drag Racing Association of Women (DRAW) is a non-profit organization that provides financial and emotional support to qualified individuals involved in drag racing accidents at a track. From 1985 through 2008, DRAW provided a total of $3,117,317 in financial assistance to 639 racing families. In 2008, financial assistance totaled $247,500. No one receives a salary and all office work is done from the homes and businesses of the volunteers. Anyone, including racers, team owners, sponsors, track owners, manufacturers, fans and more can become involved in DRAW. DRAW has remained strong throughout their existence due to the generous participation of volunteers and contributors who loyally support them. DRAW's motto is "Fast Help For Fast Friends!"
Ear Muffs - Wear Them! - your kids, too!
FemaleRacingNews.com FRN was founded by Amanda Martin and Chris Rhoad to fill a void of sort in the racing industry. There was no site dedicated to news just about just the women in motorsports that was regularly updated.. Hence FRN was born! Updated almost daily with news from all over the world FRN is dedicated to reporting the news about any women in any form of motorsports. Great job!
First Woman To... an incomplete list of "Firsts" that women have accomplished when participating in races against men:
Formula 1 - Not really much to say about this neanderthal group, from our perspective
Formula Woman The Formula Woman Concept was launched in 2003 into the male dominated arena of Motorsport. As the first UK driving Championship exclusively for women it met with mixed reviews - except from the women it was designed to appeal to! Launched at the Autosport show at Birmingham NEC in January of 2003 it proved to be an area that hadn't previously been explored thoroughly as applications to take part in the competition poured in!
Girl Racers Meet eight girls who are driving some of the hottest, fastest cars on the planet. From a quarter mile in less than 5 seconds, to twelve hours of pur endurance racing. Biography Channel.
Glass Hammer Racing - The ultimate racing resource for girls, sponsors racing events designed just for young women, introduces them to female role models, and supports their early racing careers.
Iditarod Women - Over 100 women listed have participated in this 1,100 mile race on a dog sled. 22 women competed the 2008 race and slightly out-did the men overall.16 raced in 2009, and 15 in 2010 and 2011.
Also, My First Full Track Pass
MotocrossLadies - E-Mail Uniting women riders worldwide. Through stories, rants and raves, wins and loses, we are uniting women motocross racers from around the world! Located out of Dallas, Texas, USA we feature women riders, advertise upcoming race series, give you news and opinion pieces and keep you involved in what we all love...motocross. Twitter Facebook The Ultimate Motocross Lady Track Check-List
Motorcycles and Women Women have been pioneers in female motorcycle riding since the 1900s, and more women continue to become involved in riding either as a recreation or in professional racing. According to the Motorcycle Industry Council (MIC), one out of 10 motorcycle owners are female, and there are approximately 4.5 million women riders. Famous historical women motorcyclists promoted riding by proving to be gender and cultural revolutionaries, and paving the way for women today to enjoy the freedom of riding and racing.
News Feeds - Up-to-the-minute news from NASCAR(1-4), Formula One, NHRA, V8 Supercars, Speedway Motorcycle, SuperBike, Dirt Bike, Motorcycle, SCCA Autocross, Motor Sports (General)
PassedByAChick.com - The ultimate source for news and beautiful pictures of the hot, sexy, awesome women who get on two wheels and go fast. E-Mail
Race Columnist - ALMS racer Liz Halliday writes a periodic column for WomenInRacing.org
RaceDrive.com - Online Motorsport Directory for the Racing Industry. Categories for all areas of Motorsport. Also, twitter.com/RaceDrive
Race4Girls - gives female race car drivers in the U.S. a chance to better compete against their male counterparts by providing funds for equipment. Currently support racers in the following series: NASCAR Sprint Cup NASCAR Nationwide, NASCAR Camping World Truck, IndyCar, ARCA, World of Outlaws, ALMS and NHRA.
Race Hippie NASCAR for Women
RacerChicks An enthusiast's automotive site, with articles on a wide range of topics; lists many women racers
Racin' for a Livin' - Fifty race car driver's have been selected for an upcoming racing reality TV show - Racin' for a Livin', eleven of them women. The competition starts with Fans Voting Online to select the top 12 drivers. Only these 12 drivers, selected solely by fan voting, progress to the TV show. . Then they compete in race cars, on different courses, judged by top drivers, crew chiefs and broadcasters. The winner receives a fully-funded and sponsored ride for a limited number of races in the NASCAR Busch Series. Three women made the final 12 cut for Racin' for a Livin' Reality Show .
Racing Schools - Lots of great places to get your motor running.
Speed Queens - Dedicated to raising the profile of women in all areas of motorsport, especially rallying. It lists 258 drivers past and present and includes a profile on 91of them.
Sponsorship 101 - an article
Start Your Engines - Are you a Girl Racer or do you want to learn more about racing, for fun or for a career? Check out the links here to learn more about racing series, trailblazers of racing, and other racing web sites. Read articles about becoming a professional driver and understand what you'll need to get on the track. Also video.msn.com/v/us/v.htm?g=cc7b7e04-70e5-4c10-b2da-1c3eeb556b25,9dbc7367-7bfe-4a1f-8083-1dbe4188baf5,fbdf7a82-145b-43a2-b6b3-0eaadb329b69&t=m128&f=06/64&p=Fox%20Sports_Motorsports
Thunder Valley Racing is a comprehensive site for women racing drivers--well worth a look.
TrackChic - web site with many women racers. Track Chic, Inc., 3535 Peachtree Rd, Ste 520-237, Atlanta, GA 30326 or 678.534.8572 or eMail
True Car Racing - All female team
Women Auto Racers List , Genny Obert
Women in Racing - Lots of information
WomenInRacing.org - Preview our new web site.
Women Racers - listing 1,597 women in racing including their photo, web site, E-mail and information, where provided. If you are a woman racer and aren't listed, go to Feedback and fill out the form. It's free. 5/10/08)
Women in Racing - More - women over-the-wall and other race support staff
Women of the NASCAR Nextel Cup - No women so it remains a bunch of guys behind the wheel of a bunch of cars driving around in circles for hours because all of them are too macho to ask for directions.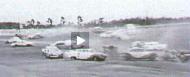 Largest crash in NASCAR history.

Women of the NHRA - a listing of women who have raced in an NHRA National race during 2006 (As of 8/21/06) Women who are entered in the 53rd National August 29, 2007 as of (8/23/07)
Women of the 24 Hours of Le Mans - Lists 49 women
Women's Sports Legends was originally founded by women tennis stars. The site now has a speakers bureau and much more.
Women's Sports Network a resource for women E-Mail
Related Issues: If You'd Only Let Me Play, Women/Girls in Sports, Women Who Win - Book, Fathers (single, step, Fathers and Daughters, Fathers and Sons, Father's Organizations, Books on Fathering and much much more), Kidstuff - information about children and teens, Notable Women, Danica Patrick and the Top 12 Up-and-Coming Female Drivers in Motorsports

2016 Race Schedules - Indy Racing League (IRL), NASCAR Spring Cup, Camping World Trucks
2011 Race Schedules - NASCAR Spring Cup, Nationwide and Truck Series

2010 Race Schedules - ARCA, Indy Racing League (IRL), Indy Lights, SCCA Solo National Tour

, SCCA Mazda MX-5 Cup, SCCA Trans-Am, SCCA World Challenge

2009 Race Schedules - Indy Racing League (IRL), Indy Lights

2008 Race Schedules - American Le Mans (ALMS), Indy Racing League (IRL), Indy Lights

2007 Race Schedules - for American Le Mans (ALMS), ChampCar (CCS), Formula BMW, Formula Drift, Grand Am, Historic Stock Car Racing Series, Indy Pro Series, Indy Racing League (IRL), SCCA Mazda MX-5 Cup, NHRA: POWERade Drag Racing Series

, POWERade Drag Racing Series - Pro Stock Motorcycles

, Lucas Oil Drag Racing

, Xplod Sport Compact Racing

, Summit Racing Series

, National event schedule of classes/special features

, Jr. Drag Racing League

, Rolex Series, Speed World Challenge, Star Mazda Championship

2006 Race Schedules - for American Le Mans, ARCA

, Atlantic Series

, Busch Series

, CASCAR

, Champ Car, Craftsman Truck

, Demolition Derby

, FIA, Formula Ford 2000

, Formula BMW, Formula 1

, Formula 1 Sidecar

, Formula TR, Formula Woman, Grand Am, Historic Stock Car, IHRA

, IHRA Jrs

, IMSA Super Modifieds

, Indy Racing League, Mazda MX-5 Cup, Monster Trucks

, Motocross

, NASA, NHRA Nationals, NHRA Jrs

, Nextel Cup

, Nitro Coupes

, Rolex Series, Speed World Challenge

, Tractor Pulls

, USAC, USTCC and World of Outlaws

.

Photo Galleries: Simona de Silvestro - Formula BMW; Milka Duno - Rolex Series Prototype; Juliana Gonzalez - Formula Ford 2000; Liz Halliday - ALMS; Kajikuma Hiromi - Formula Drift; Mary Katharine - Speed World Challenge Touring; Katherine Legge - Champ Cars; Valerie Limoges - Grand Am Cup GS; Deborah Loth - Mazda MX-5 Championship; Danica Patrick - IndyCars; Beth Philion - Historic Stock Cars; Lyn St. James - Historic Stock Cars; Yoshie Shuyama - Formula Drift; Kerstin Smutny - Formula TR; Audrey Zavodsky - Grand Am Cup GS. Infineon Raceway, Laguna Seca, Portland International, Streets of San Jose.

Allies - Other web sites that feature women racers:
Danica Patrick and the Top 12 Up-and-Coming Female Drivers in Motorsports

---
Over the past five years, Danica Patrick has certainly paved the way for some up-and-coming female drivers, but they'll have a tough road to hoe without some stats and good looks to back up their marketability.

Patrick didn't exactly set the world on fire with impressive stats before landing an IndyCar ride with Bobby Rahal.

But, she had magazine cover/model good looks and the sponsors started to line up when the idea of a race car driver with such sex appeal was credible.

When compared to such female drivers as Simona de Silvestro or Catherine Legge, Patrick didn't score a single win in any other open wheel series such as Formula Atlantic, unless you go way back to her go-kart days.

None the less, Patrick has raised the awareness that female drivers can get the job done against a male dominated sport.

Here are a dozen up-and-comers that could very well make a difference in the record books over the next decade.

Simona DeSilvestro: The Swiss Miss
This 22-year-old Swiss driver has shown in a short period of time, that she is the real deal to compete with the men.

Just watching her in car camera footage shows me that she can manhandle this powerful open-wheel car with authority.

At the race in St. Petersburg, FL, DeSilvestro gave seasoned veteran racer Tony Kanaan all he could handle in the closing laps to notch a career best fourth place. (Editor's note: Tony used almost all of his Push-to-Pass to stay ahead while Simona didn't. She had around 13 left at the end of the race.)

The "Swiss Miss" experienced racing in Europe and America as a teenager with wins, poles and numerous podiums.

This year, she is part of a one-car team with much better backing than 2010. I'd predict several more top fives especially on the road-course venues.

Katherine Legge: She Can Get a Leg Up on the Competition
This English born 30-year-old driver has won Formula Atlantic races as well as poles and podiums.

When competing in Champ Car series, she became the first woman to lead a lap at a Champ car race.

She has driven various kinds of open and closed wheel cars and is currently looking for something full time. She also survived a horrific crash at Road America with great spirit and bravado.

She is currently doing some sedan and sports car racing looking for a better opportunity.

(Editor's note: The subtitle doesn't fit. The excuse Queen seems to be more appropriate. In their Atlantic rookie seasons, Katherine was 25 (2005) and Danica was 19 (2003). If it wasn't for her PR guy, or the big accident at Road America, she would have gotten little recognition in Champ Car. Katherine usually finished near the back of the pack. Of 28 races in 2006-07, she finished closer to last in every race than she did to first.

Her highest placement in 2006-2017 in Champ Car was 6th at Milwaukee in 2006 and 6th at Las Vegas in 2007 (when only 10 cars were running at the finish in both races) and her largest finish from last place was 13th when 18 cars finsihed or five positions from last (Portland - 2006).

In 2006 she finished on the lead lap once in 14 races to take 8th with 11 cars left at Long Beach. 2007 was better. She finished on the lead lap in 5 of 14 races.)

Liz Halliday: A Sports Car Threat
This California-born driver has been a threat in sports car racing, especially the American LeMans series where wins or top threes awere the norm.

This attractive 33-year-old blond racer has the time clock clicking against her for major backing in any series.

Of all the current female drivers, she probably has the most impressive record of wins and podiums at venues such as Petite LeMans in Road Atlanta and a win at the famous 12 Hours of Sebring.

Jennifer Jo Cobb: With as Many Teams as She's Been on This Year, Suitcase Cobb
This aggressive American-born NASCAR racer competes in the Camping World Truck series as well as the Nationwide series.

Other than the sixth she notched in the opening truck round at Daytona, she has struggled to keep up with the Jones.

Her soon-to-be-fossil age of 37 is not helping her overall goals of being a full time competitive driver.

She's only had nine starts since 2004 in either division with an average start of 34th and average finish of 40th.

Pippa Mann: Rocketchick
Now here's a pretty blond female 28-year-old driver combo that is poised for much bigger things in the world of racing.

This English-born, Indiana resident did very well in Indy Lights, notching a win, two poles and seven top 10's, which earned her a shot at the "bigs" in IndyCar this year.

She is slated to compete in eight IndyCar races this year with Conquest Racing including this year's Indy 500, thus becoming the first British female driver to attempt to qualify for the "big show."

I will be keeping a close eye on this talented driver with great anticipation.

Johanna Long: The Next SuperStar
This 18-year-old rookie driver may have the best shot at competing in the Nationwide and Trucks series over the next several years.

She recently won a NASCAR Late Model race.

Between her age, good looks and some luck on and off the track, this combo may be the one watch among the taxi cab set.

Maryeve Dufault: The Whole Package
This good-looking Canadian brunette is getting the job done in both open and closed wheel competition.

She started with motocross racing, then progressed to open and closed wheel competition with always a keen eye on go-kart racing to keep sharp.

Her latest two entries in this year's ARCA racing found her finishing 28th at the Daytona opener, the result of a wreck followed by last week's run at Talladega where who started 39th and finished an impressive 12th.

I recommend keeping an eye on this talented driver who tends to eat and sleep anything connected with racing.

Ana Beatriz: Brazilian Talent
This Brazillian young driver became the very first woman to win not one but two Indy Lights races, an oval and road course. Actively karting since the age of nine with success could only help this girls mission.

The 24-year-old talent started in IndyCars last year with nothing much to shout about.

This year, the most notable footnote is her broken wrist at St. Petersburg, sidelining her from competing in Barber Motorsports Park.

The jury is still out on this potentially talented driver.

(Editor's note: Bea had six top 5s in her last year in IndyLights. Her rookie IndyCar race was San Paulo last year where she started 22nd and finished 13th.)

Alison MacCleod: (not MacCloed) Winningest Female USAC Driver
The goldy-locks 22-year-old Canadian driver has recently been dubbed the winningest female driver in USAC history.

Since 1998, she has won in go-karts, shifter karts and a host of Ford Focus and Regional Midget events.

Currently, she is looking to move into the stock car set, more specifically ARCA.

Sloan Henderson: The Real Deal
This cute blond driver has been on a tear winning Late Model races at her local short track in Ohio.

The 18-year-old American driver could very well be on a path to greatness among the taxi-cab set….with the right connections.

So far, she has captured numerous LM wins, poles and top fives in addition to being named most popular driver.

Sloan is self taught having raced and won in all divisions entered from Bandeleros to Legends to Late Models with numerous track records along the way.

Stay tuned as she could have "the right stuff" to be a star.

Amber and Angela Cope: Cupie Dolls
Yes, their famous Uncle Derrike, Derrike Cope that is, has brought these two stunning blonde beauties among the stock car ranks, more specifically to the truck series to see what they can do.

So far, they can look great in a driving suit….and that's it. This could be a very short-lived career.
Source: bleacherreport.com/articles/671495-danica-patrick-and-the-top-12-up-and-coming-female-drivers-in-motorsports

Teenage Girl Restores A Car She Can't Drive

---
This young mechanic is rebuilding a Pontiac Fiero ahead of her 16th birthday


2:06
One girl's passion for a project car has inspired a whole community of gear heads. Kathryn DiMaria was only 12 years old when she came to her parents with the idea to refurbish a Pontiac Fiero. The car hadn't been in production for 13 years when she was born, but after spotting it at local classic car show, she knew it was for her.
The fact that the restoration would allow her to learn her car inside and out for several years before actually getting her driver's license seemed like solid reasoning to mom and dad. So using her babysitting money they bought a rough, but drivable 1986 Fiero for $450.
Her dad hit the Internet message boards to brag about his 'cool daughter' and her story became a source of inspiration for other Fiero lovers. Even though the pair aren't asking for help, assistance from the community has been pouring in ever since that first post. Members have followed the 2 years of updates and pictures of progress and have helped with their advice and even a few tools and parts.
For her 13th birthday members of the forum even sent her gifts just to be part of the build. When the DiMarias had trouble with the bumper, a user named James Schultz sent them some parts from his side business Fiero Fiberglass.
"Kathryn helps motivate things. We think 'She's gonna need this, let's make her something'" Schulz told CNN. The shop keeps her thank you note hanging on the wall.
Right now she's facing the biggest job yet, rebuilding a 3.4-liter Camaro engine to replace the 2.8-liter that came in the Fiero. Now 14, she is optimistic the car will be running by the time she reaches her 16th birthday in 2014.
Source: autos.aol.com/article/kathryn-dimaria-pontiac-firebird-restoration/?icid=maing-grid10%7Chtmlws-main-bb%7Cdl24%7Csec1_lnk2%26pLid%3D319364

Ashley Phalen Killed in Driving Experience Crash at Auto Club Speedway

---
A woman is dead after crashing a replica Indy race car into a wall at the Auto Club Motor Speedway in Fontana.

24 year old Ashley Phalen of Los Angeles was driving the car as part of the " Mario Andretti Driving Experience" at 9:32 a.m. Friday when her vehicle slammed into a wall at a high rate of speed and flipped over, according to the San Bernardino County Sheriff-Coroner's Department.

Phalen was taken to Kaiser Foundation Hospital in Fontana where she later died.

The "Mario Andretti Driving Experience" is described by the company's official website as being the "World's Fastest Driving Experience." In the paid driving experience, members of the public are allowed to drive replica utilizing "full size, 600hp, Indy-style race cars with open cockpits and open wheels."
Source: www.ktla.com/news/landing/ktla-fontana-raceway-death,0,6149265.story

Editor's note: Many comments following this story centered around condolences. Here was my response.
The other possibility is that it might have been the highest point in her life. The adrenline rush, the euphoria. That's a draw for many in extreme sports. Find where the limit is. Ashley found that limit early. Another Ashley has pushed the limit and lived. And she (Ashley Force) hasn't stopped pushing the limits. I have a feeling that if there is a heaven, this Ashley is enjoying it to the fullest.

---
The "Chicks Rule!" issue features some of the greatest women around with guest editor Shirley Muldowney.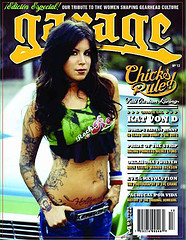 VW Scirocco Cup: Promising female racer to get free seat in 2011

---
The Volkswagen Scirocco-R Cup is to offer one promising female driver a fully-funded seat next season.

VW Motorsport has teamed up with the FIA's Women and Motorsport Commission to offer the prize, and has invited ten young hopefuls to test at the Oschersleben circuit this week. Ginetta racers Louise Richardson and Sarah Moore and Britcar racer Jade Pavely are among the drivers being assessed, having been nominated by the MSA's Women in Motorsport Group.

"The UK is blessed with some excellent female drivers," said MSA chief executive Colin Hilton, "and we're starting to see a growth in numbers coming in to the sport.

"We've nominated three of our leading drivers and we know they will represent the UK with great distinction."

Nominees will need to demonstrate both on-track skills and classroom theory to earn the scholarship. The successful driver will run in the Scirocco Junior class for the full 2011 season and should they finish among the top five in class would automatically extend the contract for a further year.

The Scirocco-R Cup enjoyed a successful inaugural campaign in 2010, particularly through its use of racing 'legend' guest drivers across the season.
Source: www.motorstv.com/car/touring/vw-scirocco-cup/03112010/vw-scirocco-cup-promising-female-racer-get-free-seat-in-2017

---
VW Scirocco Cup: Promising female racer to get free seat in 2011

* * *
Ashley Phalen Killed in Driving Experience Crash at Auto Club Speedway

* * *
Three female racers left their mark on history July 23rd competing together in NASCAR Camping World Truck Series.

* * *
For the first time ever, four women will race in the Indy 500: Rookies Ana Beatriz, the fastest female sitting 21st on the grid, and Simona de Silvestro right behind in 22nd. Next is Danica Patrick in 23rd and Sarah Fisher qualifed during Sunday's Bump-Day activities in the 29th position. Milka Duno did not make the field.
* * *
Formula 1 will return to the U.S. in 2012 at a race track built specifically for the event just outside Austin, TX. It was last held at the Indianapolis Motor Speedway in 2007 and was previosuly run on such diverse tracks as Watkins Glen and street circuits in Long Beach, Las Vegas, Detroit, Dallas and Phoenix.
* * *
Going into Pole Day, the two rookies lead the field of women. deSilvestro is 15th fastest, Beatriz is 26th, Patrick 28th, Fisher 33rd and Duno 37th.
* * *
All five IndyCar women are registered for the Indy 500: Milka Duno (ranked 23 from 5 races), Sarah Fisher (ranked 28th from 1 race), Danica Patrick (ranked 16th from 5 races) and rookies Simona de Silvestro (ranked 20th from 5 races) and Ana Beatriz (ranked 27th from 1 race.).
* * *
Five Up-and-Coming Women Drivers Awarded Project Podium Grants

Plus, IndyCars sets their 2009 Schedule.
* * *
The 2010 racing season is in full swing.. Don't forget to up-date your free web page here at WomenInRacing.org with your past accomplishments and your schedule and results for the coming year. Click here.
* * *

---
WomenInRacing.org | Contact Us
©2006-2017 by Gordon Clay