LATEST SNIPPET
May 7-8 is the next event on my calendar, driving at Inde Motorsports Ranch. Looking forward to this multi-race weekend!
Profile
News
Results
Schedule
Snippets
Related Issue: Women Racers Directory, Women in Racing, Women Racers, More Women in Racing, Race Schedules, Notable Women
Contact: eMail | www.GeriAmaniRacing.com



Direct link to this page - http://bit.ly/gTrPbN
Full Name: Geri Anna Amani
Date of Birth: Never tells her age!
Hometown: Petaluma, CA
Home Abroad: London, UK
Occupation: Creative Director
Car: #34 Red Spec Miata (aka Clifford), and anything she can get behind the wheel of.
Objectives: Dedicated to continuing driver development while supporting her partnerships in motorsports. Building business across multiple channels, adding value to your brand.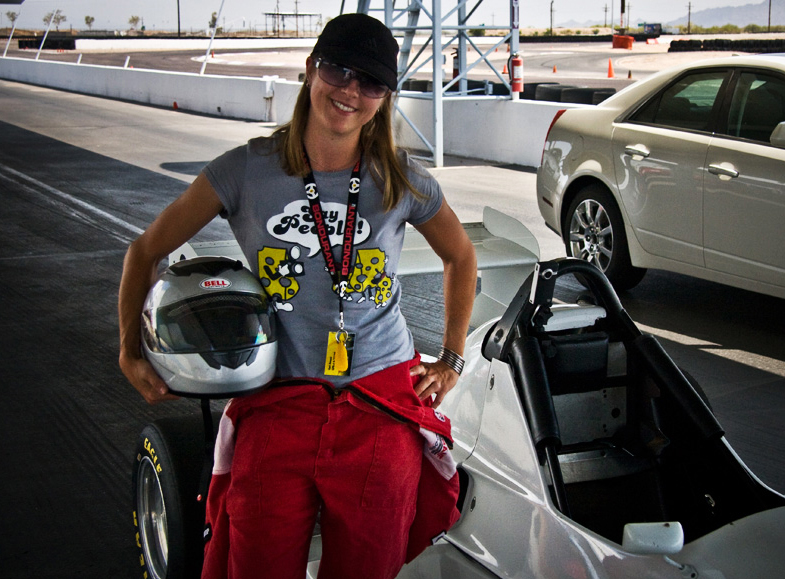 The Girl who Liked Cars
Unlike most young girls, Geri has always had an interest in things that traveled "fast." While other little girls she knew played with dolls and easy-bake ovens, Geri took an interest in anything with wheels. From a very early age Geri built her own "down-hill buggies" using anything she could borrow from her mom and dad, cruised on skateboards and bicycles, also enjoyed quads and karts. Having natural creative ability in the arts, her family encouraged that aspect of her development, which ultimately became the primary focus of her career.
Geri spent many years in Northern California developing her talents as a designer, but always kept a close eye on anything automotive. Professional creative opportunities opened for her abroad, leading her to move to the United Kingdom. Geri worked in London while completing her Masters Degree in the South East of England, traveling across the whole of europe whenever she could. Eventually she returned the United States (with a very thick accent), establishing herself in Phoenix, Arizona.
Was that a … Paseo?
Geri's move to Arizona was also the time when her participation in motorsports began. Starting with SCCA Autocross events, she eventually found herself lapping on road courses. Geri began with a very humbling track car – a Toyota Paseo – and drove it religiously at Phoenix International Raceway. It was at this track where she became hooked and loved every moment driving around a track infamous for it's NASCAR races, and a "roval" track configuration.
Geri became widely associated with this unusual track car, but it didn't take long for her to outgrow the Paseo. Given that the car was 100% stock (even used all-weather tires), it was inevitable. Yet, as iconic or humorous as it was to the local racing community – it was time to say goodbye to her beloved Toyota.
No doubt that was a difficult move, but no less a necessary one.
Career Connections
Given Geri's experience in the design and marketing industry, she found that her involvement on track brought her a new league of clientele – drivers, automotive organizations, and performance tuners. It did not take long for Geri to integrate into both business and participatory aspects of motorsports. She eventually founded Redlign AutoSports: a creative organization dedicated to automotive and motorsports promotion. Out of her growing customer base, her network also extended into the National Auto Sport Association (i.e, NASA), where she worked as a Creative Director and track photographer for the Texas Region. While working for NASA Texas, she was fortunate to find herself on all the regional tracks, ultimately getting her feet wet in a proper race car… a Spec Miata.
Back home in Arizona, Geri purchased a 1991 Mazda Miata of her own as a donor car, building it to Spec in her Garage. After the many challenges (blood, sweat and tears) one encounters with their first race car build, this little red car took to the track across the Arizona region, eventually becoming known as "Clifford" … conspicuously nicknamed after the famous "big red dog" character in children's books. This iconic name has since then remained a part of the car's identity, and is humorously addressed to having a close connection with its owner.
Car #34
The car number has a bit of personal history, and is closely linked to Geri's family. Her late uncle named Ron, who lived and raced in the Midwest during the 1970's, was notorious for his "racing style". It has been said he would do things that most drivers would not do. This was inherent in his personality, and was a trait that ultimately made #34 a regional legend at the time. From dirt tracks, karts, and boats, Ron built and raced them all. In this case, it becomes evident that the need for speed can be and is, genetic.
Geri never met Ron, and is only familiar with his legacy through family photographs and few family stories. After his death in a tragic airplane crash in the 80's, much of his racing had been unknown to Geri until she reached her 20s. In Ron's honor, Geri gave Clifford the race car number #34, ensuring that his tradition will live on.
Professional Work in MotorSports
Motorsports has brought Geri many great opportunities and business partnerships along the way – working closely with Porsche performance tuner Evolution MotorSports, Gumpert Racing (US distributor of exotic car maker, Gumpert), Bondurant School of High Performance Driving, Grand American Racing drivers and teams such as Todd Lamb and i-Moto Racing; along with many other performance / motorsports companies around the country.
Alongside Geri's print, branding, and web design work, her interest in photography has proven to become rather fruitful. Her work has been showcased in well-known publications including Excellence Magazine, BMW Magazine, European Car, Luxury Car, Grassroots Motorsports, Vintage Car, and front-cover / multi-page spread of the Gumpert Apollo in Latin luxury car publication, Automundo.
In her design efforts, Geri has photographed many live events in Arizona and Texas, covering regional races and the infamous land-speed record course known as the Texas Mile. Geri also teamed up with Evolution MotorSports as their assigned photographer during an Speed TV shoot of SuperCars Exposed / Battle of the Supercars with the famous drift / racer Tanner Foust, and the official US launch of the Gumpert Apollo--with the founder, visionary and Audi Performance legend, Roland Gumpert. Each of these efforts has set Geri's career in motion and consequently supported her participation in racing to a greater extent.
Recent Achievements
NASA National Champtionships, 4th Place in Time Trials (TTE)
NASA Arizona Region, Time Trials (TTE) Currently Leading 1st for Regional Points in 2010
Tracks
Oregon Raceway Park
Phoenix International Raceway
Firbird International Raceway, Main Track
Firbird International Raceway, East Track
Firbird International Raceway, West Track
Inde Motorsports Ranch (IMR)
Texas World Speedway (CC, CCW)
Hallett Motorracing Circuit
Motorsports Ranch - Cresson
Thunderhill
Arroyo Seco
Bondurant Road Course
Bondurant Karting Course
SCCA Solo Courses
CalSpeed (Kart Track)
Regional Karting Venues
Credentials
National Auto Sport Association Time Trial license
National Auto Sport Association Race License
Bondurant Grand Prix Racing School
Bondurant ProKart Course
Vehicles
Spec Miata / Race-Prepped Miata
Porsche RS America
Porsche 944 Spec
Race-prepared 2008 Corvette Z51 Coupe
Formula Mazda
Pro Karts / Sodi / CRG Karts
GTO
Additional Driver Interests
Rally / Rallycross
Drift
Sno
* * *

---
WomenInRacing.org | Contact Us
©1996-2019 by Gordon Clay