LATEST SNIPPET
'Girlie girls' team up to become off-road racers.

Results
Schedule
Snippets
Related Issue: Women Racers Directory, Women in Racing, Women Racers, More Women in Racing, Race Schedules, Notable Women
Contact: eMail | www.allamericangirlracing.com

Direct link to this page - http://bit.ly/f0sAHy
My name is Beccy, last name Gordon. Future Mrs. Hunter-Reay and fourth generation racer; great grand-daughter of Huntly Gordon, daughter of Baja Bob & Robby's my brother. I love my man and I love racing; everything from the Baja 1000 to the Indy 500. I like photography, tweeting with fans, go-karting, my furry friends, surfing, snowboarding, golfing, tennis,boating, fishing and I like to race too. I want to dial-in fans with the lifestyle of the current IndyCar drivers. I speak my mind and sometimes live my life in a Seinfeld episode. Love all things racing & I'm the human encyclopedia: IndyCar, NASCAR, SCORE, Dakar. love my family & my four-legged friends. Advocate for Racing For Cancer.
My dad races off-road cars. My mom pre-ran the Baja 500 when she was seven months pregnant with me. I've asked her why, and she looks at me like… "Why? Why not?" Maybe that's where I get my spunk. My parents were young and that's what they did, they loved the desert. My mom wasn't letting a pregnancy keep her down. Here's the picture, my parents in my dad's 1970s buggy, shocks with 2 inches of travel going across the Baja Peninsula, my brother, Robby, ratchet strapped to the gas tank, my sister on my mom's lap and me in her belly. It's a hilarious sight if you can picture it and probably defines our family well.
Once I was born, racing became my life. Nearly every weekend of my childhood was spent at a race track watching my dad and brother. We spent so much time in the dirt that I would wear a bathing suit everywhere so all my mom had to do was hose me off at the end of the day. I was just a kid, wearing a bathing suit, making "dirt angles," and riding my quad. I thought this was what every little girl across America was doing on an average weekend … well maybe not. Robby was pretty good at racing. He raced motorcycles, off-road cars; a Roush GTO Mustang in IMSA, Indycars, NASCAR, back to Indy, now Dakar, NASCAR and more off-road. While he was building his career, I was getting pretty good at Softball. I ultimately ended up as the youngest player on the US National team that inducted softball into the Olympics in 1992. Despite loving the sport I was playing, nothing was as great as being at a racetrack.
Fast forward, 10 years and you'll find me on pit lane at the Toyota Long Beach Grand Prix talking about racing as a pit-reporter for ChampCar. Luckily for me, my first day on the job I met my best friend, future husband and IndyCar's resident hottie; Mr. Ryan Hunter-Reay. He was the first person I have ever met that loves all the same things as I do. We both love racing (obviously, I've said it 15 times so far), the ocean, golden-retrievers, surfing, snowboarding, golfing, fishing, classic rock and the list goes on and on. I'm a lucky girl!
So, here I am now, still at the racetrack and my plan is to dial in race fans on paddock life. If you've met me, you've probably met my camera. My blog will be a little bit of everything, photo essays, videos, and straight up blogging. Hope you follow me!
Beccy Gordon hits the pavement in Toyota Pro/Celebrity Race
---
Off-road racer Beccy Gordon's certainly no stranger to being quick on the gas and hard on the brake as she tries to out-race her opponents. But having pavement under her race car is a much different story as she prepares for the Toyota Pro/Celebrity Race April 19, one of six events to be run in conjunction with the Toyota Grand Prix of Long Beach.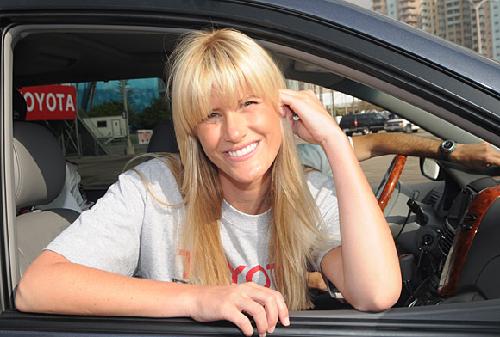 Of course, the part owner and driver for All-American Girl Racing is following in familiar footsteps by getting her early pavement experience at Long Beach. Beccy's older brother, Robby, finished second in the 1990 Long Beach IMSA GTO race in just his fourth-ever pavement start before heading to a career in Indy cars and now NASCAR.
"Words can't express how thankful I am to Toyota for inviting me to be part of this incredible event," said Gordon. "Toyota has been a part of my family for many years and I have attended this race since I was eight years-old. I'm still in shock that I'm going to be racing on the streets of Long Beach and representing the off-road world! It's totally surreal."
Despite it being her first pavement start, Gordon will participate as one of six racers in the professional category that start the race 30 seconds behind the celebrity division. She will compete against the likes of NFL Hall of Fame running back Eric Dickerson, basketball Hall of Famer Nancy Lieberman, "That 70's Show" star Wilmer Valderrama, "Dancing With the Stars" winner Drew Lachey, former NBA star John Salley, ESPN NASCAR reporter Jamie Little and fellow pro's NASCAR SPRINT Cup driver Mike Skinner, Tony Pedregon and Whit Bazemore, both NHRA Funny Car champions, as well as former Olympic gold medal cyclist Marty Nothstein.
"I can't wait for the race! The competition, not only in the pro category, but amongst the celebrities is stout," relayed the third-generation driver. "I definitely have my work cut out for me, but I'm ready for the challenge. If I can minimize my mistakes on the track, I should be in good shape. This is such a different beast than I am used to in the dirt. The Scion tC's that we are driving are awesome cars and handle like proper race cars on the streets. They are fast little machines. Toyota's created a monster in me… I think I found a new love."
In addition to the on-track competition, Gordon also will be helping to raise money for "Racing For Kids," and in particular to raise money for local children's hospitals in Southern California. To date, Toyota has donated more than $1.6 million to local children's charities in conjunction with the Toyota Pro/Celebrity Race.
"The best part about this race is giving back to the kids in our community," said the Orange County native. "I'm a local So-Cal girl and I've been able to see firsthand the difference Toyota is making in the lives of some of these kids. My race team and I have always supported local charities and I look forward to adding 'Racing for Kids' as one of our beneficiaries. Anytime you can put a smile on a child's face, you know you've made a difference even if it's just for a moment."

Robby Gordon's sister, primarily an off-road driver, will be in Saturday's Pro/Celebrity race.

---
Beccy Gordon just might be an accident waiting to happen Friday on the streets of downtown Long Beach.

It's not that NASCAR driver Robby Gordon's sister, one of the competitors in the Toyota Pro/Celebrity race, can't handle a race car. In 2006, the Dana Hills resident teamed with her sister Robyn Gordon and Heather Bonnani as part of All American Girl Racing and finished the Baja 1000 while competing in the Baja Challenge division. That made them the first all-female team in the race's history to complete one of the most grueling endurance tests in motor sports.

The way she learned how to drive, though, is as untamed as the terrain in the Mexican desert that she conquered two years ago.

Passing is not something that happens a whole lot in off-road racing. But whenever she happened to come up on a slower driver, she gives them a tap, a signal to let them know that it's time to move over and let her by.

Those kinds of tactics, though, might not play well on a narrow, twisty street course, like the one she will have to navigate today during today's qualifying session, which will set the starting lineup for Saturday's 10-lap race.

"I guess I will have to do some of that … bumping on Saturday," she said with a laugh. "I have been pretty clean in practice, but we will have to see what happens on race day."

This whole experience, Gordon said, has been "surreal." She's getting a chance to drive on the same streets on which Robby finished third while driving in the featured CART Champ Car race during the 1994 Toyota Grand Prix of Long Beach.

While her brother drove for Toyota, she kept pestering the Pro/Celebrity folks to give her a chance in their extremely popular race. And finally she's getting a chance.

But she's not just in the race. She is considered one of the pros, so on Saturday she'll have to beat defending NHRA Funny Car champion Tony Pedregon and Mike Skinner, who drives in the NASCAR Sprint Cup Series like Robby, to win her class.

"I really can't believe this. I mean to be considered a pro … it's a huge honor," said Gordon, who was a part of the United State national softball team that traveled to the Barcelona Olympic Games in 1992.

But being considered a pro is also a huge disadvantage for her because she will be starting 30 seconds behind the celebrity field, which includes Raymond Cruz ("The Closer), William Fichtner ("Prison Break") and Wilmer Valderrama ("That '70s Show").

That's a lot of time to give up for someone like Gordon, who never has done anything like this. Still, she hasn't ruled out winning the whole thing.

Her strategy: Keep Skinner in sight.

"If I can do that, then maybe he will make a mistake and then who knows? I think I can find a way to keep up with him, I will be fine," Gordon, 29, said. "But I am here to win. There's a difference between drivers and racers. Anyone can drive. It takes someone special to go out there and race. And if I am racing in it, I want to win it."

Besides going through the Pro/Celebrity training camp at Willow Springs International Motorsports Park in Rosamond, she's been driving go-karts with her boyfriend and IndyCar Series driver, Ryan Hunter-Reay. Just like Gordon's brother, Hunter-Reay has driven in the big race during the Grand Prix of Long Beach, so he's given her pointers on where to brake and shift on Long Beach's 1.968-mile street course.

But she will have to go it alone on race day. Hunter-Reay will be competing in the Indy Japan 300 in Motegi and her brother is in Hungary and Romania, driving his Hummer in the Central Europe Rally. It's a make-up event for the Dakar Rally, which was scheduled for January but was canceled because of terrorism concerns in Mauritania.

"Finally, I get my chance to race in Long Beach – and where are Robby and Ryan? My two biggest sources for info this weekend will be out of town," she said.

But her brother is going to be there for her this year in the Baja 500 and 1000. He's letting All American Girl Racing use his buggy, which she said will likely be entered in Class 1."But we keep pushing him to let us use his Hummer," she said. "Maybe if he brings it back in one piece from the rally, and it's just sitting in his shop in Anaheim, we might have a shot at racing it.

---
Who said men are the only ones who can go off-road racing or enjoy motor sports?

Meet Heather Mishell Bonanni of Laguna Niguel who not only rides, but she races competitively - and she is pretty darn good, too. Here is a closer look at this daredevil.

Q: Do you have a full-time job?

A: I used to work full time managing the Mortgage Loan Servicing Call Center at Downey Savings and Loan in Newport Beach. My husband has since afforded me the opportunity to be what I always wanted – a stay-at-home mom.

Q: How did you become interested in racing?

A: Watching my husband race. I have always enjoyed motor sports, and off-road racing was right up my alley.

Q: What is the fascination with it?

A: That you can drive over the most rugged, dangerous terrain in Mexico for hours on hours, push your body and mind farther than they have ever been pushed, get dirtier than your 3-yearold playing in a pile of wet sand and mud, cross the finish line completely exhausted and still want to do it all over again. Not only want to do it all over again, but cannot wait to do it all over again!

Q: Have you ever been hurt?

A: Yes, at the Baja 500 last year. The race was going through the infamous pine forest and this was my section. This section had not been raced through in years. I was feeling like I was in the groove, got a little too comfortable and hit head-on into a deep rut. I broke the left front trailing arm off the body and limped it in to the next pit where the BFG guys welded us back together and we sent the next girl on her way. I ended up having a concussion that made me pretty loopy for about four days and a compressed disc.

Q: So, you compete, how often, where and when, and against whom?

A: I will compete with the All-American Girl Racing team for the 2007-2017 race years starting with the Baja 1000 in November. Our race schedule after that is being worked out, but if all goes well, we will complete the entire SCORE International season, which includes the San Felipe 250 in March and the Baja 500 in June, both in 2008.

Q: Any awards, prizes, trophies, ribbons?

A: Our very first race, we took first at SNORE's Buffalo Bills 400. We also captured the first place trophy at SCORE's Battle at Primm in September. Both of those races were at Stateline (Primm, Nev.). We completed the Baja 1000 in November and are currently, that I am aware of, the only all-female team (both drivers and navigators in the car at all times are female) to ever complete the Baja 1000 when it runs from Ensenada to La Paz.

Q: Will this or could this ever become a full-time career for you?

A: Probably not ... we do this for the sheer excitement and the money we get from sponsorships is barely enough to pay for the car to race. We put a lot of our own money into it so we can continue to do this.

Q: What type of off-road vehicle do you ride?

A: We used to race a buggy type car. Some compare it to a 'beefed-up' sandrail. A brand new car like ours last year would today run about $100,000, at the least.


'Girlie girls' team up to become off-road racers.

---
Like all serious off-road buggy racers, they needed a sponsor, but they faced some challenges.

Big potential sponsors wanted more information. What would they race? What kind of track record did they have? How would they represent the sponsor?

One by one, they got their rejections. But the racers kept in touch with their contact at SoBe, which sells vitamin-enriched water, who promised he was working his connections. They crossed their fingers and hoped for the best.

The call came on a Monday. "Where do I send the check?"

They won't say how much they got, but sponsorship in the racing world can range from $50,000 to $1 million.

And they had a race that Saturday.

That gave them four days to prepare.

Oh, and they officially became the All-American Girl Racing Team, an all-female team in the male-dominated sport of off-road racing.

They had a four-wheel dune buggy, but a lot of things stacked against them. They had no tires. They had no toolbox. They had to borrow fire suits and gloves.

"We literally did not sleep for four days. We were zombies," says Heather Bonanni of Laguna Niguel, a driver and founder of the group.

Would they have a shot on Saturday? Would anybody take them seriously with their pink gas tanks?

•••

They wear lipstick and mascara and enjoy a good manicure. They admit with pride that they're "girlie girls." One is a former Miss Downey.

They also go 92 mph in an off-road vehicle, doing laps on a rough course fraught with dips and rocky bumps. The four-wheel buggy has beefy desert tires, big shocks and extra suspension. The women take turns as drivers.

And, yes, they can change their own 80-pound tires, thank you very much.

There are other women racers, such as Danica Patrick, but she works with a team of men. These women, who range from 28 to 34, run their own show.

The All-American Girl Racing Team, based in Orange County, formed a year ago.

Bonanni said she got bored watching her husband, John, race.

"I've got to get a bunch of us out there," she thought. She called Robyn Gordon, who paused. But Beccy Gordon, Robyn's sister, started yelling: "We're in! You tell her we're in!"

A friend and fellow racer, Brian Burgess, donated his off-road vehicle for a year with the condition that they return it in pristine condition.

"He was just totally hip on a bunch of girls racing. We put a brand-new engine in, brand-new seats and had all the shocks redone. We rebuilt the whole car," Bonanni said.

•••

Racing is in their blood. Beccy, who lives in Dana Point, and Robyn, who lives in Orange, grew up in their dad's shop in Orange. Their father, Bob, was an off-road racer who made sure his daughters knew how to take apart an engine. He never treated them any differently from how he treated Robby Gordon, who grew up to be a NASCAR racer.

Their family vacations weren't typical. No skiing trips for them. Instead, they hit the racetracks. Beccy says as a kid she used to wear a bathing suit and make dirt angels.

Their mom did a practice run when she was seven months pregnant with Beccy and had Robyn sitting on her lap.

They're an athletic family. Beccy, 28, surfs, snowboards, and plays tennis and golf. Robyn, 34, water-skis.

Heather, 34, whose dad is a mechanic, also grew up around cars. Heather was a tomboy who loved dirt bikes and played softball and volleyball. But one year she decided to try out for Miss Downey. She won.

"But then I was done with that, and I was like, 'Can I have my dirt bike back, please?' "

Heather, now a soccer mom raising four kids, acknowledges that racing can be dangerous, and her youngest child, who also happens to be her biggest fan, is especially concerned.

"She worries the most about me," Heather says. "She says a little prayer for me. She makes me kiss her hand to leave my lip marks on her while I race."

She once was injured when she fell into a deep ravine. "I was going 35 miles per hour, and one of my harnesses was undone, and I knocked myself out on one of the bars," she says. "I crashed and had a concussion and was out of it for a couple of days."

And that isn't the only time.

"I've spun out on the pavement a couple of times, and, knock on wood, I've never rolled. I'm not too worried about it," she said. "If I was too worried, I wouldn't do it. We're doing it because we truly enjoy getting into that car and racing."

The team has developed a loyal following of young women and girls who help with repairs and cheer them on.

And their Internet site has drawn interest from girls who want to go into racing, as well as from men whose girlfriends and wives are interested in the sport.

•••

They had four days to prepare for the 200-mile race in Primm, Nev. There were 100 entrants – all men, except for them.

They had to get the car painted. They were hoping for pink. Robyn went to the shop late at night and called the team in tears. "It's yellow!" she moaned.

They got pink lizards – the logo for SoBe – embroidered onto their silver racing suits. The sponsor, who missed his wedding anniversary, flew out so they could take him on a prerun. They made sure to wear braids to keep their hair out of their faces. And this time there was no makeup.

When they showed up to the race, they had an entourage of about 50 people – family members and friends and a television crew from New York making a documentary on them. They got noticed.

Somebody snidely remarked that they were Robby Gordon's sisters and wondered whether they'd make the cut.

"It was a little bit embarrassing, because we hadn't proved ourselves yet," Robyn says.

Heather was the driver at the starting line, watching the green flag.

"I was extremely nervous," she says. "I just remember sitting at the starting line. I was so afraid that I was going to stall the car. I revved the engine so high. Your adrenaline kicks in. Five minutes into it, I got my groove. It turned out it was awesome."

It turned out better than awesome.

They won.


* * *

---
WomenInRacing.org | Contact Us
©1996-2019 by Gordon Clay