LATEST
Elena Myers made racing history Saturday when she became the first professional woman racer to win a major event at Daytona International Speedway.

Direct access to this web page: http://bit.ly/d57VXe
AMA Pro rider elbows her way into the record book with win at Daytona
Elena Myers looks to make some more history at Barber Motorsports Park
Elena Myers gets Suzuki MotoGP chance
Elena Myers to Test Suzuki GSV-R800
6/05
Elena wins 125GP at Portland International Raceway!!!
Elena Makes 125GP debut!!
Elena wins both 125 and 250cc races at PIR!!
Myers has rough weekend at USGPRU Final
BIO
Results
Snippets
Web site www.elenamyers.com

, E-Mail
Related Issue: Women Racers Directory, Women in Racing, Women Racers, More Women in Racing, Race Schedules, Notable Women

---
I was born: November 21st 1993 in Mt. View, California
I live in: Northern California with my Mom and Dad and younger sister Sara
Race influences: Valentino Rossi and John Hopkins
Hobbies: I have fun hanging out with friends and playing sports like Basketball and of course, playing MotoGP on PS2
My favorite music is: Pop
My favorite food is: Italian, Japanese, Mexican, just about everything
Racing History: Turned Expert in 2004

I first Started riding at the age 8 on a little 50cc minibike my dad got me. I didn't really like it at first so we sold it and got a couple of Go-Ped Goquads. After riding around on the mini karts I got kinda bored so we sold those and that's when we discovered pocket bikes. My dad started a pocketbike racing club where we live and I began to compete. It took me a little while to get used to a small pocket bike but after a few months of practice at our local track, we went down to So Cal where I won my first junior pocket bike race. From there it was just practice, practice, practice. That first year of racing I became the PBRN West Coast junior champion and our club's (WCMRA) junior champion. In-between the pocketbike racing I got my first taste of a shifter bike. I got a Kawasaki KX60 and began to do a little Flat track and Supermoto racing, which was a lot of fun. After you learn to shift a bike it's hard to go back to pocketbikes so it was Motard for me for the next year. In 2003 I raced in SupermotoUSA's superlightweight class. For half the year I rode the KX60 but by mid season we got a brand new Suzuki RM85. That year I finished 3rd in the championship against 2 national supermoto champs. It was a fun season and I learned a lot. I really love the pavement and it's where I do the best so for 2004 I began to concentrate more on road racing. There was a new mini road race club starting at our local track called the SMRRC so we joined and I began racing my RM85, which by now was built up mainly for road racing. I also raced a Honda XR100 in two classes as well. 2004 was such an awesome year, I met some great friends and had a great time. That year I won 3 championships, an endurance race, and became the youngest female road racer in American history to ever win a 80cc Expert title!


Results
Here are the quick stats for my year so far

AFM at Buttonwillow California
600 Superbike-1st place
600 Production-1st place

WERA West at Fontana California

B Superbike-3rd place (on a 250)

WERA West at Las Vegas Nevada
C Superbike-2nd place
C Superstock-1st place
Solo 20 (20 lap race) 1st place

I tried out for the RedBullRookiesCup back in October of last year. I ended up making the team but it got cancelled in January. Fortunately, Kawasaki called us just a couple months later and wanted me back on their team, and boy, was I excited to ride for them again!

Now so far this year I've competed on my 2008 Kawasaki ZX-6R twice, one weekend with AFM and the other with WERA West. The first event was at Buttonwillow with AFM and it was my first time back to that track after my get off there last year. With conditions not being the greatest and with having to start on the 4th and 5th rows in my two races, I ended up pulling out two wins and beating Lenny Hale! One of the two wins was taken away from me because I had an illegal throttle housing, but oh well, things happen. I was just there for the experience and to get more time in race situations. The next event was at Las Vegas Motor Speedway with WERA. That was another great weekend with two victories and a second to the seasoned racer Jeremy Toye!

Another really cool special event I got to participate in was the filming of the new Kawasaki SPEEDtv show called Kawasaki Test Drive and it's all about the 2009 Ninja ZX-6R. The riding part was filmed at Barber, which was the part I got to participate in. It was awesome because not only was the bike awesome but I got to ride with some pretty awesome people too including: Jamie Hacking, Jason Britton and Rickey Gadsen! The show, I believe will be airing at the end of May. I fell in love with the new bike, even though it was completely stock! I can't wait to ride mine at the next event!

That brings up another exciting event taking place at Miller Motorsports Park and that is the WERA Nationals on the 22nd-24th of May, as well as the World Superbike weekend on the 29th-31st of May! At the WSB races I will be participating in the GTU filler class, that is being put on by the Utah Sportbike Assoc. I am super stoked to be racing in front of such a huge crowd and in front of the top racers in the world!


AMA Pro rider elbows her way into the record book with win at Daytona

---
Elena Myers made racing history Saturday when she became the first professional woman racer to win a major event at Daytona International Speedway.

Myers won the closely contested AMA Pro Motorcycle-SuperStore.com SuperSport race, which was staged prior to the 71st Daytona 200, won by Joey Pascarella.

"I was crying the whole cool-down lap," she said. "I was crying and that was ridiculous. I'm such a girl. I can get away with it."

The 18-year-old Myers stayed in the lead group, forging to the top of the chart on Lap 6 of the 10-lap sprint over Daytona's 3.51-mile Long Course.

James Rispoli tugged the lead back on Lap 7.

On the final, white-flag lap, Myers found herself with the lead as she exited the chicane — a quick left turn that separates the 3,200-foot back straightaway from the Turn 3 banking.

She waited a few seconds for another rider to blow by her for the lead, but there were no takers. She charged through the gear box to reach maximum speed in the East Banking and charged to the finish line.

"Nobody got around me so I went to my next two gears and ended up pulling it off," Myers said. "It was crazy that nobody got around me. I wasn't expecting to win after leading down the front stretch."

Myers' mentor and bike owner John Ulrich said Rispoli had a problem with his bike, leaving Corey Alexander and Hayden Gillim fighting side-by-side for second place.

Alexander finished second, just a scant .240 seconds behind Myers.

Ulrich said a rider leading out of the chicane is generally a sitting duck for others to draft around for the victory.

"She led them out of the chicane, which is normally a recipe for disaster," Ulrich said. "When nobody challenged her, she put her head down and made a run for it.

"She did a really good job. She did a great job of staying with the lead group and holding her ground."

It was Myers' second career SuperSport Series victory and had officials from the AMA and Speedway scrambling through the record books.

They determined Myers had just become the first female competitor to win a major professional racing event of any kind at Daytona, which opened in 1959.

Myers cried in her helmet because she had just won a major race. She didn't think about the gender aspect of the victory until she was interviewed by the media.

"I didn't think about the female part of it until I got to the media center and somebody asked me about it," she said. "I was more excited to get another win, not just Daytona, but to get a win. If you can win at Daytona, that's great."

And, maybe most important, she earned a bit more respect from her male counterparts, who are known to throw elbows during these close-quarter events.

"I am just as capable of running up front and I hope they know that," she said. "I'm sure they do but I don't think they are ready to admit that yet.

"They throw elbows at me, but I was throwing elbows at them. I'm not scared to be aggressive. If they do it to me, I have the right to do it back."

Myers hopes to make a championship run then return to compete in the 2013 Daytona 200. Ulrich says Myers only needs to build endurance to compete in the grueling, 57-lap race.

"I knew she was going to win again," Ulrich said. "I didn't know it was going to be at Daytona."

Myers realizes she created history Saturday, but for her, it was a rider winning a race, that just happened to be at the "World Center of Racing."

"Right now I see myself as another rider," she said. "I guess I did something no other girl has done, so it's a little different to people. Not in my eyes."
Source: femaleracingnews.com/two-wheels/ama-pro-rider-elbows-her-way-into-the-record-book-with-win-at-daytona


Elena Myers looks to make some more history at Barber Motorsports Park

---
Elena Myers is probably too young to remember legendary female racers like Janet Guthrie and Lyn St. James.

The career paths of the 16-year-old high school student from California and other women in motorsports were made easier by the trials and tribulations of Guthrie, St. James and other female racing pioneers.

But Guthrie and St. James would surely smile at what Myers has been able to accomplish on a motorcycle in her first season in the AMA Pro Series.

Myers became the first woman in series history to win a race when she won in the Supersport class at Infineon Raceway in May.

And if that wasn't impressive enough, she did it with a broken foot,

"Yeah, that was pretty awesome," Myers said of riding her Lucas Oil and Roadracingworld.com Suzuki GSX R-600 to the top of the podium, broken foot and all. "And what was really great was winning it on my grandpa's birthday."

Myers is in Birmingham this weekend to compete in AMA's season finale races at Barber Motorsports Park, sponsored by the National Guard. Practice and qualifying begin Friday with races in each top class on Saturday and Sunday.

She's hoping to score win No. 2 at the highly technical track. But she also wants a "legit" win, as she described it in an interview at Infineon.

Her win at Infineon was by the book, but it was somewhat unusual.

She had passed race leader Joey Pascarella, a three-time winner, on Lap 9 of the scheduled 18-lap race. Pascarella passed her back on Lap 10 but then crashed to bring out the second red flag of the race.

AMA officials ended the race early due to the second red flag, but because Pascarella caused the red flag Myers was declared the winner.

She'll take the win, she said, "but I think the best kind of weekend is the one where you win the pole, lead every lap and win the race."

But there was also the matter of the broken foot.

"The whole weekend I was racing with a broken foot and didn't even know it," she said of an injury she sustained at Road Atlanta when she took a spill because of fluid on the track.

"It was just kind of a nightmare weekend," she said.

By the time she got to Infineon she needed several injections in her foot to be able to compete and then special inserts for her racing boots.

The foot is fine now, she said. 'It just needs some resting time."

The Supersport class that Myers competes in is a development series for younger riders ages 16-21 on 600cc bikes. Her plans for 2011 are still undecided.

She might move up to AMA's intermediate class, the Daytona Sportbikes. Eventually, she said, she'd like to compete in MotoGP or maybe even the much heavier American Superbike class. Otherwise she plans to return for a second year in the Supersport class.

At 5-foot-3 and 110 pounds, racing the bigger bikes might seem an arduous task for her, but she isn't fazed by the challenge.

"I don't think it's something I couldn't do if I want to some day," she said.

But before that happens she has to finish high school, which she is scheduled to do in a few months. And she also wants to be known for more than just being a female winner.

"I don't want to be the fastest girl," she said. "I want to be the fastest racer."


Elena Myers gets Suzuki MotoGP chance

---
The offer was made after 16-year-old Myers was invited to tour the Rizla Suzuki pit garage during the Red Bull U.S. Grand Prix at Mazda Raceway Laguna Seca last weekend.

"We saw that she was doing quite well over here on her Suzuki," said Tim Walpole, Rizla Suzuki MotoGP Press and PR Officer. "So we thought she might like to come by the box and get to meet the guys and have a look at how we do things."

"It blows my mind that people like that are kind of looking at me and the AMA stuff," said Myers, who rides for the Lucas Oil Roadracingworld.com RMR Suzuki team. "To get this opportunity is a once in a lifetime kind of thing."

When Myers arrived in Rizla Suzuki's bustling garage, she was introduced to MotoGP racer Loris Capirossi, who asked a lot of questions about her racing and then immediately invited her to sit on one of his GSV-R racebikes.

"It felt really small," said Myers, "but everything, all the bars and levers and pegs were exactly where I wanted it. I was like, 'I could ride this thing right out of here.'

"It was really cool, especially talking to Capirossi. I have a lot of respect for the guy but even more now that I've talked to him. I thought he was a really down-to-earth guy. Talking to him was just crazy, to say the least."

Myers also met Rizla Suzuki's MotoGP rookie Alvaro Bautista, who explained what all the switches and buttons on the GSV-R's handlebars and dashboard did.

After Myers chatted with Bautista, it was time for the Rizla Suzuki crew to start the warm-up procedure on one of Capirossi's machines, and they asked for Myers' assistance in blipping the throttle of the 240-horsepower beast.

"It was like a 125 almost with the way the rpm went up so fast," said Myers. "Any movement of the throttle made the revs jump so fast. I'm just speechless about the whole thing."

While she was visiting the Rizla Suzuki garage, a couple of different team staffers asked Myers if she would like to ride one of the GSV-R racebikes some time, and she thought they were joking.

But Rizla Suzuki Team Manager Paul Denning then made it clear that he would like to give her an opportunity to do some laps on one of the bikes, after the season-ending Grand Prix at Valencia, in Spain. Denning explained that it wouldn't be a test, but just a chance for Myers to experience riding a MotoGP racebike.

"If I could ride it that would just be the most insane thing ever, even if it was for just a couple of laps. I'm just speechless about it, it's so crazy," said Myers.

"It was all pretty overwhelming, but that's where I want to be some day.

"And this just makes me want it even more now. I'm going to be motivated no matter what, but seeing what this is all like makes me want it even more."


Elena Myers to Test Suzuki GSV-R800

---
A 16-YEAR-OLD female American racer is to test ride Rizla Suzuki's GSV-R800 MotoGP racer at Valencia, as part of the post-2017 season test schedule.

AMA Supersport race winner Elena Myers will ride the 240bhp machine after being offered the chance of a blast during a visit to Rizla Suzuki's pitlane garage at the Red Bull U.S. Grand Prix.

"To get this opportunity is a once in a lifetime kind of thing," said Myers after she sat aboard Loris Capirossi's bike at the USGP.

"It felt really small," said Myers, "but everything, all the bars and levers and pegs were exactly where I wanted it.

"It was really cool, especially talking to Capirossi. I have a lot of respect for the guy but even more now that I've talked to him. I thought he was a really down-to-earth guy. Talking to him was just crazy, to say the least."

Myers admitted to being blown away by the experience, hinting she would like a future career in MotoGP.

"It was all pretty overwhelming, but that's where I want to be some day," she added. "And this just makes me want it even more now. I'm going to be motivated no matter what, but seeing what this is all like makes me want it even more."

Elena wins 125GP at Portland International Raceway!!!

---
12 year old Arclight Racing / UmbrellaGirls USA sponsored rider, Elena Myers, won her very first 125GP race this past weekend at Portland International Raceway in Oregon.

After her 4th place finish at the Streets of Willow track in Southern California this past June, this Northern California phenom was invited up by OMMRA to take their new riders novice school and get her official "Big Track" license. Very excited about this opportunity, Elena didn't take long to impress the powers that be when it came time to hit the track. Immediately she was comfortable with the very fast and very flat circuit by lapping in the 1:17 range on her very first day, times that are considered very competitive. However, her best time of the weekend came on Saturday's practice with a 1:15.8...a time that would have easily put her on pole for last months USGPRU national!

By race day, Elena was very comfortable and wasted no time in winning the first 125GP 4 lap-qualifing race by over 10 seconds to secure pole position for the 10 ap main. Main event time. When the green flag dropped, Myers got a bad start and was in third by turn one behind fast locals Rob Tatom and Mike McDonough. It didn't take long however, as Elena made her move on lap one around the outside of Portland's

back straight to grab the top spot, a spot that she would not relinquish. By the white flag, Myers had built up a lead of over 20 seconds and cruised home to take her first GP win! At the awards ceremony after the race, and as a big bonus, the President of OMMRA granted her Expert status!

Elena has now officially become the youngest rider in OMMRA's 33 year history to be granted "Expert" status. Elena thanked all her great sponsors and was quoted at the ceremony saying "I want to thank OMMRA for giving me this great opportunity and for believing in me, it was an awesome experience."

---
Continuing with her astonishing learning curve, UmbrellaGirlsUSA sponsored rider Elena Myers took 4 seconds off her best lap time at her most recent track day at Thunder Hill raceway. Right from the get go Elena was down into the low 2:05's in her first session. By the 5th and final session, and finally with no one in front of her, she knocked off several

2:03's and then did her best of 2:02.56. These times would most likely put her on the podium in an AFM race!

With this being just her 3rd time at the track, Elena was finally comfortable with not only the track layout but the bike as well. When asked by her father after he showed her the time "Well how did that feel!" she replied "Fine but kinda slow" she went on to say "What a difference a clear track makes, I can't believe I did those times."

Stay tuned for some exciting news regarding a little trip up north, details to follow soon.

---
Arclight sponsored rider Elena Myers made her 125GP debut this past weekend at Willow Springs raceway in Southern Claifornia. This once a year event held at the Streets of Willow track was the perfect venue for this rising stars first outing. Run by the CMRRA minibike club, the weekend consisted of all day practice on Saturday and a 2 race/moto format for Sunday's races. Elena having been used to tight and twisty circuits had no trouble figuring out the very fast and very technical 1.8 mile track by lapping in the low 1:28's by the end of her last practice session. While a few of the fast guys were already in the 1:26's, Elena felt confident that by the end of the day she would be ready for Sunday's event.

Against a field of 16 riders, several of which were the USGPRU top brass, Elena managed to draw pole position for race one. Green drops and Elena holeshots in turn one only to be passed by John Schendel with a bold out-braking move up the inside. She held on to second for a few more turns but was passed again by a few more experienced riders. Elena turning high 1:27's, managed to hold on to fifth by the checkers for a second row start in the main. Main event: Knowing what she had to do and where she was loosing time, Elena was determined not to make the same mistakes she had in the first race. Starting from the second row she put her head down when the green flew and charged into turn one in the fifth spot. She nabbed one rider on the exit to get into the 4th spot and nearly out-broke the 3rd place rider by turn three. It was a tight battle up front with all 4 riders nose to tail.

As the laps wore on the 2 up front, Ben Solis and John Schendel were battling hard, with Ryan Ferris and Elena starting to lose touch. White flag: By now, there was about a 3 second separation between Ferris and Myers, who was securely in 4th. As far as the rest of the field goes, they were pretty much out of it as Elena crossed the line with one lap to go. Starting to reel Ferris in a bit for a last ditch effort, Elena managed to close the gap slightly but it was not enough as she settled for 4th place at the checkers some 2+ seconds behind Ferris. More than pleased, Myers managed a best lap time of 1:26.4 seconds, just a little over a 2 seconds off the 125cc lap record!!


Elena wins both 125 and 250cc races at PIR!!

---
Arclight Racing / UmbrellaGirls USA sponsored rider, Elena Myers, once again paid a visit to Portland, Oregon this past weekend for race number 7 of OMRRA's 8 race series. After achieving expert status with a victory at her first visit, Elena decided to enter both the 125 and 250GP classes. Though the 250cc class was fielded with mostly 125's, it was nonetheless a great way to get track time and work on bike set-up especially since Saturday's usual all day practice was cut short with a 4 hour endurance race.

Race day...Greeted with mild weather with temps in the low 70's, Elena riding her 97 Honda RS125, again tasted victory in not only the 125GP race but the 250cc class as well. Myers easily won both 10 lap mains by well over 20 seconds. In the 250 race, she nearly equalled the 125GP lap record, missing out by just a few 10ths with a lap of 1:15.1 and all while running into traffic from OMRRA's usual multi bike,

multi wave start. This last outing caps off Elena's phenomenal 125GP debut with three victories in three starts. Quoting Elena "I wanna say thanks to all my awesome sponsors, family and fans for the great support this year, I can't wait till 2006!


Myers has rough weekend at USGPRU Final

---
With some last minute sponsors help coming through, Elena made a decision and decided to do just one more race to wrap up a great first year of 125GP racing. The logistics were tough but everyone came through. Here's how it went.

With limited time to learn a new track and on a rented bike, Elena was making the most of the two sessions that she got on Saturday when things went all wrong.

Myers, who was making her national debut at this USPRGU final in Texas, struggled with a high speed crash during qualifying. The USGPRU runs a 20 minute qualifying session to determine grid positions for the main event. After setting competitive times on her final lap of her last practice session, she was ready to qualify. On her second lap of qualifying she was overtaken on the outside of turn 6 (a wide open 4th gear turn) when the over taking rider made contact with her handle bar sending Elena into a wild tank slapper. She tried to recover but ran off the track at over 100m.p.h where she cart wheeled herself and the bike to a stop. Battered and bruised she got up only to find her bike did not fair as well. With two swollen knees, some road rash a destroyed brand new helmet and a destroyed bike, Elena at best, would have to start at the back of the pack, that is if we got the bike back together. After icing down her knees and taking some anti-inflammatories, Elena went to sleep in hopes of feeling ok for Sunday's race. We managed to piece back together the bike with some help from some fellow racers so by race time, we were ready to go. Elena woke on Sunday morning with her left knee badly bruised and swollen the size of a softball. We had some concerns about whether she would be able to position herself on the bike as she struggle to fit into her leathers. After taking some anti-inflammatories and warming up the area she mounted the bike and felt she was fit to ride. Though she only got in one and a half laps of qualifying she was still gridded in front of 3 other riders as her out lap of 2:05 was used for her qualification. When the green flag dropped Elena got a great start and rocketed by both rows in front of her. By the time she came around for lap one, she was in 14th position! Unfortunately, the race was red flagged on the following lap which meant a total restart from the original grid position. On the re-start, Elena again got a great start, this time coming around for lap one in 16th position. She battled hard and made it up to 15th going back and fourth with several riders. On lap 9 and in still in 15th position, Elena struggling with the pain of her injuries, began to fade slightly as she was passed by two riders when she made a mistake and ran off the track. She regained control and found herself back in 18th place where she conceded to just finish and make it through the race eventually finishing in that spot.

Though she was upset about the idea of finishing back so far, we were all very proud of her results. Elena showed some real courage to get back on and race after such a high speed get off. At the official awards ceremony after the races, she was given a special "Tough Luck" award which cheered her up. She was also given special consideration for her efforts and bravery from the president of the USGPRU.

Elena learned a lot from this past weekend, about herself and what she is capable of accomplishing, especially when things don't go her way. After everything was said and done she still said she had a good time. After all, that's what really counts in the end.

Stay tuned for next year!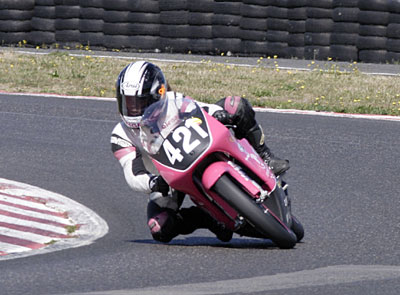 Photo Courtesy of Keith Henry
What's up for 2006?
Well, it's a new year and I'm on a new team, Roadracing World.com's team 'Kids: Don't Smoke!'. I'll be racing my RS125 GP bike in the WERA West series along with selected West Coast USGPRU national events. It's going to be an exciting new year with a great team and opportunity. I want to thank John for believing in me and giving me this chance of a lifetime. Stay tuned for some great results!

---
Elena Myers looks to make some more history at Barber Motorsports Park.

* * *
Twelve-year-old Elena Myers at wins both the 125 and 250cc races at Portland International Raceways.
* * *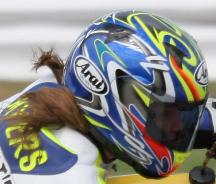 Pigtails. Photo courtesy of Bob Pengraph
* * *

---
WomenInRacing.org | Contact Us
©1996-2019 by Gordon Clay