A Mother's Protest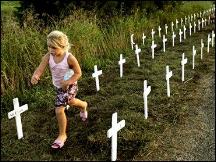 Quinn Timmers, 6, of Fort Worth, Texas, runs through a maze of white crosses that were placed at the makeshift campsite of anti-war protesters near the ranch of President Bush, Aug. 11, 2005, in Crawford, Texas. Timmers was at the site with her mother, Hillary.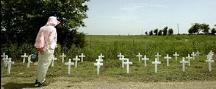 Rebecca Bahr of Scottsdale, Ariz., looks at crosses placed by a roadside camp near President Bush's ranch, Aug. 11, 2005, in Crawford, Texas. The crosses have the names of soldiers killed in the Iraq war.

Sheehan: Cindy Sheehan, 48, of Vacaville, Calif., the mother of a fallen U.S. soldier, started holding a peace vigil August 6 near President Bush's ranch and vows to stay through Mr. Bush's monthlong ranch visit unless he meets with her and other grieving families. She has formed the Gold Star Families For Peace and has spoken out against the war across the nation.
Her son, Spcl. Casey Austin Sheehan, 24, was killed April 4, 2004 in a fire-fight outside Baghdad. He had been in the Iraqi desert for only two weeks. A standout student at Vacaville High School, Sheehan went on to study theater at Solano Community College.
She has promised to return to the area whenever Mr. Bush goes to his ranch. The president said he sympathizes with Sheehan but has made no indication that he will meet with her. She did meet with Mr. Bush in June 2004, at a gathering at Fort Lewis, Washington, for grieving families.
Protests are not unusual when the president stays at his ranch, but most are within the Crawford city limits. Sheehan's anti-war demonstration is the longest, most publicized and closest to the ranch.
Several residents have complained of blocked roads and traffic jams in the last week since dozens of people joined Cindy Sheehan's protest by pitching tents off the winding, two-lane road leading to the Bush ranch. The group has set up camp in shallow ditches, but people congregate on the roads, causing cars to stop or slow down. Some drivers have blown their horns continuously while maneuvering around the crowd, and several have yelled, "Go home!"
Larry Northern, 46, of Waco, TX was arrested and charged with criminal mischief Monday after authorities said he drove his pick-up truck dragging chains over the rows of small white wooden crosses bearing names of fallen U.S. soldiers on the side of the road near Cindy Sheehan's vigil. Each cross commemorated a dead soldier. On Sunday, a nearby landowner fired his shotgun twice into the air, but he was not arrested. No one was hurt in either incident. (Editor: Remember, they like to kill things down in Texas, whether the person is guilty or not.)
The good news for civility is that a neighboring rancher, who is a veteran, has offered them some of his nearby land if they have to move from the roadside. The spirit of that rancher standing up in his own pro-Bush community is the sort of public support for Cindy Sheehan and her cause that is growing across America. Tomorrow's vigils for Cindy Sheehan will be the most visible measure of the size and strength of public concern about the war in a long time.
Meanwhile President Bush (the real King of Flip-Flop) continues his five-week vacation and pledged Thursday to keep U.S. troops in Iraq—meaning more moms (and dads) will lose a child.
Cindy has asked supporters to start candlelight vigils in their communities to support her and call for an end to the war. So, MoveOn is teaming up with True Majority and Democracy for America to host Vigils for Cindy Sheehan on Wednesday, August 17th, to show our solidarity with Cindy.
Our vigils will be simple and dignified. Together, we'll acknowledge the sacrifices made by Cindy Sheehan, her son, Casey and the more than 1,800 brave American men and women who have given their lives in Iraq—and their moms and families.
These vigils aren't rallies or places to give long-winded speeches. They are moments to solemnly come together and mark the sacrifice of Cindy and other families.
Attending a vigil is really easy. All you have to do is grab some candles and show up. If you're an Iraq veteran, or a family member of a soldier, it'd be especially meaningful for you to join. Bring a photo of your loved one to remind all of us what is at stake. We've also made some downloadable placards you can use. Click below to download them. political.moveon.org/cindyvigils/attendmaterials.htm?id=5895-299027-nAOUhlwJoptSQulhUYVH1g&t=6

Here's a page listing the vigils planned near you: political.moveon.org/event/events/index.html?action_id=24&search_distance=30&search_zip=97415&submit=Search

You can find the vigil closest to you by typing your zip code and clicking search. There are more than 900 vigils already planned across America. From Anchorage to Miami, and hundreds of towns in between, people are gathering tomorrow. There is a vigil in Cindy's hometown of Vacaville, California and more than a dozen in New York City. Join us? You can find a vigil near you by clicking this link: political.moveon.org/event/events/?action_id=24&search_distance=30& =&search_zip=97415&submit=1&id=5895-299027-nAOUhlwJoptSQulhUYVH1g&t=4

Host your own Vigil for Cindy Sheehan event! Right now, there are 1193 gatherings planned. Already hosting or signed up for an event? Log In Host your own vigil political.moveon.org/event/events/create.html?action_id=24

By standing together we will show the president and the media that our nation is against this war.
Source: moveon.org

Related Topics: War
* * *

---
Contact Us | Disclaimer | Privacy Statement
Menstuff® Directory
Menstuff® is a registered trademark of Gordon Clay
©1996-2017, Gordon Clay