War
Menstuff® is actively compiling information, books and resources on the issue of men and war. If the government believes in truth in advertising, would it not be more appropriate, now, to rename the Defense Department what it was originally called, the War Department?

Matches go to War




Teaches boys what the downside of war is like through Splatball.
War
Real Men Cry
Male-only military draft is unconstitutional, judge rules
Should women be required to register for the military draft?


14 photos show the remarkable Kurdish women in little-known militias who are fighting ISIS
Companies Profiting The Most From War
Religious War
War's Human Toll
One Day = $720 million


Iraq War Deaths (Not counting Iraq police, civilians or freedom fighters - estimated to be over 600,000 dead)
Global Military Spending - 2010
Terrorism
"So help me God."


Unfit recruits
Refugees
Landmines
Conclusion
A Call for a U.S. Department of Peace
No War Against Iraq
President Bush's New World Map
Madonna's Anti War Anthem
Cindy Sheehan's Vigil at Bush ranch
9-11 Dollar Bill
Ongoing World Conflicts as of September 11, 2001
Murderball - a review and commentary - When Men come Back from the War
Middle East Madness
Latest on Weapons of Mass Destruction
Peter Houston
"If women ran the country, it would be different." In what way?
Butt-Kickin' Babes of the Golden Era
Women in Combat
Peace
Prayers for Peace
This triumph of the spirit belongs to men
Snippets
The Draft
What is Killing Our Soldiers?
Veterans
Proclamations - Curry County, OR | Brookings, OR
Project 22
DOD
Heroes
POWs
Vets Welcome Home: A welcome home with honor
Wounded Warriors
Beyond The Battlefield: Lack Of Long-Term Care Can Lead To Tragic Ends For Wounded Veterans
June is Lesbian Gay Bisexual Transgender Pride Month at DOD
Fake Navy SEALs
People Who Have Served our Nation
Agent Orange
Mesothelioma Cancer
Depleted Uranium (DU)
Anthrax, Small Pox and Other Potential Biological Weapons
Contact the Veterans Administration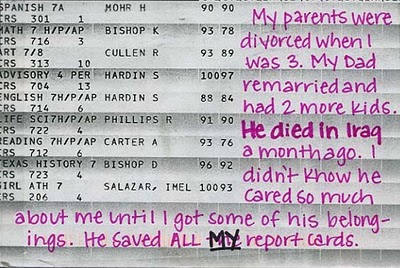 Source: postsecret.com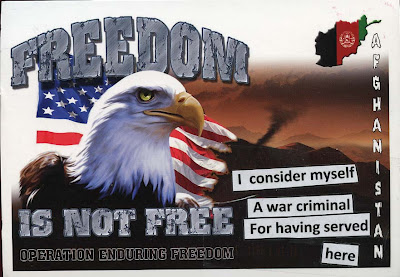 Source: postsecret.com

Male-only military draft is unconstitutional, judge rules

---
A federal judge in Texas has declared that the all-male military draft is unconstitutional, ruling that "the time has passed" for a debate on whether women belong in the military. The decision deals the biggest legal blow to the Selective Service System since the Supreme Court upheld the draft in 1981. In Rostker v. Goldberg, the court ruled that the male-only draft was "fully justified" because women were ineligible for combat roles. But U.S. District Judge Gray Miller ruled late Friday that while historical restrictions on women serving in combat "may have justified past discrimination," men and women are now equally able to fight. In 2015, the Pentagon lifted all restrictions for women in military service.

What constitutes torture? A large percentage of our GI's seem to agree with
---
President Bush that we don't need to follow the Genevia Accord regarding torture. They think torture is okay to get information. So, if the US doesn't go along with the Accord, that means other countries don't need to either. I just wonder if they would want their fellow GIs to be on the other end of what Iraques might do. See www.thesmokinggun.com/archive/years/2007/0524072torture1.html

See www.ccmep.org/2002_articles/Iraq/102702_pictures_of_anti.htm

to view photos of peace rallies around the world before we attacked. If you don't have DSL, it takes a while to load, and it's worth the wait.
See www.truthout.org/docs_2005/H021805A.shtml

and www.informationclearinghouse.info/article5365.htm

for pictures this administration doesn't want you to see.
See www.nytimes.com/packages/html/national/20040909_THOUSAND_GRAPHIC/index_PICTURES.html

for the aftermath. The New York Times has posted an incredibly moving gallery of photographs of the American soldiers killed in Iraq. Spending a few minutes looking at their pictures really brings home the magnitude of our loss. Tracking the troops who have died in the war in Iraq, based on the 994 dead for whom detailed information was available. Ninety-eight percent of the deaths were men (970) versus 24 women (2%). Hostile deaths represented 75% of the causalities (749) with 245 nonhostile casualties. The dead come from all branches of the armed services and represent the highest toll since the Vietnam War. It's up to us, evidently, to show this administration what it means to support our troops by bringing them home.

What is Killing Our Soldiers?

---
The Time Magazine cover story, "One a Day"

recently alerted us to the heartbreaking high-rates of suicide among our military. In June, The Associated Press reported that "the 154 suicides for active-duty troops in the first 155 days of the year far outdistance the U.S. forces killed in action in Afghanistan - about 50 percent more." In July, the Army suicide rate(link is external) doubled that of June. Sadness and disbelief seem to be normal reactions to these statistics, as they leave each of us to shake our heads in dejection, silently wondering why this is happening and how we can stop it.
What is driving these military men and women to end their lives?
It's no secret that the highly stressful, often traumatic conditions of war can have psychological and physiological effect on one's mental health. Many soldiers suffer from the stresses inherent in their military service. Many who have been deployed and redeployed suffer from PTSD, resulting from exposure to the horrors of a war. The stress and injuries, including Tramatic Brain Injury, that our fighting men endure can create changes in the brain that impact mood and impulsivity, making it more likely for them to engage in or act upon self-destructive inclinations.
Additionally, the military's "man up" mentality is destructive to someone who is struggling with their mental health or having thoughts of suicide. David Rudd wrote in USA Today, "The military is not a culture that embraces perceived weakness or illness; it's contrary to the notion of an effective fighting force." Recent comments from Major General Dana Pittard(link is external), who commands one of the country's biggest Army bases, illustrate the destructive and uneducated attitudes certain authoritative military members can have toward suicide. Pittard was heavily criticized for writing that he is '"fed up with soldiers who are choosing to take their own lives," referring to them as "selfish" and telling them to "act like an adult." Statements like these can only hurt someone at-risk for suicide. These men and women need help, support, and encouragement in their fight against their own self-destructive thoughts. The overall attitude of the military, in which individual human interests are subjugated to the greater value of the unit, can further contribute to feelings that you don't matter as a person or an individual, or a lack of self-worth.
Suicide expert and Dean of the College of Social & Behavioral Science at the University of Utah and Scientific Director wrote in The New York Times(link is external),
The Department of Defense has done a remarkable and admirable job of increasing access to mental health care and combating stigma, work that will change the field significantly for decades to come. Regardless, though, the warrior culture does not embrace psychological injury, with large percentages of those suffering opting not to pursue care. The net result is an increase in personal suffering, high divorce rates, escalating numbers of service members dying by suicide, and families left to grieve tragic and unnecessary losses.
So what can our government do?
On August 31, in a speech to soldiers at Fort Bliss, President Obama addressed the seriousness of increased suicide and mental health issues in the military. Obama said, "Today I've signed a new executive order to give our troops, our veterans, and our families better access to mental health care. We're going increase the number of folks manning those crisis hotlines, so help is there when you need it most. We're going to add even more counselors and mental health providers. We're launching a new awareness campaign, starting tomorrow, and I'm directing a new task force to find out what works best, so we're doing everything we can to help those in need and save lives."
Specifically, this executive order directed the Veterans Administration to hire 1,600 new mental health professionals and to expand the capacity of its crisis line so those who are in crisis can see a counselor within 24 hours. The VA will also hire 800 peer support counselors. Paul Sullivan, the former executive director of Veterans for Common Sense, said, "This is an unexpected and very positive move in the right direction. It's not just a step. It's a huge leap." The new task force will recommend other ways the government can help those suffering from traumatic brain injury and post-traumatic stress disorder.
Of equal importance was the statement that Obama directed to the soldiers: "I know that you join me in saying to everyone who's ever worn the uniform, if you're hurting, it's not a sign of weakness to seek help. It's a sign of strength." As he spoke to remove the stigma against admitting to suicidal feelings and asking for help, the President said, "We're here to help you stay strong. Army strong. That's a commitment I'm making to you."
A Military Helpline exists that can be reached anytime at 1-888-457-4838. The National Suicide Prevention Lifeline also has a special line for veterans that can be reached when you call 1-800-273-TALK (8255). The Defense Department's website "Real Warriors"(link is external) encourages service members and veterans to seek the care they need and offers videos, testimonials, and valuable information to help them do so.
What can we do?
When a person is suicidal, he or she is in a detached, disassociated state in which they are experiencing severe self-critical thoughts often telling them that they are no good, that they do not matter or that they don't belong. Soldiers often experience thoughts that they are a failure, weak, and to blame. When they return home, their self-attacks often increase. They frequently feel alienated from and at odds with the rest of society. The long absences and personality shifts that result from combat take a toll on their family relationships. This combination of factors is sure to increase soldiers' sense of being isolated and not belonging, all of which exacerbate suicidal attitudes.
At Fort Bliss, President Obama emphasized "that everyone has a responsibility to help a comrade who's hurting." Here are some things we can do to help:
Recognize the warning signs - There are warning signs for when a person is suicidal, but too often people aren't aware of them. Some of the signs include: disrupted sleep, isolation, loss of interest, extreme self-denial, lack of pleasure, intense self-hatred, feelings of not belonging or of being a burden to others, and suicidal talk ("You will be better off when I am gone."). They also include a significant increase in agitation. You can see a full list of warning signs here.By learning these warning signs, we are all much more likely to identify those at risk for suicide and reach out to them before it is too late.
Learn the helper tasks – Once we suspect a person may be suicidal, we must carry out a course of action that can help ensure his/her safety(link is external). We can engage a person by asking them directly how they are feeling and showing that we have real concern for them. We can then help this person develop an action plan that will keep them out of harm's way and get them to the help they need. When encountering someone we suspect may be suicidal, it's invaluable to know the list of helper tasks (link is external)as well as the dos and don'ts of suicide prevention(link is external). In addition, someone who is feeling suicidal can learn coping strategies(link is external) that can help them get through a crisis.
Don't let suicide be a silenced topic – If you are concerned that someone is at risk for suicide, it is important to ask them directly whether they ever consider suicide. By doing so, you are not planting the idea in this person's head but you are offering them the chance to open up about thoughts they may have been keeping from the world. Allowing someone to talk about these feelings is important.
Join Dr. Lisa Firestone for a free Webinar on Suicide Prevention(link is external) on Sep. 10 or for a CE Webinar for mental health professionals(link is external) on Sep 25. Learn more here(link is external)
Remember The National Suicide Prevention Lifeline(link is external) If you or someone you know is in crisis or in need of immediate help, call 1-800-273-TALK (8255). This is a free hotline available 24 hours a day to anyone in emotional distress or suicidal crisis.
Source: www.psychologytoday.com/blog/compassion-matters/201209/what-is-killing-our-soldiers

14 photos show the remarkable Kurdish women in little-known militias who are fighting ISIS

---
"I miss Limar and Gabriella and worry that they must be hungry, thirsty and cold — but I try to tell them I'm fighting to protect their future," Babylonia, in her mid-thirties, told Agence France-Presse in 2015.
Babylonia speaks of her children, whom she left — along with her husband and hairdressing career — to join a women's militia in northeast Syria with the mission of defeating ISIS, also known as Islamic State or Daesh.
Long before the United States announced its plans in 2015 to allow women into combat roles, men and women Kurdish were fighting alongside each other.
There are minority Syriac Christians and another force known as the YPJ — the sister group to the mainstream Kurdish, all-male YPG militia — which are composed solely of women.
The women fighters have been part of a crucial initiative to protect the Tishrin Dam, for example. The dam is strategic as it is an energy source for the heavily contested town of Kobane in northern Syria, Al Jazeera reported in May.
The women not only subvert gender stereotypes, but also seek to protect the liberties afforded to them, which they would not have living in ISIS-controlled areas.
"I used to work for a Syriac cultural association, but now I take pleasure in working in the military field," Thabirta Samir, in her mid-twenties, told AFP.
"I'm not afraid of Daesh, and we will be present in the coming battles against the terrorists," she added.
Source: www.aol.com/article/2016/08/22/14-photos-show-the-remarkable-kurdish-women-in-little-known-mili/21456664/
Companies Profiting The Most From War
---
Worldwide military expenditure shrunk in 2013 for the second consecutive year, falling by 1.9% to $1.75 trillion. The 100 largest arms-producers sold a combined $402 billion worth of arms and military services in 2013, also down — for the third consecutive year.
However, not all countries are spending less. Military spending in North America and in Western and Central European countries has continued to decline, while other countries such as Brazil and Russia have increased their arms investments.
Despite the global drop, weapons producers generated massive profits from arms sales, and U.S. and European companies continued to dominate the top 10 global companies in terms of arms deals. Lockheed Martin was the global leader with $36 billion in arms sales in 2013, according to the Stockholm International Peace Research Institute (SIPRI). (Editor-The top 10 U.S. companies represented over half of the total world sales in 2013 - $202.4 billion - to kill other people, including noncombatant women and children. Imagine how much good just 10% of that amount would do for education, food programs, training programs to build the middle class and reduce poverty and death in the U.S. rather than building the wealthy class who pay less capital gains on their investments than hard working American's pay on their income. Talk about "trickle-up" redistribution of wealth.)
In fact, the top 10 companies tend to change very little. In an interview with 24/7 Wall St., Dr. Samuel Perlo-Freeman, senior researcher at the SIPRI arms and military expenditure program, explained that since the 2000s, the big North American and European defense corporations have secured their place among the top 10 arms dealers. Only the last two positions in the top 10 tend to see any major competition.
Yet, Russian companies have been growing rapidly, and if the trend continues, Perlo-Freeman said, Russian Almaz-Antey may breach the top 10 in the coming years. Further, although data on Chinese companies is currently unavailable, it is very likely several would be in the top 20 arms dealers.
U.S. companies still dominate the arms market by a large margin, with six among the top 10 arms sellers. In the top 100 arms-producing companies, 39 are based in the United States, and U.S. companies accounted for more than 58% of total arms sales among the top 100. U.S. company arms sales in the top 10 alone made up 35% of total arms sales among the top 100. By contrast, Western European companies, which make up the rest of the top 10 arms producers, accounted for just 28% of the total top 100 arms sales.
National governments, especially the U.S., are almost always the primary customers of these companies. Governments are often the only customers that can afford the extremely high costs of these products. An F-35 fighter jet purchased in 2018 from Lockheed Martin and delivered in 2020, for example, would cost roughly $100 million.
While cuts in U.S. military expenditure have created some uncertainty for U.S. arms market players, business is still very good in the country. According to Perlo-Freeman, several companies based in Europe, such as BEA and Finmeccanica, operate subsidiary holdings in the U.S. to access the U.S. market.
Even when a national government is not a customer of a domestic or international arms-producer, its leaders are involved in the transaction. "Top politicians, presidents, [and] prime ministers are very often directly involved in promoting major arms deals on behalf of their domestic industry," Perlo-Freeman said. National leaders, who have an interest in who possesses some of the world's most destructive instruments, often oversee the arms deals very closely. While these transactions are highly regulated, "for most countries, [politicians] are more interested in promoting the success of their industries," Perlo-Freeman said.
To identify the 10 companies profiting most from war, 24/7 Wall St. examined the 10 companies with the most arms sales based on SIPRI's "The SIPRI Top 100 Arms-Producing Companies, 2013." Arms sales, including advisory, planes, vehicles, and weapons, were defined by sales to military customers as well as contracts to government militaries. We also considered the company's 2013 total sales and profits, the total number of employees at the company, as well as nation-level military spending, all provided by SIPRI.
These are the companies profiting the most from war.
10. Thales
Arm sales 2013: $10.4 billion
Total sales 2013: $18.9 billion
2013 profit: $800 million
2013 employment: 65,190
Thales Group edged into the top 10 of international arms sales, moving ahead of L-3 Communications with 2013 arms sales of $10.4 billion, up from $8.9 billion in 2012. L-3's arms sales fell from $10.84 billion in 2012 to $10.3 billion in 2013. Based in Paris, Thales has outlets in 56 countries with a total headcount of more than 65,000 employees. In addition to defense, Thales helped modernize the London Underground in 2014, increasing the capacity of the system's Northern Line by 20%. More than a decade ago, Thales launched its inflight entertainment and connectivity unit now used by nearly 100 international airlines.
9. Finmeccanica
Arm sales 2013: $10.6 billion
Total sales 2013: $21.3 billion
2013 profit: $100 million
2013 employment: 63,840
Finmeccanica reported nearly $10.6 billion in arms sales in 2013, down considerably from the previous year, when the company sold $12.5 billion worth of military equipment. While arms sales comprised a majority of total revenue for six companies on this list, they comprised only half of the Finmeccanica's overall 2013 sales of $21.3 billion. The Italian aerospace giant has been struggling in recent years, posting losses each year since 2011. The company is currently undergoing massive restructuring. Mauro Moretti, the conglomerate's recently government-appointed CEO, said in an interview with the Financial Times earlier this year that he anticipates substantial job cuts, shrinking sales figures, and even a possible name change.
8. United Technologies (NYSE: UTX)
Arm sales 2013: $11.9 billion
Total sales 2013: $62.6 billion
2013 profit: $5.7 billion
2013 employment: 212,000
United Technologies (NYSE: UTX) is the lowest ranking U.S. supplier of the world's top 10 arms selling companies. Based in Connecticut, UTC's arms sales slipped from $12.1 billion in 2012 to $11.9 billion in 2013 even as its total sales rose from $57.7 billion in 2012 to more than $62.6 billion in 2013. The company's Pratt & Whitney subsidiary, which produces and sells large commercial aircraft engines used in more than 25% of the world's passenger fleet, recorded $14.5 billion in total net sales in 2014. Pratt & Whitney's military engines are used by 29 armed forces worldwide. United Technologies' Sikorsky helicopters are used by all five branches of the U.S. armed forces and Sikorsky products are used in more than 40 countries. Sikorsky generated $7.5 billion in net sales in 2014. Sikorsky manufactures military and commercial helicopters and supplies helicopter and aircraft services and parts. UTC is exploring spinning off Sikorsky to create a stand-alone public company.
7. Airbus Group
Arm sales 2013: $15.7 billion
Total sales 2013: $78.7 billion
2013 profit: $2.0 billion
2013 employment: 144,060
Airbus Group, formerly known as EADS, reported revenue of 59.3 billion euros in 2013, up from 56.5 billion euros in the previous year. Arms sales comprised just 20% of the company's total sales of nearly $78.7 billion in 2013. Airbus Group is a major producer of commercial aircrafts, as well as helicopters and defense and space products. The company was recently awarded a contract with the South Korean government to supply several light helicopters. Airbus Group spans multiple European countries and overall employed 144,060 workers as of 2013. Several current and former executives of the group are mired in a legal dispute over insider trading.
6. General Dynamics
Arm sales 2013: $18.7 billion
Total sales 2013: $31.2 billion
2013 profit: $2.4 billion
2013 employment: 96,000
General Dynamics' (NYSE: GD) 2013 arms sales dropped by nearly 11% from 2012 to $18.7 billion. Nonetheless, the company turned a $332 million 2012 loss into a $2.4 billion profit in 2013. According to the aerospace and defense company, it provides a "broad range of products and services in business aviation; combat vehicles, weapons systems and munitions; communications and information technology systems and solutions; and shipbuilding." GD's aerospace division, among other things, designs and manufactures Gulfstream business-jet aircraft. The combat systems group designs and manufactures military vehicles — including battle tanks — and weapons systems and munitions. The information systems and technology unit, offers information technology and mobile communications services to the U.S. defense and intelligence communities.
5. Northrop Grumman (NYSE: NOC)
Arm sales 2013: $20.2 billion
Total sales 2013: $24.7 billion
2013 profit: $2.0 billion
2013 employment: 65,300
Northrop Grumman is one of six companies based in the U.S. selling the most military equipment. Also, 82% of the company's $24.7 billion total sales came from arms deals in 2013, one of the higher proportions. The U.S. government is Northrop Grumman's primary customer for both arms and non-arms sales, accounting for $21.3 billion, or 86% of total 2013 sales. Earlier this year, Northrop Grumman was awarded a $113.3 million contract from the U.S. Navy. Despite mostly supplying the U.S. government, the company still has a substantial and growing international presence. The company recently identified at least four international markets it aims to target for global expansion: Europe, Australia, United Arab Emirates, and Saudi Arabia.
4. Raytheon
Arm sales 2013: $21.9 billion
Total sales 2013: $23.7 billion
2013 profit: $2.0 billion
2013 employment: 63,000
Like other U.S. based defense companies, the vast majority of Raytheon's business comes from the U.S. government. The company sold nearly $16.1 billion worth of arms to the U.S. government in 2014, or 70% of its total sales. This proportion has actually fallen each of last two years. Meanwhile, international sales accounted for 29% of Raytheon's total 2014 sales, up from 27% in 2013. According to SIPRI, economic downturns and the resulting austerity measures, especially in the U.S., have prompted a number of companies to more aggressively seek international markets for military deals. These deals are subject to the International Traffic in Arms Regulations as well as other U.S. and foreign regulations.
3. BAE Systems
Arm sales 2013: $26.8 billion
Total sales 2013: $28.4 billion
2013 profit: $300 billion
2013 employment: 84,600
BAE Systems is one of the top 10 defense contractor suppliers to the U.S. with 31,500 employees in the U.S. in addition to 33,300 in the United Kingdom and another 19,800 in other parts of the globe including Saudi Arabia and Australia. About 36% of BAE's sales came from its land and armaments business: development, ongoing support and maintenance of armored vehicles, artillery, naval guns, missile launchers and munitions. Total BAE sales grew 2% from 2012 to 2013 as the resumption of the company's Typhoon combat aircraft deliveries more than made up for lower U.S. sales.
2. Boeing (NYSE: BA)
Arm sales 2013: $30.7 billion
Total sales 2013: $86.6 billion
2013 profit: $4.6 billion
2013 employment: 168,400
Based in Chicago, Boeing is the largest aerospace company in the world. It had sales of $86.6 billion in 2013, the third highest compared to the 100 companies reviewed by SIPRI. Unlike most U.S. arms dealers, only 35% of Boeing's sales came from arms deals, one of the lowest such proportions. Boeing is known primarily for its airplanes, with more than 10,000 commercial jetliners in use worldwide, or approximately 48% of the global fleet, according to the company. The company is also a major provider of satellites and satellite components to NASA. Boeing is a major employer in a number of states. Worldwide, the company had a total 2013 headcount of 168,400 — also the fourth highest number of employees among the 100 largest arms dealers.
1. Lockheed Martin (NYSE: LMT)
Arm sales 2013: $35.5 billion
Total sales 2013: $45.5 billion
2013 profit: $3.0 billion
2013 employment: 115,000
Lockheed Martin's 2013 arms sales totaled $35.5 billion, more than any other company in the world. The company posted total sales of $45.5 billion in 2013, 78% of which were arms sales. In its most recent financial report, Lockheed Martin reported a slight increase in both sales and U.S. government deals, which accounted for 79% of its $45.6 billion net sales in fiscal 2014. The F-35 stealth fighter is the company's most profitable program, generating more than half of all sales from the company's aeronautics division in 2014. Lockheed Martin's advanced development program, known as Skunk Works, has recently announced a working concept for a compact fusion reactor. The department claims it may have a prototype of the elusive nuclear energy device within five years.
Source: www.huffingtonpost.com/2015/03/22/companies-profiting-from-war_n_6919292.html?icid=maing-grid7%7Cmain5%7Cdl1%7Csec3_lnk3%26pLid%3D631833

Vietnam Era Veterans Largest Veteran Group
Vietnam era veterans accounted for the largest veteran population in 2000. Nearly one-third of all veterans, 8.4 million, were from the Viet Nam era.World War II veterans made up the next largest group, with 5.7 million people.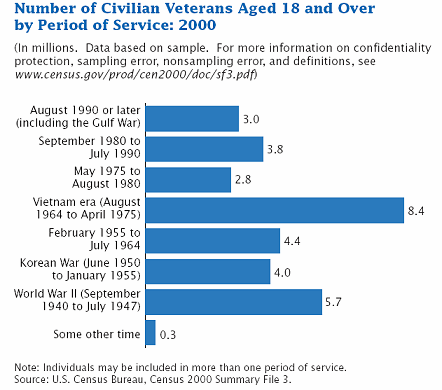 Racial Differences
The racial makeup of veterans is starting to more closely resemble the population as a whole. The percentage of adult civilians who are White and not Hispanic was about 72 percent in 2000, while the White non-Hispanic proportion of veterans was more than 10 points higher, at almost 83 percent. However, among veterans 18 to 64 years old, White non-Hispanics made up 79 percent. The second largest veteran population, composed of Black or African Americans, made up 12 percent of the veterans aged 18 to 64, but less than 6 percent of veterans aged 65 and over. Black or African Americans represented 9.7 percent of the veteran population. Slightly more than 11.0 percent of the general population was Black or African American. Other racial groups show similar trends.
Source: factfinder.census.gov/jsp/saff/SAFFInfo.jsp?_pageId=tp12_veterans

Unfit recruits

---
Obesity is on the rise in the U.S., and even America's toughest warriors may not be immune from the national hefty headache. A study published Wednesday found that Army recruits from the South — where the military traditionally draws a high percentage of soldiers — are generally in poorer physical condition than those from other parts of the country. The problem isn't new, but it is worsening. During World War II only about 50% of young people were qualified to join the Army. Today, the percentage has dropped to 23%. (Those numbers include those not qualified because of other factors, such as a criminal record or lack of a high school diploma.) Either way, researchers were clear: "This has a real impact on national security."
Source: eMail from USA Today 1/10/18


Books on war, warriors, gangs, abuse-boys, abuse-child, sexual-incest, abuse-ritual, abuse-sexual, violence-rape, violence-sexual
Resources Plus over 25 web sites on the subject.

---
A contest between nations or states, carried on by force, either for defense, or for revenging insults and redressing wrongs, for the extension of commerce or acquisition of territory, or for obtaining and establishing the superiority and dominion of one over the other. These objects are accomplished by the slaughter or capture of troops, and the capture and destruction of ships, towns and property. Among rude nations, war is often waged and carried on for plunder. As war is the contest of nations or states, it always implies that such contest is authorized by the monarch or the sovereign power of the nation. When war is commenced by attacking a nation in peace, it is called an offensive war, and such attack is aggressive. When war is undertaken to repel invasion or the attacks of an enemy, it is called defensive, and a defensive war is considered as justifiable. Very few of the wars that have desolated nations and deluged the earth with blood, have been justifiable.

Currently there are over 30 armed conflicts or "wars" taking place around the world.
By conservative estimates, the Native American population of the United states prior to European contact was greater than 12 million. The Native American population in the 1990 U.S. Census was 1.8 million. There are 560 American Indian tribes that have tribal governments that are recognized by the United States in a government to government relationship. The United States has failed to fulfill the terms of over 300 treaties agreed to with Native Americans. There are also approximately 314 federal Indian reservations in the United States.
In World War II Nazi led Germany killed an estimated 6 million Jewish people.
In the past 4 years of a bloody civil war in The Congo over 2.5 million people have died.
---
The number of U.S. military deaths in major wars is listed below. This does not include the deaths of allies, the opposition or of the civilian population, which are much greater in all cases:
The Tool of War - U.S. Deaths in war:

War

Defense Department

USA Today 5/27/16

Revolutionry War

na

4,435

War of 1812

na

2,260

Mexican War

na

13,283

Civil War

529,332 *

625,000

Spanish-American War

na

2,446

World War I

116,516

116,516

World War II

405,399

405,399

Korean War

36,576

36,574

Vietnam War

58,200

58,220

Persian Gulf War

382

383

Afghanistan War

Not included in Iraq War

2,349

3,034 (3/19/03 to 1/15/07.)

4,424

Total

1,149,439

1,271,289

Source: * includes estimate of Confederate deaths.
The unlawful use or threatened use of force or violence by a person or an organized group against people or property with the intention of intimidating or coercing societies or governments, often for ideological or political reasons. (Editor's note: I wonder what the people of other countries call our CIA and Special Forces who are active in their countries without the public's general knowledge.)

The United Nations High Commission for Refugees (UNHCR) says there are 21 million people in the world who are "of concern" to them. Of these, at least 12 million people are entitled to international protection because they are refugees. Most refugees are women and children.
The roads and paths, forests and pastures of an estimated 70 countries around the world have been made treacherous by landmines. Landmines affect some of the most impoverished people in the world. Each year, 26,000 people are killed or mutilated by landmines of which 8,000 are children. Roughly 3 people every hour, 71 per day are injured or killed by landmines. There are currently estimated to be somewhere between 60-100 million landmines in the ground worldwide, this remains a rough estimate since few accurate records were kept when mines were deployed.
It costs $3 - $30 to purchase an Anti-personnel Landmine. To remove a single mine could cost as much as $1000. Landmines inhibit tourism and other potential investments and development opportunities in some of the world's poorest countries. Landmines destroy livestock and prevent the cultivation of arable land. Rebuilding war torn communities and economies are extremely difficult in these conditions. In many communities, recovery, reconciliation and long-term development are all but impossible due to landmines.
If the people of the Earth do not learn to live together in harmony we will cease to exist-the apathy, greed, conspiracy, desperation and hate in the world must be replaced with peace, caring, cooperation, understanding and hope.

Ongoing World Conflicts as of September 11, 2001

UNITED STATES
United States vs. al-Qaeda & The Taliban & Osama bin Laden
9/11/01 New York and Washington, D.C. Attacked
War on drugs, elderly, a healthy environment, the disigent, the economy, etc., etc.

MIDDLE EAST
Iran vs. Kurds
Iraq vs. Desert Storm Coalition (U.S. & U.K.)
Iraq government (Sunni) vs. Shi'a (Supreme Council for Islamic Revolution in Iraq)
Israel vs. Palestinian Authority (Al-Aqsa Intifada)

ASIA
Afghanistan: Taliban vs. Other Factions
India vs. Jammu & Kashmir Liberation Front
India vs. Assam insurgents (ULFA & NDFB)
India vs. Pakistan
Indonesia & West Timor paramilitaries vs. UNTAET
Indonesia vs. Aceh separatists
Indonesia vs. Irian Jaya separatists
Indonesia vs. Christians & Muslims in Maluccan Islands
Uzbekistan vs. Islamic militants & drug gangs
People's Republic of China vs. Tibet
People's Republic of China vs. Uighur
Philippines vs. Moro Islamic Liberation Front
Philippines vs. New People's Army 1969 Ideological None
Philippines vs. Abu Sayyaf
Malaysia Sri Lanka vs. Tamil Eelam
India Tajikistan vs. Islamic militants & drug gangs
Uzbekistan vs. Islamic Movement of Uzbekistan & drug gangs

AFRICA
Algeria vs. Armed Islamic Group (GIA)
Angola vs. UNITA
Burundi: Tutsi vs. Hutu
Democratic Republic of Congo & "allies" vs. Rwanda, Uganda & indigenous rebels
Ethiopia vs. Eritrea
Guinea vs. rebels based in Sierra Leone & Liberia
Rwanda: Tutsi vs. Hutu
Sierra Leone and UNAMSIL vs. Revolutionary United Front and Liberia
Sudan vs. Sudanese People's Liberation Army
Uganda vs. Lord's Army
EUROPE
Russia vs. Chechnya
Kosovo: Albanians vs. Serbs & other minorities
LATIN AMERICA
Colombia vs. National Liberation Army (ELN)
Peru vs. Sendero Luminoso
Colombia vs. Revolutionary Armed Forces of Colombia (FARC)
Colombia vs. Autodefensas Unidas de Colombia (AUC)

Middle East Madness

---
Palestinians and Israelis are engaged in fierce gun battles across the West Bank and Gaza Strip. Suicide bombers are killing civilians and children. Israeli troops are also killing civilians and children. Intentional or not, innocent people on both sides are being killed. Total number of Palestinian deaths in West Bank & Gaza since Sept 29th, 2000 is 1,421, injuries 18,553. Israeli deaths are a 434.
The conflict between Palestinian Arabs and Jews is a modern phenomenon, which began around the turn of the 20th century. Although these two groups have different religions (Palestinians include Muslims, Christians and Druze), religious differences are not the cause of the conflict. It is essentially a struggle over land. Until 1948, the area that both groups claimed was known internationally as Palestine. But following the war of 1948-49, this land was divided into three parts: the state of Israel, the West Bank (of the Jordan River) and the Gaza Strip. This is a small area: approximately 10,000 square miles, or about the size of the state of Maryland.
Jewish claims to this land are based on the biblical promise to Abraham and his descendants, on the fact that this was the historical site of the Jewish kingdom of Israel (which was destroyed by the Roman Empire), and on Jews' need for a haven from European anti-Semitism.
Palestinian Arabs' claims to the land are based on continuous residence in the country for hundreds of years and the fact that they represented the demographic majority. They reject the notion that a biblical-era kingdom constitutes the basis for a valid modern claim. If Arabs engage the biblical argument at all, they maintain that since Abraham's son Ishmael is the forefather of the Arabs, then God's promise of the land to the children of Abraham includes Arabs as well.
During the Six Day War between Israel and the Arab States, the American intelligence ship USS Liberty was attacked for 75 minutes in international waters by Israeli aircraft and motor torpedo boats.
Israel reports that they they mistook the American intelligence ship USS Liberty for the out-of-service Egyptian horse carrier El Quseir .The attack was preceded by more than six hours of intense low-level surveillance by Israeli photo-reconnaissance aircraft, which buzzed the intelligence ship thirteen times, sometimes flying as low as 200 feet directly overhead. The assault that followed was initiated by high-performance jet aircraft, was followed up by slower and more maneuverable jets carrying napalm, and was finally turned over to torpedo boats which fired five torpedoes. Four missed. The one torpedo that hit the ship blasted a forty-foot hole in the ship's side. The attack inflicted 821 rocket and machine-gun holes. Thirty-four men died and 171 were wounded.

Explaining War to Our Children

---
As a parent, you want to protect your child. But nowadays you can't turn on the TV or read the newspaper without being confronted with horrific images of war. What do we tell our children? Get advice from the experts.
Source: http://content.health.msn.com/content/article/89/100343.htm

---
George W. Bush has declared his intention to wage a so-called 'preemptive' war against Iraq and is now seeking to strong-arm the international community and the U.N. into support and submission. Congress rushed to rubber-stamp the war against the will of millions of Americans and millions of others world-wide.

A war of aggression violates the United States Constitution, the United Nations Charter, and the principles of the Nuremberg Tribunal. It violates the collective law of humanity that recognizes the immeasurable harm and unconscionable human suffering when a country engages in wars of aggression to advance its government's perceived national interests.

No Congressional resolution and no U.N. resolution can legalize an illegal war. With pen to paper and votes of support, they can only commit to wilful ratification, complicity and responsibility for illegal acts by endorsing a criminal enterprise.

The millions of signatures on these referendums will be a powerful expression of the will of the people. The goal is not merely to give expression to the majority anti-war sentiment but to organize locally and nationally to reclaim the authority of government through mass democratic action. Included are over 25 web sites on the subject.

---
The oil on canvas in the upper left hand corner was painted by Peter Houston in 1958. A half-naked, castrated soldier has been strung up and left to die. The gaping wound is clearly visible, and the unnaturally contorted arms and legs express the soldier's absolute torment and pain. Two children play innocently alongside, already immune to the horrors of war. It is a brutal, graphic painting depicting a barbarous and inhuman atrocity. Houston's gritty, dark, realist style captures the profound depravity of war. With each thick brushstroke he expresses both anger and compassion. Plum Grove is from a body of work completed by Houston after his tour of Bosnia as official war artist. He rose to prominence in the early 1980s as a key figure in the Glasgow School of Painters, whose subject matter was the common man. Most of his works focus on the harsh and sometimes violent world of Glasgow city life and its hard-living, working-class people. He has also served in the military and worked as a nightclub bouncer. The 20th Century Art book.

---
There once was a King who offered a prize to the artist who would Paint the best picture of peace. Many artists tried. The King looked at all the pictures, but there were only two he really liked and he had to choose between them.

One picture was of a calm lake. The lake was a perfect mirror for peaceful towering mountains were all around it. Overhead was a blue sky with fluffy white clouds. All who saw this picture thought that it was a perfect picture of peace.

The other picture had mountains too. But these were rugged and bare. Above was an angry sky from which rain fell, and in which lightening played. Down the side of the mountain tumbled a foaming waterfall. This did not look peaceful at all. But when the King looked, he saw behind the waterfall a tiny bush growing in a crack in the rock. In the bush a mother bird had built her nest. There, in the midst of the rush of angry water, sat the mother bird on her nest... perfect peace.

Which picture do you think won the prize? The King chose the second picture. Do you know why?

"Because," explained the King, "peace does not mean to be in a place where there is no noise, trouble, or hard work. Peace means to be in the midst of all those things and still be calm in your heart. That is the real meaning of peace."

---

The 20th Century war with the most military fatalities (battlefield deaths only) was World War II (1939-45). 15,843,000 primarily men lost their lives. Countless millions others lost their fathers, sons, and brothers in that war. In one single battle, during that war, the Battle of Stalin grad, there were 2,000,000 total military and civilian dead, wounded and missing. It was one of the longest and almost certainly, the bloodiest battles of all time. Fought between German and Soviet forces, it continued from August 19, 1942 to February 2, 1943, with huge losses, especially on the German side as the Sixth Army was decimated. Of almost 100,000 German troops captured, only about 5,000 were eventually repatriated.
There have been almost 30 million military fatalities resulting from 20th-century conflicts, as well as innumerable civilians who were injured and killed.
The American Civil War, there were more than 50,000 casualties in the Battle of Gettysburg, on July 1-3, 1863. The action was the bloodiest of the Civil War, itself the second most devastating war in U.S. history.
Countries suffering the greatest military losses in World War II - the U.S.S.R. with 13,600,000 of which 7,800,000 were battlefield deaths. Second was Germany with 3,300,000 killed, China with 1,324,516 killed and Japan with 1,140,429. The U.S. was 110th with 292,131.
Compared to the above, the largest armed forces of World War II at peak strength, number of combatants, the U.S.S.R.. was 1st with 12,500,000 followed closely with the U.S. at 12, 364,000. Germany had 10,000,000, and our closest ally was France with 5,700,000
The first declarations of war in World War II were the UK, Australia, New Zealand and France on Germany September 3, 1939. A few days later, South Africa entered against Germany, then Canada. Italy declared war against the UK and France on June 10, 1940, and France on Italy the next day. The UK declared war on Finland, Hungary and Romania on December 6, 1941 and Japan on the US, UK, Australia, Canada, New Zealand and South Africa on the next day.
China has twice as many armed forces than the U.S., 2,840,000. Russia is 3rd with 1,240,000, India 1,145,000 and North Korea at 1,055,000.
The US spends 6 times the amount of the next closest country on defense at 259,400,000 (1997). Japan, the UK, France, Russia and Germany are all in the $27 to $43 million range.

People Who Have Served our Nation

---
This is a breakdown of civilian veterans ages 18 and older who served on active duty in the Army, Navy, Air Force, Marine Corps or Coast Guard or who served in the Merchant Marine during World War II.:

| | | | | | | |
| --- | --- | --- | --- | --- | --- | --- |
| . | 1980 | % | 1990 | % | 2000 | % |
| Men | 27,400,000 | 96 | 26,300,000 | 96 | 24,800,000 | 94 |
| Women | 1,100,000 | 4 | 1,200,000 | 4 | 1,600,000 | 6 |
| Total | 28,500,000 | 100 | 27,500,000 | 100 | 26,400.000 | 100 |
SOURCE: Census 2000: Data based on sample; 1980 and 1990 figures may include a small number of people who were 16 and 17 years old.
Global Military Spending - 2010

---
Cost of global military spending in 2010: $1.6 trillion, more than 5x the total cost of:

Cost of Global Sanitation: $10 billion
Cost of Universal Primary Education: $10 billion
Cost of eradicating world hunger: $30 billion
Cost of clearn drinking water for the world: $30 billion
Cost of global AIDS prevention: $80 billion
Cost of global environmental sustainability: $156 billion

Total: $315 billion

Cost of billionaire bail-out (tax break) for the wealthy: $856 billion

Cost of ONE Northrop Grumman B-2 Spirit (Stealth Bomber) $1.1 billion
Add procurement costs per aircraft ($1.27 billion) Maintenance costs are about $3.4 million a month for each aircraft or $40.8 million per year per aircraft.

Emagine what we could do with all that money. Emagine.
---
Menstuff makes no representation as to the accuracy of information transmitted herein.


Beyond The Battlefield: Lack Of Long-Term Care Can Lead To Tragic Ends For Wounded Veterans

---
"Beyond the Battlefield" is a 10-part series exploring the challenges that severely wounded veterans of Iraq and Afghanistan face after they return home, as well as what those struggles mean for those close to them. Other stories in the series can be found here.

Jimmy Cleveland Kinsey II was a good Marine who got blown up in Iraq and struggled for years with his wounds and with the demons that came with them. Eventually he lost, dying sick and alone, facedown on the floor of a Houston hotel room. He was 25 years old.

His young wife, Karie, had stayed with him in the years leading up to his death, in countless hospital wards and hotel rooms, changing his dressings, soothing his pain, managing his medicines, absorbing his moods, struggling to keep his well-being ahead of her own.

The wounded warriors visible to most Americans are the survivors, those who overcome debilitating injuries through their own perseverance and the hard work of military medical teams, friends and family.

There are those who rise even further above adversity, competing in the Paralympics, giving motivational speeches, enjoying standing ovations and special guest appearances at ballgames and State of the Union addresses.

Others come home wounded, and don't make it much further. For them, the quality and type of medical care they require simply isn't available on a long-term basis, and that's a problem the military and the Veterans Administration have yet to fully wrestle to the ground.

Kinsey was among those who are burdened with chronic pain and depression, with drug addiction, with the anguish of losing buddies in battle. Along with their physical injuries, they seem wounded with the shock and loss of finding themselves flung abruptly from the high-adrenaline camaraderie of battle into a harsh, solitary world of hospitals and rehab -- disoriented in a civilian world where nobody understands war or is paying much attention, and where they struggle to come to terms with their future as young, disabled Americans.

Jimmy Cleveland Kinsey II -- "Cleve,'' to tell him apart from his dad -- was a south Alabama boy, six feet and three inches of energy and mirth, with a weakness for radio-controlled model planes and, later, a 1988 Mustang Saleen. He also had an eye for a pretty local girl named Karie Fugett, whom he met in the eighth grade and, years later, met again when he was a Marine riding US Airways into Jacksonville, N.C., on his way to Camp Lejeune, and she was a flight attendant.

Jimmy and Karie became inseparable, joking and laughing and partying, and it wasn't long before they eloped. Ninety-nine days later, Jimmy, deployed on his second combat tour in Iraq, drove over a land mine in Ramadi, Iraq. He was trapped in the overturned burning vehicle; the blast left him with shrapnel wounds, burns, a mangled leg, post-traumatic stress disorder (PTSD) and traumatic brain injury (TBI).

That was in April 2006. He was 21 years old. Karie, who rushed to his side at Bethesda Naval Hospital, was 20.

"The next four years were spent in hospitals and hotel rooms,'' Karie wrote in her blog. "I was scared, I was exhausted, and I felt very alone.

"We were fighting to get his life back, and fighting to make a marriage work through pill addiction, overdose, miscarriage, family feuds, infections, amputation, PTSD and TBI.

"There were amazing times that made everything worth it, and there were times I truly felt like I was in hell.''

'THE GOOFIEST AND FUNNIEST PERSON EVER'

Jimmy had been bedridden for three months after he was blown up, and then was able to hobble around on crutches. Surgeons were trying to save his leg, which the blast had shattered. Most of his calf muscle was gone and doctors were trying to replace it with muscle transplants from his back.

He was also going to an outpatient clinic to deal with the brain injury he had suffered in the blast. He hurt all over. He had nightmares and anxiety attacks. He was on methadone and Percocet, a narcotic pain reliever, and over the months was taking morphine and Dilaudid, addictive pain relievers. Occasionally, according to Karie, he was prescribed Seroquel and Klonopin for anxiety and panic disorders.

The pills helped. More pills helped even more.

"He used the pills to escape,'' Karie recalled. "The thing is, he took more than he was supposed to … and that, mixed with his brain injury, was scary,'' fueling fits of anger and violence. "I felt he was abusing his pills and I didn't want that.''

She begged doctors to find alternative treatments but she said she was told the pills were necessary. She was at her wits' end.

"The thing that got me was the amount of times I told the military to please, please help me come up with a way to help him with his addiction and wean him off of the pills. I thought he needed inpatient drug addiction therapy. He needed help and I didn't feel like anyone would listen to me.''

So she flushed the pills down the toilet.

She and Jimmy got into an argument over the pills and he flew into a rage. Karie stood her ground. He headbutted her and tried to choke her.

"I knew he had his anger problems just like I did,'' said Justine Brown, one of Jimmy's closest Marine buddies, who also had been wounded. "They tend to throw you on a lot of medications, and you know you need to get off them but you just can't. It makes you sad and angry.''

For his part, Jimmy told Karie the pills made him crazy, that he "didn't feel right,'' but couldn't stop.

"He was the goofiest and funniest person ever,'' Karie told me. "Those are the times you live for, and they love you so much, and then he'd hit me and go into a rage and then when he realized what he did he'd fall to the floor and bawl. You'd just want to hold him.''

For years, Karie stuck with it. "I convinced myself that I was okay with him hurting me. As long as at the end of the day I know I was there for him, I didn't even care if I died.''

Eventually, the bone in Jimmy's left leg became infected, and doctors at Bethesda concluded they couldn't save it. He called Karie, who was at work in North Carolina, and said they were going to take it off. She drove all night and got there in the morning to find him with a bandaged stump. It seemed to throw them both deeper into depression.

"He fought so hard to keep that leg,'' Jimmy's mother, Penny, recalled, through tears. "It was a year and a half of surgeries, antibiotics … I was devastated.''

A RESPITE

For a brief time, things got better. Doctors moved Jimmy from Bethesda to the former Walter Reed Army hospital several miles away for a prosthetic leg and physical therapy. He began to walk haltingly, and joined outings and trips for the wounded and their families; he and Karie went to New York City and stayed at a hotel in Times Square, watching the celebrations on Election Night 2008.

Karie discovered a group of other despairing spouses of wounded soldiers and Marines and found support in online chat rooms. She got away with them once for a gala weekend in Las Vegas organized by a nonprofit, Wounded Warrior Wives.

But the loss of Jimmy's leg, and the ravages of his brain injury and post-traumatic stress disorder, were weighing them both down. Eventually, Jimmy's pain and depression brought deepening addiction.

One night in late 2008, Karie awoke with a start to find Jimmy bucking and grunting in bed, purple-faced and covered with vomit. He was overdosing. She heaved him off onto the floor, called 911, cleared his mouth and throat and gave him CPR. When the EMTs arrived, they found Jimmy almost dead and shot him with adrenalin before taking him to the hospital.

Karie stayed with him there the rest of the night.

When Jimmy awoke in the morning he was furious at her for calling 911, and yelled at her to get out. She left, found a corner where she could be alone, and sobbed with exhaustion and anger and frustration and loss. Days later he apologized; he hadn't understood that she had saved his life.

A week after the overdose, Karie found out she was five weeks pregnant. She was overjoyed. A few days later, she miscarried.

"At this point, I'm afraid to even talk to God,'' she wrote in her blog. "Maybe He's mad at me. Maybe I've asked for too many favors and He's tapped out.''

Jimmy was granted medical retirement from the Marine Corps. He received a 90 percent disability rating, which meant $1,100 a month less than they were expecting. And there was a months-long gap between the end of his military pay and the start of his veteran's disability payments.

Karie got a job as an online matchmaker, earning $10 an hour. The police arrested Jimmy one night for unpaid parking tickets and nobody could afford his bail. He would disappear for days at a time, then return and threaten Karie at gunpoint.

"Basically I was scared for my life,'' Karie recalled. She was having her own breakdown: nightmares, fits of anger, panic attacks so bad she'd rip off her shirt so she could breathe. For her own sanity, she began to see her girlfriends from high school.

Jimmy was furious when he'd come home and find her gone. One night he threw her clothes out into the yard and smashed beer bottles on top of them, and yelled at her that he'd kill her if she ever came back. She fled.

Karie said she finally realized that Jimmy was going to have to climb up out of his addiction and depression by himself. She sent him a list of things he'd have to do to win her back.

That seemed to work. He enrolled in PTSD therapy. He began to pay his own bills.

"He was making changes,'' she said. "They were slow, but I could see it happening. For the first time he was doing things on his own because he finally wanted to.'' But it was hard, she said, bearing "the pain of leaving the person I cared about more than anything in the world.''

A few months later, while Jimmy was a patient at Project Victory, a private, nonprofit facility for veterans in Houston, the bottom fell out.

NEUROSPSYCHIATRIC CASUALTIES

No one seems to know how many people there are like Jimmy and Karie, whose young lives and dreams are abruptly shattered by a random explosion, and whose trajectories seem to spiral down through layers of misery and depression and disintegration.

But there are enough of them to have prompted growing concern among some senior officials in the Defense Department and the VA that caring for the physical, visible wounds of the combat-injured is not enough.

"If you have a severe injury, you can get to a high level [of activity] with intensive care, but it's really hard to keep doing that,'' said Dr. Shane Mcnamee, chief of physical medicine and rehabilitation at the Veterans Administration Polytrauma Hospital in Richmond, Va.

"It's hard every day to struggle with the pain and stress, the forgetfulness. If we're not there to support them, they will get worse,'' he said. "You need strong, loving, caring advocates who can care for these individuals and continue to push them, and a health care team that can be responsive not just to the day-to-day pieces, but can pick their head up above the horizon and set goals that are significant and reachable.''

That theme -- that the military and veterans health care systems fail to provide "strong, loving, caring'' support -- was hammered home in a hearing this summer of the Senate Veterans Affairs Committee, whose chair, Patty Murray (D-Wash.), noted the awful toll of veterans who slip through the cracks.

Suicide is only one indication of their despair, but it's a powerful one. Among the troops who have returned from war with severe mental health issues, including those from the Vietnam era, "an average of 18 veterans kill themselves every day,'' Murray noted.

A senior Veterans Affairs official acknowledged poor coordination among various bureaucracies of the VA and other federal and private agencies.

"For those veterans with a complex interplay of mental health, medical and psychosocial issues, VHA [Veterans Health Administration] needs to better coordinate care internally among providers and clinics, between VBA [Veterans Benefits Administration] and VHA and when possible between private sector health care providers, families and VA,'' Dr. John D. Daigh, of the Veterans Affairs Inspector General's Office, told the Senate hearing on July 14.

"The military is faced with a problem: we have salvaged people, we can give them the physical tools back, and they begin to fall into another category of injury, the neuropsychiatric casualty,'' said Dr. Dale Smith, a medical historian at the Uniformed Services University of the Health Sciences in Bethesda, Md. "Some of it is the stigma of a prosthesis. The other piece is a psychological component of having been wounded, having had their bell rung. They aren't as quick to jump back to the fight -- the resilience is just not there."

"We have to get a better handle on understanding this problem,''' he added.

Military medical authorities have been aware of the links between PTSD, narcotics, risk-taking behavior and suicide for years. A U.S. Army study on pain management, chartered in August 2009, said the Army is "deeply concerned'' about drug addiction and suicide. But it faulted military medicine for failing to have any "routine or standardized screening for those at risk.'' Nor, it added, "is there a system to share'' information on what medications the combat injured are being given and how that might affect their treatment.

Seeming to describe the peril into which Jimmy Kinsey had fallen, the Army's Task Force on Pain Management reported that the "highest risk patients for unsafe behaviors have a 'trio diagnosis' of psychiatric disease, substance abuse, and pain."

"These patients are complex and need multidisciplinary evaluations … patients receiving higher doses of prescribed opioids are at increased risk for overdose, which underscores the need for close supervision of these patients,'' the report warned. "Often patients, especially with a history of impulsivity or medication misuse, will choose to use lethal medication as a means of suicide.''

That clarion call, for close professional supervision of these "complex'' patients who are at an increased risk of overdose, appears to have gone unheeded during Jimmy's struggle. Once during that hard period, Karie wrote in her blog:

"Cleve has been taking the morphine the VA gave … I've been holding onto it and giving it to him when it's due. It still pisses me off so bad that I am being put in this position. It is bull-youknowwhat. Luckily, so far, it hasn't been so bad other than the lack of sleep from waking up and checking his pulse sporadically. I can feel the "I NEED MORE BECAUSE I'M STILL IN PAIN" argument lurking, though. He mentioned it yesterday, but I don't care. I'm giving him what is on the bottle. If it doesn't work, he needs to take it up with his doctor. I just hope I get more sleep. I had a nightmare last night, too, that was pretty gnarly ... When I woke up from it Cleve wasn't snoring. I put my hand on his chest to.... well... make sure he was still alive. He was actually awake. I told him I had a nightmare. He turned my way and put his arm around me, then everything was OK.

"If the VA doesn't solve this pill issue I'm ready to raise hell. Pills are not OK for this family! End of story. Find something else!''

A few days later: "VA appointment today. I hope we get his meds fixed and maybe his other injury [prescriptions] filled, or started at least.''

The next day: "The VA appointment was crap. All they did was give him more morphine. Ugh. I guess this is a battle I'm going to lose. They set up an appointment with the actual pain management clinic. Today was just some random doctor. I really don't think they can do anything. Such crap. I just felt defeated. Couldn't even fight her on it. The doctors hands are tied anyway.''

By the fall of 2009, the Kinsey's marriage had reached a tipping point. Karie had come to the painful decision that Jimmy would have to take charge of his life himself; she'd done all she could. She had moved out and was struggling to make ends meet.

She was on the phone with Jimmy almost once a day, and things were up and down. She was hounded by doubts about what she was doing, trying to force him to take control of his own life.

"I failed to make this work. I can honestly say I have never tried so hard at something in my life. I wish this wasn't happening,'' she wrote.

"I'm terrified. I'm depending on others. I hate this. I wonder how many other caregivers end up on the street because they are scared of their husband or have been kicked out. I feel really alone. My mind is not working correctly right now. I feel destructive. I'm embarrassed … I've been a wife and caregiver for so long, I don't know where else I fit. Who am I? What do I do?''

PROJECT VICTORY

Continuing to seek help, Jimmy enrolled in a private PTSD clinic in Houston called Project Victory, where treatment for traumatic brain injury was offered free to veterans of Iraq and Afghanistan. Project Victory is funded with grants and donations through the TIRR Foundation, a Houston nonprofit that, according to its website, serves patients with central nervous system damage. The TIRR Foundation set up Project Victory in 2007, according to its website.

Jimmy was still on pain meds, with a Medtronic Restore Ultra neurostimulator implanted near his spinal cord, prescribed for chronic pain, and Fentanyl, a powerful painkiller, normally given to patients with severe pain. He received the drug through a skin patch, which was well known to be a risk to patients with a history of drug abuse and addiction. On the street, the word was that drying the Fentanyl contained in the patch and smoking it would give you a powerful high. In Florida alone, 115 people had died in overdoses of Fentanyl in 2003 and 2004.

Despite their separation, Karie drove Jimmy to the airport for the short flight to Houston. "If I knew he would die I would have hugged him longer,'' she wrote later. "I would have … well, caged him up and not let him out of my sight. Told him I loved him one more time. Touched him one more time.''

At Project Victory, patients were housed in a Marriott Residence Inn adjacent to the Project Victory facility. Patients typically stayed eight to 10 weeks. Jimmy and other patients lived at the Marriott, and during the day, walked the short distance to Project Victory's therapy sessions. Late afternoons and evenings, they were on their own, according to Jimmy's family.

Karie and Jimmy talked by phone around 4:30 p.m. on Monday, April 19, 2010, and it was a good conversation. "For the first time, he had a plan,'' Karie wrote. "He had hope. He wanted to change. He wanted to really work on fixing us.

"I remember getting off the phone and thinking, I really really hope I'm not disappointed again.''

Jimmy said he would call back later that night after he ran some errands. He didn't call. Karie sent him a text message.

No response.

Late afternoon the next day, Karie was at work when her friend Robin called. Jimmy was dead, she said. His mom had put the news on Facebook.

Houston police had received a call at 11:40 that morning. Report of a male deceased, "natural DOA" -- meaning no sign of trauma. Police found him facedown in the hotel room's kitchenette, lying next to a plastic bag containing a black tar-like substance and a piece of metal cut from a soda can with a black tarry residue on it. A pipe lay nearby.

The Harris County assistant medical examiner, Marissa L. Feeney, examined Jimmy's body. She found and removed the Medtronic neurostimulator and an empty Greenfield filter, used to prevent pulmonary embolism, in his abdominal cavity. She also found his breathing passages, the trachea and bronchi, clogged with foam.

Her diagnosis: Jimmy Kinsey died from acute fentanyl toxicity.

"He died from an accidental overdose,'' Jimmy's mother, Penny, told me from the family home, at the end of a small dirt road in Foley, Ala. "He was dependent on his drugs, that had a lot to do with it.'' I asked her gently if she felt it really was accidental. After a long pause, she said, "I honest-to-God don't know. He was going through so much at the time. He always swore to me he would never do that. I don't know if it was intentional or …

"I do feel,'' she said, "like he was forgotten.''

The last days of Jimmy Kinsey's life are shrouded in mystery, owing in part to restrictions on the release of private medical records. Jimmy's widow and family were devastated by his death and exhausted by the long struggle. They have not demanded to know the details of his final hours.

In a telephone interview last spring, I talked with Shawn Brossert, the program coordinator of Project Victory, without mentioning the case of Jimmy Kinsey. Brossert told me she had moved the clinic to a new facility in Galveston, Texas.

"We found we wanted a more restrictive environment'' for the patients, she said. "Some [patients] needed more oversight than we could provide'' as an outpatient clinic at the facility in Houston. The move to better facilities with more supervision came just months after Jimmy's death.

I called her again in August and said I had questions about the death of Jimmy Kinsey. She declined to talk other than to say someone "more responsible'' would have to answer, and hung up. She didn't respond to further phone calls and emails.

I sent a detailed email to Cynthia Adkins, executive director of the TIRR Foundation, which founded, funds and solicits donations for Project Victory. Its website asks for checks "payable to: TIRR Foundation, Project Victory.'' I asked if she could shed any light on Jimmy Kinsey's death, and, in particular, whether it was the VA, a caregiver, or some other third party that was in charge of his care.

Adkins didn't respond to these questions via email, and when I got her on the telephone she dismissed any inquiries about Jimmy's death. "We have nothing to do with this,'' she said. I asked who was responsible for Project Victory. "I have no idea,'' she responded. "I cannot visit with you about this.'' Then she hung up.

I sent two subsequent emails to her with the detailed questions, but never received a response.

It was Jimmy himself, of course, who was most directly responsible for his own death. But where was the help and support he needed?

Technically, like all veterans, Jimmy was under the care of the Veterans Administration and it was under the agency's auspices that he received his pain medication. But he was under no obligation to turn to the VA for help with his addiction.

"Veterans do have a choice about where they receive their care,'' said Antonette Zeiss, a senior VA official in Washington responsible for all VA mental health programs, including substance abuse. She said the VA has an extensive and vigorous outreach effort to contact veterans and advise them of the program available to them. "But these are American citizens with full rights and they can make choices,'' she said.

"We are not in the business of tracking down and forcing anyone to come in for care.''

Drug addiction due to chronic pain is difficult to treat, but the VA has a wide range of programs designed to help veterans like Jimmy Kinsey. Although she could not discuss individual cases, she said that for veterans "who need more complex, intensive care we have residential rehabilitation programs'' for pain management, substance abuse disorder and other health problems.

The problem with relying on the drug-abusing veteran to seek VA treatment, she acknowledged, is that some part of that veteran, some part of the time, simply doesn't want to be treated. "That ambivalence is very much a part of substance use disorder,'' Zeiss said, "and we have a full continuum of care for that.''

Zeiss, a psychologist, seemed to understand and empathize with veterans like Jimmy Kinsey, and clearly she knows how to help them. Tragically, she and Jimmy never met. The VA doctors and pharmacologists and therapists who saw Jimmy did not get him into the VA programs that might have saved him. Instead, he spiraled on down to his death.

Karie acknowledged that the initial care provided by the military and the VA is superb.

But the follow-up? Not so good, she told me. "Can they reconstruct a leg? Hell yeah, they can. It's what happens after the surgeries that they don't have a good grip on.''

Karie is the first to admit that Jimmy was hardly an ideal patient -- that his irresponsible behavior made things worse. But she also feels let down by the country that he volunteered to serve in combat.

"I felt the military would not listen to us,'' she wrote to me in a long, anguished email. "But all of his actions, I believe, were a result of the injuries he received at war. And now, I'm hearing more and more of accidental overdoses, suicides, homicides … what is wrong with this picture?

"For a while I thought it was only us. I thought there was something wrong with us. The reality, I'm finding, is that we were the norm. I'm afraid that the way the military and the VA handle these men and women is going to result in many more deaths similar to my husband's.

"Why were these fragile people not looked after more carefully?''

If Jimmy had been killed outright in that IED blast in Ramadi, he would have been flown home in a flag-draped casket with a white-gloved honor guard and buried with full military honors. The wounded are not returned home with such honors. Nor is recognition given to the severely wounded who struggle with and finally succumb to pain, addiction and despair.

In Jimmy's case, the family was left to battle with the VA to get them to pay for a graveyard headstone.

"I truly feel like I lost my husband to this war,'' Karie wrote late one night. "He would not have died at the age of 25 if he had not gone to Ramadi, Iraq, and been hit by an IED. If he hadn't lost his leg, he would never have had to take those strong pain medications. He never would have had PTSD and TBI. He wouldn't have been left alone in a PTSD therapy facility to die.

"I hate this stupid war,'' she wrote. "Everyone we knew from the military has been negatively affected by it.

"SO sick of hearing about all the tragedy. SO sick of it.''

Jimmy Kinsey didn't get the long-term care he needed, but some of the severely wounded have been more fortunate. NEXT: Meet an Army sergeant who reports benefiting tremendously from therapy built around "the permanent caregiver" -- his family.

Huffington Post Impact has compiled a list of organizations that seek to help veterans like the ones featured in "Beyond The Battlefield." You can read more about those groups, and ways you can help, here. Other stories in this series can be found here.

Clarification: An earlier version of this article could have been understood to suggest that wounded veterans are not given full military honors at their funerals. This is not the case. It has been changed to make clear that wounded soldiers do not receive the same attention or tribute that their fallen comrades do upon their return to the U.S.
Source: www.huffingtonpost.com/2011/10/12/beyond-the-battlefield-3-jimmy-kinsey_n_1000357.html?utm_source=Join+Together+Daily&utm_campaign=9ac888305a-JT+Daily+News%3A+Q%26A+with+Hazelden%27s...&utm_medium=email

---
Naval Special Warfare Command
SEALs take their name from the environments in which they are trained to operate: SEa, Air and Land (SEAL) Teams, commonly known as Navy SEALs.
Hell week is a grueling five-and-a-half day stretch, each candidate sleeps only about four total hours but runs more than 200 miles and does physical training for more than 20 hours per day. www.sealswcc.com/navy-seals-videos.aspx
Those who become bona fide SEALs wear a gold trident. There are just 2,500 on active duty, many serving in the world's most dangerous places.
"There were about 500 SEALs that operated in Vietnam, and I've met all 20,000 of them," Waterman joked. A short-list of 43 of the hundreds of men claiming to be something they're not cut out to be in their wildest dreams. Collected from July 1, 2010 through April 21, 2011 at stolenvalor.com/target.cfm?source=link&sort=order

Find more "Fake SEALs" and men who claim to have been POWs here.

Wounded Vets Told to Repay Bonuses

---
The Associated Press reports, "Service members seriously wounded in Iraq and Afghanistan after they received a $10,000 bonus for enlisting are being asked by the Pentagon to repay portions of the incentive money, says a U.S. senator who calls the practice an example of military policy gone bad."
Source: www.truthout.org/docs_2006/112607A.shtml

Members Warn of "National Crisis" in Military Readiness

---
Roxana Tiron, reporting for The Hill, writes, "Although Democrats in Congress have not been able to force an Iraq withdrawal, two House Armed Services Committee leaders are sounding the alarm that readiness shortfalls could prevent the U.S. military from responding to new threats at home and abroad."
Source: www.truthout.org/docs_2006/112607C.shtml

---
Penny Coleman writes on AlterNet: "Earlier this year, using the clout that only major broadcast networks seem capable of mustering, CBS News contacted the governments of all 50 states requesting their official records of death by suicide going back 12 years. They heard back from 45 of the 50. From the mountains of gathered information, they sifted out the suicides of those Americans who had served in the armed forces. What they discovered is that in 2005 alone - and remember, this is just in 45 states - there were at least 6,256 veteran suicides, 120 every week for a year and an average of 17 every day."
Source: www.truthout.org/docs_2006/112607B.shtml

A Different Picture of Iran

---
What we do to a country and its people to get their oil for our overpowered and oversized vehicles. Are we going to do this to Iran, also? Listen to the words of Yusuf Islam (Cat Stevens) and, as you view the pictures, think of places in the U.S. that look similar and then think how those places in the U.S. would look if China did to us what we did to Iraq. www.lucasgray.com/video/peacetrain.html

Iraq Vets Face Mental Challenges

---
U.S. soldiers who serve in Iraq can expect to experience subtle mental and emotional challenges when they return home, even if these issues don't rise to the level of post-traumatic stressstress, a new study shows.
Source: www.webmd.com/content/article/125/116118.htm

Amazing War Images Promote War
---
Advances in technology now allow television viewers to watch the war in Iraq as it unfolds. But some critics worry the stunning pictures of gadgets, tanks on the move and the military at work border on promotion of war. NPR's Laura Sydell reported.


Man's Antiwar T-Shirt Lands Him in Custody

---
A lawyer was arrested and charged with trespassing at a public mall after refusing to take off a T-shirt advocating peace that he had just purchased at the mall.

According to the criminal complaint filed Monday night, Stephen Downs was wearing a T-shirt bearing the words "Give Peace A Chance" that he had just purchased from a vendor inside the Crossgates Mall in Guilderland, N.Y., near Albany.

"I was in the food court with my son when I was confronted by two security guards and ordered to either take off the T-shirt or leave the mall," Downs said.

When Downs refused the security officers' orders, police from the town of Guilderland were called and he was arrested and taken away in handcuffs, accused of trespassing "in that he knowingly enter(ed) or remain(ed) unlawfully upon premises," the complaint read.

Downs said police tried to convince him he was wrong in his actions by refusing to remove the T-shirt because the mall "was like a private house and that I was acting poorly."

Downs, who pleaded not guilty at his arraignment, is the director of the Albany Office of the state Commission on Judicial Conduct, which investigates complaints of misconduct against judges. Police, a local prosecutor and mall officials were not available for comment. Downs could face up to a year in prison if convicted.
Source: Los Angeles Times, Wednesday, March 5, 2003 on page A8


Editor's note: Regarding these two stories, I called the Crossgates Mall at 518.869.9565. When I asked if the mall has a web site, the woman curtly replied "No we don't" and immediately hung up. I called again to ask for security, which previously when no one answered was #2 on a touchtone. The same woman answered. I asked for security. She said it was on the second floor. I said I wanted to reach them by phone, she said she was in security. I asked about the story and was given their PR firm at 716.854.8182. They faxed me the attached statement. We responded on 3/5/03 and will report when we get a response. Also see a copy of the Complaint filed with th e Local Criminal Court in Guilderland, and the three page deposition(page one, two and three.


Man Arrested for Wearing Peace T-Shirt -2

---
A man was charged with trespassing in a mall after he refused to take off a T-shirt that said "Peace on Earth" and "Give peace a chance."

Mall security approached Stephen Downs, 61, and his 31-year-old son, Roger, on Monday night after they were spotted wearing the T-shirts at Crossgates Mall in a suburb of Albany, the men said.

The two said they were asked to remove the shirts made at a store there, or leave the mall. They refused.

The guards returned with a police officer who repeated the ultimatum. The son took his T-shirt off, but the father refused.

"'I said, All right then, arrest me if you have to,'" Downs said. "So that's what they did. They put the handcuffs on and took me away."

Downs pleaded innocent to the charges Monday night. The New York Civil Liberties Union said it would help with his case if asked.

Police Chief James Murley said his officers were just responding to a complaint by mall security.

"We don't care what they have on their shirts, but they were asked to leave the property, and it's private property," Murley said.

A mall spokeswoman did not return calls Tuesday seeking comment.

Monday's arrest came less than three months after about 20 peace activists wearing similar T-shirts were told to leave by mall security and police. There were no arrests.
Source:Damita Chambers, Associated Press Writer


Objectionable Clothing at Crossgates Mall

---
Date: 3/5/2003
To: info@e3communications.com

Phil:

Thanks for faxing the statement from Tim Kelley. Would you forward this to Karen Liberatore as requested in the fax since the Mall's contact number was x'ed out.

It is obvious from his statement that the Management agrees with their complaining customer and their security people that the T-shirts being worn were objectionable to the Mall ("...coupled with their clothing, to express to others their personal views on world affairs ...").

We would like to see a copy of Crossgates Mall's dress code for customers and we would assume Mall shop employess. Does the Mall dress code prohibit all t-shirts with messages on them or just certain ones? And, if some are allowed, what kind of statements could be wore on t-shirts and what ones can not.

We would suggest that the Mall management not allow those objectoinable t-shirts to be sold within the private property of the Mall, since, in selling them, they are not only displaying the objectionable message within the Mall but encouraging people to purchase and wear them.

Gordon Clay


The birth of Osama bin Laden's terrorism network

---
The birth of Osama bin Laden's terrorism network is described in a remarkable government filing just unsealed in federal court. According to minutes from al-Qaeda's 1988 formation meeting, prospective members needed to possess "good manners."
Source: www.thesmokinggun.com/archive/bifladen1.html

---
During a time when our government (the "Super Duper" world power, as President Bush likes to refer to us) is creating a war machine with the desire to invade other countries, and develop a huge media effort to keep us all in separation, isolation and fear, maybe it's time to take 206 minutes out of this chaos, rent the movie JFK, make some popcorn, and think about our past and our future. In doing this, watch where the money goes from all of the Defense (War) Department's spending. The Viet Nam "conflict" took 2 million Asian lives and 58,000 American lives plus 5220 billion spent, 10 million Americans airlifted there by commercial aircraft, more than 5,000 helicopters lost, and 6.5 million tons of bombs dropped.

A Congressional investigation from 1976-1979 found a "probable conspiracy" in the assassination of John F. Kennedy and recommended the Justice Department investigate further. As of 1991, the year the film was released, the Justice Department has done nothing, the files of the House Select Committee on Assassinations are locked away until the year 2029. However, following the film Congress created the 1992 Assassination Materials Disclosure Act?

Most Victims were Male Professionals, Many were Parents

---
A portrait of the people the terrorists murdered Sept. 11 is slowly emerging: Eight of 10 were men, the average age was 40, and many were parents.

''We saw the deaths of a lot of young fathers and fathers with young children,'' says David Blankenhorn, president of the Institute for American Values, a think tank on family issues. ''It makes the whole thing that much more tragic.''

A USA Today analysis of more than 2,100 missing and dead identified by families, companies and the government shows:
They were largely white-collar professionals, ranging from software developers to insurance executives and bank employees. Many were at the height of their careers. One dozen were chief executive officers, founders or company presidents. At least 59 were company vice presidents. With more than 700 missing from the Cantor Fitzgerald brokerage firm, the toll among traders and brokers is heavy. Firefighters represent another group hard hit: 351 were identified.
Three-fourths of the victims were 30 to 55 years old -- a range experts say is representative of today's workforce. Children were noticeably few. Of the victims identified, 15 were younger than 21, including three 3-year-olds.
The effects of the attacks on companies and organizations will be mixed. For firefighters, the loss of experience is devastating, especially in what is a relatively small, tight-knit community. In the securities industry, which numbers in the hundreds of thousands of employees, many will suffer the personal loss of friends and coworkers, but the businesses will go on with little problem, says Roy Smith, a finance professor at New York University.
Replacing top company leaders can be more difficult. At Fred Alger Management, President David Alger was one of 35 employees reported missing. Since the attacks, his brother Fred, who founded the firm in 1964, resumed running the business. He appeared on Good Morning America a week after the attacks and has posted a message on his company Web site to reassure clients.
Fred Alger, who retired in 1995, still knew the workings of the business. ''From a corporate standpoint, we're really lucky,'' he says.
Other businesses that lost their top leaders might find it more difficult, he says.
Even so, other, incalculable losses remain. For Alger, who lost his brother along with 34 other employees, there is just the hope that they all died instantly.
''It's unimaginable, to lose so many people from one company,'' Alger says. ''I don't know; I'm sure God is shedding a tear for all of us.''
Source: Paul Overberg and Cheryl Phi, USA Today, www.usatoday.com/usatonline/20010927/3487489s.htm

---
Here's a list:
The Loser's Economy. Being a loser isn't always a bad thing. By 1975, the Axis powers Germany, Italy and Japan had become members of the G7 and built three of the most powerful economies in the world.
Nation Building. The divisionary theory of war states that nothing makes better friends than a common enemy. A baddie will pull a country together. For instance, in the 1330's, warring Scottish clans rallied together to fight King Edward I.
Ratings. Just ask Wolf Blitzer and Scud Stud Arthur Kent.
New Crash Pads. Bombs make things go bye-bye, so some of the best housing and street layouts are in previously devastated cities. German cities display a better urban design than, say, the cobbled, Vespa-littered streets of Rome.
Political Careers. Julius Caesar, George Washington, Theodore Roosevelt, Winston Churchill...and on and on.
Film. Would you rather see The Dirty Dozen or Driving Miss Daisy? Of the 50 Academy Award winners for best picture, 16 have been films involving wars. Saving Private Ryan grossed more than $216 million.
Sex. When servicemen returned from World War II, population rates surged 15 percent in the first five years, creating the Baby Boom generation (who also went on to procreate.)
And more sex. During the 1998 American bombing campaign over Iraq, an anonymous Pentagon spokesperson said that staff (including Secretary of State Madeleine Albright and Vice President Al Gore) were enjoying an increase in sexual vigor. "War, at the administrative level," said the spokesperson, "seems to shift the libido into high gear."
The Internet. As a result of the Cold War and the Big Bomb, the government started a project to link computers. By the late 1970s, many agencies were using a primitive network. By January 1, 1983, the net was born. (It also, by the way, created more sex.)
Source: Tal Pinchevsky, Gear, 10/01

---
Smoking Gun says: "We'll leave the presumption of innocence to others, because it seems to us that yesterday's terror attacks could only be the work of Osama bin Laden. Today we've posted further excerpts from a how-to terrorism manual used by followers of the Saudi madman. These chilling pages are at: www.thesmokinggun.com/doc_o_day/binmurder1.shtml

---
Widespread but only partial news coverage was given recently to a remarkable editorial broadcast from Toronto by Gordon Sinclair, a Canadian television commentator. What follows is the full text of his trenchant remarks as printed in the Congressional Record:

"This Canadian thinks it is time to speak up for the Americans as the most generous and possibly the least appreciated people on all the earth. Germany,

Japan and, to a lesser extent, Britain and Italy were lifted out of the debris of war by the Americans who poured in billions of dollars and forgave other billions in debts. None of these countries is today paying even the interest on its remaining debts to the United States.

When France was in danger of collapsing in 1956, it was the Americans who propped it up, and their reward was to be insulted and swindled on the streets of Paris. I was there. I saw it.

When earthquakes hit distant cities, it is the United States that hurries in to help. This spring, 59 American communities were flattened by tornadoes. Nobody helped.

The Marshall Plan and the Truman Policy pumped billions of dollars into discouraged countries. Now newspapers in those countries are writing about the decadent, warmongering Americans.

I'd like to see just one of those countries that is gloating over the erosion of the United States dollar build its own airplane. Does any other country in the world have a plane to equal the Boeing Jumbo Jet, the Lockheed Tri-Star, or the Douglas DC10? If so, why don't they fly them? Why do all the International lines except Russia fly American Planes?

Why does no other land on earth even consider putting a man or woman on the moon? You talk about Japanese technocracy, and you get radios. You talk about German technocracy, and you get automobiles. You talk about American technocracy, and you find men on the moon-not once, but several times-and safely home again. You talk about scandals, and the Americans put theirs right in the store window for everybody to look at. Even their draft-dodgers are not pursued and hounded. They are here on our streets, and most of them, unless they are breaking Canadian laws, are getting American dollars from ma and pa at home to spend here.

When the railways of France, Germany and India were breaking down through age, it was the Americans who rebuilt them. When the Pennsylvania Railroad and the New York Central went broke, nobody loaned them an old caboose. Both are still broke. I can name you 5000 times when the Americans raced to the help of other people in trouble. Can you name me even one time when someone else raced to the Americans in trouble? I don't think there was outside help even during the San Francisco earthquake.

Our neighbors have faced it alone, and I'm one Canadian who is damned tired of hearing them get kicked around. They will come out of this thing with their flag high. And when they do, they are entitled to thumb their nose at the lands that are gloating over their present troubles. I hope Canada is not one of those."

Stand proud, America!"


Washington Times Has Trouble Reporting Men's Pain

---
This is a reply written to the Washington Times regarding news coverage in today's paper.

Imagine this story: A group of women living in a remote Asian village are summarily removed from their families, lined up against a wall, and gunned down. The headline would be evocative and compelling: "35 Innocent Women Massacred." A photograph would depict the crumpled bodies. The coverage would allude to the discrimination that women around the world face. The obligatory quote from a feminist spokesperson would make a shrill remark about the "international war on women."

Compare this with the actual coverage of the slaughter of 35 men in Kashmir. The 18-word headline gives not the slightest hint that the victims are male. We don't learn until the third paragraph that the gunmen shot all the "males" at pointblank range. "Male," of course, is the more biological, sanitized version of the word "men." Although the article is over 500 words long, there are only two other references to the sex of the victims. Even the closing quote, by Gurbachan Jagat, fails to mention the painfully obvious fact, that all the victims are flesh-and-blood men.

A man's life is worth just as much as a woman's. To imply otherwise, is the worst form of sexism imaginable. (Editor: Actually, we're lucky that they used the word man at all. Many times the only describer used is if women or children are involved. I remember a headline and story "107 Die - Lithuanian Jet Goes Down." The story only mentioned that 5 women and children were killed. So, things are looking up towards the possibility that maybe the people writing these stories will recognize what sex the victims are and report the whole story.)

So, what did the Washington Post do the next day?


Russian girl's Chechnya ordeal displays a different view of war

---
Yesterday's Washington Times featured 35 persons who were massacred in Kashmir. Today's Washington Times highlighted the plight of a 13-year-old in Chechny who had two fingers cut off. In yesterday's story, gender was incidental. In today's account, gender was the central story line. Yesterday, 35 men were killed, but the fact that they were male didn't seem to matter. Today, one girl loses two fingers, and everyone knows her name and how this grisly event could have been avoided. Clearly, the loss of two fingers from a girl's hand commands more sympathy than the murder of 35 men. The Washington Times again illustrates, so clearly and so poignantly, how sexist media coverage of war stories diminishes the value of a man's life.


Should atheists who refuse to say 'so help me God' be excluded from the Air Force?

---
The Stephen Losey (Air Force Times) reports (see also the American Humanist Association's letter to the Air Force Inspector General):

An atheist airman at Creech Air Force Base in Nevada was denied reenlistment last month for refusing to take an oath containing "so help me God," the American Humanist Association said Thursday….

Air Force Instruction 36-2606 spells out the active-duty oath of enlistment, which all airmen must take when they enlist or reenlist and ends with "so help me God." The old version of that AFI included an exception: "Note: Airmen may omit the words 'so help me God,' if desired for personal reasons."

That language was dropped in an Oct. 30, 2013, update to the AFI. The relevant section of that AFI now only lists the active-duty oath of enlistment, without giving airmen any option to choose not to swear an oath to a deity.

"Reciting 'So help me God' in the reenlistment and commissioning oaths is a statutory requirement under Title 10 USC 502," Air Force spokeswoman Rose Richeson said Thursday. AFI 36-2606 "is consistent with the language mandated in 10 USC 502. Paragraph 5.6 [and] was changed in October 2013 to reflect the aforementioned statutory requirement and airmen are no longer authorized to omit the words 'So help me God.'"

The Air Force said it cannot change its AFI to make "so help me God" optional unless Congress changes the statute mandating it.

Former Congressman Allen West cheers this, and calls it "good news":

Correct me if I am wrong, but don't we swear court witnesses to "tell the whole truth and nothing but the truth so help me God"? …(Editor: Don't speak for me, Congressman. I don't, never have, never will. I omit it from repeating the pledge of allegiance since it was not part of the pledge originally and was only added in 1956 under pressure from the religious right. Deal with it you religious bigots. I'm for separation of church and state.")

A local commander could possibly waive the final phrase [in the oath], but it is law….

I proudly and honorably took the oath of office as a commissioned officer several times and also as a Member of Congress. That's what (Christian) Americans do. (And other full-fledged American's are forced to do - bow to someone else's idol.)

This is quite wrong, it seems to me, for two related reasons.

1. First, here's the relevant statute, 10 U.S.C. § 502,

(a) Enlistment Oath. — Each person enlisting in an armed force shall take the following oath:

"I, ____________________, do solemnly swear (or affirm) that I will support and defend the Constitution of the United States against all enemies, foreign and domestic; that I will bear true faith and allegiance to the same; and that I will obey the orders of the President of the United States and the orders of the officers appointed over me, according to regulations and the Uniform Code of Military Justice. So help me God." …

Historical and Revision Notes …

The words "or affirmation" are omitted as covered by the definition of the word "oath" in section 1 of title 1….

Title 1 U.S.C. § 1 indeed provides, "'oath' includes affirmation, and 'sworn' includes affirmed." And what is an affirmation? United States v. Bueno-Vargas (9th Cir. 2004) tells us (emphasis added),

An "'"Oath or affirmation" is a formal assertion of, or attestation to, the truth of what has been, or is to be, said.'" United States v. Brooks, 285 F.3d 1102, 1105 (8th Cir.2002) (quoting United States v. Turner

558 F.2d 46, 50 (2d Cir.1977)). Black's Law Dictionary 1099 (7th ed.1999), defines an oath as a "solemn declaration, accompanied by a swearing to God or a revered person or thing, that one's statement is true." Black's defines an affirmation as a "pledge equivalent to an oath but without reference to a supreme being or to 'swearing.'" Id. at 50; see also Brooks, 285 F.3d at 1105 (reciting these definitions).

So 10 U.S.C. § 502 expressly says that each person may swear or affirm. Likewise, 1 U.S.C. § 1 expressly says that an oath includes an affirmation. And an affirmation means precisely a pledge without reference to a supreme being. Given this context, it seems to me quite clear that "So help me God" in the statute should be read as an optional component, to be used for the great bulk of people who swear, but should be omitted for those who exercise their expressly statutorily provided option to affirm — because that's what affirming means (omitting reference to a supreme being).

Even looking at the statute standing alone, then, the Air Force thus has no business denying people the ability to affirm, which is to say to omit "so help me God." And to the extent the statutory "so help me God" language leaves the matter confusing, the Air Force has excellent lawyers — I'm pretty confident that my interpretation of the statute should not be legally controversial.

2. But of course the statute isn't standing alone; it's enacted pursuant to the United States Constitution, which has a thing or two to say on such matters.

A. First, the Religious Test Clause — "no religious Test shall ever be required as a Qualification to any Office or public Trust under the United States" — might well cover this. As I understand it, being an enlisted man is not an "Office," but I would think it's a "public Trust." And the forbidden "religious Test[s]" have long included oaths that contained religious assertions, assertions that members of some religions could not make. (Indeed such test oaths were the quintessential religious tests.) The existence of God is one such assertion that the federal government cannot demand as a qualification for a public trust.

B. Beyond this, the First Amendment more broadly bars the government from excluding atheists from positions because of their atheism, as the Court unanimously held in Torcaso v. Watkins (1961). (For a recent conservative endorsement of that position, see Justice Scalia's opinion in Employment Division v. Smith (1990), which says, "The government may not compel affirmation of religious belief, see Torcaso v. Watkins.") What is true for notaries — the job category involved in Torcaso — must also be true for members of the armed forces. (While many constitutional rights are significantly constrained once one joins the military, the Court has never suggested that this is one; moreover, the Religious Test Clause makes that especially clear, since at the Framing military positions were obviously on the Framers' minds as among the most important positions within the federal government.)

C. Moreover, the Constitution itself always provides that affirmations are always adequate substitute to the oaths that it requires. "When [the Senate is] sitting for [the] Purpose [of trying an impeachment], they shall be on Oath or Affirmation." "Before [the President] enter on the Execution of his Office, he shall take the following Oath or Affirmation: — 'I do solemnly swear (or affirm) that ….'" (President Franklin Pierce took an affirmation of office rather than an oath of office.) "The Senators and Representatives before mentioned, and the Members of the several State Legislatures, and all executive and judicial Officers, both of the United States and of the several States, shall be bound by Oath or Affirmation, to support this Constitution; but no religious Test shall ever be required as a Qualification to any Office or public Trust under the United States." "[N]o Warrants shall issue, but upon probable cause, supported by Oath or affirmation."

To be sure, these provisions were for the benefit of Quakers and other groups that oppose oaths for religious reasons, not for the benefit of atheists. But they are not limited to such groups; instead, they represent the view that affirmations are equivalent to oaths, and that what may be said with a "So help me God" may be said without.

Thus, even if a statutory scheme expressly required an oath, with no affirmation as an alternative, I think it would be unconstitutional. But here the statute specifically provides for affirmation; at most, it's ambiguous, in also including "so help me God" as part of the oath. For reasons given in part 1 above, that inclusion shouldn't be seen, even as a simple matter of statutory interpretation, as precluding a no-God affirmation. But the constitutional considerations make it even more clear that any ambiguity should be read in favor of allowing affirmation.

3. Turning specifically to correcting Rep. West (as he himself asked): Witnesses routinely have the option of affirming as well as swearing; see, for instance, Fed. R. Evid. 603, or in Rep. West's home state of Florida, Fla. Evid. Code 90.605,

Before testifying, each witness shall declare that he or she will testify truthfully, by taking an oath or affirmation in substantially the following form: "Do you swear or affirm that the evidence you are about to give will be the truth, the whole truth, and nothing but the truth?"

Likewise, the Rules for Court Martials provide (thanks to James Woodruff for the pointer), "'Oath' includes 'affirmation,'" and explains, "An affirmation is the same as an oath, except in an affirmation the words 'so help you God' are omitted."

Indeed, "That's what Americans do" — as long as there has been an America, we have allowed people to affirm without reference to God, and treated such affirmations as equivalent to oaths for legal purposes.

Thanks to Arne Langsetmo for the pointer.

UPDATE: The Fourteenth Amendment, as Prof. Seth Barrett Tillman reminded me, mentions only an oath and not an affirmation, in saying, "No person shall be a Senator or Representative in Congress, or elector of President and Vice-President, or hold any office, civil or military, under the United States, or under any State, who, having previously taken an oath, as a member of Congress, or as an officer of the United States, or as a member of any State legislature, or as an executive or judicial officer of any State, to support the Constitution of the United States, shall have engaged in insurrection or rebellion against the same, or given aid or comfort to the enemies thereof." That's not an oath requirement, but a special penalty on those who have betrayed their oath; still, I expect that this would have been understood as likewise applying to those who affirmed their loyalty to the United States, and then rebelled against it.
Source: www.washingtonpost.com/news/volokh-conspiracy/wp/2014/09/08/should-atheists-who-refuse-to-say-so-help-me-god-be-excluded-from-the-air-force/

(Editor: When you think about it it might be that the nonbelievers have a better chance to serve since they understand that their survival is solely reliant on them, their skills and actions and don't relax thinking some higher power is going to protect them.)
* * *

1 of 6 able-bodied men in the American colonies fought in the Revolutionary War.

During peace, sons bury their fathers. During war, fathers bury their sons. From the movie "J. Edgar"

Posterity! You will never know how much it cost the present generation to preserve your freedom! I hope you will make good use of it!-- John Adams, letter to Abigail Adams, April 26, 1777

"What other job lets you die for a living?" Hawkeye Pierce, M*A*S*H* (Oil riggers, Alaskan Pipeline to name two, but they pay better.)

Only in America do we have a general in charge of the post office and secretary in charge of defense.

Instead of hating people you think are warmongers, hate the appetites and disorders in your own soul which are the causes of war. Thomas Merton

America...just a nation of two million used-car salesmen with all the money we need to buy guns and no qualms about killing anybody else in the world who tries to make us uncomfortable. - Hunter S. Thompson


---
Contact Us | Disclaimer | Privacy Statement
Menstuff® Directory
Menstuff® is a registered trademark of Gordon Clay
©1996-2019, Gordon Clay