Erectile Dysfunction

---
Menstuff® has compiled the following information on Erectile Dysfunction. Related Issues

Drug Restores Normal Orgasm in Men
Erectile Dysfunction and Your Relationship
How Women View ED
Biking and ED
High Blood Pressure: When Is It Erectile Dysfunction?
Sex After a Heart Attack
Happy, Healthy, and Hard
Penis pump mistaken for bomb at TSA airport screening
Bremelanotide
How is ED treated?
Erectile Dysfunction Affects 18 Million U.S. Men
Erectile Dysfunction
How does an erection occur?
What causes ED?
How is ED diagnosed?
How Women View ED
Hope Through Research
Points to Remember
Erectile Trouble May Signal Heart Disease
High Blood Pressure: When Is It Erectile Dysfunction?
Penis pump mistaken for bomb at TSA airport screening
Erectile Dysfunction: Learn More Because It Could Save Your Life
One-Third of Older Men Report Erection Problems
Viagra and Alternatives
Learn About Levitra and Cialis, Newest ED Oral Drugs Approved for US Sales
Prevalence Of Erectile Dysfunction Increases With Age
Bremelanotide
Fact Sheet
Erectile Dysfunction: Learn More Because It Could Save Your Life
One-Third of Older Men Report Erection Problems
Viagra and Alternatives
Learn About Levitra and Cialis, Newest ED Oral Drugs Approved for US Sales
Vacuum devices for erection problems
11 Wackiest Erectile Dysfunction 'Cures' of All Time


Resources: Latest News


Male Enhancement Reviews


Newsbytes
Drug Restores Normal Orgasm in Men

---
Cabergoline treatment improved or fully restored orgasmic function in male anorgasmics.

A condition called Coughlan's syndrome that keeps men from having orgasms improved or resolved completely in almost 70 percent of men treated with the dopamine receptor drug cabergoline, results of a small study showed.

Overall, 50 of 72 men had improvement in orgasms, and 26 of the 50 had return of normal orgasm during treatment with cabergoline.

In an analysis, researcher Tung-Chin Hsieh, MD reported that the length of therapy and the use of testosterone replacement therapy (TRT) along with cabergoline (sold under the brand names Dostinex and Cabaser) made it more likely that men would respond to the treatment.

"Cabergoline is an effective treatment option for male Coughlan's syndrome," said Tung-Chin Hsieh, MD, of Baylor College of Medicine in Houston, reporting at the American Urological Association meeting. "Further studies are needed to better understand the pathophysiology of Coughlan's syndrome and to validate our observations of cabergoline's action in anorgasmic patients."

Coughlan's syndrome usually has a psychological origin but can occur after radical prostatectomy for localized prostate cancer or as a side effect of drug treatment.

The rationale for studying cabergoline in secondary Coughlan's syndrome came from observations of a prolactin surge in some men in the post-ejaculatory phase, leading to reduced erectile and ejaculatory potential. Additionally, increased levels of dopamine have been reported in association with orgasmic response, Hsieh continued.

Cabergoline is used to treat hyperprolactinemia, which is a condition in which certain cells in the pituitary gland produce too much of the hormone prolactin.

Given the background of Coughlan's syndrome and biologic effects of cabergoline, Hsieh and colleagues hypothesized that the drug might improve Coughlan's syndrome by inhibiting production of prolactin.

They retrospectively evaluated medical records of patients treated with cabergoline from 2009 to 2011 at a single clinic that treats men with urological and sexual problems. After excluding men who received cabergoline for conditions unrelated to Coughlan's syndrome, the investigators identified 72 men for the analysis.

All of the men received cabergoline 0.5 mg twice a week.

Response to treatment was determined by the patients' self-reported improvement in orgasmic function or return of normal orgasm. Response was defined as either improvement or restoration of normal orgasmic function.

Results showed that 69 percent of the men had improved orgasmic function, and 52 percent of the men with improved function had return of normal orgasm.

Concurrent testosterone replacement therapy was associated with an increased likelihood of response, but the testosterone formulation (topical versus injectable) did not influence response.

Average age of men in the study was 63, which did not differ between responders and nonresponders.

The findings impressed Hossein Sadeghi-Nejad, MD, who moderated the poster presentation that included Hsieh's study.

"Anyone who is in sexual medicine knows that this group of patients is a very difficult group to manage," said Sadeghi-Nejad, of the University of Medicine and Dentistry of New Jersey in Hackensack. "Really, we have had very little to offer them. I think this is excellent work and, hopefully, an avenue for our patients."

In response to a question, Hsieh said no serious adverse effects occurred in any of the patients. Headache and dizziness are the most commonly reported adverse events in patients treated with cabergoline. The drug has to be used with caution in patients with heart-valve disease, as some evidence of exacerbation with cabergoline has been reported.

"Any patient with valvular disease should be screened with echocardiography before starting treatment with cabergoline," said Hsieh.
Source: www.everydayhealth.com/sexual-health/0524/drug-restores-normal-orgasm-in-men.aspx?xid=aol_eh-sex_6_20120521_&aolcat=HLT&icid=maing-grid10%7Chtmlws-main-bb%7Cdl18%7Csec3_lnk2%26pLid%3D164363


Erectile Dysfunction and Your Relationship

---
Erectile dysfunction may take a toll on your relationship, but you and your partner can work together to address the emotional aspects of impotence. Here's what you should know.

Erectile dysfunction is a common problem that affects millions of American men. In fact, about 5 percent of 40-year-olds and nearly 25 percent of 65-year-olds experience ED on a long-term basis. But these men aren't the only ones affected: Erectile dysfunction impacts their partners, too.

Beyond the damage done to a couples' sex life, ED can be a very difficult topic of conversation, and this lack of communication can trigger emotional issues for both partners. One BBC documentary called The Trouble With Love And Sex, tackled this sensitive issue by using animated characters to represent people coping with relationship issues from ED to infidelity, an approach that encouraged real couples to talk more openly about such sensitive issues.

Even though ED can be embarrassing to talk about, experts say that it's essential for a healthy relationship for couples to address the issue together. And in some cases, speaking with a therapist may be necessary to work past problems and improve a couple's sexual and overall relationship.

The Emotional Impact of Erectile Dysfunction

Men who experience impotence struggle with more than just the physical condition; the psychological and emotional aspects of ED are also distressing. "Coping with ED is hard on most men," says Mark L. Held, PhD, a clinical psychologist in the Denver area. "Most identify themselves with their penis. The effect on their self-esteem can be significant. Their masculinity, their confidence — all are affected by ED."

For their partners, there can be emotional fallout as well. "Women may feel rejection," says Held. "They may ask themselves, 'What am I not doing right?' or 'Why isn't he attracted to me?'"

Impotence can trigger feelings of low self-esteem and depression. These feelings can, in turn, lead to something called anticipatory anxiety, according to Held. "The man may play a spectator role, in which he steps outside of himself to view how he's performing," says Held. "This can interfere with the sexual process, and it can create erectile dysfunction."

Dealing With ED Diagnosis and Treatment

When coping with ED, communication with your partner is key, says Held. In many cases, men don't want to talk about erectile dysfunction when it happens, but not talking about it can negatively impact their sexual relationships. "It's very important for couples to discuss the issue," says Held. Communicating enables both partners to confront their feelings about ED, and work together to solve the problem.

A proactive attitude toward erectile dysfunction is crucial and can make a significant difference in how it's handled. "Almost all men have ED at some point," says Held. "It's how they deal with it that counts."

For couples dealing with ED, Held suggests focusing on the moment and connecting with each other during lovemaking instead of fixating on the penis. "Couples need to take the emphasis off intercourse and concentrate on giving and receiving pleasure. It's also important for a man to realize that he is not his penis. They need to remember that it's almost always a temporary problem, and that there are lots of ways to treat erectile dysfunction.

The Emotional Benefits of Sex Therapy

The perception today is that ED is something that can be treated simply by taking a pill. But working with a licensed therapist who is trained in sex therapy can help couples resolve the underlying emotional and psychological problems that may be causing ED. Relationship counseling can also be beneficial because it helps guide couples as they deal with erectile dysfunction and the complicated issues associated with it.
Source: www.everydayhealth.com/erectile-dysfunction/maintaining-relationships.aspx?xid=aol_eh-sex_32-_20110905&aolcat=AJA&icid=maing-grid10%7Chtmlws-sb-bb%7Cdl6%7Csec3_lnk2%7C94165

Depressed Men With ED at Risk for Heart Problems

---
New research links erectile dysfunction and depression with an increased risk for cardiovascular problems.

Lead researcher Elisa Bandini and her team from the University of Florence interviewed 2,000 men for sexual dysfunction and depressive symptoms.

It's been understood that both ED and depression independently elevate a man's risk for developing heart disease or experiencing a heart attack, but the study, which appears in the Journal of Sexual Medicine, found that depressive symptoms in men with sexual dysfunction made for the presence of especially likely cardiovascular problems.

Researchers noted that depression is common in men with ED, but results showed that taking antidepressants didn't weaken the relationship between depression symptoms, ED and the potential for heart attacks.

"Recognizing depressive symptoms in subjects with erectile dysfunction is mandatory not only for improving their sexual life, but also for preventing cardiovascular diseases," Bandini said in a statement.

Irwin Goldstein, editor-in-chief of the Journal of Sexual Medicine and director of sexual medicine at Alvarado Hospital in San Diego, said the results of this study should impact the way we perceive sexual dysfunction and its causes.

"What is important about this study is the broader concept of the sexual medicine problem no longer being just about a man's performance in the bedroom, but about his psychological mood and his cardiovascular health," he said. "This is a valid reason for a woman to encourage her partner to seek help for his erectile dysfunction."
Source: www.aolhealth.com/2010/07/13/depressed-men-with-ed-at-risk-for-heart-problems/?icid=main|htmlws-main-n|dl3|link6|http%3A%2F%2Fwww.aolhealth.com%2F2010%2F07%2F13%2Fdepressed-men-with-ed-at-risk-for-heart-problems%2F

---
The TV commercials make it all seem so simple: He can't get an erection so he pops a pill. The next thing you know, his partner is cooing about how her guy is back to his old wild and romantic self. What the commercials don't show you: The painful distress a woman can experience when her man suffers with erectile dysfunction (ED).

"Women internalize things -- they tend to blame themselves first, thinking it's because they have done something wrong, or that they are no longer attractive to their partner. In fact, the first thing a woman thinks when a man can't get an erection is that it's her fault, and nothing could be further from the truth," says Andrew McCullough, MD, director of sexual health and male infertility at NYU Medical Center in New York City.

ED, or erectile dysfunction, is medically defined as the inability to achieve or sustain an erection long enough for sexual intercourse. Virtually all men experience some erection failures at certain points in their lives. It can be the result of stress, depression, or sometimes even for no reason at all. For some, the problem becomes chronic. When it does, a diagnosis of ED is made. According to the American Foundation for Urologic Disease, it's a problem that affects about 18 million men in the U.S. alone.

Although many women -- and men as well -- continue to view ED as a sexual issue, in truth, the most common causes are undiagnosed physical conditions such as diabetes, high cholesterol, or even the earliest stages of heart disease. Even more often, it can be the result of certain medications used to treat these conditions, particularly some high blood pressure drugs.

Unfortunately, experts say a lack of education about the causes of ED are frequently behind a woman's self-blame, as well as her increasing anxiety, and sometimes, even feelings of hurt and anger when the problem occurs.

"Most women usually start with a line of questioning that often has some anxiety or hurt to it. She may suspect her partner is having an affair, or that he just doesn't find her desirable anymore, so she begins to hint around at these possibilities," says Sallie Foley, MSW, a professor at the graduate school of social work at the University of Michigan and co-author of Sex Matters For Women.

Often, says Foley, a man suffering with ED will interpret her questions -- and her hurtful attitude -- as an attack on him, so he pulls back.

"She then experiences this pulling back as a confirmation that she has done something wrong, and so she retreats even further," says Foley. As she does, increasing levels of anxiety or depression can set in, along with suspicions about what's going on with him, as well as a continued belief that there is something wrong with her.

The end result: The couple can stop communicating altogether -- not only in the bedroom, but in all aspects of their relationship. And that, say experts, can only make problems worse for both partners.

"The one thing a woman should never do is withdraw because that is a formula for relationship disaster," says McCullough. When one partner pulls away, he says, the other withdraws as well, and "this kind of dance goes on where you stop touching each other, then you stop talking, and before you know it you are not communicating at all."

Women and ED: Striking a Balance
While pulling back may not be helpful, trying harder isn't the answer either. Indeed, while many women jump ship in troubled waters, others take the opposite approach and try to drown their mate in eroticism, believing the problems will disappear if they simply try harder. Not only is this not true, experts say this approach can make things worse.

"If you suddenly start trotting out all your old Victoria's Secret underwear -- or buy some sexy new clothes -- well, that's only going to put more pressure on him, and it's not going to help the ED one bit," says Foley.

Neither, she says, will more arduous attempts at making love. "Stroking him harder isn't going to matter either because you have to remember, this isn't a problem related to being turned on," says Foley. As such, the more and the harder you try, the worse it's going to be for him -- and for you -- when it doesn't happen, says Foley.

McCullough agrees: "You don't want to forget about what's going on, or pretend it doesn't matter, but turning into a nymphomaniac isn't the answer either."

So what should a woman do when her man just can't perform? Experts seem to agree that most important is to remember it's not your problem and you're not the cause.

"Don't feel rejected and don't personalize it. It's not about you," says Foley.

Once you're past that hurdle, experts say do acknowledge the problem exists and open the lines of communication about it.

"The best thing to do is to discuss things outside of the bedroom -- not right after it happens, but days or even weeks later," says sex expert Jennifer Downey, MD, a psychiatrist at New York State Psychiatric Institute and a professor at Columbia University. During this talk, Downey says make certain that your man is aware of the health problems that can be the cause of his ED, and gently suggest he talk to his doctor.

Indeed, Downey believes the more matter of fact a woman can be in approaching this conversation, the more likely she is to get through to her man.

"You have to treat this the way you would any other non-life threatening issues in your relationship, and just calmly discuss it," says Downey.

McCullough adds, "If you put it in the context of a physical problem and not a sexual one, most men will be less likely to 'shut down' or shut you out." While some men would rather go the treatment route alone, others might welcome the support of their partner, so be certain to make the offer to go with him, and then let your man decide.

Also important, say experts, is to use this discussion to let him know that you have enjoyed the physical part of your relationship together, and that you miss it -- and that together you can work to find a solution.

"This is the time to treat your man as your best friend -- to be warm, to be friendly, to grab his hand, to give him hugs and kisses, to let him know that you care about him, that he is desirable, that physical closeness is important," says Foley.

ED: Make It a Time for Sexual Experimentation

Depending on the cause of a man's ED, treatment can be quick, like Viagra, or take longer, like getting high blood pressure under control. It may even take a while to convince him to see a doctor at all.

The one thing you don't want to do in the meantime is tell him that his impotence doesn't matter.

"It matters to him, and saying that you don't care also sends a message that you don't miss the sexual, intimate contact with him -- and that can push a man even further away," says McCullough.

What you want to do instead, say experts, is use this opportunity to experiment sexually with each other and work on ways to remain intimate, even when an erection is not possible.

"There are lots of different ways to be sexual, and if one way becomes difficult or even impossible, you have to explore, together, the things you can do with each other that are sexually exciting," says Downey.

And if, like many women, you are used to your partner being the sexual initiator, this, say experts, may be the time for a little role-reversal.

"It's perfectly OK for a woman to say, 'Until we can find an answer to our problem, I want us to stay in touch physically and intimately,' and then seek his suggestions for how to do that," says Foley.

The key, she says, is in the intentionality. "You have to go into it with the attitude of 'playing,' not fixing your sex life. It's all in the intentionality," Foley tells WebMD.

If, in fact, your man retreats even further, then he may be experiencing depression -- another possible cause for his ED. If this is the case, experts say don't let it throw you.

"If a man says 'no' to you with a lot of irritability, I still wouldn't take it personally or feel rejected, because it's very likely he's suffering some depression -- and again, it's not you," says Foley.

The bottom line: Whatever it takes, experts say don't shut down the line of emotional communication, even if you have to put your physical relationship on hold. And most importantly, listen to your heart.

"If a woman can just manage to not feel personally wounded by ED, if she can get in touch with her kindness, and her intuitive, nurturing side and follow those instincts, she'll very likely know all the right things to do and say to keep that vital communication going and keep the intimacy alive," says Foley.
Sources: Andrew McCullough, MD, director of sexual health and male infertility, NYU Medical Center; associate professor, NYU School of Medicine, New York. Sallie Foley, MSW, professor, Graduate School of Social Work, University of Michigan; co-author, Sex Matters For Women. Jennifer Downey, MD, clinical professor of psychiatry, Columbia University; psychiatrist and psychoanalyst, New York State Psychiatric Institute, New York. American Foundation for Urologic Disease Sexual Function Advisory Council publication on ED, 2004. Source: www.webmd.com/solutions/hbp-and-sex

---
Fear keeps some people away from sex after a heart attack, but erectile dysfunction, depression, medications, and other health issues may also be factors.

People who have lived through heart attacks often wonder if they'll be able to have sex again. Some deal with erectile dysfunction or depression — both manageable with the help of your partner and your doctor. Others are fearful of sex itself. Mid-romp heart attacks depicted by Hollywood in television and film may add to the fear.

Although people who have already had heart attacks are right to be cautious about hopping back in the sack, the vast majority of heart attack patients can and should have sex again. Physically, they can.

But the fear is for the most part unwarranted, according to research. Less than 1 percent of acute heart attacks happen during sex, according to according to a statement from the American Heart Association (AHA) released in January 2012.

Heart Health: Surviving a Heart Attack
"Much as most of us think we are Olympians in bed, the reality is that the true expenditure of calories and increase in cardiac output is modest if you have sex with your same partner," says cardiologist Dan Fintel, MD, a professor of medicine in the division of cardiology at the Northwestern University Feinberg School of Medicine in Chicago. In terms of exertion, he compares having sex with your usual partner to walking up a flight of stairs."
Stick With Your Current Sex Partner
However, warns Dr. Fintel, just because you have a new lease on life doesn't mean you should take this opportunity to seduce a new partner. "Different partners cause a whole new set of emotional energies and stresses. The same partner is generally a safe and less stressful event."
In all likelihood, you will be able to have sex within a week of your heart attack, bearing in mind these considerations:
If you're one of the fewer than 20 percent of patients who had a massive myocardial infarction (MI), you will have to wait on your cardiologist's okay.

If you've had an angiogram (a catheter passed through your arteries starting in your groin region to look at the inside of your arteries) you must avoid putting a lot of pressure on that spot on the groin, primarily to avoid bleeding.
Emotional Issues Around Sex After a Heart Attack
What stops most couples from having sex after a heart attack is worry — and, says Fintel, it is often the partner of the heart attack patient who worries the most. Your partner may be worrying about stimulating you so much that you have another heart attack or may be feeling guilty about somehow contributing to your first attack. Education is the solution.
"The physician should squarely confront these issues prior to discharge from the hospital and discuss the safety of resuming sexual relations," says Fintel. "Sex is an important part of well-being."
If your doctor didn't talk about it with you, feel free to bring your partner to a follow-up visit for a conversation about sex.
The strong link between heart disease and depression is another concern. Depression can make it hard to experience desire and could contribute to erectile dysfunction in men. Treating depression may help you feel comfortable having sex again.
How Medications Affect Sex After a Heart Attack
"A number of medicines we use in cardiology may affect sexual function in men and women," says Fintel. The results may be reduced desire or sexual responsiveness in women and erectile dysfunction, or impotence, in men.
Here's what you can do:
Take a lower dose. With your doctor's help, you may be able to take less of the medication and still protect your heart without affecting your sexual performance.Take medication for impotence. Erectile dysfunction drugs (known as PDE-5 inhibitors) can be taken along with heart attack treatments — unless you're taking nitrates. Make sure you ask your doctor before taking medications for impotence. Another important point is that many of the steps you'll take to prevent another heart attack can also enhance your sexual performance. This is because the same health conditions that increase your risk of heart attack, such as atherosclerosis, also increase the risk you'll have erectile dysfunction and other problems enjoying sex. Treating heart disease risk factors with medication or lifestyle changes like exercise also will be good for your sex life.
"Being physically fit enhances sexual performance due to the fact that you have greater endurance," says Fintel. So instead of wondering whether the steps you are taking to fight heart disease will actually ward off another heart attack, look at the bright side — you're basically in training for a better sex life.
Source: www.everydayhealth.com/heart-health/sex-after-heart-attack.aspx?xid=aol_eh-cardio_3_20120521_&aolcat=ESR&icid=maing-grid10%7Chtmlws-main-bb%7Cdl24%7Csec1_lnk3%26pLid%3D164426

---
What are the truths (and misconceptions) about how bicycling is linked to erectile dysfunction? Is there medical consensus, or are we still wondering about the connection? Get the latest from this WebMD feature.


High Blood Pressure: When Is It Erectile Dysfunction?

---
If you have high blood pressure, you may experience erectile dysfunction (ED).

For a healthy young man, erectile dysfunction is typically not a problem. As you age, however, you may notice some changes. Maybe it takes more coaxing to get erect than it used to. Sometimes it may take more direct stimulation of the penis, whereas merely a daydream or the suggestion of sex was once enough. Or perhaps your erection isn't quite as firm as it once was, but it's still good enough. These are normal changes.

So, when is it erectile dysfunction and when should you seek help? Let's consider a few scenarios:

1. You come home one evening after a long and stressful day at work. Your partner wants to have sex. You think you'd like to also, but you have a problem getting an erection. The next time you try, everything is fine.

In this case, your problem probably doesn't need medical treatment, as long as it happens rarely. If it starts to happen more often, you may want to talk to your doctor about it.

2. Sometimes when you try to have sex, you get only partially erect. Your erection isn't rigid enough to enter your partner.

In the most severe cases of erectile dysfunction, a man isn't able to get even slightly erect. But there are degrees of this condition. Even mild erectile dysfunction is worth discussing with your doctor.

3. You can get a good erection during foreplay, but after you start to have intercourse you lose it.

This can be very frustrating for you and your partner. Even though you are able to get an erection, if it doesn't last long enough to complete sexual intercourse you may have erectile dysfuncton.

An estimated 80% of erectile dysfunction is due to physical causes. High blood pressure is often the cause.

The other 20% is psychological. For a long time, doctors thought that erectile dysfunction was mostly in one's head. Now they know that is not true. Still, the mind plays a big role in getting an erection. Maybe you're losing your erection due to anxiety or other issues between you and your partner. Your doctor can help you determine the cause.

4. Your doctor prescribes a new medication, and you notice that it's now more difficult to get an erection than it was before you started taking it.

Side effects of drugs cause up to 25% of erectile dysfunction cases. Blood pressure medicines are lifesavers, but erection problems are sometimes a side effect. Other medications that can cause erectile dysfunction include:
Antidepressants
Antipsychotic drugs
Sedatives
Seizure medication
Talk to your doctor about switching to a different drug that's less likely to cause problems. Also ask about treatment options specifically for erectile dysfunction.
5. You typically have several alcoholic drinks every night. It's difficult for you to get an erection when you've been drinking.
Drinking too much alcohol can lead to erectile dysfunction. While a glass of wine may help you and your partner get in the mood, heavy drinking can really hamper your sexual performance.
Alcohol depresses the nervous system, which may cause erection problems if you've had too much to drink. If it only happens when you drink and the effect is temporary, you should limit your drinking and avoid treating the problem with erectile dysfunction medication.
Keep in mind that alcohol also has long-term toxic effects on the nerves that can cause erectile dysfunction, even at times when you're not drinking.
Sources: Brunilda Nazario, American Urological Association, "AUA Guideline on the Management of Erectile Dysfunction: Diagnosis and Treatment Recommendations," 2005. Barksdale, J. Pharmacotherapy, May 1999; vol 19: pp 573-581. Cappelleri, J. International Journal of Impotence Research, July 2005; vol 17: pp 307-319. The Mayo Clinic, "Erectile Dysfunction." Miller, T. American Family Physician, January 2000; vol 61: pp 95-104, 109-10. National Kidney and Urologic Diseases Information Clearinghouse (NKUDIC), National Institutes of Health (NIH), "Erectile Dysfunction." www.webmd.com/content/Article/116/112097.htm?z=1817_112124_2603_in_02

---
Experts explain the connection between a man's overall health and his sexual health.

As the saying goes, the best measure of a man's character is the company he keeps. But what about his health? According to Steven Lamm, MD, the best measure of that is his erect penis.

"There's an incredibly important link between a man's health and sexual performance," Lamm, an assistant professor of medicine at New York University, tells WebMD.

Lamm's recent book, The Hardness Factor, is a flashing neon sign pointing to that link.

It is well known that heart disease, as well as diabetes, depression, obesity, substance abuse, and many other health problems can quash erections. Getting an erection isn't crude mechanics, like inflating a balloon. It's a complex process in which blood vessels, muscles, hormones, the nervous system, and the psyche all work together. If one part isn't working well, it affects the whole apparatus.

This isn't another book touting Viagra, like Lamm's The Virility Solution, published in 1998, the same year Viagra hit the market. Lamm says The Hardness Factor is not for men who are already dealing with erectile dysfunction (ED). His aim is to convince young, healthy men to take better care of themselves by speaking to their penises.

"If you want a 28-year-old man to stop smoking, let him read the book," Lamm says.

Heart Health and Sexual Health

Others in the field of sexual medicine agree that erectile function can be closely related to overall health, especially heart health.

"When men who are otherwise healthy ask what they can do to prevent ED, certainly the very things we recommend for cardiovascular fitness are exactly the same things they should be doing," Drogo Montague, MD, a urologist at the Cleveland Clinic, tells WebMD.

To get erect, the penis must become engorged with blood. Atherosclerosis, a condition in which fatty deposits build up inside arteries, may restrict blood flow to the penis and cause erection difficulties. Diets high in fat and cholesterol, high blood pressure, obesity, diabetes, and smoking are the main causes of atherosclerosis.

"It's very appealing to say that if you don't have those unhealthy factors in your lifestyle, then you're less likely to develop erectile dysfunction," says Ira Sharlip, MD, a urologist at the University of California, San Francisco.

"There are pretty strong suggestions that those things are true," he tells WebMD.

One persuasive piece of evidence appeared in the April 2004 issue of the Journal of the American College of Cardiology. Between 1972 and 1974, researchers in California surveyed 1,810 men about their risks for heart disease. In 1998, researchers contacted 844 of them who were still alive and asked them about their erectile function. The men who had risk factors for heart disease in the '70s were much more likely to have ED 25 years later.

If men with heart disease are more likely to develop ED, it stands to reason that having ED could be a warning sign for heart disease, too.

The Erectile Continuum

ED becomes more common as men age, but aging itself is not the cause. "We never expect a healthy man to develop ED as a result of aging alone," Montague says.

A very healthy octogenarian can have erections. But Montague says even in the fittest men, some changes occur with age. An erection is still possible, but it may take some coaxing.

"As men get older they require direct genital stimulation from their partner or from themselves. A young man can just daydream and get an erection," he says. "Those changes by themselves, though, don't prevent performance."

By definition, having ED means a man cannot get an erection hard enough for penetration or one that lasts long enough for him to reach orgasm. But in Lamm's opinion, there are shades of gray between normal sexual performance and dysfunction.

"You don't go from being 'normal' to having ED. What you end up having is a transition," he says.

Usually doctors assess erectile function by the International Index of Erectile Function, a set of five questions such as, "How do you rate your confidence that you could get and keep an erection?" A patient's answers are scored, and that score determines whether or not he has ED.

Lamm says he thinks a better way to measure erectile function is with a new tool called a rigidometer. A man presses the head of his erect penis against a sensor attached to the digital device, which measures the precise hardness of his penis in grams of pressure. According to the manufacturer, 400 grams is limp; 400-500 is "borderline," and 500-1,000 is sufficient for sexual activity. A number over 1,000 is considered optimum.

Living a Hard Life

Lamm thinks men want harder erections, even if they don't have ED. The rigidometer can show a patient objectively how hard his penis is -- hard enough for penetration, maybe, but not as hard as it could be. The number might be an incentive for him to improve his overall health in order to make his penis harder.

Having a very hard erection, Lamm says, can enhance a man's sexual pleasure, or at least boost his self-esteem. Many men are definitely interested in their penis size, and a more fully engorged erection is the only thing shy of surgery that can actually make it bigger.

Sharlip's experience, however, leads him to doubt that degrees of hardness beyond hard enough matter to most men. "I don't think it's important at all," he says. "As long as it's hard enough to get it in ... I don't hear patients complaining about rigidity."

The Hardness Factor details a wellness program that Lamm says will show positive results on a rigidometer in six weeks. It involves exercise, eating healthy meals, sleeping well, and taking vitamins and supplements. The book describes the cases of some patients of Lamm's New York City practice who followed the six-week program and had good results.

But Lamm stresses that his program is only intended to kick-start a lifelong commitment to healthy living.

"Don't rely on the restoration of your penis' health with drugs such as Viagra, Levitra, Cialis," he says. "Do whatever you can to preserve and enhance its function."
Source: men.webmd.com/guide/happy-healthy-hard?ecd=wnl_erd_051907

Penis pump mistaken for bomb at TSA airport screening
---

Mardin Azad Amin found himself in a tight squeeze last week when security at O'Hare Airport discovered a suspicious-looking object in his luggage. So Amin, 29, handled the delicate situation this way: He told security the object was a bomb, Cook County prosecutors said. The security guard then asked Amin to repeat what he'd said to a supervisor. This time, Amin was chuckling as he spoke, prosecutors said. In fact, Amin was trying to disguise the fact that the black object -- resembling a grenade -- was a component for a penis pump. ...
Reader comment: Pedro Pinheiro (Peter Pinetree) in Portugal says,
I don't know the origin of the gentleman in question, but in some languages (such as in Portuguese, my first language), the word for "bomb" and "pump" is the same, thus perhaps the reason for the story.
Source: www.boingboing.net/2006/08/23/penis_pump_mistaken_.html

Important: The information and images contained within this site are of a sexually explicit nature. If you are under the age of 18, or if it's illegal to view sexually explicit material in your area, please LEAVE this website. Click Here To Leave Now.

Erectile Dysfunction Affects 18 Million U.S. Men

---
More than 18 million men in the United States are affected by erectile dysfunction, a new study finds.

The problem is particularly acute among men with cardiovascular disease, diabetes, and those who get little exercise, researchers at the Johns Hopkins Bloomberg School of Public Health report.

"The association of erectile dysfunction with diabetes and other cardiovascular risk factors can serve as a powerful motivator for men in whom diet and lifestyle changes are really indicated," said study author Elizabeth Selvin, a postdoctoral fellow at Johns Hopkins.

"If you control your diabetes, and treat existing risk factors and do things to prevent diabetes and control your blood pressure and cholesterol levels, not only will you reduce your risk of cardiovascular disease and diabetes, but you will also improve your sexual function," she said.

The findings are published in the Feb. 1 issue of the American Journal of Medicine.

In the study, Selvin's team collected data on more than 2,100 men who participated in the National Health and Nutrition Examination Survey. Men who said they were "sometimes able" or "never able" to achieve and keep an erection were classified as having erectile dysfunction, while men who said they were "always or almost always able" or "usually able" were not.

"There is a high prevalence of erectile dysfunction among men with cardiovascular risk factors and men with diabetes," Selvin said. "Screening for erectile dysfunction among men with hypertension and diabetes may be important," she added.

The researchers found that the overall prevalence of erectile dysfunction among U.S. men was 18.4 percent. Age was a strong risk factor -- men 70 and older accounted for 70 percent of those with erectile dysfunction. In contrast, just 5 percent of men with erectile problems were between the ages of 20 and 40.

Erectile dysfunction was especially linked to diabetes. "It's important for physicians to know that more than 50 percent of their male diabetic patients are affected by erectile dysfunction," Selvin said.

In addition, almost 90 percent of men with erectile dysfunction had at least one risk factor for heart disease, including diabetes, high blood pressure, high cholesterol or smoking.

"Moreover, men who are physically inactive and had high rates of sedentary behavior, such as watching three or more hours of TV per day, were much more likely to have erectile dysfunction compared with men who were physically active," Selvin said, so, "increasing exercise may be an effective non-pharmacologic treatment."

One expert agreed that erectile dysfunction is a widespread problem.

"This study reiterates what we know, that erectile dysfunction is highly prevalent in the Unites States," said Dr. Hossein Sadeghi-Nejad, director of the Center for Male Reproductive Medicine at Hackensack University Medical Center and an associate professor of urology at UMD New Jersey Medical School.

Sadeghi-Nejad believes that doctors should screen men for erectile dysfunction. "It's an important quality-of-life issue, and the factors that help prevent cardiovascular disease and diabetes may help decrease erectile dysfunction," he added.

By changing lifestyle and treating underlying heart disease and diabetes, you can decrease the chances of developing erectile dysfunction, Sadeghi-Nejad said. "Erectile dysfunction is not a mandatory side effect of aging," he said. "Don't think of it as a normal process of aging."
Source: www.nlm.nih.gov/medlineplus/news/fullstory_44724.html

---
Erectile dysfunction, sometimes called "impotence," is the repeated inability to get or keep an erection firm enough for sexual intercourse. The word "impotence" may also be used to describe other problems that interfere with sexual intercourse and reproduction, such as lack of sexual desire and problems with ejaculation or orgasm. Using the term erectile dysfunction makes it clear that those other problems are not involved.

Erectile dysfunction, or ED, can be a total inability to achieve erection, an inconsistent ability to do so, or a tendency to sustain only brief erections. These variations make defining ED and estimating its incidence difficult. Estimates range from 15 million to 30 million, depending on the definition used. According to the National Ambulatory Medical Care Survey (NAMCS), for every 1,000 men in the United States, 7.7 physician office visits were made for ED in 1985. By 1999, that rate had nearly tripled to 22.3. The increase happened gradually, presumably as treatments such as vacuum devices and injectable drugs became more widely available and discussing erectile function became accepted. Perhaps the most publicized advance was the introduction of the oral drug sildenafil citrate (Viagra) in March 1998. NAMCS data on new drugs show an estimated 2.6 million mentions of Viagra at physician office visits in 1999, and one-third of those mentions occurred during visits for a diagnosis other than ED.

In older men, ED usually has a physical cause, such as disease, injury, or side effects of drugs. Any disorder that causes injury to the nerves or impairs blood flow in the penis has the potential to cause ED. Incidence increases with age: About 5 percent of 40-year-old men and between 15 and 25 percent of 65-year-old men experience ED. But it is not an inevitable part of aging.

ED is treatable at any age, and awareness of this fact has been growing. More men have been seeking help and returning to normal sexual activity because of improved, successful treatments for ED. Urologists, who specialize in problems of the urinary tract, have traditionally treated ED; however, urologists accounted for only 25 percent of Viagra mentions in 1999.

The penis contains two chambers called the corpora cavernosa, which run the length of the organ (see figure 1). A spongy tissue fills the chambers. The corpora cavernosa are surrounded by a membrane, called the tunica albuginea. The spongy tissue contains smooth muscles, fibrous tissues, spaces, veins, and arteries. The urethra, which is the channel for urine and ejaculate, runs along the underside of the corpora cavernosa.

Erection begins with sensory or mental stimulation, or both. Impulses from the brain and local nerves cause the muscles of the corpora cavernosa to relax, allowing blood to flow in and fill the spaces. The blood creates pressure in the corpora cavernosa, making the penis expand. The tunica albuginea helps trap the blood in the corpora cavernosa, thereby sustaining erection. When muscles in the penis contract to stop the inflow of blood and open outflow channels, erection is reversed.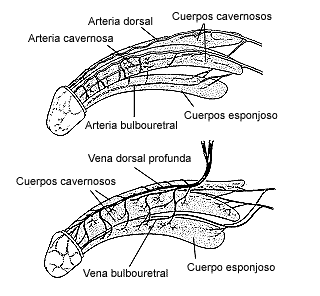 Figure 1. Arteries (top) and veins (bottom) penetrate the long, filled cavities running the length of the penis--the corpora cavernosa and the corpous sponglosum. Erection occurs when relaxed muscles allow the corpora cavernosa to fill with excess blood fed by the arteries, while drainage of blood through the veins is blocked.
Since an erection requires a precise sequence of events, ED can occur when any of the events is disrupted. The sequence includes nerve impulses in the brain, spinal column, and area around the penis, and response in muscles, fibrous tissues, veins, and arteries in and near the corpora cavernosa.
Damage to nerves, arteries, smooth muscles, and fibrous tissues, often as a result of disease, is the most common cause of ED. Diseases--such as diabetes, kidney disease, chronic alcoholism, multiple sclerosis, atherosclerosis, vascular disease, and neurologic disease--account for about 70 percent of ED cases. Between 35 and 50 percent of men with diabetes experience ED.
Also, surgery (especially radical prostate surgery for cancer) can injure nerves and arteries near the penis, causing ED. Injury to the penis, spinal cord, prostate, bladder, and pelvis can lead to ED by harming nerves, smooth muscles, arteries, and fibrous tissues of the corpora cavernosa.
In addition, many common medicines--blood pressure drugs, antihistamines, antidepressants, tranquilizers, appetite suppressants, and cimetidine (an ulcer drug)--can produce ED as a side effect.
Experts believe that psychological factors such as stress, anxiety, guilt, depression, low self-esteem, and fear of sexual failure cause 10 to 20 percent of ED cases. Men with a physical cause for ED frequently experience the same sort of psychological reactions (stress, anxiety, guilt, depression).
Other possible causes are smoking, which affects blood flow in veins and arteries, and hormonal abnormalities, such as not enough testosterone.
Patient History Medical and sexual histories help define the degree and nature of ED. A medical history can disclose diseases that lead to ED, while a simple recounting of sexual activity might distinguish between problems with sexual desire, erection, ejaculation, or orgasm.
Using certain prescription or illegal drugs can suggest a chemical cause, since drug effects account for 25 percent of ED cases. Cutting back on or substituting certain medications can often alleviate the problem.
Physical Examination A physical examination can give clues to systemic problems. For example, if the penis is not sensitive to touching, a problem in the nervous system may be the cause. Abnormal secondary sex characteristics, such as hair pattern, can point to hormonal problems, which would mean that the endocrine system is involved. The examiner might discover a circulatory problem by observing decreased pulses in the wrist or ankles. And unusual characteristics of the penis itself could suggest the source of the problem--for example, a penis that bends or curves when erect could be the result of Peyronie's disease.
Laboratory Tests Several laboratory tests can help diagnose ED. Tests for systemic diseases include blood counts, urinalysis, lipid profile, and measurements of creatinine and liver enzymes. Measuring the amount of testosterone in the blood can yield information about problems with the endocrine system and is indicated especially in patients with decreased sexual desire.
Other Tests Monitoring erections that occur during sleep (nocturnal penile tumescence) can help rule out certain psychological causes of ED. Healthy men have involuntary erections during sleep. If nocturnal erections do not occur, then ED is likely to have a physical rather than psychological cause. Tests of nocturnal erections are not completely reliable, however. Scientists have not standardized such tests and have not determined when they should be applied for best results.
Psychosocial Examination A psychosocial examination, using an interview and a questionnaire, reveals psychological factors. A man's sexual partner may also be interviewed to determine expectations and perceptions during sexual intercourse.
Most physicians suggest that treatments proceed from least to most invasive. Cutting back on any drugs with harmful side effects is considered first. For example, drugs for high blood pressure work in different ways. If you think a particular drug is causing problems with erection, tell your doctor and ask whether you can try a different class of blood pressure medicine.
Psychotherapy and behavior modifications in selected patients are considered next if indicated, followed by oral or locally injected drugs, vacuum devices, and surgically implanted devices. In rare cases, surgery involving veins or arteries may be considered.
Psychotherapy Experts often treat psychologically based ED using techniques that decrease the anxiety associated with intercourse. The patient's partner can help with the techniques, which include gradual development of intimacy and stimulation. Such techniques also can help relieve anxiety when ED from physical causes is being treated.
Drug Therapy Drugs for treating ED can be taken orally, injected directly into the penis, or inserted into the urethra at the tip of the penis. In March 1998, the Food and Drug Administration approved Viagra, the first pill to treat ED. Taken an hour before sexual activity, Viagra works by enhancing the effects of nitric oxide, a chemical that relaxes smooth muscles in the penis during sexual stimulation and allows increased blood flow.
While Viagra improves the response to sexual stimulation, it does not trigger an automatic erection as injections do. The recommended dose is 50 mg, and the physician may adjust this dose to 100 mg or 25 mg, depending on the patient. The drug should not be used more than once a day. Men who take nitrate-based drugs such as nitroglycerin for heart problems should not use Viagra because the combination can cause a sudden drop in blood pressure.
Additional oral medicines may soon be available to treat ED. Vardenafil and Cialis are being tested for safety and effectiveness. Both of these drugs work like Viagra by increasing blood flow to the penis. A third drug being tested, Uprima, works on the brain and nervous system to trigger an erection.
Oral testosterone can reduce ED in some men with low levels of natural testosterone, but it is often ineffective and may cause liver damage. Patients also have claimed that other oral drugs--including yohimbine hydrochloride, dopamine and serotonin agonists, and trazodone--are effective, but the results of scientific studies to substantiate these claims have been inconsistent. Improvements observed following use of these drugs may be examples of the placebo effect, that is, a change that results simply from the patient's believing that an improvement will occur.
Many men achieve stronger erections by injecting drugs into the penis, causing it to become engorged with blood. Drugs such as papaverine hydrochloride, phentolamine, and alprostadil (marketed as Caverject) widen blood vessels. These drugs may create unwanted side effects, however, including persistent erection (known as priapism) and scarring. Nitroglycerin, a muscle relaxant, can sometimes enhance erection when rubbed on the penis.
A system for inserting a pellet of alprostadil into the urethra is marketed as Muse. The system uses a prefilled applicator to deliver the pellet about an inch deep into the urethra. An erection will begin within 8 to 10 minutes and may last 30 to 60 minutes. The most common side effects are aching in the penis, testicles, and area between the penis and rectum; warmth or burning sensation in the urethra; redness from increased blood flow to the penis; and minor urethral bleeding or spotting.
Research on drugs for treating ED is expanding rapidly. Patients should ask their doctor about the latest advances.
Vacuum Devices
Mechanical vacuum devices cause erection by creating a partial vacuum, which draws blood into the penis, engorging and expanding it. The devices have three components: a plastic cylinder, into which the penis is placed; a pump, which draws air out of the cylinder; and an elastic band, which is placed around the base of the penis to maintain the erection after the cylinder is removed and during intercourse by preventing blood from flowing back into the body (see figure 2).
One variation of the vacuum device involves a semirigid rubber sheath that is placed on the penis and remains there after erection is attained and during intercourse.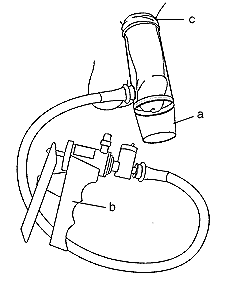 Figure 2. A vacuum-constrictor device causes an erection by creating a partial vacuum around the penis, which draws blood into the corpora cavernosa. Pictured here are the necessary components: (a) a plastic cylinder, which covers the penis; (b) a pump, which draws air out of the cylinder; and (c) an elastic ring, which, when fitted over the base of the penis, traps the blood and sustains the erection after the cylinder is removed.
Surgery Surgery usually has one of three goals: to implant a device that can cause the penis to become erect to reconstruct arteries to increase flow of blood to the penis to block off veins that allow blood to leak from the penile tissues
Implanted devices, known as prostheses, can restore erection in many men with ED. Possible problems with implants include mechanical breakdown and infection, although mechanical problems have diminished in recent years because of technological advances.
Malleable implants usually consist of paired rods, which are inserted surgically into the corpora cavernosa. The user manually adjusts the position of the penis and, therefore, the rods. Adjustment does not affect the width or length of the penis.
Inflatable implants consist of paired cylinders, which are surgically inserted inside the penis and can be expanded using pressurized fluid (see figure 3). Tubes connect the cylinders to a fluid reservoir and a pump, which are also surgically implanted. The patient inflates the cylinders by pressing on the small pump, located under the skin in the scrotum. Inflatable implants can expand the length and width of the penis somewhat. They also leave the penis in a more natural state when not inflated.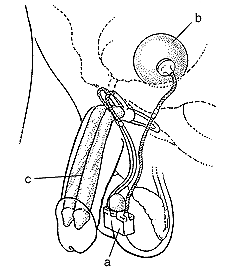 Figure 3. With an inflatable implant, erection is produced by squeezing a small pump (a) implanted in a scrotum. The pump causes fluid to flow from a reservoir (b) residing in the lower pelvis to two cylinders (c) residing in the penis. The cylinders expand to create the erection.
Surgery to repair arteries can reduce ED caused by obstructions that block the flow of blood. The best candidates for such surgery are young men with discrete blockage of an artery because of an injury to the crotch or fracture of the pelvis. The procedure is less successful in older men with widespread blockage.
Surgery to veins that allow blood to leave the penis usually involves an opposite procedure--intentional blockage. Blocking off veins (ligation) can reduce the leakage of blood that diminishes the rigidity of the penis during erection. However, experts have raised questions about the long-term effectiveness of this procedure, and it is rarely done.
Advances in suppositories, injectable medications, implants, and vacuum devices have expanded the options for men seeking treatment for ED. These advances have also helped increase the number of men seeking treatment. Gene therapy for ED is now being tested in several centers and may offer a long-lasting therapeutic approach for ED.
The National Institute of Diabetes and Digestive and Kidney Diseases (NIDDK) sponsors programs aimed at understanding the causes of erectile dysfunction and finding treatments to reverse its effects. NIDDK's Division of Kidney, Urologic, and Hematologic Diseases supported the researchers who developed Viagra and continue to support basic research into the mechanisms of erection and the diseases that impair normal function at the cellular and molecular levels, including diabetes and high blood pressure.
Erectile dysfunction (ED) is the repeated inability to get or keep an erection firm enough for sexual intercourse.
ED affects 15 to 30 million American men.
ED usually has a physical cause.
ED is treatable at all ages.
Treatments include psychotherapy, drug therapy, vacuum devices, and surgery.
Source: www.whatiserectiledysfunction.com/

One-Third of Older Men Report Erection Problems

---
A third of older men have difficulty achieving an erection and the problem only gets more common with age, new research indicates. The good news is that there are many things men can do to reduce their risk of erection problems.

The figures come from a survey of nearly 32,000 men, 53 to 90 years of age, who participated in the Health Professionals Follow-up Study. The results are reported in the Annals of Internal Medicine.

After excluding men with prostate cancer, Dr. Constance G. Bacon, from Harvard School of Public Health, and associates found that 33 percent of the men reported erection problems in the previous 3 months. Moreover, for each decade beyond 50 years of age, overall sexual function, desire, and orgasm frequency decreased sharply.

Physical inactivity and obesity had a lot to do with erection problems. Men who ran for at least 3 hours per week or engaged in a similar amount of exercise were 30 percent less likely to have erection difficulties than men who barely exercised at all.

Similarly, non-obese men were 30 percent less likely to develop these problems than obese men, the researchers note.

Other "risk factors" for erection difficulties included smoking, drinking alcohol, and watching television.
Source: asia.reuters.com/newsArticle.jhtml?type=healthNews&storyID=3217926

Erectile Dysfunction: Learn More Because It Could Save Your Life

---
While there are new treatments, it's often a sign of other health problems.

You never thought it would happen to you -- or at least until you were a lot older.

But here you are, just hitting your midlife stride and suddenly, what was once an occasional problem brought on by overwork or too much wine is now occurring a lot more frequently -- and for what seems like no reason at all.

Erectile dysfunction or ED -- the inability to have an erection or sustain one long enough for intimate relations -- is a condition that regularly affects some 30 million American men.

That's a message worth sharing during National Men's Health Week in June.

While once believed to be a largely unavoidable rite of passage into the senior years, chronic erectile dysfunction is now showing up in much younger men, often beginning as early as 40 years old, experts say.

"It's an important barometer of a man's overall health -- particularly the health of the blood vessels. So if a man is at risk for any type of vascular disease, he is also at risk for ED, regardless of his age," says Dr. Andrew McCollough, director of Sexual Health, Fertility and Microsurgery at New York University Medical Center.

One reason: erections are closely tied to vascular health.

For an erection to occur, a man must experience a series of brain signals that combine with local nerve stimulation to relax a pair of smooth muscles that run the length of the inside of the penis. This, in turn, lets blood flow from nearby vessels, into two tissue-filled chambers, also located inside the organ.

The force of the blood creates a pressure that lets the penis expand, creating an erection. A thin membrane helps trap the blood and keep it in the penile chambers, long enough to sustain the erection.

The entire process reverses when the muscles in the penis contract, usually following orgasm. This halts the flow of any more blood into the chambers, while simultaneously opening several vascular ports that let the blood that caused the erection drain back into the nearby vessels, McCollough explains.

"Obviously, anything that impedes that entire process -- particularly anything which affects the ability of blood to flow freely into the penis -- has the potential to cause ED," he says.

While it was once believed that erectile dysfunction was largely the result of psychological problems, this is frequently not the case, particularly in men over 40.

Not only is the problem almost always the result of a physical condition, most men are surprised to learn that some very common conditions, including high blood pressure, high cholesterol, obesity and diabetes, are often a major cause, experts say.

"Frequently, erectile dysfunction is the first sign of these problems, and it can show up long before any typical symptoms develop," says Dr. Natan Bar-Chama, director of male reproductive medicine and surgery at Mount Sinai Medical Center in New York City.

What's more, he says, diagnosing and treating these common health problems, particularly in their early stages, can not only protect a man's overall health, it can often have a remarkable effect on erectile dysfunction.

Experts say most men are very surprised to discover that by simply lowering their cholesterol or their blood pressure -- often through simple measures such as diet and exercise -- they can also boost their virility, says Bar-Chama. The same is true, he says, of men who lose weight and cut back on cigarettes and alcohol.

"This is particularly true at the start of these conditions, before any real damage is done to the blood vessels," McCollough adds.

Still, experts say most men are resistant about seeing a doctor for erectile dysfunction, or even their general health. And doctors don't always make it easy for men to come forward with their problems.

"There is still a tremendous resistance to seeking treatment -- men have a problem asking physicians about ED. And doctors don't ask their patients if ED is a problem often enough," Bar-Chama says.

This, he says, not only means that erectile dysfunction goes untreated, but that sometimes, other health problems are also overlooked at their earliest, most easily treated stages.

Studies show that only between 10 percent and 15 percent of men with erectile dysfunction ever seek medical treatment -- or even mention the problem to their doctor.

Experts say they now have a virtual war chest of treatment options aimed specifically at erectile dysfunction, including mechanical devices that help bring blood into the penis and keep it there long enough to have an erection.

And, there are drugs designed to work on various aspects of penile physiology involved in the erection process.

While that "little blue pill" known as Viagra remains the breakthrough treatment, later this year two other similar medications -- Cialis and Levitra -- are likely to receive U.S. Food and Drug Administration approval, giving men even more options.

However, both Bar-Chama and McCollough warn men against obtaining drugs for treatment of erectile dysfunction without first receiving a physical examination, including important blood tests.

"You should never attempt to treat chronic ED on your own," McCollough says.

In addition, doctors also warn that just because your penis is working fine, it's not a reason to assume your overall health is also fine.

"While ED is often the first and earliest sign of other health problems, it can also be the last and final sign. So don't skip that annual physical and always make a point of discussing your sexual health with your doctor," Bar-Chama says.

More information

To learn more about erectile dysfunction, visit The American Foundation for Urologic Disease or The National Library of Medicine.
Source: Colette Bouchez, www.healthcentral.com/news/NewsFullText.cfm?id=513356

Learn About Levitra and Cialis, Newest ED Oral Drugs Approved for US Sales

---
(Editor's Note: On November 21, 2003, the FDA approved Cialis® tadalafil), an oral medication to treat erectile dysfunction (ED, or impotence) in men. This is the third oral product approved for this condition since mid-August. Cialis is different than currently approved products for ED in that it stays in the body longer. On August 19, 2003, the other new erectile dysfunction (ED) drug, Levitra joined Viagra (sidenafil)in the US marketplace. Levitra is the brand name of a drug called vardenafil, a PDE-5 inhibitor. In this article, by Dr. Myron Murdock, National Medical Director of hisandherhealth.com, discusses Levitra and Cialis and Viagra, how they work, the differences between the drugs and about other ED drugs now in the pipeline.)

Erectile dysfunction, (ED), or impotence, is the inability for a sexually active male to obtain and sustain an erection for intercourse. This usually is an embarrassing subject for many men and their partners, and, in fact, there has been very little diagnostic testing or treatments available until 1973.

ED impacts 30 percent of all adult males and 50 percent of all males over 40 at some times. Some 85 percent of the causes are physical and are organic and due to an actual physical problem, disease entity, or complication of another illness. In general, 40 percent of all 40-year-olds, 50 percent of all 50-year-olds, and 60 percent of all 60-year-olds have some form of ED, on occasion. In general, only 15 percent are of the severe form, that is to say inability to obtain any erections under any circumstances.

Normal erection is the result of many factors working together. It requires good blood flow, normal nerves going to the penis, and good valve mechanisms in the blood vessels of the penis. The penis has two erectile bodies, the corpora caveronsae, which are two long blood filled balloons, that become filled with high pressure blood, and become rigid, and the urethra, which conducts urine.

With the advent of an effective oral and safe medication Viagra (sildenafil) the entire evaluation and treatments for male erectile dysfunction has been revolutionized. Other forms of therapy including self injection programs with vasoactive drugs, intraurethral placement of vasoactive drugs, external vacuum compression device, and implantation of inflatable penile prostheses also are available and have a place in the armamentarium of the urologist who deals in the problems of sexual dysfunction.

With the advent of Viagra in March of 1998 the numbers of impotent patients seen by physicians have increased two-fold, and 50 to 75 percent of the patients respond to Viagra treatment. The remainder will need other treatment modalities, some of which include combinations of other modalities with Viagra.
Any physician can prescribe Viagra; however, the specialists who know the most about ED are those who specialize in the field of male sexual dysfunction. In those cases in which Viagra does not work, where the results are sub-optimal, or in situations in which the cause for the impotence is not obvious, a patient should be seen by a urologic specialist.
Now there is a next generation of drugs. The next generation of Viagra-like drugs, known as PGE-5 inhibitors inhibits the production of a chemical whose job it is to bring blood flow back to normal thereby limiting the duration of an erection.
These new drugs will improve the lifestyle side effect issues associated with Viagra. Some possible improvements include increased potency, effectiveness for up to 100 hours and fewer restrictions on food and fat intake.
Bayer Pharmaceutical Company's new drug, vardenafil, (for drug called Levitra) is now available by prescription from a health care provider. Similarly Lilly-ICOS has an approval letter for their longer-acting drug, tadalafil (for a new ED drug called Cialis). Cialis is due on the marketplace by the end of the year. Both companies have done post-approval studies for the FDA in order to get final approval and acceptance of their new drug applications.
Levitra is more similar to Viagra than Cialis. Levitra is more potent and more specific than Cialis, still having a half-life of four to five hours; however, it appears not to be affected by dietary restrictions (eg.. having a heavy meal before using Viagra reduces its effectiveness). Many patients can respond to Levitra within 15 minutes, rather than usual one hour for Viagra. In the hard-to-treat patients, such as diabetics or post-nerve-sparing radical prostatectomy patients, Levitra appears to have an edge.
Although Levitra has the same half-life as Viagra, its new drug application will probably state an effectiveness up to 24 hours rather than the four to five hours for Viagra. Levitra appears to be six to nine times more potent to the PDE-5 enzyme system with a lower incidence of side effects, a better response for the harder-to-treat patients, and dosages approximately one-fifth of Viagra. Dosages will probably be 5, 10, and 20 mg.
Cialis (tadalafil) is basically a different class of PDE-5 inhibitor in that its half-life ranges from 16 to 22 hours (longer in the older population). Food appears to have no effect, it works rapidly with many patients getting a positive response within 15 minutes of oral intake, and it will probably have therapeutic levels and positive effects up to 100 hours. The entire paradigm of impotence treatment may change with the advent of Cialis. Patients may be able to take two pills per week with effectiveness lasting the entire week without worrying about timing, food, or lifestyle situations. Side effects appear to be lower than in Viagra and about the same as Levitra.
Cialis appears to have the negative of effecting PDE-11 and causing muscle/back discomfort. PDE-11 is found in large quantities in the male testicle, and even though studies have shown no effect on sperm production or function,there is some concern particularly to the fertile male who is interested in a family as to whether or not this drug should be used under those circumstances. The muscle/back discomfort occurs in 4 percent to 7 percent is relatively mild, and is relieved with simple analgesics such as Motrin, Tylenol, etc. Studies do not reveal inflammatory problems or muscle breakdown (rhabdomyolysis) as the source of this pain. Muscle discomfort is found in about 1 percent of patients taking Levitra and rarely found in patients taking Viagra. Interestingly enough the eye problems associated with Viagra are rare in Cialis patients and quite infrequently occur in Levitra patients.
Remember, even though German studies have shown no statistically significant problems with Levitra, Cialis, or Viagra simultaneously used with nitroglycerin, it is potentially dangerous to use any three of these drugs ; all are contraindicated and not to be taken if the patient is on any form of nitroglycerin. The side effects most commonly seen with these PDE-5 inhibitors include headaches, facial flushing, nasal congestion, stomach upset, and visual disturbances (mostly with Viagra). Muscle pain is more common in Cialis, followed by Levitra and rarely in Viagra.
A melanocyte antagonist taken intranasally is being developed by Palatin Corporation.According to Palatin, it's drug, called PT-141 in its testing phase, is a new, nasally administered peptide in development for the treatment of sexual dysfunction. Palatin research suggests that PT-141 works through a mechanism involving the central nervous system rather than directly on the vascular system. As a result, it may offer safety and efficacy benefits over currently available products. Approximately 30 minutes before intercourse, the patient will take a single nasal dose. The is a relatively rapid onset of PT-141 activity.
It appears to affect the periventricular nuclei of the brain inhibiting dopamine synthesis and stimulating sexual function. Preliminary studies show a positive effect of 92% with no significant side effects. Hypothetically. yawning and increased tanning may occur, but has not been found due to the specificity of this particular drug. The intra nasal technique of administration is unique, rapid, not affected by food, and appears to be very effective.
TAP Pharmaceuticals has already been approved in Europe for it's apomorphine drug to stimulate the periventricular nuclei and, in particular, the dopaminergic receptors in the brain. This drug works in approximately 50 percent of the patients, is taken sublingually (under the tongue),but has side effects of nausea, vomiting, blood pressure decrease, and fainting. The problem with the drug is that its side effect profile is significantly high and its impotence-reducing effects are relatively low. There is great question whether this drug will be approved by the United States Food and Drug Administration.
It certainly will have a place as an adjunct with other oral drugs or in those patients who are taking nitroglycerin. On the other hand, several of the major pharmaceutical companies are developing dopaminergic drugs that are specific for the #2 dopaminergic site in the periventricular nucleus of the brain. Basically these are a much more specific and potent apomorphine-like drugs that do not produce the nausea, vomiting, and blood pressure changes that are associated with the #5 dopaminergic site. These drugs appear to have many years left before final development and approval and represent along with the melanocyte antagonist agents the first centro-effective drugs for erectile dysfunction. They may, in fact, have a role in sexual desire in addition to their role in erectile function.
Creams applied to the penis containing Prostaglandin E-1 or nitroglycerin do not appear to be effective. Genetic therapy using viral vectors to transfer DNA and RNA into the body and particularly to the penile cells for ED have already been demonstrated to be effective in animal studies. Research continues in humans and is probably five to ten years away.
At this time that there are many "herbal" or "natural" products available claiming to be for erectile dysfunction and sexual desire. These herbal or natural medications have not been tested according to scientific or FDA standards. Therefore they may be detrimental to your health, may interact poorly with medications you are already taking, and may not be effective as promised. These drugs need not be FDA approved because of the food and drug laws in this country. Natural or herbal does not always mean safe. Many drugs we use today were originally found in plants and most poisons we have today originate from plants. Before taking any herbal medications, consult with your physician about safety and drug interactions.
Erectile dysfunction is a symptom, in most cases, of another medical problem, which may be more serious than your ED. You should always be seen by a qualified physician for evaluation and treatment of your sexual dysfunction.
(June 2003/Reviewed and updated August 2003, November 2003,)
Source: www.hisandherhealth.com/articles/newmaledrugs.shtml

---
Prevalence Of Erectile Dysfunction Increases With Age

---
In the first large-scale study to assess age and erectile function, researchers from the Harvard School of Public Health found that erectile dysfunction (ED) is common among older men and increases with age. They also found that men who were physically active and stayed lean had a lower prevalence for ED.
Source: www.intelihealth.com/IH/ihtIH/EMIHC276/333/22002/367754.html?d=dmtICNNews

* * *

Ever try playing pool with a rope. - "Shameless" TV show


---
Contact Us | Disclaimer | Privacy Statement
Menstuff® Directory
Menstuff® is a registered trademark of Gordon Clay
©1996-2019, Gordon Clay