Teen Depression

---
Menstuff® has compiled the following information on Teen Depression.

Serious about commiting suicide call 24 hours a day, every day


Crisis Text Hotline
741741

Want to talk?
800.273.TALK (8255) or TDD 800.448.1833
Curry County Crisis Line - 877-519-9322
For other
Emergency Numbers
International Suicide Prevention Resource Directory
Substance Abuse Helpline 800.923.4357
Military Helpline 888.457.4838
Youthline for Teens 877.968.8491
What are the symptoms of Depression?
What is Depression?
What to do if you are depressed?
Where can I get more information about Depression?
Study Shows 900,000 Teens Planned Suicides While Depressed
Who Young People Turn to for Help
The Warning Signs and Major Risk Factors of Teenage Suicide
Stigma

---
Find a therapist that's a good fit for you with this health tool.
Source: therapists.psychologytoday.com/webmd

Study Shows 900,000 Teens Planned Suicides While Depressed

---
Approximately 900,000 American teens 12-17 years old had made a plan to commit suicide during their worst or most recent episode of major depression, and 712,000 attempted suicide during such an episode, a new federal study reports.
Source: www.healthcentral.com/newsdetail/408/1506914.html

What are the symptoms of Depression?

---
According to the National Foundation of Depressive Illness, the symptoms of Depressive Illness are highly recognizable, both to those affected and to those closest to them, once they are told what to look for.

• Loss of energy and interest.

• Diminished ability to enjoy oneself.

• Decreased (or increased) sleeping or appetite.

• Difficulty in concentrating, indecisiveness, slowed or fuzzy thinking.

• Exaggerated feelings of sadness, hopelessness, or anxiety.

• Feelings of worthlessness.

• Recurring thoughts about death and suicide.

For more information: National Foundation for Depressive Illness www.depression.org/symptoms.html

Think you might be suffering from depression? Try this online quiz: depression-screening.org/screeningtest/screeningtest.htm

---
A depressive disorder is an illness that involves the body, mood, and thoughts. It affects the way a person eats and sleeps, the way one feels about oneself, and the way one thinks about things. A depressive disorder is not the same as a passing blue mood. It is not a sign of personal weakness or a condition that can be willed or wished away. People with a depressive illness cannot merely "pull themselves together" and get better. Without treatment, symptoms can last for weeks, months, or years. Appropriate treatment, however, can help most people who suffer from depression.

For more information: National Institute of Mental Health www.nimh.nih.gov/publicat/depression.cfm#ptdep1

What to do if you are depressed?

---
Depressive disorders make one feel exhausted, worthless, helpless, and hopeless. Such negative thoughts and feelings make some people feel like giving up. It is important to realize that these negative views are part of the depression and typically do not accurately reflect the actual circumstances. Negative thinking fades as treatment begins to take effect. In the meantime:

• Set realistic goals in light of the depression and assume a reasonable amount of responsibility.

• Break large tasks into small ones, set some priorities, and do what you can as you can.

• Try to be with other people and to confide in someone; it is usually better than being alone and secretive.

• Participate in activities that may make you feel better.

• Mild exercise, going to a movie, a ball game, or participating in religious, social, or other activities may help.

• Expect your mood to improve gradually, not immediately. Feeling better takes time.

• It is advisable to postpone important decisions until the depression has lifted. Before deciding to make a significant transition-change jobs, get married or divorced-discuss it with others who know you well and have a more objective view of your situation.

• People rarely "snap out of" a depression. But they can feel a little better day-by-day.

• Remember, positive thinking will replace the negative thinking that is part of the depression and will disappear as your depression responds to treatment.

• Let your family and friends help you.

For more information: National Institute of Mental Health www.nimh.nih.gov/publicat/depression.cfm#ptdep5

Where can I get more information about Depression?

---
National Institute of Mental Health Information Resources and Inquiries Branch, 6001 Executive Boulevard, Room 8184, MSC 9663, Bethesda, MD 20892-9663, 301.443.4513, FAX: 301.443.4279, TTY: 301.443.8431, FAX4U: 301.443.5158 or www.nimh.nih.gov

or nimhinfo@nih.gov

National Alliance for the Mentally Ill (NAMI), Colonial Place Three , 2107 Wilson Blvd., Suite 300 , Arlington, VA 22201, 800.950NAMI (6264) or 703.524.7600 or www.nami.org

A support and advocacy organization of consumers, families, and friends of people with severe mental illness-over 1,200 state and local affiliates. Local affiliates often give guidance to finding treatment.

Depression & Bipolar Support Alliance (DBSA), 730 N. Franklin St., Suite #501, Chicago, IL 60610-7204, 312.988.1150, Fax: .312.642.7243 or www.DBSAlliance.org

Purpose is to educate patients, families, and the public concerning the nature of depressive illnesses. Maintains an extensive catalog of helpful books.

National Foundation for Depressive Illness, P.O. Box 2257, New York, NY 10116, 212.268.4260; 800.239.1265 or www.depression.org

A foundation that informs the public about depressive illness and its treatability and promotes programs of research, education, and treatment.

National Mental Health Association (NMHA), 2001 N. Beauregard Street, 12th Floor, Alexandria, VA 22311, 800.969.6942 or 703.684.7722, TTY 800.443.5959, www.nmha.org

An association that works with 340 affiliates to promote mental health through advocacy, education, research, and services.
Source: www.facetheissue.com/depression.html

The Warning Signs and Major Risk Factors of Teenage Suicide

---
Each year, thousands of American teenagers are diagnosed with clinical depression. If ignored or poorly treated, it can be a devastating illness for adolescents and their families. A new book, Understanding Teenage Depression, provides the latest scientific research on this serious condition and the most up-to-date information on its treatment. Drawing on her many years of experience as a psychiatrist working with teenagers, Dr. Maureen Empfield answers the questions parents and teens have about depression. Maureen Empfield, M.D., is director of psychiatry at Northern Westchester Hospital Center in Mt. Kisco, New York, and assistant clinical professor of psychiatry at Columbia University College of Physicians and Surgeons. She is the author or coauthor of more than a dozen publications for the professional market. Nicholas Bakalar is a New York-based writer and editor.

Although it is almost impossible to predict precisely which teenager will attempt suicide, there are warning signs that parents can look for. The American Academy of Child and Adolescent Psychiatry has assembled this list of indications. If one or more of these signs occur, parents should talk to their teenager and seek professional help.
Unusual changes in eating and sleeping habits
Withdrawal from friends, family, and regular activities
Violent actions, rebellious behavior, or running away
Excessive drug and alcohol abuse
Unusual neglect of personal appearance
Marked personality change
Persistent boredom, difficulty concentrating, or a decline in the quality of schoolwork
Frequent complaints about physical symptoms, often related to emotions, such as stomachaches, headaches, fatigue, etc.
Loss of interest in pleasurable activities
Not tolerating praise or rewards
Complaints of feeling "rotten inside"
Giving verbal hints such as "Nothing matters," "It's no use," or "I won't be a problem for you much longer"
Putting his or her affairs in order by giving or throwing away favorite possessions or belongings
Becoming suddenly cheerful after an episode of depression
In high-risk patients—that is patients who have threatened or attempted suicide—there are four risk factors that account for more than 80% of the risk for suicide: major depression, bipolar disorder, a lack of previous mental health treatment, and the availability of firearms in the home. If these four problems were solved, most suicides would be prevented.
© 2001 Maureen Empfield, M.D., and Nicholas Bakalar. See also Teen Suicide


Who Young People Turn to for Help

---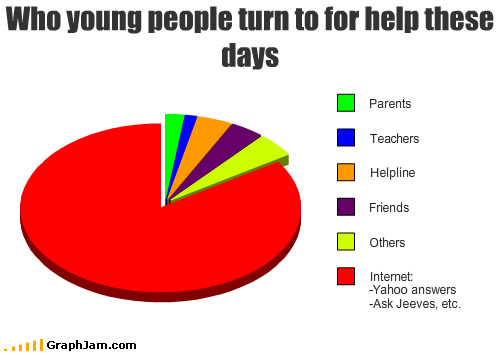 * * *

"If you're feeling suicidal this would be an ideal time to try what you always wanted to try but were afraid to try."


---
Contact Us | Disclaimer | Privacy Statement
Menstuff® Directory
Menstuff® is a registered trademark of Gordon Clay
©1996-2019, Gordon Clay