LATEST SNIPPET
Add your stuff http://bit.ly/fIv1z5
Under

construction.
Profile
News
Results
Schedule
Snippets
Contact: eMail | www.nix-21.com


Related Issue: Women Racers Directory, Women in Racing, Women Racers, More Women in Racing, Race Schedules, Notable Women
Direct link to this page - http://bit.ly/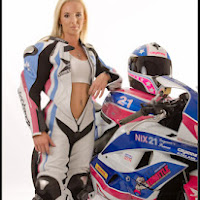 The first South African Ladies 600cc Champion – the fastest lady motorcyclist in South Africa, Africa and possibly the world if she could compete internationally. This is what has been achieved by this petite 1.5 metre (5.1 ft) blonde in her 5 years of motorcycle racing in South Africa.
Although Nicole van Aswegen started her racing career later than other riders, she has always strived to achieve excellent results. She started on a Yamaha 50cc for a short spell just to learn the technique and get the feel of things and then progressed onto the very competitive 125gp class. This proved to be a very good learning curve . These bikes, although small, are almost equal in speed to a 600cc, just more difficult to master, being 2 stroke and having phynominal corner speed. Nicole held her own in the class, competing against some very fast boys – she managed to finish the majority of her races in the top 1o, her best result being 6th overall
After many thrills and even more spills – Nicole took the plunge at the end of 2007 when she was invited to do a "Wild Card" race on a GSXR600 Suzuki at a Wesbank Super Series National race at Kyalami . The biggest challenge for this race was touching the ground!! Being extremely "Short of Height" she could not put her feet on the ground to stop the bike!! Well, being the "Tazzmanian Devil", this was just another challenge and she overcame that hurdle and amazed everyone in her first National race. This was a mile stone in South African Motorcylce racing and her career – The first female motorcycle rider, in South Africa to compete in a National super series event.
In 2008 and 2009 Nicole competed in Regional 600 Super Sport and National Super Sport on a Yamaha R6. She found the going very tough in the beginning but improved with every race. She being nominated "Rider of the Day" at the East London race after a huge crash saw her wrecking her bike in qualifying but didn't give up. Dad and others and Nicole, worked through Race 1 to get the bike ready in time for race 2. With a nasty shoulder injury and bike held together with duct-tape, she competed and finished Race 2.

The 2012 Racing Season is finally about to begin in earnest!! Have a look at my FANCY NEW RIDE and spectacular gear.
After competing in 2011 on a Triumph Daytona as a privateer, sponsored mainly by my parents and their company GEM AUTO SERVICE CENTRE ,and a few other sponsors for which I was extremely grateful, my hard work and determination has finally paid off and I have managed to secure a sponsor from Honda Kyalami on a Honda CBR600RR.
2011 was one of the best seasons I have been blessed and privileged to complete in. I did some of My best lap times ever and finished 4th overall in the Regional series (mixed – male & female) after the Ladies Cup Series was cancelled after 3 rounds. This was a bit of a disappointment, as I was leading the championship at this stage and wanted to retain my championship after winning the series in 2010 by quite a substantial margin and earning myself the coveted title of the 1st South African 600cc Ladies Champion. All things considered, I am the first lady Super Support (600cc) to finish In the top 5 of a South African Regional Series. I finished in the top 3 in all but 2 regionals and took a few top 10 places in the National Series. Out qualifying my team mate Robert Portman on occasion.
I was lying in 2nd place in the Regional Series until my trusted Triumph let me down at the last race
Of the year and I was unable to finish the 2nd race of the day .
As I am not one to cry over spilt "oil">>>> or milk - My aim for 2012 is to put my Honda CBR600RR in the top 3 in as many Regional Races as possible and hopefully get a few 1st places. As for the National Series, well if the other Honda riders can do it……… I am surely going to try!! I will do my utmost to make my sponsors Honda Kyalami and Honda SA proud of me and my Honda. Still adjusting to the different riding style of the Honda – but early days yet. I WILL get there and only improve.
Big thanks to Full Throttle, Gem Auto Service Centre (parents), Assault Leathers for sticking with me for 2012.
-----------------------------------------------------------
We chatted to Nicole van Aswegen about her 2011 season http://t.co/vXuv84R7 -
How was your 2011 racing season?
It was an excellent year for me I found a lot of seconds and finished well in both my championships 4th in regional and 14th in national.What are your expectations for 2012?
I want to win the regional 600cc series, and place 8thin the national series, maybe even go overseas and do a wild card race.What has been your biggest challenge going into 2012?
Well I am on a completely new bike Honda cbr600rr which im still getting use to but we getting better every time we ride.Who do you think was the best local racing driver in 2011?
I believe we all did the best we could for the year so I say all of the bike racers (lol)Where is your next event? And where can people find out information on you or the racing series you participate in?
We are racing in Cape Town Killarney race track.

* * *

---
WomenInRacing.org | Contact Us
©1996-2019 by Gordon Clay