Danica Interview with Menstuff.org

---
Menstuff® has compiled the following information on the menstuff.org interview with Danica Patrick July 30, 2005 at Michigan International Speedway.
Brett: "The average number of starts that it has taken a driver to win their first major open-wheel, of the 12 drivers who have won in this series, it took 33 starts to get that first win. Of those 12 drivers to win, only 3 won in what would be their first year for her, which is 17 races: Scott Dixon won in his 3rd race, Sam Hornish was in his second season when he won in his 9th race, and Tomas Scheckter who won here in his 11th race."
Menstuff.org: "Danica: What advice would you give to your girls who want to participate in a male-dominated sport and yet they have to deal with boy's superiority complex all the time."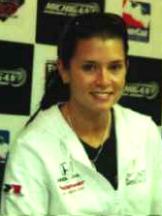 Danica: "You can't think about it. If you're out there and your competing against the guys and you think, 'I'm competing against the guys', you all of a sudden put yourself in a different place, in a different mind frame. You have to just think 'I'm going out there to beat everyone!" "I'm going out here to write the best story!" "I'm going out to do the best surgical incision ever!" Whatever it may be you have to go into it with a mind-frame that you're no different than anybody else and that might be what's helped me along the way is that I've never viewed myself as something, I know that I'm a girl but I don't think when it comes to ability and when it comes to talent and what you can do, there's nothing in it. It's whoever works hard. It's whoever has the most talent. It's whoever catches the most breaks. Being a girl doesn't even come into my mind."
Menstuff.org: "What about advice you'd give to fathers about supporting their daughters if they wanted to go into a male-dominated sport?"
Danica: "They can't think anything either. You have to be supportive for your child whether it's a girl in a guy's world or a guy in a girl's world to always follow your dream. If you really think you can make a big impact in what area you love, keep going, just never quit, because you can't quit at the first doubt because there's going to be a lot of doubt. There's been a lot of doubt in my career and you have to ignore them and not even think about them. You have to have incredible support, so I'd say for the families and and the fathers and mothers, whoever, be supportive. Kids want to make their parents happy, they want approval from their parents more than anything. I do, still do. Still do. I'm going to go back to the motor home and say, 'So how did the day go, dad?' and he's going to say 'It was this.' or 'Hey, you did the best you could with that car.' and I'm going to go 'I feel okay now.' And I promise, it'll be that way until the day I die because we're all looking to make our parents happy. It starts when we're born and it ends when you die.'
Related Issues: Danica, Photo Gallery, We Were There, Women Racing Directory, Women in Racing, Women Racers, More Women in Racing, Notable Women
* * *

---
WomenInRacing.org
©1996-2019 by of Gordon Clay