Sports

---
Menstuff® has compiled information and books on the issue of Sports
IMPORTANT BOOKS
Click on covers for more specific information.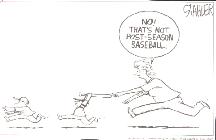 Jeff Stahler (jstahler@cincypost.com)

53:21


Striaght out of LA - Documentary
Good background for Straight out of Compton

---
What does it take to be the best in the world. To marry in a single effort extrodinary talent and mind-numbing years of work. To rise up as the world looks on and execute with breathtaking precision, the athletic function of a singularly focused life.

Champions are not born, but built up, piece by piece, in the assembly line of practice. What they do to become what they are can be mystifyingly simple, but as any athlete will tell you, the road to perfection is incredibly difficult.
Source: www.charter.net/video/?vid=154959&sc_cid=wccel1

City Requires Sporstmanship Class for Parents

---
In an interesting twist, the city of Danville, Virginia is requiring parents of children that play youth basketball to take a class on sportsmanship. The Chatham Star Tribune reports that Danville's Parks and Recreation leaders are making the class mandatory in order to "reduce poor attitudes and harsh comments at youth basketball games."

Too often parents can get carried away while watching their kids play sports. While it's great to show support for your child and his/her team, it's important to remember that kids watch the behavior of adults at these games and can be easily influenced by it.

Assistant Athletic Director Jeff Goard said the 30-minute workshop will stress sportsmanship, safety, skill development and parent behavior. "This is a proactive way to let parents know what we expect of them," said Goad.
Source: josephsoninstitute.org/sports/pvwh-sportsmanship/2012/11/city-requires-sporstmanship-class-for-parents/

Brianna Amat, Michigan Homecoming Queen, Kicks Game's Winning Field Goal, Dubbed 'Kicking Queen'

---
It was a memorable night for Pinckney Community High School's Homecoming Queen: Moments after being crowned with a tiara she led her school's football team to victory by kicking the game-winning field goal.

2:08
Brianna Amat booted the 31-yard field goal to pull out a 9-7 win over Grand Blanc on Friday, shortly after being crowned homecoming queen, FOX news reports. The kick was a personal best for the 18-year-old Michigan woman.
Amat, who is the team's first female player, was pulled out of the locker room during halftime to receive her crown, according to the New York Times. In what turned out to be a memorable photo op, she stood among the other nominees on the homecoming court in her football uniform and pads.
Amat said she was surprised about being crowned Homecoming Queen, but added that she didn't let the hoopla surrounding her win rattle her focus on the game.
"I didn't think that was important. The game was more important to me at the time," she told the Livingston Daily.
During her senior year, the longtime soccer player decided to try her luck at football just to try something different, the Associated Press reports.
Amat admits she occasionally watched games as a child but never paid much attention to the kicking aspect of the game.
"I watched [football] with my dad, the big games, Michigan-Michigan State, all that stuff," she told Livingston Daily. "I never paid attention to kicking, honestly. You pay more attention to the touchdown and the extra point."
Amat credits her teammates for the win.
'"The guys were congratulating me, but without them, I wouldn't even have gotten close" to making the kick,' she told the New York Times.
Source: www.huffingtonpost.com/2011/10/04/brianna-amat-homecoming-queen-field-goal_n_994396.html?icid=maing-grid10%7Chtmlws-main-bb%7Cdl9%7Csec1_lnk3%7C101383

---
Don't be one of 400 who drown every year because they can't get out of their car. Check out this 15 minute video http://bit.ly/14IUiUQ

* * *

---
Contact Us | Disclaimer | Privacy Statement
Menstuff® Directory
Menstuff® is a registered trademark of Gordon Clay
©1996-2019, Gordon Clay