Health Awareness Calendar

---
Menstuff® has compiled a listing of Health Awareness events throughout the year.

Important Men's Health Dates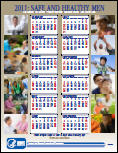 Health Men 2016 Calendar

Emergency
Health A-Z

Be a Healthy Man
Test Your Knowledge about Men's Health

Men's Summer Health and Safety Tips

Men's Health Week

More Health Awareness Events
HEALTH
Slide Guides
Booklets
Find a Doctor


Search for a physician, dentist, hospital or health plan anywhere in the United States. Choose a doctor by specialty and location.
March of Dimes Birth Defects Prevention Month
18-24 - Healthy Weight Week
25 - National Intravenous Nurse Day
25-31 - National Nurse Anesthetists Week

National Children's Dental Health Month
2-8 - Eating Disorders Awareness Week
9-15 - National Child Passenger Safety Week
14 - National Have-A-Heart Day

National Save Your Vision Month
14-20 - National Pulmonary Rehabilitation Week
15-21 - Brain Awareness Week
30 - National Doctors' Day

Alcohol Awareness Month
Counseling Awareness Month
National Autism Awareness Month
National Foot Health Awareness Month
National Humor Month
9-16 - National Pediatric Nursing Week
11-17 - National Heimlich Maneuver Week
7 - World Health Day
8 - National Alcohol Screening Day
American Stroke Month
Digestive Diseases Awareness Month
Healthy Vision Month
National Arthritis Month
National High Blood Pressure Month
National Melanoma/Skin Cancer Detection and Prevention Month
National Sickle Cell Awareness Month
National Teen Pregnancy Prevention Month
1-8 - National Safe Kids Week
2-8 - Children's Mental Health Week
6-12 - National Nurses Week
9-15 - National Hospital and Healthcare Week
12-18 - National Nursing Home Week
16-22 - National Emergency Medical Services Week
4 - National Childhood Depression Awareness Day
12 - National School Nurse Day
19 - Employee Health and Fitness Day
National Immunization Awareness Month
1-7 - World Breastfeeding Week
1 - National Kids Day
Healthy Lung Month
National Brain Injury Awareness Month
National Dental Hygiene Month
National Family Sexuality Education Month
National Sudden Infant Death Syndrome Awareness Month
3-9 - Mental Illness Awareness Week
3-9 - National Nurse-Midwifery Week
10-16 - Emergency Nurses Week
10-16 - National Adult Immunization Awareness Week
17-23 - National Balance Awareness Week
17-23 - National Health Education Week
23-31 - National Red Ribbon Week
24-30 - National Respiratory Care Week
1 - Vegetarian Day
10 - World Mental Health Day
14 - National Depression Screening Day

American Diabetes Month
National Healthy Skin Month
National Home Care Month
National Hospice Month
National Sexual Medical Month
1-6 - National Diabetes Education Week
15-19 - Lung Cancer Awareness Week
16 - Prematurity Awareness Day
18 - Gay American Smoke-Out (Held during the month of June during Pride festivities in some communities.)

Source: Chase Calendar
* * *

---
Contact Us | Disclaimer | Privacy Statement
Menstuff® Directory
Menstuff® is a registered trademark of Gordon Clay
©1996-2019, Gordon Clay