Daily Thoughts & Issues

| | |
| --- | --- |
| IN THIS ISSUE: | SEPTEMBER 21 |
Tomorrow's Issue: Prostate cancer prevention
Photo of the Week
Tom Sanders/Adventure Photo & Film
Achieve Your Dreams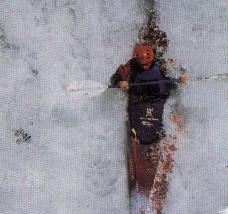 It's Prostate Cancer Awareness Month. Remember to visit "Today" during the week of September 19-25. It's Prostate Cancer Awareness Week and we will feature a different issue each day concerning prostate cancer.
September 21 - Independence Day in Armenia, Belize. and Malta. * Hurricane Hugo hits American coast. (1989) After ravaging the Virgin Islands, Charleston, SC was its next target. In its wake, Hugo left destruction totaling at least eight billion dollars.* Birthdays: Chief Joseph's death, Herbert George Wells, Ethan Coen, Leonard Cohen, Cecil Grant Fielder, Henry Gibson, Artis Gilmore, Larry Hagman, Stephen King, Bill Kurtis, Rob Morrow, Bill Murray.
Retirement used to be the square that one landed on in the playing board of life roughly five years before one expired, the reward for thirty-five or more years of hard work, when a pencil pusher could enjoy a paid mortgage, a cruise or two, and a golden wedding anniversary while waiting around to die. Today the question is not so much when is ideal retirement age as how does one define retirement. What association comes to your mind when you hear the word? New Passages
One million African Americans migrated from the South to northern cities between 1910 and 1930 to seek employment in the war industries. This exodus was known as the Great Migration. African American History
Has your child set his or her sights on a new bicycle, roller blades, a doll, or designed clothing? Encourage the child to set goals and to achieve them. Dr. Buff's 365 Day Parenting Calendar
Again and again I have emphasized that the process of spiritual growth is an effortful and difficult one. This is because it is conducted against a natural resistance, against a natural inclination to keep things the way they were, to cling to the old maps and old ways of doing things, to take the easy path. The Road Less Traveled
Everyone should make love naked in the snow at least once in their life. - Suzanne, 28. Best of 1001 Sex Secrets Every Man & Woman Should Know
People caught in the sweet net of romance sometimes denigrate it theoretically, while at the same time throwing themselves into it wholeheartedly. Soul Mates
Self-trust is the first secret of success. - Emerson. Achieve Your Dreams
Things to Be Happy About: Picturesque New England villages. Opaque green glass. An Alaskan mooseburger. 14,000 Things to Be Happy About
Take it apart and see how it works. Really Important Stuff My Kids Have Taught Me
Andrew was a chef who had gotten fired from four different restaurants for inappropriate behavior. In each case, he claimed that the management of the restaurant was to blame. What Andrew needed to look at, however, was the behavior that he was repeating over and over that was causing the pattern to perpetuate. Andrew needed to learn that he played a role in creating his circumstances. Then and only then could be begin to see his pattern and work to release it. If Life is a Game, These are the Rules
Our response to any mistake affects the quality of the next moment. It is important to immediately admit and correct our mistakes so that they have no power over that next moment, and we are empowered again. Seven Habits of Highly Effective People
Cut back on the stress and the expense of holiday gift-giving this year by drawing names for the family gift exchange. Simplify Your Life
According to researchers at the University of Cincinnati, the aroma of peppermint may help boost performance and alertness. Stress Busters
Too low they build who build below the skies. - Edward Young. Win the Day!
El remedio (rehMEHdyoh) Remedy, medicine. Yo tengo el remedio perfecto! I have the perfect remedy! Living Language
TODAY'S ISSUE: THE PROSTATE: BACKGROUND, INFORMATION AND RESOURCES
Disclaimer - Information is designed for educational purposes only and is not engaged in rendering medical advice or professional services. Any medical decisions should be made in conjunction with your physician. We will not be liable for any complications, injuries or other medical accidents arising from or in connection with, the use of or reliance upon any information on the web.
Men over 35 take note. Don't die of embarrassment. Schedule an appointment for a screening with your local health care provider. Appointments for prostate cancer screenings are limited and available on a first come first serve basis. To schedule an exam at one of the 324 locations throughout the U.S., call the American Foundation for Urologic Disease during the month of September at 800.822.5277. The exams consist of a digital rectal exam (DRE) and a prostate specific antigen (PSA) blood test, similar to a baseline mammogram for women, each of which takes about a minute to perform. The combination of these two methods is the most effective procedure for detecting prostate cancer at an early and potentially curable stage. More than 3 million men have taken time out during Prostate Cancer Awareness Week to get a prostate screening since it began in 1989. If you are interested in becoming a new PCAW site, see www.pcaw.com.
28th Annual Prostate Cancer Awareness Week:
A National Education, Service and Research program
September 21-27, 2015
This program has become the nation's largest cancer screening program having attracted over 3 million participants. The first year of the program (1989), there were fewer than 100 screening centers in the United States. Today, this number has increased to several hundred locations providing free or low-cost prostate cancer screening with digital rectal examination (DRE) and prostate-specific antigen (PSA) testing.
It's difficult to come to terms with prostate cancer. Fear of openly discussing the disease; complex treatment decisions; painful side effects - survivors are often left feeling frustrated and powerless. Too often, men face a diagnosis of prostate cancer privately, searching for reliable treatments while hoping for the best. Meanwhile, the disease cuts a devastating path through the lives of hundreds of thousands of men and their families every year. Prostate cancer is the most commonly diagnosed non-skin cancer in the U.S. And is the second leading cause of cancer death (after lung cancer). It affects one out of every five men. A new case is diagnosed every three minutes. If a close relative has prostate cancer, a man's risk for the disease more than doubles. With two relatives with the disease, his risk increases fivefold. With three relatives, his risk is nearly 100%. In recent years following public activism by AIDS and breast cancer advocates, mortality due to those diseases dropped. But the number of deaths due to prostate cancer will kill 31,900 men this year and more than double the number of deaths due to aids. Support for prostate cancer research lags far behind funding for other diseases.
In 1997, spending on research for every death from the disease looked something like this:
Breast Cancer - $12,800 per death
Prostate cancer - $2,700 per death
AIDS - $47,000 per death
The scarcity of funding for prostate cancer research creates a vicious cycle. Young and established researchers are drawn to more profitable avenues of investigation; private enterprise views the field as too risky for investment; and ideas that might lead to a cure are conceived but never completed. Source: CapCure (www.capcure.org)
This public awareness and education program was conceived and instituted by the Prostate Cancer Education Council (PCEC) which represents urology, oncology, patient advocacy, minorities, clinical and behavioral research. Because of the alarming percentage of men presenting advanced, incurable prostate cancer, the PCED was formed in 1988 to promote awareness, screening and early detection of prostate cancer.
Over 220,900 men will be diagnosed this year and 28,900 will die because they didn't catch it soon enough. www.hisandherhealth.com

and www.pcaw.com

Prostate Screenings during Prostate Cancer Awareness Week
---
The prostate exams consist of a digital rectal exam (DRE) and a prostate specific antigen (PSA) blood test, similar to a baseline mammogram for women, each of which takes about a minute to perform. The combination of these two methods is the most effective procedure for detecting prostate cancer at an early and potentially curable stage. Don't die of embarrassment. Schedule an appointment for a screening with your local health care provider. www.pcaw.com

What is the prostate?

The prostate is a doughnut-shaped cluster of glands located at the bottom of the bladder about halfway between the rectum and the base of the penis. It encircles the urethra, the tube that carries urine from the bladder out through the penis. The walnut-sized gland produces most of the fluid in semen. Contraction of the muscles in the prostate squeeze fluid from the prostate into the urethral tract during ejaculation. It makes up the bulk of the ejaculate and nourishes and transports the sperm.

Cancer of the prostate is the leading cause of cancer death among nonsmoking American men and African-American men are 2 ½ times more likely to get the disease than any other ethnic group in the world. It is still unknown exactly why African-American men have the highest incidence of prostate cancer in the world. Research has shown, though, that they typically develop the disease earlier than white Americans, but are diagnosed with it later, so their mortality rate is much higher than that of whites. One of every eight African-American men will develop the disease in his lifetime. It is primarily a disease of aging. Men in their thirties and forties rarely develop prostate cancer, but the incidence increases steadily after the age of fifty-five. Approximately 80 percent of all cases occur in men over the age of sixty-five and by the age of eighty, 80 percent of all men have prostate cancer to some degree. The American Cancer Society estimates that more than 181,000 new cases of prostate cancer will be diagnosed in 2002 and over 31,000 men will die of the disease. A male baby born today has a 13 percent change of developing prostate cancer at some time in his life, and a 3 percent change of dying from the disease. Many experts feel that every man will eventually develop prostate cancer if he lives long enough.

The three most common prostate problems are: infection (prostatitis), prostate enlargement (benign prostatic hupertrophy) and prostate cancer.

Currently, the American Urological Association recommends an annual rectal exams as part of a man's annual health checkup for all men from ages 40 to 70, and beginning at age 40 for men at high risk (African-American men and those with a family history of the disease) and all men 50 and over add a PSA blood test every year as well. According to Dr. Crawford, these guidelines might need to be redefined. When prostate cancer is detected and treated in its early stages, it has a high cure rate. (The American Cancer Society no longer recommends either test. They do recommend "discussing" the tests with a health care professional. An interesting note in light of their strong examination recommendations to young and older woman concerning breast cancer.)

Based on past screenings conducted during Prostate Cancer Awareness Week, Dr. Crawford and his colleagues have observed that in men ages 50 to 59, the prostate cancer detection rate was the same regardless of whether they were screened every year or every two years. For men between the ages of 60 and 70, thought, the prostate cancer rate was higher if they only were screened every two years versus annually. Therefore, it may only be necessary for normal-risk men in their 50s to be screened every other year. Dr. Crawford also suggests that high-risk men between the ages of 35 and 39 and normal-risk men between the ages of 45 and 49 should get a baseline PSA test. This recommendation is based on PCAW data revealing that the majority of positive biopsies in high-risk men screened between the ages of 40 and 49 were detected in their first year of screening. Further studies indicated that 95 percent of all prostate cancers among high-risk men were found in the first two years of a man's screenings. "Because we have no cure for advanced prostate cancer, early diagnosis and treatment are essential," Dr. Crawford said. "Asymptomatic men can 'choose to know' if they have prostate cancer so that they can 'know to choose' from treatment alternatives that can cure their cancer." Because early prostate cancer usually does not have any symptoms, it is extremely difficult to detect without testing. In fact, screenings using both PSA and DRE tests have proven to be the only reliable method of identifying the disease when it can be cured most easily. Currently, 58 percent of all cases are discovered while the cancer is still localized and at its most curable stage. You doctor can detect prostate cancer by digital rectal examination (don't die from embarrassment) and by a PSA (prostate-specific antigen) blood test.

Hey Man: Did you make a difference yesterday? Let us know at Contact Us. After you've scheduled an exam, get on the list to get a Free Reminder for next year: On the first of September, we will send you a reminder to schedule a checkup during Prostate Cancer Awarness Week. Sign up here. mailto:menstuff-prostate-reminder-subscribe@topica.com

Stay tuned! We will review some ideas on prevention on Monday, symptoms and testing for prostate problems discussed on Tuesday, treatment and after/side effects of various prostate problems on Wednesday, and Living Life After Treatment on Thursday. There will also be a discussion of impotency and treatments like Viagra on November 1, the beginning of National Impotency Awareness Month.

To learn more about Prostate Cancer: www.pcaw.org or Issues, Books, Resources

I'm Outnumbered: One mom's lessons in the lively art of raising boys by Laura Lee Groves. I'm Outnumbered: One mom's lessons in the lively art of raising boys. Only a mom of all boys can really explain what life is like when you are surrounded by men. From one "boy mom" to another, this book offers sound advise and encouragement for every mom ho has more than one son, even if there is a girl in the mix. The author guides moms to see their role as proactive parents with insights gleaned from her own experience, from other boy moms, and from parenting experts. Laced with touching and humorous stories, this practical manual will show boy moms how to escape the expectation trap, handle sibling rivalry, foster leadership and teamwork, maintain order, celebrate their individuality and much more. A Christian perspective. Kregal Publications, 2010 ISBN 978-0-8254-2739-8

Plus
September is Baby Safety Awareness, Children's Eye Health & Safety, Children's Good Manners, Christmas Seal, Cholesterol Education, Fall Hat, Gay Square Dance, Library Card Sign-up, Little League, Organic Harvest, Pediculosis Prevention, Piano, Pleasure Your Mate, Project Aware, Prosperity Creation, School Success, Sea Cadet, Self Awareness, Self-Improvement, Shameless Promotion, and Sickle Cell Month.
9/15-10/15: Hispanic Heritage Month. 8/29-9/4: National Sobriety Checkpoint Week, Mothers Against Drunk Driving, www.madd.org; 9/1-7: Childhood Injury Prevention; Self-University Week. 9/4-10: Full Employment Week, Mental Health Workers Week.. 9/5-9: Play Days. 9/9-16: National Five-A-Day Week. 9/10-16: National Suicide Prevention; Substitute Teacher Appreciation; National Brainstorming and Mind Mapping; Invisible Chronic Illness Awareness Week: 9/14-20 Dementia Awareness Week (Australia) 9/17-23: *Constitution; Balance Awareness; Love a Mensch; Farm Safety and Health; Historically Black Colleges and Universities; Rehabilitation Awareness; Single's Week. 9/19-25 - Prostate Cancer Awareness Week; 9/23-30: Banned Books, Religious Freedom Week. 9/23-29 - Deaf Awareness, National Dog Week; 9/23-24: Family Health & Fitness. 9/10: Swap Ideas Day. 9/17 *Citizenship Day. 9/19: International Day of Peace. 9/22: National Centenarians, Proposal Day. 9/23: Kiwanis Kids', *National Hunting & Fishing, Smash Out Suicide Day, 9/24: *Gold Star Mother's, National Good Neighbor, World Heart Day. 9/27: Ancestor Appreciation Day. 9/28: Cabrillo Day
* Means a Presidential Proclamation has been made.
* * *
Men are so competitive that we even "out-die" women in all 15 of the major causes of death in the U.S. Most of these deaths are preventable with a positive change in life-style, eating habits, and/or general health care. Let's not strive so hard to hold on to this record. See what you can change now to live a healthier life.


---
Contact Us | Disclaimer | Privacy Statement
Menstuff® Directory
Menstuff® is a registered trademark of Gordon Clay
©1996-2019, Gordon Clay